The 6 Best Drywall Contractors in Vancouver
Looking for a drywall contractor? You're on the right page, as today's piece is about our search for the best drywall contractors in Vancouver!
To identify them, we asked around for recommendations and eventually tested out the most-often-recommended options. We also looked into their records, policies, and what former clients had to say about their work.
How much does hiring a drywall contractor cost in Vancouver?
Drywall contractors have varying rates. And with a lot of case-based variables in pricing, you need to expect a lot of differences in their quotes.
To give you an idea of how much drywall contractors might ask for, here's a table of current price estimates for the two most common tasks they perform.
Service
Price
Drywall Installation
$2.00 and up per square foot
Drywall Repair
Sanding: $200 and up
More than 1-meter ceiling crack: $150 and up
More than 1.5-meter wall crack: $100 and up
The prices listed here can go higher or lower depending on the materials used and the contractor's labor fee.
The Best Drywall Contractors in Vancouver
Now that you know how much you may have to shell out for your project, let's go over the top drywall contractors in Vancouver based on our testing and research!
1. Altima Contracting Ltd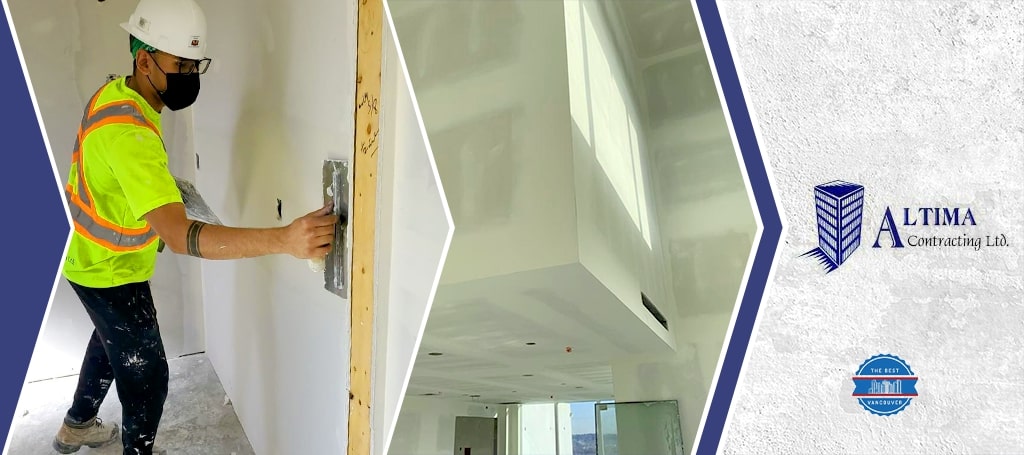 SERVICES
Interior Drywall, Taping and Finishing
Exterior Den-glass Gold Gypsum Board Sheathing
Fire-stopping
Shaft Liner
Den-shield Backer Board
Moisture Resistance Board
Abuse Resistance Board
ADDRESS
8029 Fraser St, Vancouver, BC V5X 3X5, Canada
CONTACT NUMBER
604-327-5977
WEBSITE
https://www.altimaltd.com/
Altima Contracting Ltd has more than 2 decades of experience in the business. They have worked with different properties too, from residential ones to high-rise buildings.
Let's get this out of the way first: we do find it a bit disappointing that they don't have any service guarantees. However, according to their previous clients, they're pretty reliable with their work, which is why they are still the chosen subcontractors for many.
As for drywall types, they can work with gypsum board and Division 9 plasters, which are the two most common types of drywall. This means that they can work with the majority of properties.
Their portfolio boasts of their work in different luxury townhomes and high-rise buildings. That's good, as it shows they have the trust of many property developers in this company.
And although they're not accredited by the BBB, their complete work profile, along with the reviews from their customers, show that they are one of the most trusted drywall contractors in Vancouver.
More than 20 years of experience
Has worked with high-rise properties 
Works with gypsum board and division 9 plasters
Portfolio shows that many property developers trust this company
Not BBB accredited 
No service warranty
Customer Reviews
Here's what a previous customer has to say about them:
"I really enjoyed working with Altima. They were very knowledgeable about all things Drywall. Very reasonable pricing and quick to respond with any questions – whether over the phone or in person. Would use them again for a future construction project." – Jesse Liu
2. Universal 5 Star Drywall Systems
SERVICES
Drywall Hanging And Finishing
Steel Stud Framing
T-bar Ceilings
Suspended Drywall Ceilings (For Restaurants Or Stores)
Customized Drop Ceilings Available
Spray-textured Ceilings
Existing Popcorn Ceiling Texture Or Other Types Of Texture Removal
Complete Acoustical Sound Built Systems For Both Walls And Ceilings
ADDRESS
555 W 12th Ave #15, Vancouver, BC V5Z 4L6, Canada
CONTACT NUMBER
604-240-4003
WEBSITE
https://www.universal5stardrywallsystems.ca/
OPERATING HOURS
Monday-Saturday: 6am–8pm
Sunday: 10am–3pm
Custom projects? That's not a problem for this company!
Their more than 30 years of working in the industry gave them enough experience for different types of renovations and remodeling. Even though they have years of experience, we would have liked a service warranty as it assures us that they will handle any complaints.
Besides that, this company also offers painting services, making this contractor service a great one-stop shop for those who are building houses or renovating a room.
Aside from installing drywall, this company is also one of the few that offer acoustical control for walls and ceilings. They can even do suspended drywall ceilings, which you can find in different commercial establishments.
After installing your drywall, they also use a great dust-proof vacuum to make sure that there's no drywall dust left in the place. It's a thoughtful service that we appreciate.
On the other hand, they don't have a 24-hour call line or a warranty, which is a shame. Those are still part and parcel of what we think an ideal drywall service should offer.
Despite that, we think Universal 5 Star Drywall Systems is still one of the best drywall contractors in Vancouver. The experience and unique services they have are such strong advantages that they remain competitive even with those minor oversights we mentioned.
Can work with custom designs
More than 3 decades in the business
Offers acoustical sound build
Offers painting services
No 24-hour call line
No service warranty
Customer Reviews
These are the experiences of people who previously hired them as a contractor:
"I would like to thank Universal 5 Star Drywall Systems for their excellent and professional job with walls and ceilings in my house. After I made a phone call to this company, I got a free estimate at the time was convenient for me and the service was fast and efficient! They kept everything nice and clean at the end of the project. I will use only this company in future and sure enough highly recommend them to you! They are the best!" – em sanches
"Universal 5 Star Drywall Systems is a proven professional company with years of experience and excellent reputation that can accommodate any of your drywall needs for residential or/and commercial places. I know their history and the owners – they are great and reliable, their workers are all professionals with lots of years of experience." – Maria Wirtz
3. Drywall Repairman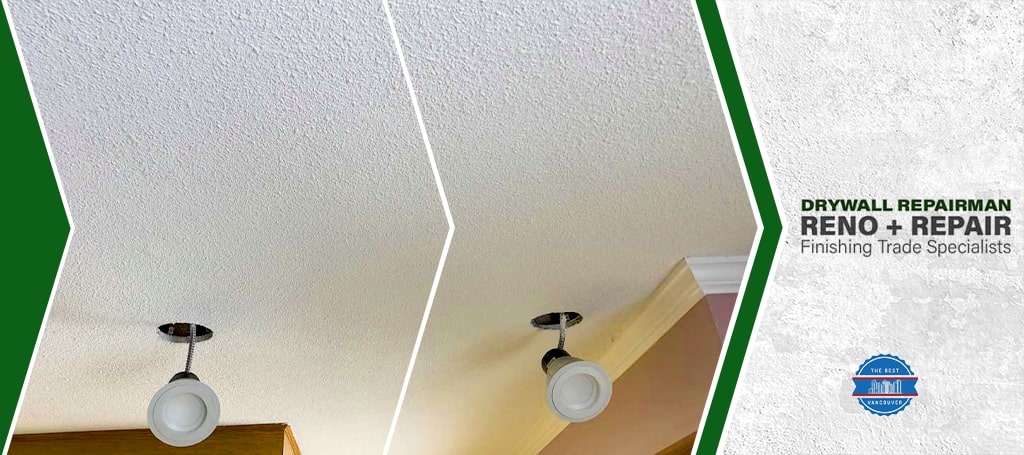 SERVICES
Drywall repair
Renovations
ADDRESS
909 Burrard St, Vancouver, BC V6Z 2N2, Canada
CONTACT NUMBER
604-961-4923
WEBSITE
https://www.drywallrepairman.com/
OPERATING HOURS
Monday-Friday: 8am-5pm
Don't be fooled by their name: they don't only do drywall repairs. In fact, Drywall Repairman's people can do ground-up renovations, add missing trims, and repair texture ceilings.
One of the things we like about them is that they are very clean with their work and don't leave any debris. They even first prepare the room where they're doing repairs by covering appliances and furniture.
Then, they also seal the drywall by using spray glue to avoid dust. Once they're finished with the installation, they use a sander and extraction system to get dust out of the area.
However, it's a bit disappointing that they don't operate during the weekends. So, don't expect anyone to answer your call on Sundays.
But with their quality of service, we don't really mind that. Plus, they have a 1-year warranty so you can be assured that if their work is not up to your standards, you can just contact them again for it to be fixed.
The solidity of that warranty alone makes Drywall Repairman one of Vancouver's best drywall contractors. We definitely recommend them to anyone looking for clean and dependable drywall work.
Preps their own work area to avoid dust on furniture
Cleans the  work area
Offers a 1-year warranty 
Closed during the weekend
Can only do drywall repairs and renovations
Customer Reviews
These customers talk about how Drywall Repairman helped them with their drywall problems:
"Not only did Stavros show up when he said he would, he was respectful and responsible with our home, the work he did was perfect, he went over and above the repairs we'd outlined at the start of the job and to top it off he's a super nice guy. Thanks Stavros!" – Tyler Schwartz
"This Company went above and beyond what was required from me. They left my house clean and tidy too, which is important. The job was so professionally well done and in very good time. I thank them very much for their wonderful job." – Suzanne Paterson
4. XYZ Painting & Drywall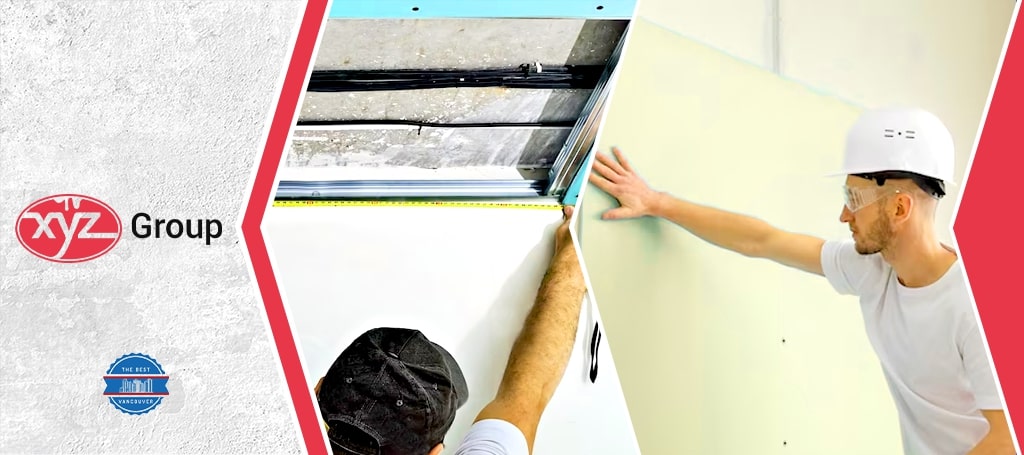 SERVICES
Drywall Repair
Drywall Maintenance
Drywall Installation
ADDRESS
7026 Prince Edward St, Vancouver, BC V5X 3P4, Canada
CONTACT NUMBER
778-800-0705
WEBSITE
https://www.xyzpainting.com/
OPERATING HOURS
Monday-Saturday: 9am-8pm
Although their operating hours are lacking compared to others, XYZ Painting & Drywall still ranks high on our list thanks to what their previous clients told us. It seems that they are trusted by many customers for their consistent quality of service and their service guarantee.
For their drywall services, they can do installation, remodeling, and repairs. While a bit limited compared to others, we like that they're only focused on what they can do best.
We also appreciate their live chat support. Instead of waiting for their email reply or for someone to pick up the telephone, you can easily ask for anything through their live chats, and this makes the pre-service consultation fast and pretty easy for the customer.
Their painting services are also highly useful after drywall installation. Getting them is pretty much just killing two birds with one stone.
Considering the strength of their reputation, we're a little astonished they don't have BBB accreditation yet. Still, their great pre-service chats and the fact that they also paint drywall makes them a great option for those who are building a house or doing a few home renovations.
Has a live chat support 
Offers drywall painting 
Guarantees a 100% satisfaction rate
Not BBB accredited
Limited service
Not open on Sundays
Customer Reviews
These people talk about the convenience of getting XYZ Painting & Drywall:
It was an awesome experience. I asked for both dry walling and painting job for my project( this was my first experience with XYZ). I have always requested different companies for my earlier projects but it was rather unsatisfactory. I had zero problems this time as both the tasks were supervised by same person,Joe. I am happy that I selected XYZ for painting and dry walling and I will definitely use their services again in future projects. Highly recommend them." – Neet Dhillon
"Impressive experience overall.
Great drywalling and paint job. They were fast and efficient.
Job supervisor was easy to approach and very helpful. I highly recommend them." – Harman Singh Manocha
5. Fonseca Drywall and Painting LTD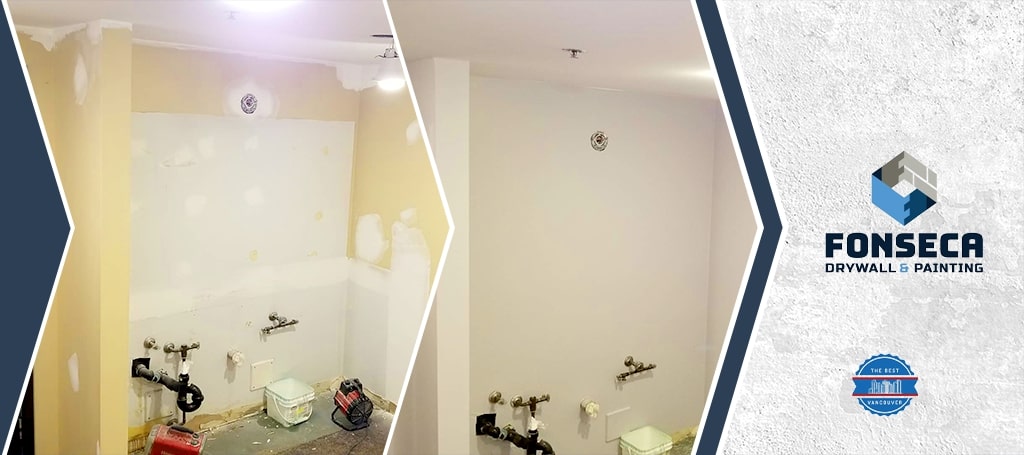 SERVICES
Boarding
Taping
Coating
Sanding
Priming
Painting
Repairing
CONTACT NUMBER
778-316-7622
WEBSITE
https://fonsecapro.ca/
OPERATING HOURS
Monday-Friday: 7am-5pm
Fonseca Drywall and Painting is focused on small to medium-sized projects but we appreciate their wide range of services. Other than the common services such as installation and repairs, they also do drywall maintenance, sanding, and priming.
They also provide a 48-hour guarantee for a response or a meeting. While not as quick as a live chat service, this guarantee at least assures customers a response to their queries, even if they're closed during the weekends.
We also like that they can do online quotes – convenience is a big deal, especially nowadays. And they have other channels for communicating online too, as you can even contact them through WhatsApp.
They're another of the companies offering drywall painting too, by the way. As we've said in our review of the previous company, this is especially useful as you can save time and money by not having to look for a different contractor for this task once the drywall's up.
Wider range of service compared to others
48 guarantee for inquiry response 
Can do online quotes
Offers house painting service
Closed during the weekends
Only specializes in small to mid-sized projects 
Customer Reviews
Here's what some previous customers think of their work:
"I cannot recommend highly enough. Fonseca took on a tricky job with tight deadlines and budgets, and nailed every single thing. If I could give more stars I would,
Rodrigo is professional, courteous, collaborative, and just a good guy.
Hire this company!" – Justin Bullard
"Rodrigo was great and was able to schedule my job quickly with clear and consistant quotes. He did a complete walkthrough for estimating and gave advice on some of the work we were completing ourselves before the wall taping. We were renovating a suite in an older building and the walls and ceiling were in rough shape, needing new patching, taping, skim coating and sanding. Fonseca Drywall and Painting was able to do all the assorted tasks exactly on time. Everything looks great and ready for painting!" – Victoria Angell
6. Vancouver Drywall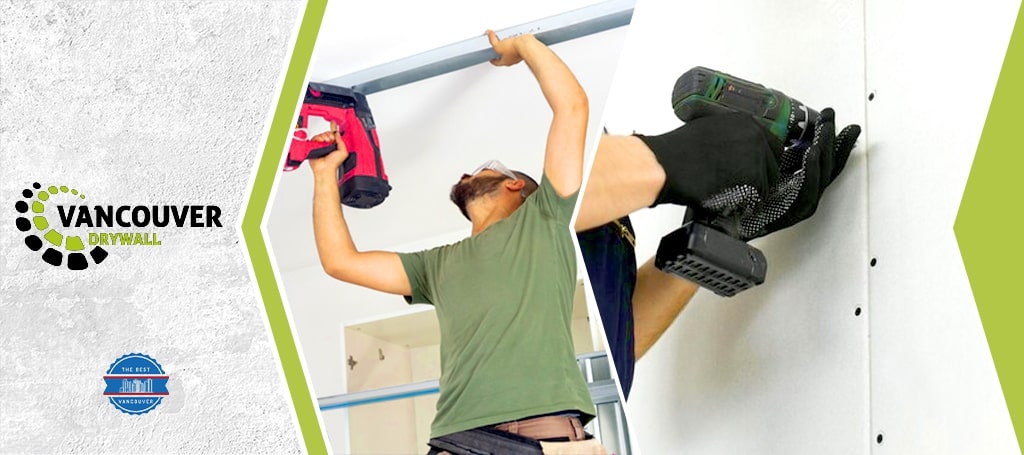 If you are planning to renovate your space soon, Vancouver Drywall may be the perfect company for you. Whether it is your room, an office, or your closet, do not fret, as they can serve you.
What makes them stand out from their competitors is the fact that they are all craftsmen and artisans. In addition to this, their customer-service-driven team is always ready to solve any type of issue.
Even if you are on a budget, you are still in good hands because this company will still get things done for you. They take pride in not compromising their work just because the client cannot pay a large amount of money
However, if you are experiencing water damage, you may also want to consider getting this issue fixed immediately as it can cause more damage.
What's great about them is that aside from handling your drywall repair, they will be also the ones who will deal with your insurance agent. This will definitely be a hassle-free experience for you.
Free estimates
Residential and commercial services are offered
Working hours are not specified
FAQs About Drywall Contractors
---
With these different contractors, there's no shortage of people who can work on your house. You just need to find one that will work on your time and fit your budget!
If you're looking for other homeowner services, by the way, feel free to browse some of our other articles on the topic. For example, we have a list of the best window cleaners in Vancouver that will surely make your house the most beautiful one in the block.