The Top 5 Home Office Furniture Shops in Vancouver
More people are starting to work from home after realizing the benefits of doing so. After all, this setup allows one to work in a more relaxed and comfortable environment, free from the distractions of office life.
Working remotely also eliminates the need for daily commutes, allowing one to save time and money.
If you're planning to build a home office or replace current pieces, consider checking out Vancouver's top home office furniture stores.
How Much Does Home Office Furniture Cost in Vancouver?
The price of home office furniture in Vancouver changes depending on several factors, namely material, quality, size, and style.
To give you an idea of potential costs, we compiled the starting price for popular home office furniture in Vancouver. See the table below.
| HOME OFFICE FURNITURE | STARTING PRICE |
| --- | --- |
| Adjustable Desks | $450 |
| File Cabinets | $900 |
| Office Chair | $550 |
| Desk Lamps | $160 |
Best Shops to Buy Home Office Furniture in Vancouver
We strive to make these reviews accurate to help readers. Such a task is only possible by creating criteria that we can use for our assessments.
For home office furniture shops in Vancouver, we considered the following:
1. King Living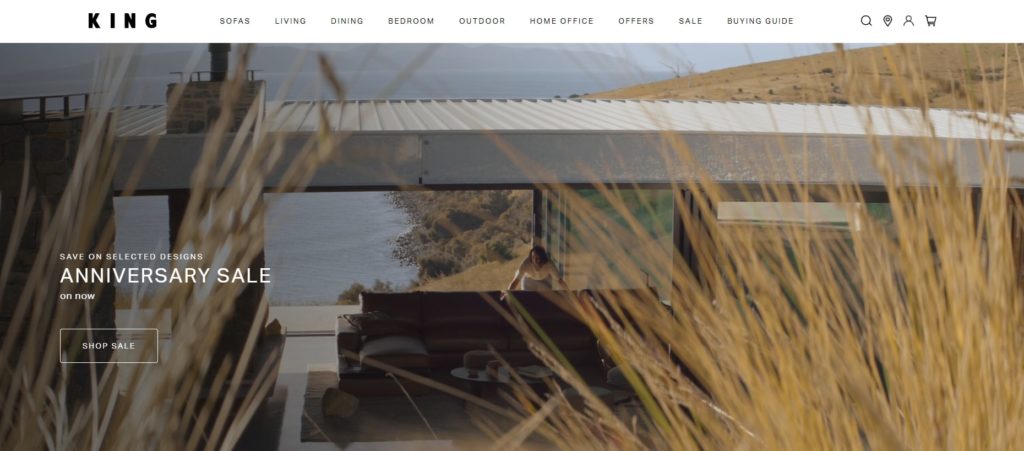 SERVICES

Outdoor, Home Office

Dining, Bedroom

Sofas, Living

WEBSITE
https://www.kingliving.ca
ADDRESS
3097 Granville Street, South Granville, Vancouver, B.C. V6H 3J9, Canada
CONTACT DETAILS

Phone: 236 521 6666

OPERATING HOURS

Monday-Sunday: 10:00 AM-6:00 PM
| | |
| --- | --- |
| CRITERIA | RATING |
| Online Store | ★★★★★(5/5) |
| Product Catalog | ★★★★☆(4/5) |
| Customer Service | ★★★★☆(4/5) |
| Accessibility | ★★★★★(5/5) |
King Living has garnered a reputation for its quality furniture pieces, with the brand providing reliable home office furniture models since 1977.
A global brand, King Living showcases Australian-made furniture for various parts of the house, including home offices.
Here you can find desks, bookcases, sideboards, and lighting, with each option built with premium materials, such as solid hardwood and steel.
Every item is made with top-notch craftsmanship, with utility, design, and longevity in mind. Some desks from King Living, for instance, come with a built-in lamp for convenience.
Now, despite the various designs on their catalog, King Living products are not a one-size-fits-all solution. Some customizations are available, like changing the finish of your desk to fit your tastes better.
Aside from the excellent selections, King Living is recommended by us because of the shop's Deluxe Delivery service. This includes a 10 to 14-week production, which is relatively short for custom-made items.
The King Living team will deliver your item and carefully unpack and assemble it for you, ensuring everything is in order.
Lastly, we appreciate King Living's dedication to sustainability. This manifests in the making of their products as the brands utilize steel that lasts a lifetime and sustainable material choices that are eco-friendly.
Many years of experience
Contemporary, award-winning furniture
Open all days of the week
Complaints with customer service
Issues with product quality
Customer Reviews
A wide breadth of knowledge
"My partner and I had an excellent experience at the King Living Showroom. Mark, the person who helped us in the showroom, was incredibly personable with a wide breadth of knowledge about the furniture. They were able to help us narrow down our options and gave thoughtful recommendations on fabric since we have a dog. The phone support and purchase went smoothly and I cannot recommend them enough. I can't wait to receive our couch!" – Shaylena S.
A relaxed and pleasurable experience
"Having made 3 furniture purchases from King Living (Vancouver) we can happily provide a solid 5 star rating. The store is well designed giving the act of shopping a relaxed and pleasurable experience. The quality of the furniture is top notch and we are expecting many years of daily use. The staff are a pleasure to work with as well. We have dealt with Mark for 2 of our purchases and can see more down the road. Thank you Mark and thank you King Living!!" – Kurt M.D.
2. Briers Home Furnishings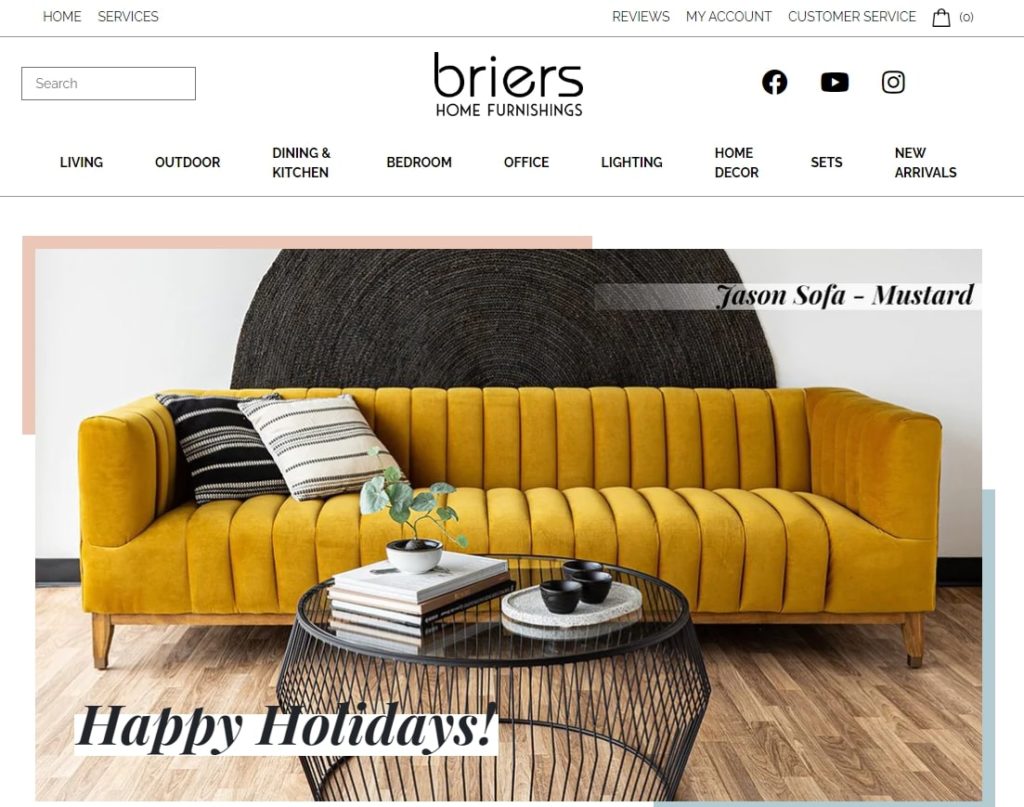 SERVICES

Lighting, Home Decor

Dining & Kitchen

Bedroom, Office

Living, Outdoor

WEBSITE
https://briers.ca/
ADDRESS
2025 West 4th Avenue, Vancouver, British Columbia, V6J 1N3, Canada
CONTACT DETAILS

Phone: 604 738 0379

OPERATING HOURS

Showroom:

Monday-Saturday: 10:00 AM-6:00 PM

Sunday: 11:00 AM-6:00 PM




Warehouse (For Pickups):

Monday-Friday: 10:00 AM-6:00 PM
| | |
| --- | --- |
| CRITERIA | RATING |
| Online Store | ★★★★★(5/5) |
| Product Catalog | ★★★★★(5/5) |
| Customer Service | ★★★★☆(4/5) |
| Accessibility | ★★★★☆(4/5) |
Briers Home Furnishings
Custom-made furniture has become more popular recently, and it's easy to see why: these pieces simplify the process of furnishing your home office.
In terms of customization, Briers Home Furnishings is one of the best choices in Vancouver. Numerous clients have praised them for their pieces' quality and their full range of customizable options.
As for the available home office furniture in Vancouver, Briers Home Furnishings offers office desks, chairs, shelves, and bookshelves.
Every piece from this store is made of top-notch materials, like steel and wood. They also come in various styles, with modern being the most popular.
Another remarkable aspect of Briers Home Furnishings is customer service. The staff members are always ready to answer your questions and give advice on the best furniture pieces for particular rooms or areas of the house.
In fact, the leads of Briers Home Furnishings, Cherie and Dave, are experienced in furnishing houses.
If you're looking for help and advice on how to turn your home office into a comfortable, functional space, they are more than happy to assist.
Lastly, the showroom is open daily, allowing customers to peruse their pieces easily. Meanwhile, the warehouse is available for six days for pickups.
All in all, we recommend Briers Home Furnishings for those who are looking for tailored furniture that is both stylish and long-lasting.
Fashionable and on-trend furniture
Many years in the industry
Showroom is open all days of the week
Closed on weekends for pickups
Complaints about product quality
Customer Reviews
Went over and beyond her call of duty
"Decided to buy a custom made sofa for the first time. Absolutely no regrets. Even though it may have been over the pandemic and things took a bit longer than normal, it was worth the wait. I can't put into words how amazing they were. Cherie went over and beyond her call of duty to make things work for me. Dave was so friendly and helpful. They were both a joy to talk to. I love my sectional. Everyone loves my sectional. Not only comfortable, but looks fabulous. I am always recommending to go to Briers furnishings. It definitely is not my last visit there. See you soon." – Dana H.
Providing us with thoughtful suggestions
"We bought our sectional from Briers and couldn't be happier with our purchase. Cherie was an absolute gem to work with, providing us with thoughtful suggestions that would best suit the look and vibe we were after, and offering helpful interior decorating advice as we figured out how to furnish our place." – Jordan E.
3. Union Wood Co.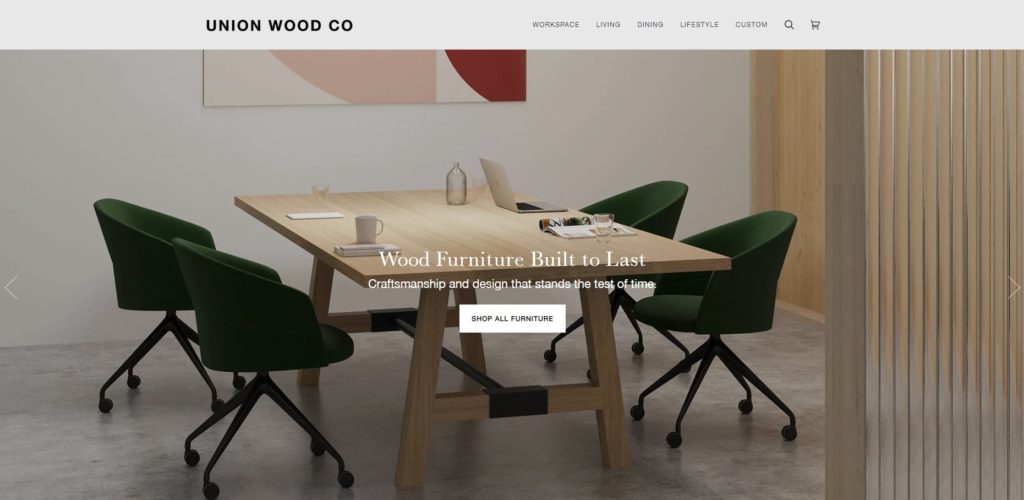 SERVICES

Workspace, Living, Dining

Lifestyle, Custom

WEBSITE
https://www.unionwoodco.com
ADDRESS
1340 E Pender St, Vancouver, BC V5L 1V8, Canada
CONTACT DETAILS

Phone: 604 675 9033

OPERATING HOURS

Monday-Friday: 8:00 AM-4:00 PM
| | |
| --- | --- |
| CRITERIA | RATING |
| Online Store | ★★★★★(5/5) |
| Product Catalog | ★★★★☆(4/5) |
| Customer Service | ★★★★★(5/5) |
| Accessibility | ★★★★☆(4/5) |
Union Wood Co. is the top choice in Vancouver if you want to invest in wooden home office furniture.
Union Wood Co. has recently made waves in the local community due to the craftsmanship of its furniture pieces. The store is dedicated to creating items that inspire productivity, perfect for your home office.
The store's principle isn't the only thing we like about Union Wood Co. We also like that the team works closely with clients in the customization process.
Customers can easily book consultations online, where a key staff member communicates with the clients and assists them in designing their optimal piece.
We also like that Union Wood Co. provides samples for customers so you can see what material is used for your creations.
You can get desks, storage, seating, and even home office accessories from Union Wood Co.
If you don't mind ready-made designs, Union Wood Co. is still a fine choice since the store has core selections, each of which is intuitively designed for your home office needs.
Additionally, the warranty is quite attractive at Union Wood Co., given that it covers two years after purchase.
So long as the items don't get abused intentionally or worn down by the natural elements, you can expect the furniture to last a long time.
It's worth noting that Union Wood Co. doesn't have an in-house delivery system, but they do work with trusted local companies that can guarantee fast shipping times.
Overall, Union Wood Co. is an excellent option for those investing in high-quality wooden furniture for their home office. The team at the store should be commended for their commitment to quality and customer satisfaction.
Excellent craftsmanship and attention to detail
Sustainably made furniture
Designed to last for a long time
Warranty up to 2 years only
Closed on weekends
Customer Reviews
Provided renderings and detailed dimensions
"Union Wood Co. made us a beautiful custom kitchen table for our ground up project out in Quogue. They provided renderings and detailed dimensions, allowed for revisions throughout the design process and stuck to their estimated timeline. Highly recommend these guys!!" – Carly R.
These guys make aesthetically exciting things
"I don't know if it's possible to be a fan of a furniture company, but these guys make aesthetically exciting things the way you'd expect a rock band to. I'd come back to Union Wood's style again and again. I love everything in their catalogue. Heck, the quality is so good, that I think they shipped my item in a wooden crate that's nicer than half the furniture I own." – Brian T.
4. Palluci Furniture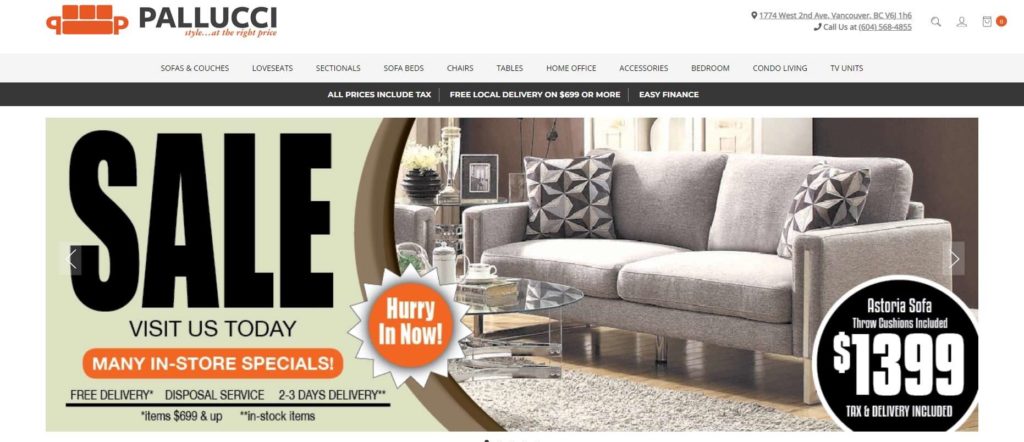 SERVICES

Sofas & Couches, Loveseats

Chairs, Tables, Home Office

Sectionals, Sofa Beds

Accessories, Bedroom

WEBSITE
https://www.palluccifurniture.ca/
ADDRESS
1774 W 2nd Ave, Vancouver, BC V6J 1H6, Canada
CONTACT DETAILS

Phone: 604 568 4855

OPERATING HOURS

Monday-Wednesday: 11:00 AM-5:00 PM

Thursday-Saturday: 10:00 AM-6:00 PM

Sundays & Holidays: 12:00 PM-5:00 PM
| | |
| --- | --- |
| CRITERIA | RATING |
| Online Store | ★★★★★(5/5) |
| Product Catalog | ★★★★☆(4/5) |
| Customer Service | ★★★★☆(4/5) |
| Accessibility | ★★★★★(5/5) |
Next up is Palluci Furniture, a store in Vancouver known for its durable furnishing pieces.
Palluci Furniture is well-beloved in the local community, with many previous buyers leaving rave reviews for the business. After our thorough evaluation, we could see why.
For one, Palluci Furniture is akin to a one-stop shop for furniture items, with the shop carrying furnishing for every room of the house, not just the home office.
The pieces may be simple in design, but they are made with utmost attention to detail, which we like. After all, it's not enjoyable nor is it sustainable to regularly replace home office furniture.
Do note, though, that the simplicity of the furnishings isn't a negative in our book. We appreciate the clean design of the desks and bookshelves and believe they can fit with different home styles.
Another reason we recommend Palluci Furniture is the financing options.
We know that building or remaking a home office can be quite expensive, which is why Palluci Furniture earns kudos for offering several payment plans to customers.
The store also offers delivery services and even a pickup option if you prefer to save on shipping costs.
Altogether, Palluci Furniture is an excellent shop for those who want stylish furniture at budget-friendly prices. The customer service and payment options are amazing too!
Affordable prices for all products and services
Sells in-store or online
Open all days of the week
A few complaints about poor customer service
Issues with product longevity
Customer Reviews
Super comfortable
"What a fantastic company! My sofa arrived on time and was set up easily. There was a small snafu that the company dealt with immediately and I am so thrilled with their service and product. The sofa looks fabulous, is super comfortable and is easy to adjust. I would recommend them to anyone who is looking for furniture. They are absolutely excellent! Thank you Pallucci for all your hard work!" – Allison A.
Prompt and hassle free
"Good deal on furniture. I purchased a floor model sofa from Palluci furniture. Unlike some other furniture stores, the sofa was in perfect condition and by getting the floor model I didn't have to wait. The delivery was prompt and hassle free. Highly recommend this business if you are looking for furniture." – Adam L.
5. Source Office Furniture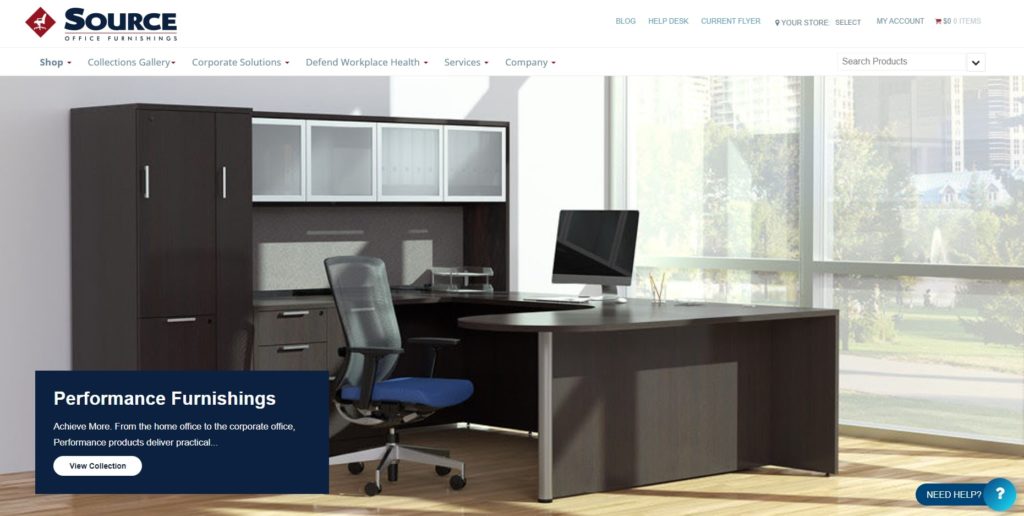 SERVICES

Office Furniture, Corporate Solutions

Performance Furnishings

WEBSITE
https://www.source.ca
ADDRESS
3083 Grandview Hwy, Vancouver, BC V5M 2E4, Canada
CONTACT DETAILS

Phone: 604 255 9200

OPERATING HOURS

Monday-Friday: 8:30 AM-5:30 PM
| | |
| --- | --- |
| CRITERIA | RATING |
| Online Store | ★★★★☆(4/5) |
| Product Catalog | ★★★★★(5/5) |
| Customer Service | ★★★★☆(4/5) |
| Accessibility | ★★★★☆(4/5) |
It would be neglectful of us not to include Source Office Furniture in the list of top home office furniture stores in Vancouver.
Source Office Furniture has one of the largest catalogs of office furniture in the area, with different well-known brands featured on the shop website.
There are multiple collections to browse through, like the Performance pieces, which include desks, storage, chairs, and more that deliver practical durability.
If you want something more modern and sophisticated, you can opt for the Logiflex line, which are modular furniture pieces for high flexibility in your home office.
One great example is the home office desk with an integrated monitor riser. It's minimalist yet efficient in design and will be a great addition to any office.
Customers who are still deciding what to purchase need not fret since Source Office Furniture is known for its fantastic customer service.
The staff is knowledgeable about all the items they carry, so you can quickly get advice on the right pieces for your space.
Furthermore, Source Office Furniture has a price match guarantee to ensure you get the best deal possible.
Another reason we recommend Source Office Furniture is the store's space planning services. Home office furniture comes in varying sizes, meaning it can be tricky to purchase something that fits your designated area.
The space planning service grants clients access to professional designers who can help them choose the right pieces for their office.
Simply put, Source Office Furniture is your go-to shop if you want an extensive selection of high-quality furniture and excellent service to boot.
High quality furniture at unbeatable prices
Offers space planning services
Fast shipping nationwide
Complaints about poor customer service
Closed on weekends
Customer Reviews
Affordable and quality furniture
"We have been using Source for a few years now. Students and faculty have benefitted from their affordable and quality furniture. Karen Redmond and her team are always available for any concerns or needs you may have. Highly recommend." – Laura T.
Knowledgeable staff, excellent products
"Knowledgeable staff, excellent products with wide selection of chairs. I had the 2 chairs that I ordered assembled and delivered. They arrived as scheduled and actually placed in the appropriate room in my residence. Staff were very friendly and experienced. Highly recommend them based on this experience." – Tom M.
FAQs about Home Office Furniture in Vancouver
---
Hopefully our list of top home furniture shops in Vancouver simplifies your shopping experience.
If you need items to stock your workspace with, check out our list of best office supply stores in Vancouver!