Best Noodles in Downtown Vancouver
You know what we love about noodles? We can literally have them any way we want! When life gets hectic and we don't have time to cook, noodles are our go-to meal. Also, we get to play chef by experimenting with different sauces and toppings.
But hey, we know you do it too. But we bet you didn't know that there are tons of noodle shops in downtown Vancouver, and we explored them all! (Not all at the same time though; we couldn't possibly ingest that much noodle.)
1. Happy Noodle House
Were we happy to have found Happy Noodle House? Absolutely! Look, it may look like your typical noodle house from the outside, but this shop has so much more to offer than plain noodles, and that's what we're here to talk to you about.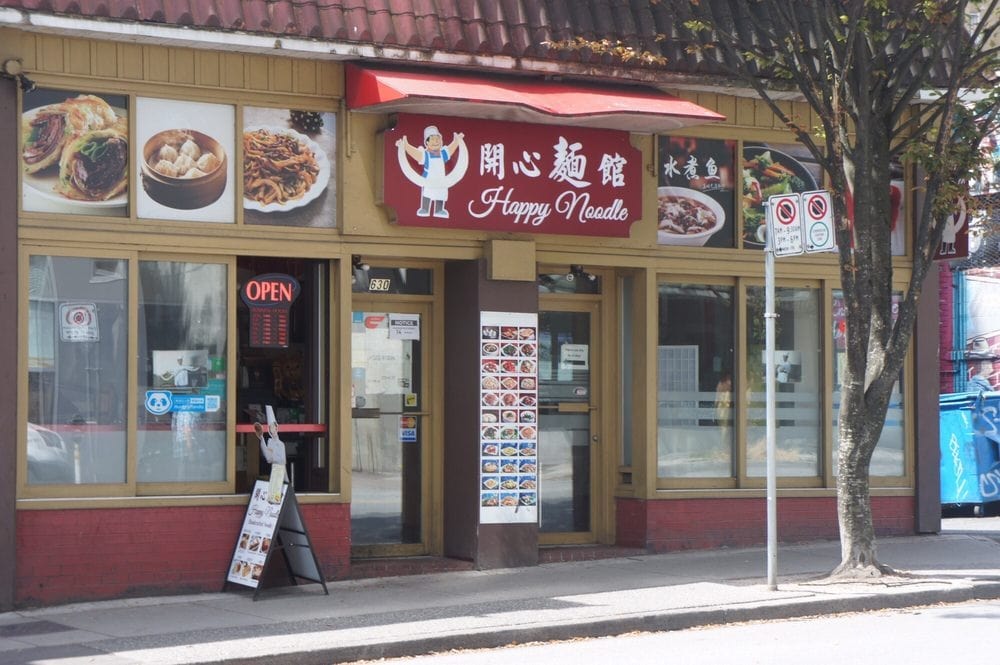 From stir-fried to soup to sauce noodles, they do it all! Which is why we had a hard time choosing what to order, but we settled on trying two dishes from each of the three categories.
You might think we're a bit basic but we honestly loved the chicken chow mein, and we think you would too. This dish was bursting with flavor, and it was packed with veggies and meat.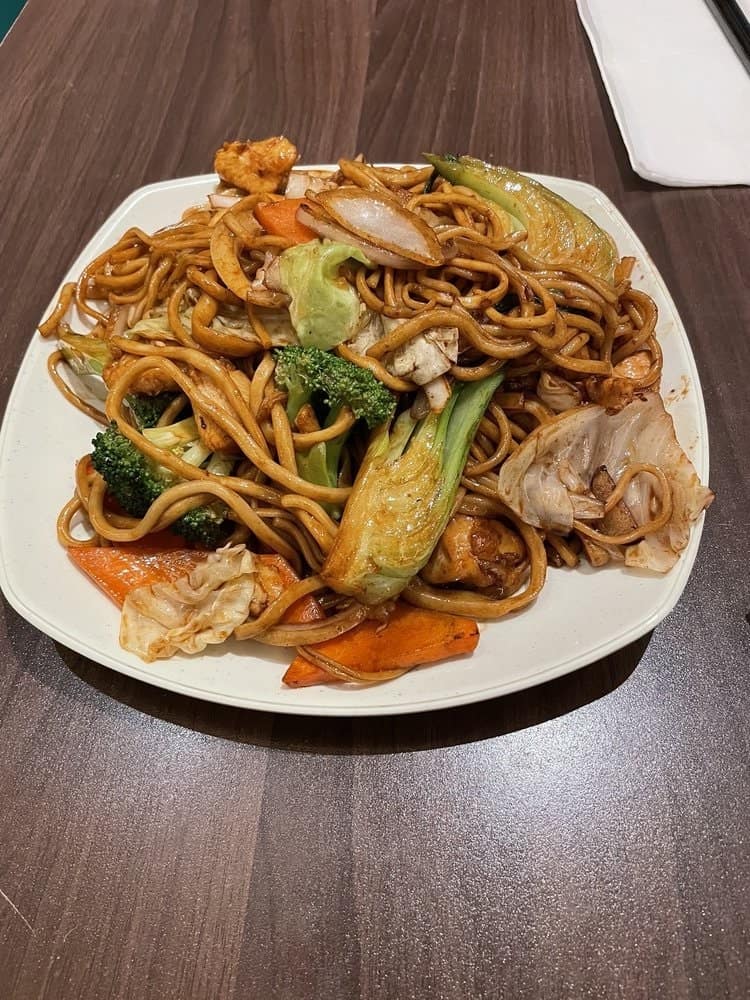 We highly recommend you also get a side order of spicy cucumber to pair with the chicken chow mein. You'd be surprised at how well savory and spicy go together.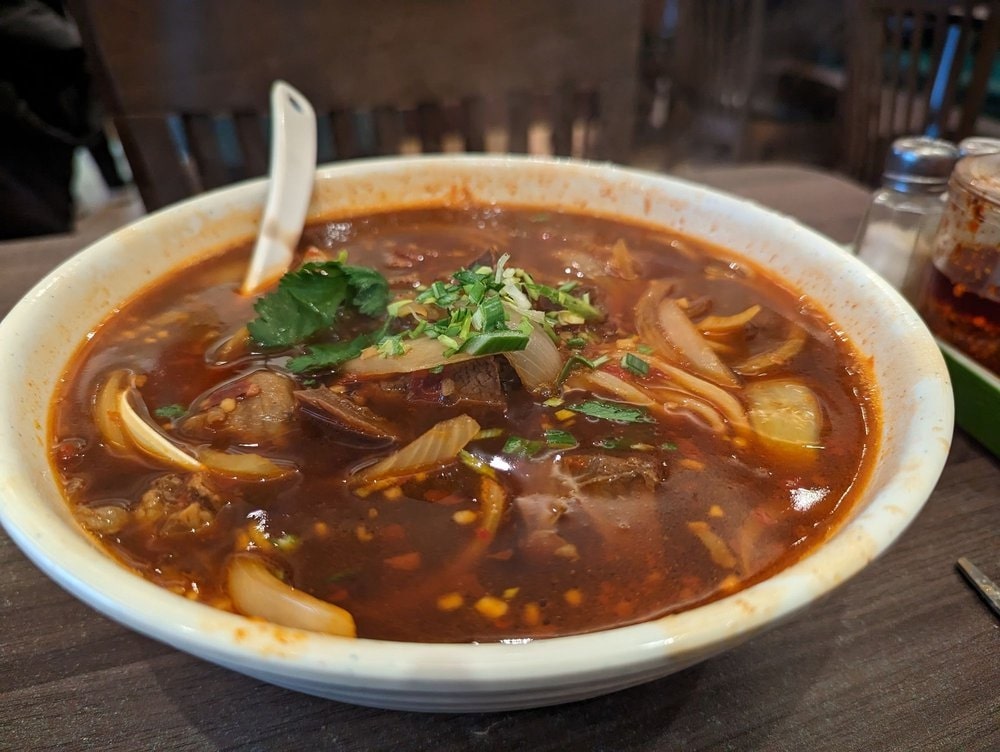 Szechuan noodle soup is also highly recommended! Prepare yourself, as this one is spicy. But not the type to burn your mouth. It's pleasantly spicy, and we even dipped our dumplings in it!
2. Fat Mao Noodles
| | |
| --- | --- |
| AVERAGE PRICE | CAD 12 - 23 |
| WEBSITE | http://www.fatmaonoodles.com/ |
| ADDRESS | 217 E Georgia St, Vancouver, BC V6A 1Z6, Canada |
| CONTACT DETAILS | Phone: +1 604-569-8192 |
| SOCIAL MEDIA | Facebook |
| OPERATING HOURS | Monday - Sunday: 11:30 AM - 08:30 PM |
We were shopping around Chinatown when we came across Fat Mao Noodles and decided to go in for a late lunch. Plus, there's an adorable cat painted on their store window, so going in was a no brainer.
First of all, the portions were generous, so it was a good thing we were hungry as a bear after hibernation. Since it was a relatively cold day, we decided to get soup noodles.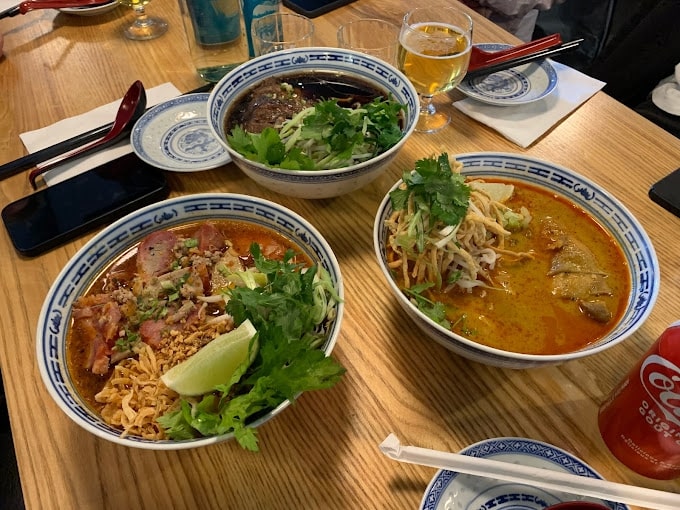 Our top pick? The Koh Soi Changmai Curry Noodles. It had a sour and spicy taste and it was so decadent and rich. It also had a nice aromatic smell and a strong curry taste. The Thai milk tea helped cut the spices.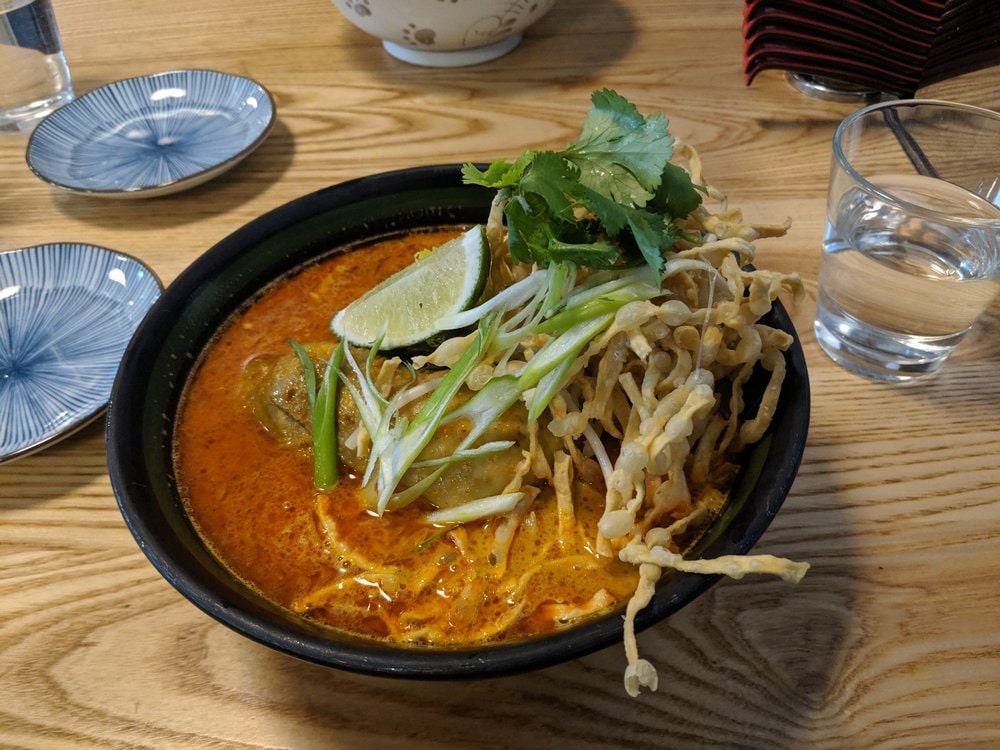 You wouldn't also want to miss out on their duck noodles. It was so flavorful and had a whole large duck leg. The broth of this dish was so delicious we drank the bowl clean.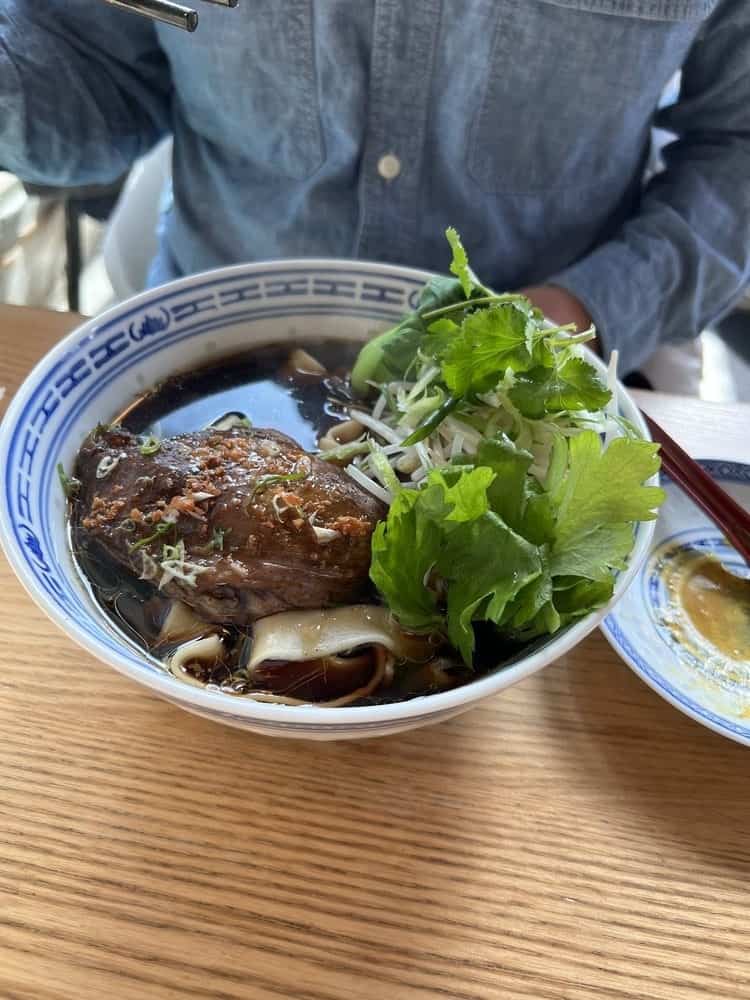 3. Maruhachi Ra-men
Before you say anything, yes, ramen is considered a form of noodle soup. Now that we've gotten that out of the way, Here's another great spot to satisfy your noodle craving in the downtown area: Maruhachi Ra-men.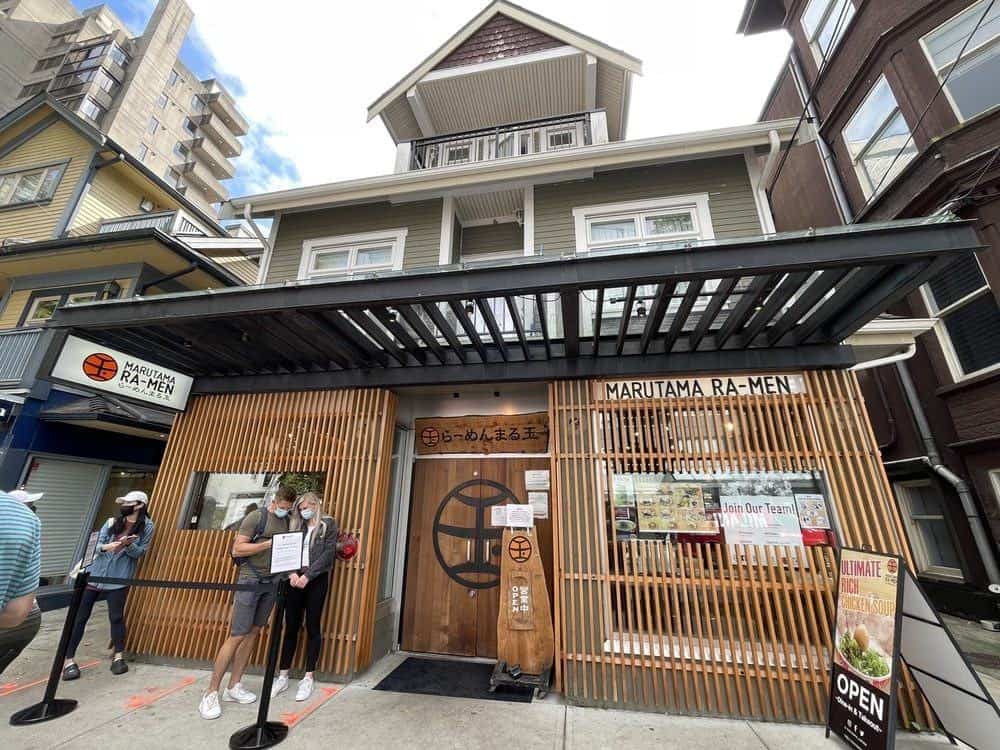 The store's exterior is pretty cool, as they got this wooden Japanese style entrance below a modern residential home. There were a few people waiting in line when we arrived, which gave us enough time to skim through their menu before going in.
We're going to just dive in and tell you how much we enjoyed the Cha-Shu Tamago Ramen.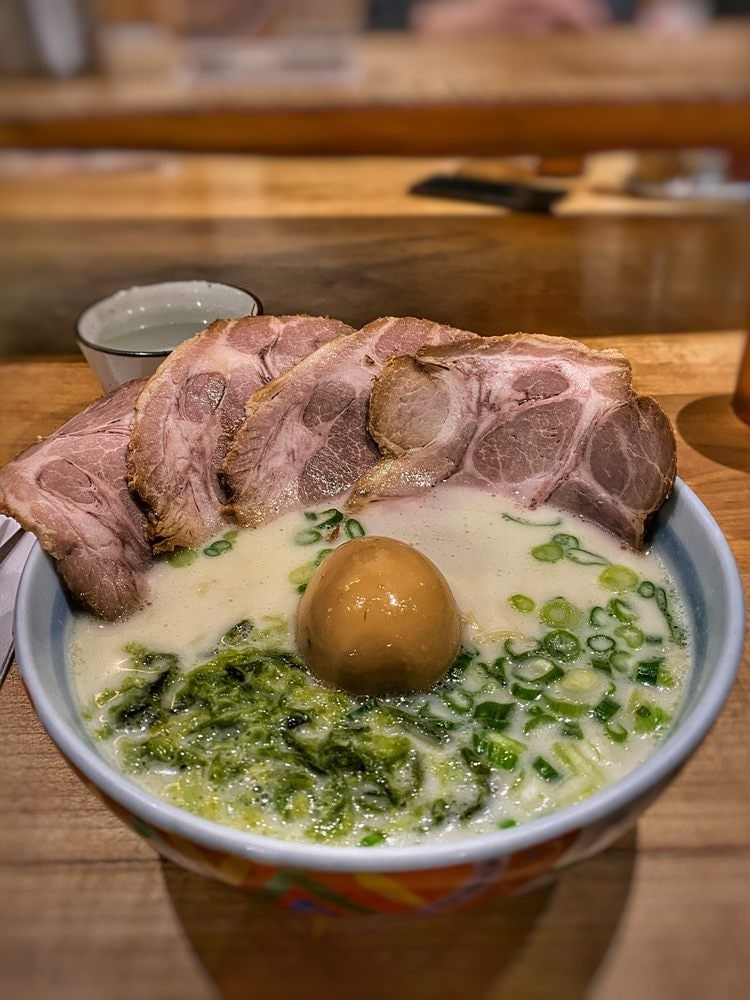 The broth? Tasty and creamy. The pork belly? Tender and pair well with both soup and rice. And the egg? The egg adds a creamy texture and a rich flavor to the dish.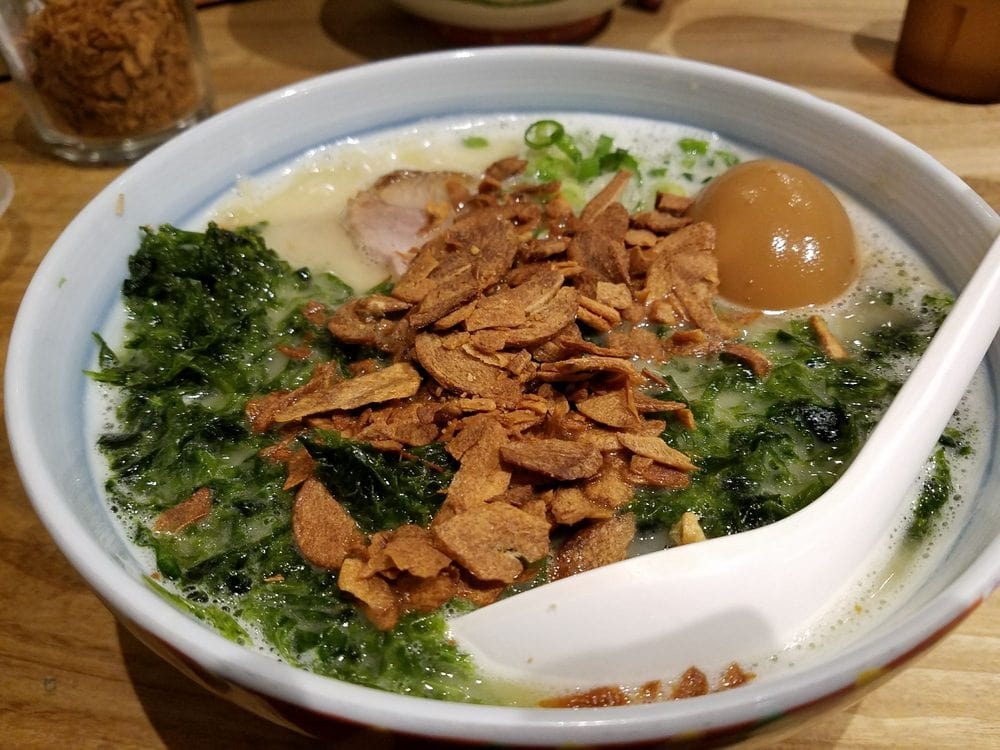 Another recommendation would be the Aoka Ramen. It has a rich taste, but it's not too heavy, and it also comes with pork and egg, but this one has more veggies.
4. Pholicious
We found this place on Google Maps, and we thought it had a pretty cute name, so we decided to give it a try. The prices at Pholicious were too good to be true, given that it's in the downtown area, but we're not complaining.
The first dish to land on our table is the house special pho. Now, this dish is known for its aromatic broth and tender noodles, and it did not disappoint.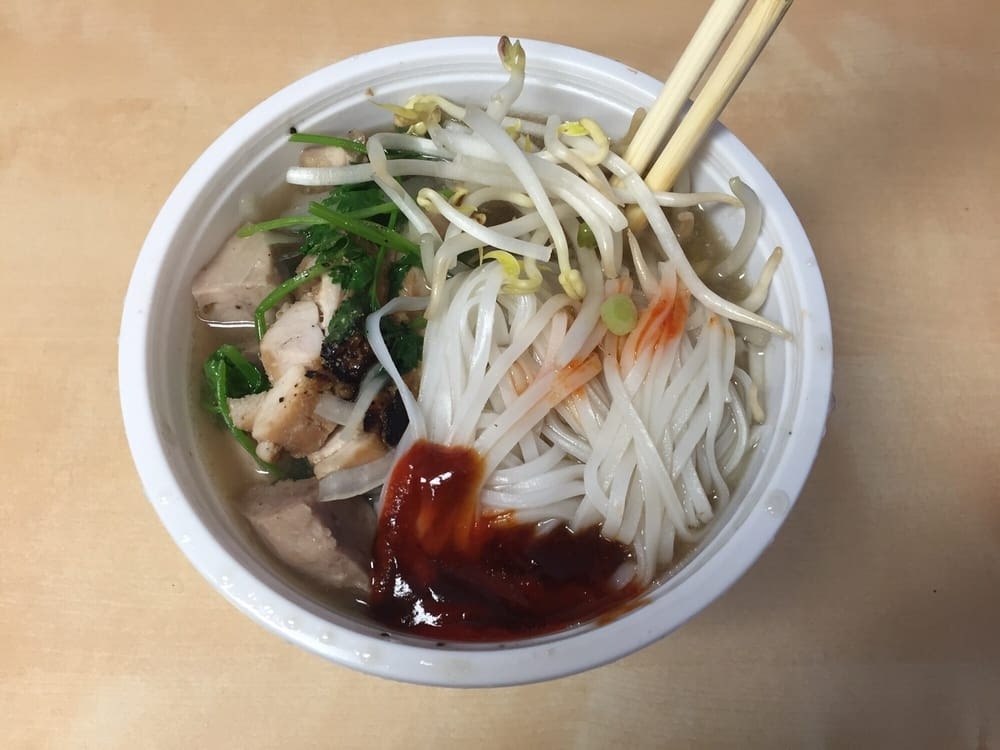 The combination of fresh herbs, spices, and meat were just chef's kiss. We couldn't figure out what the red sauce was, so we asked one of their staff, and it turns out it's hoisin sauce.
We also got to try the veggie tofu pho, courtesy of our vegetarian friend, and it was surprisingly flavorful and satisfying, with a rich broth and tender tofu that even meat-eaters would enjoy.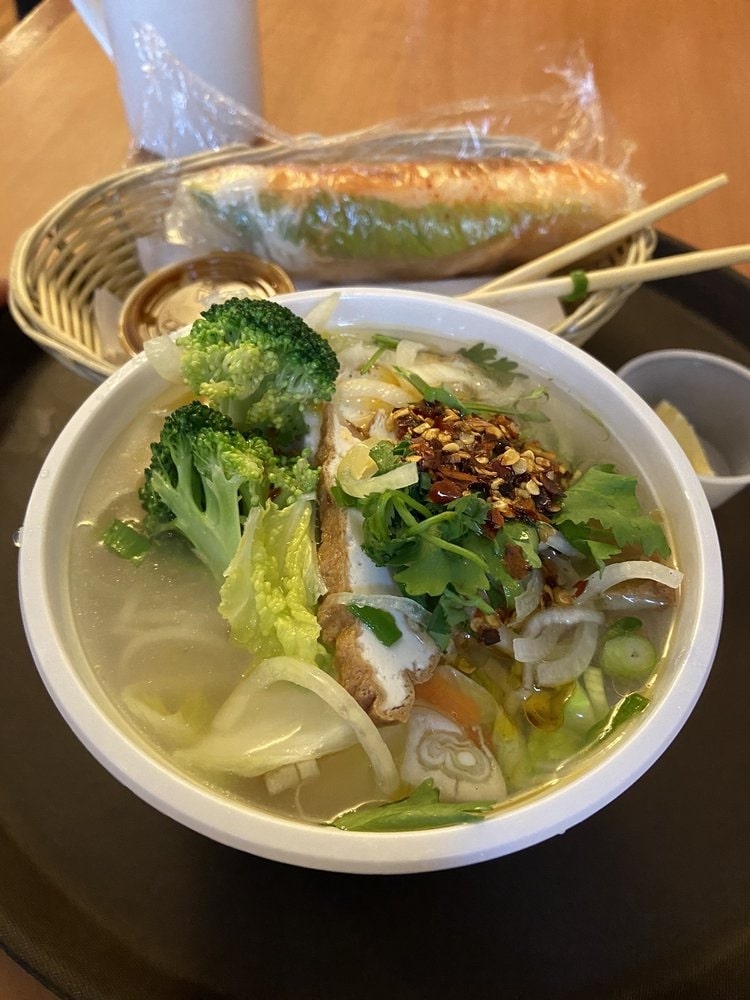 And of course, you can't dine at a Vietnamese restaurant without trying banh mi so we got the chicken banh mi to go and we think it's safe to say we'll be coming back here next weekend.
5. The Filipino Noodle Joint
| | |
| --- | --- |
| AVERAGE PRICE | CAD 10.99 - 17.99 |
| WEBSITE | http://www.thefilipinonoodlejoint.com/ |
| ADDRESS | 180 Keefer Street Unit 111 - Chinatown Plaza, Vancouver, BC V6A 4E9, Canada |
| CONTACT DETAILS | Phone: +1 604-630-3820 |
| SOCIAL MEDIA | Facebook |
| OPERATING HOURS | Tuesday - Sunday: 12:00 PM - 08:30 PM |
We'd like to share that we've never been to a place where the owners were so eager to provide us with a unique and individual dining experience. That's why we were so glad to have found The Filipino Noodle Joint.
Fair warning, we may have overindulged and ended up with a food coma, but it was totally worth it. Our top pick was the Ilocos Miki with bagnet toppings.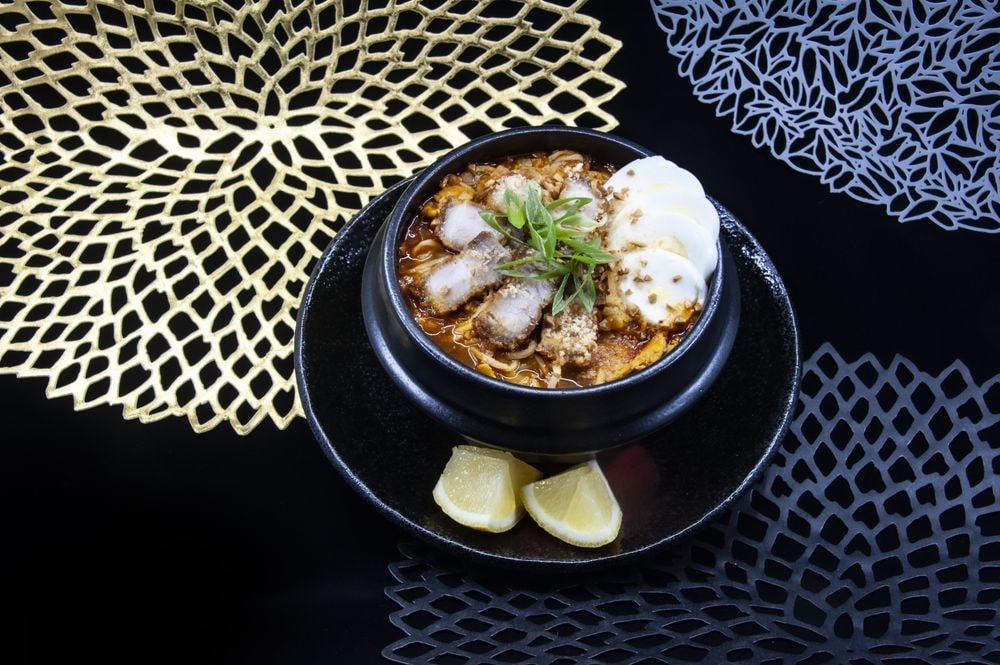 This noodle dish is fully loaded with crispy pork belly, and trust us, the flavors are all so overwhelmingly delicious. We bet you'd come back here for this dish alone.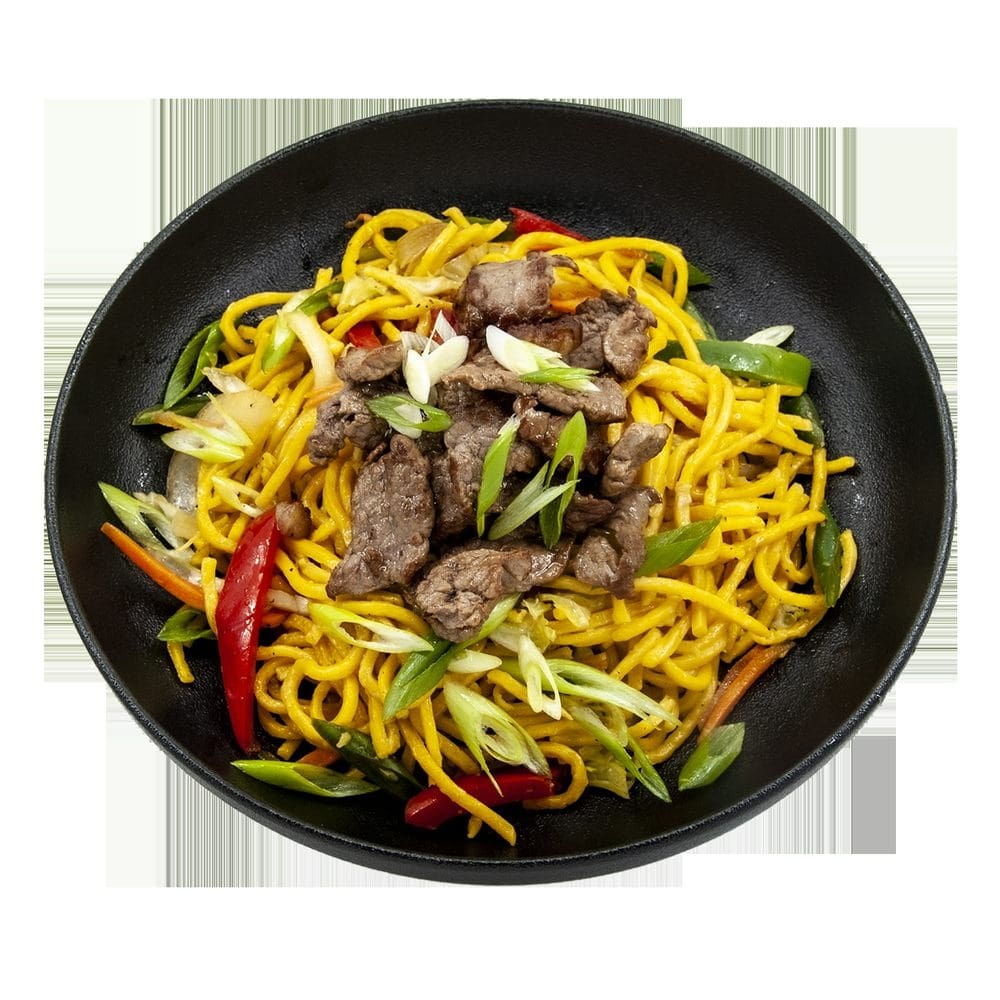 The beef pancit is also worth a try! It's made with stir-fried rice noodles, vegetables, and tender strips of beef. Here's a tip: You can also pair this dish with rice for a more filling meal.
6. Holy Chow
AVERAGE PRICE
CAD 16.50
WEBSITE
https://www.holychowvancouver.com/
ADDRESS
433 W Pender St, Vancouver, BC V6B 1V2, Canada
CONTACT DETAILS
Phone: +1 604-358-8098
SOCIAL MEDIA
Facebook
OPERATING HOURS
Monday - Thursday: 11:00 AM - 11:00 PM

Friday - Saturday: 11:00 AM - 12:00 AM
Holy Chow is a hidden gem in downtown Vancouver. If you plan to go here, you may wonder "Where the hell is everyone?", as the place is run by one guy.
Sure, you would have to wait a while for your food to be served, but let us tell you, the wait is worth it.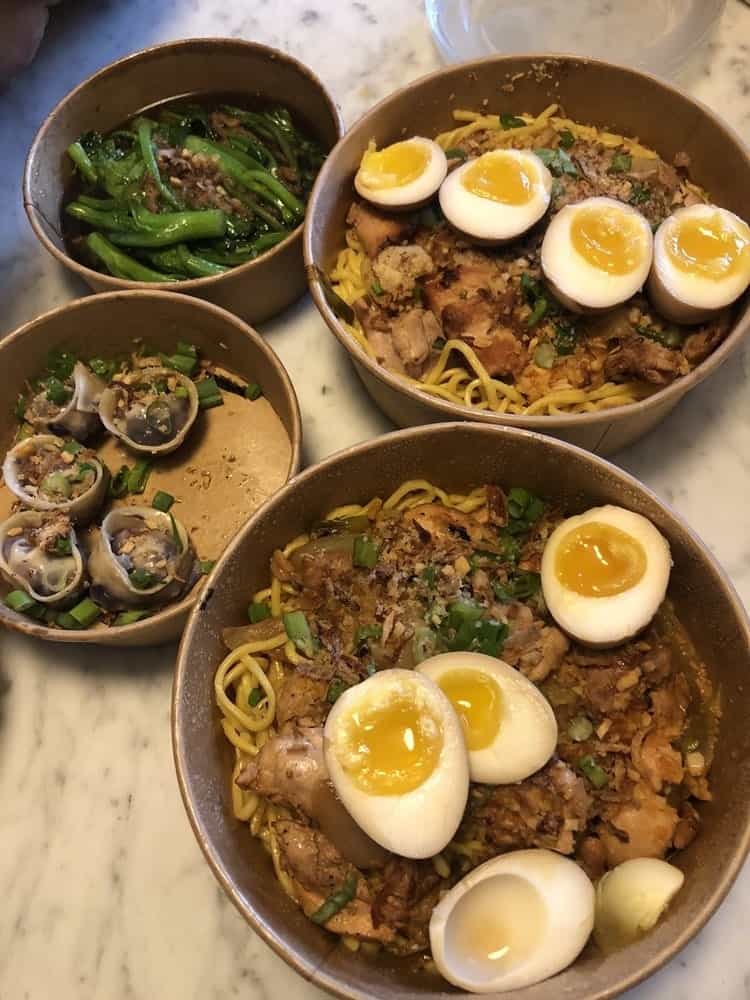 While most of the dishes were spot on, what stood out the most to us was the dan dan noodles. 10/10 for flavor, and it's a super filling dish! Because of the umami, this dish is more on the spicy side and has a sweet and earthy flavor.
We also got a side order of veggie dumplings and gai lan (asian greens) to go with this dish, but there are plenty of other options on the menu, such as spring rolls, kimchi, coleslaw, and many more.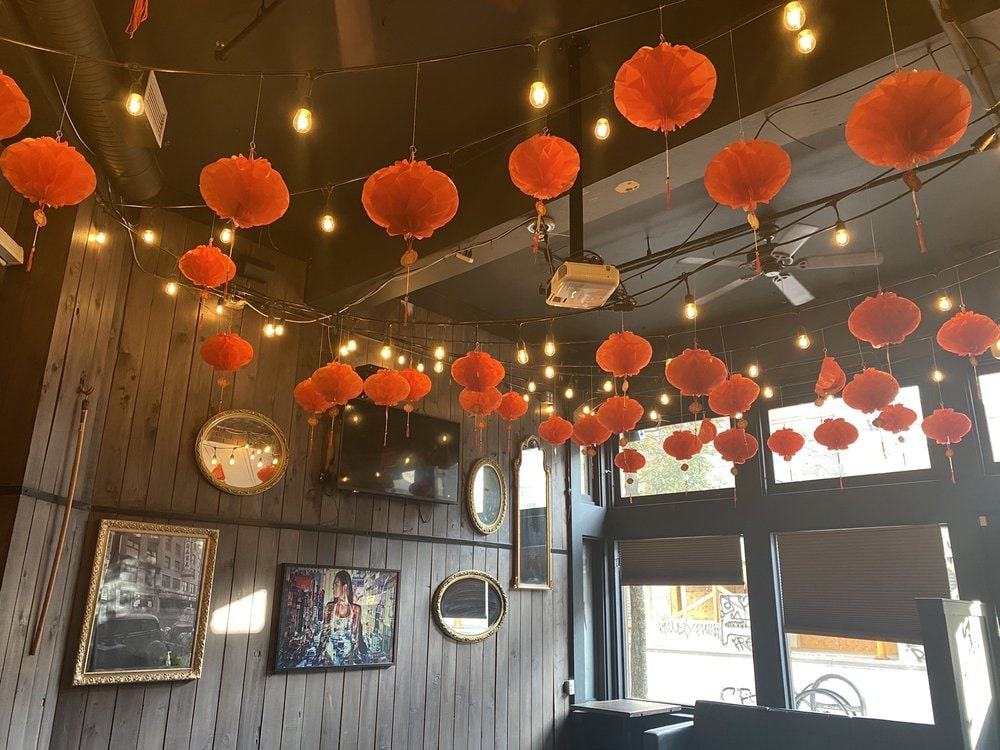 The restaurant's interior is pretty appealing too, as it has subtle lighting and red lanterns that really give customers a cozy and authentic Asian dining experience.
7. JINYA
It was a bit busy when we arrived at JINYA because it was a Friday night, but we only had to wait for 10 minutes to be seated. This place doesn't take reservations, so it's best to go early as it gets hectic.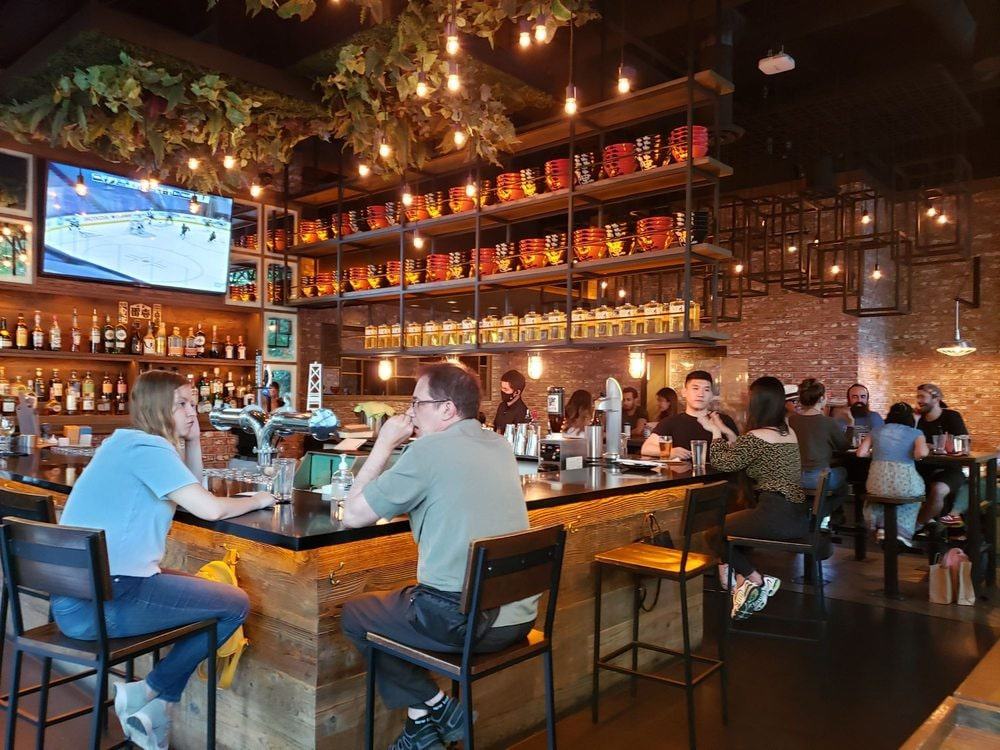 The restaurant's interior was pretty rustic, as it had wooden tables and chairs, and the walls were bricked. We got a seat at the bar, which was nice because we had direct access to the TV.
Now, on to our recommendations! Since we wanted to order extra side dishes, we decided to go for a light ramen dish, so we got the Spicy Creamy Vegan Ramen.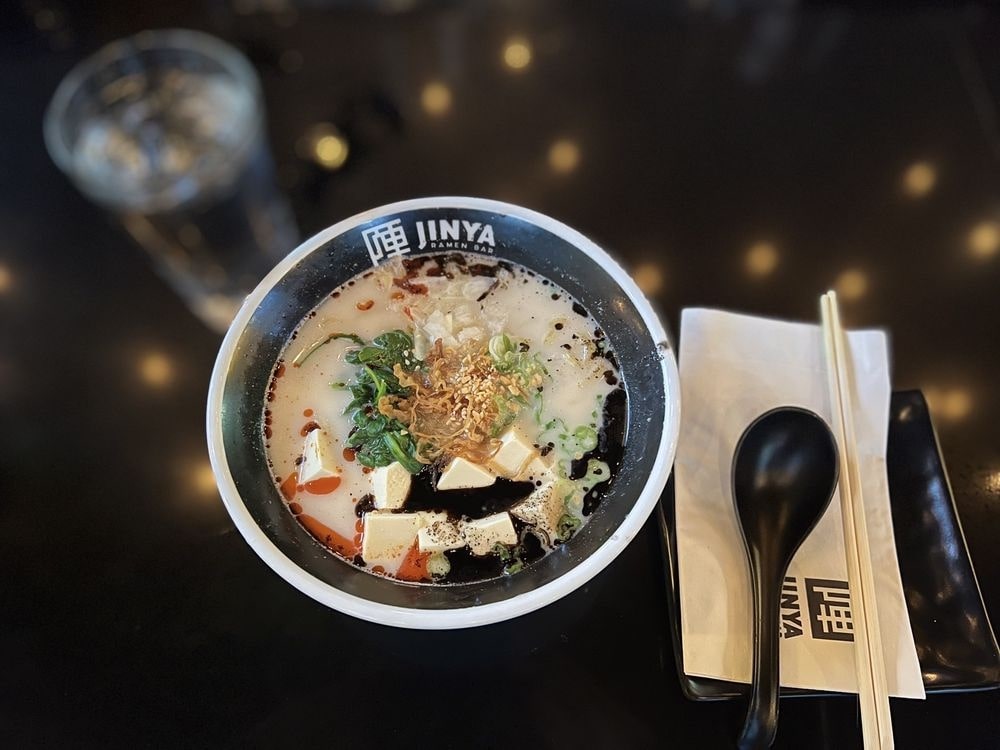 We think it could be better with more veggies, the broth tasted just right and the tofu absorbed the flavors perfectly.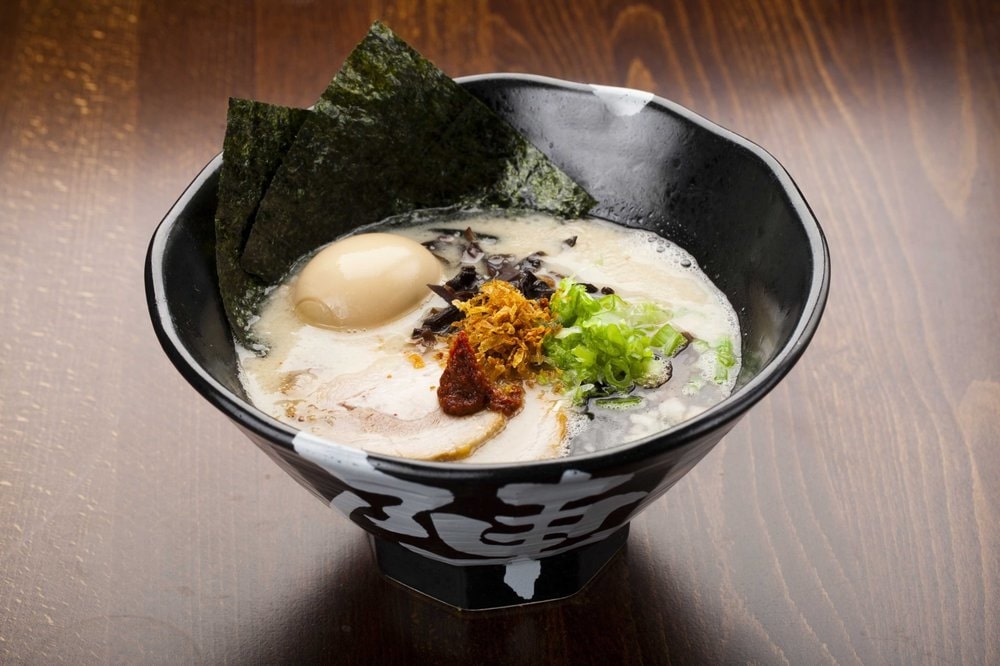 We also liked the tonkotsu black ramen as it had a strong umami flavor and was packed with toppings, such as pork belly, soft boiled eggs, sesame seeds, scallions, and bean sprouts. We may have liked this a little more than the first one.
8. 24 Train Express Noodle House
| | |
| --- | --- |
| AVERAGE PRICE | CAD 12 - 14.50 |
| ADDRESS | 550 Nelson St, Vancouver, BC V6B 1B4, Canada |
| CONTACT DETAILS | Phone: +1 604-559-7786 |
| OPERATING HOURS | Monday - Sunday: 10:30 AM - 10:30 PM |
You remember those noodle shops that are open 24/7 that we often see in the movies with a lit signage up front?
Well, the 24 Train Express Noodle House reminded us of just that, except this one is only open till 10:30 pm, but the noodles were just as delicious as we imagined.
I mean, would you look at this dish? This pork and beef vermicelli noodle tasted absolutely divine with its perfect blend of savory and spicy flavors, and the toppings were just so generous.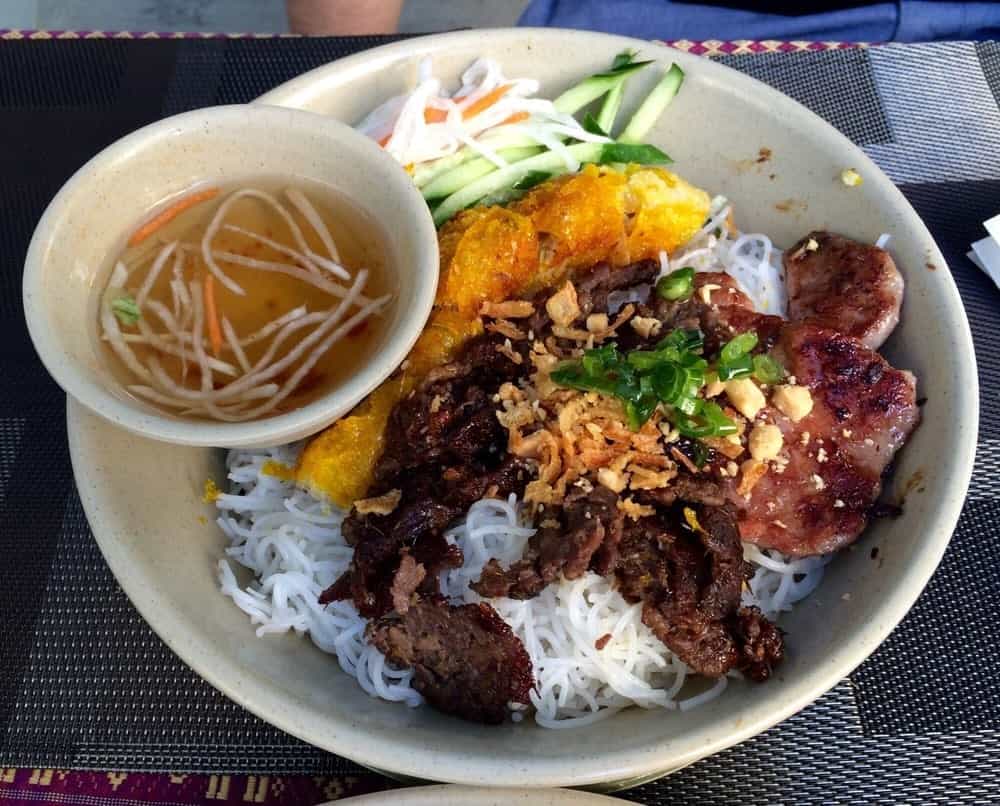 The beef stew was also good, and it had large carrots inside. We can say that this dish was a hearty and satisfying meal that warmed us up on a chilly evening.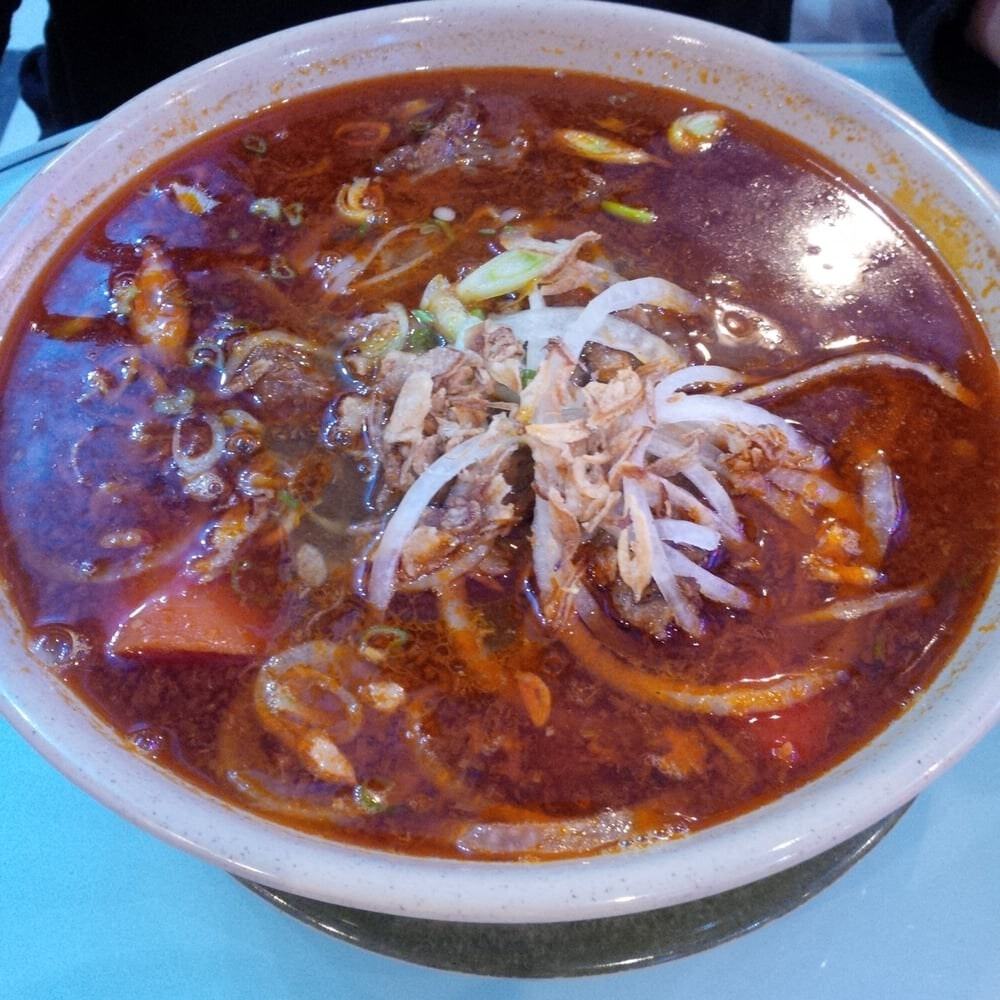 But we think you should also order a side of spring rolls to add some crunch and freshness to the meal. Personally, we loved the spring rolls especially the sweet and sour dipping sauce that came with it.
9. Congee Noodle Delight
AVERAGE PRICE
CAD 8 - 18.50
WEBSITE
https://www.congeenoodledelight.com/
ADDRESS
88 W Pender St #1021, Vancouver, BC V6B 6N9, Canada
CONTACT DETAILS
Phone: +1 604-336-3311
SOCIAL MEDIA
Facebook
OPERATING HOURS
Monday - Tuesday: 11:30 AM - 07:30 PM

Thursday - Sunday: 11:30 AM - 07:30 PM
As you can see, we have ordered quite a feast here at Congee Noodle Delight. simply because we wanted to try a variety of dishes and flavors. Plus, we've heard great things about this restaurant's authentic Cantonese cuisine.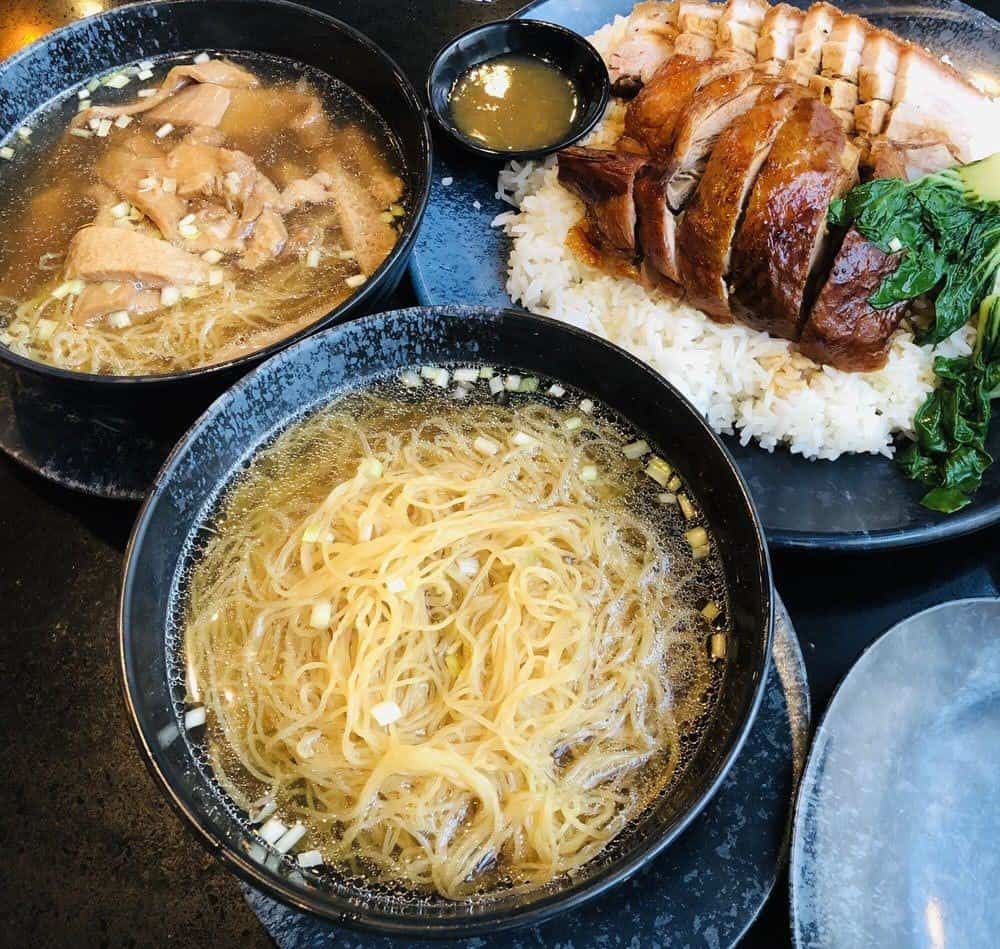 What we enjoyed the most here is the Singapore fried rice noodle. Now, the reason why this dish won our hearts is because the noodles were so tasty.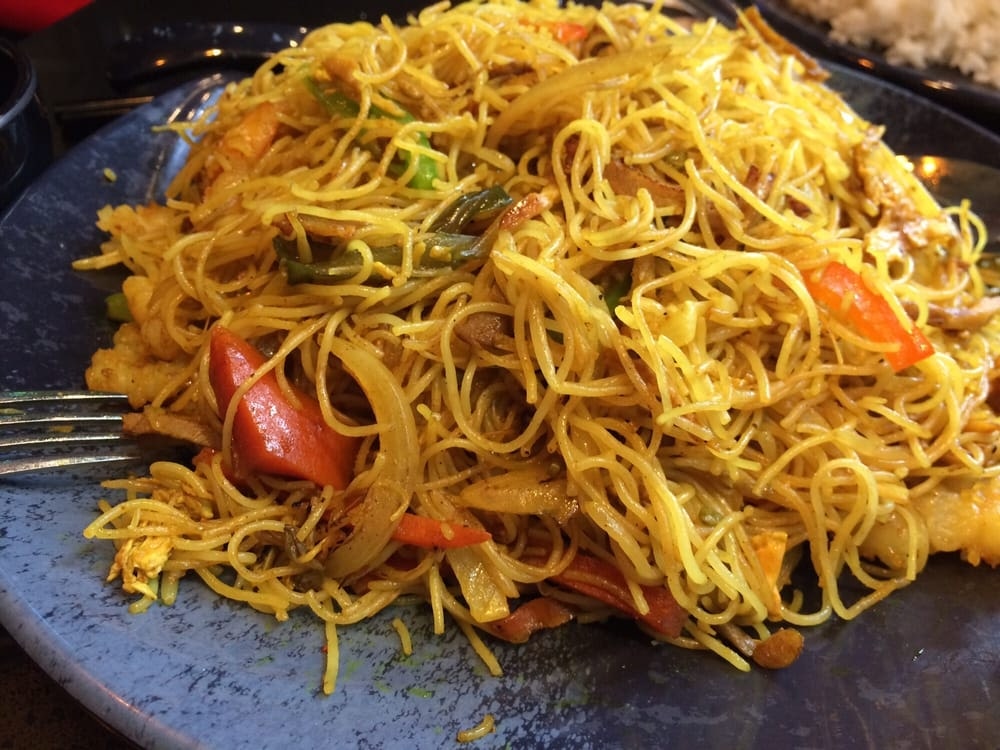 This is because of the ingredients and spices in it, such as the curry powder, shrimp, chicken, and vegetables. We added an order of greens to add to this dish because we wanted to balance out the flavors and make it a more wholesome meal.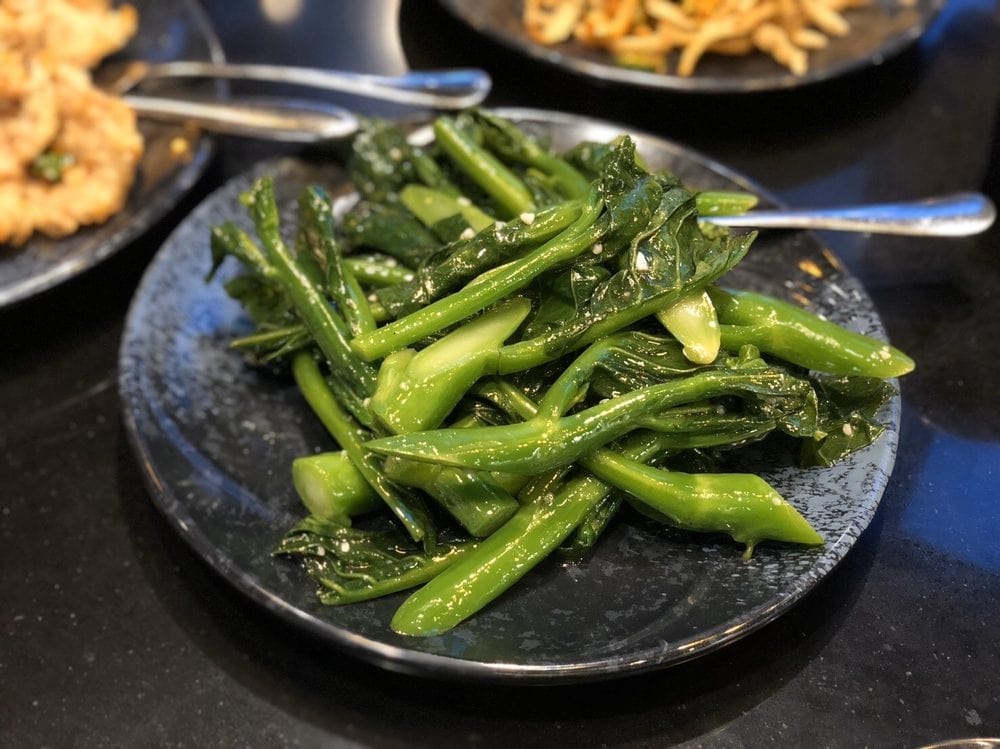 10. The Ramen Butcher
| | |
| --- | --- |
| AVERAGE PRICE | CAD 8 - 20 |
| WEBSITE | https://theramenbutcher.com/ |
| ADDRESS | 223 E Georgia St, Vancouver, BC V6A 1Z6, Canada |
| CONTACT DETAILS | Phone: +1 604-806-4646 |
| SOCIAL MEDIA | Facebook |
| OPERATING HOURS | Monday - Sunday: 11:00 AM - 10:00 PM |
If you're big fans of anime, specifically Naruto, then we highly suggest you visit The Ramen Butcher. If you're not, then that's okay. Just come for their flavorful bowls of ramen and beer. Trust us, it's the perfect pair.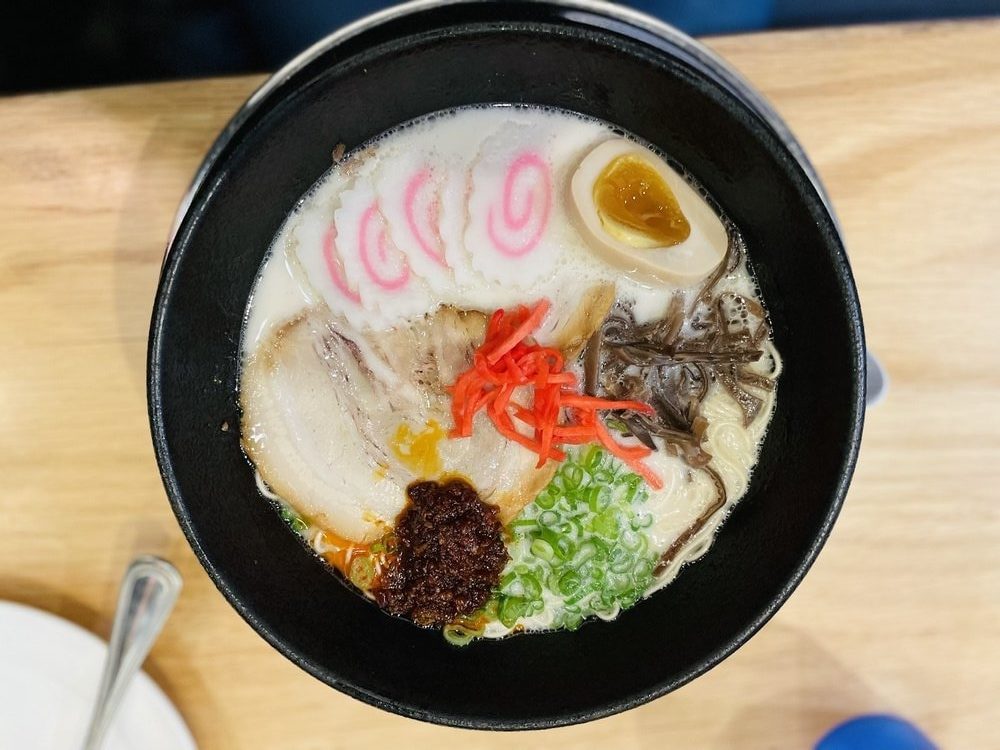 Right off the bat, their spicy ramen with Naruto is what we strongly recommend. No wonder this is their most popular dish, as the broth is great, and it's not too salty and oily.
The noodles were also fresh and chewy and pairing this with a cold beer makes for a perfect meal on a hot summer day.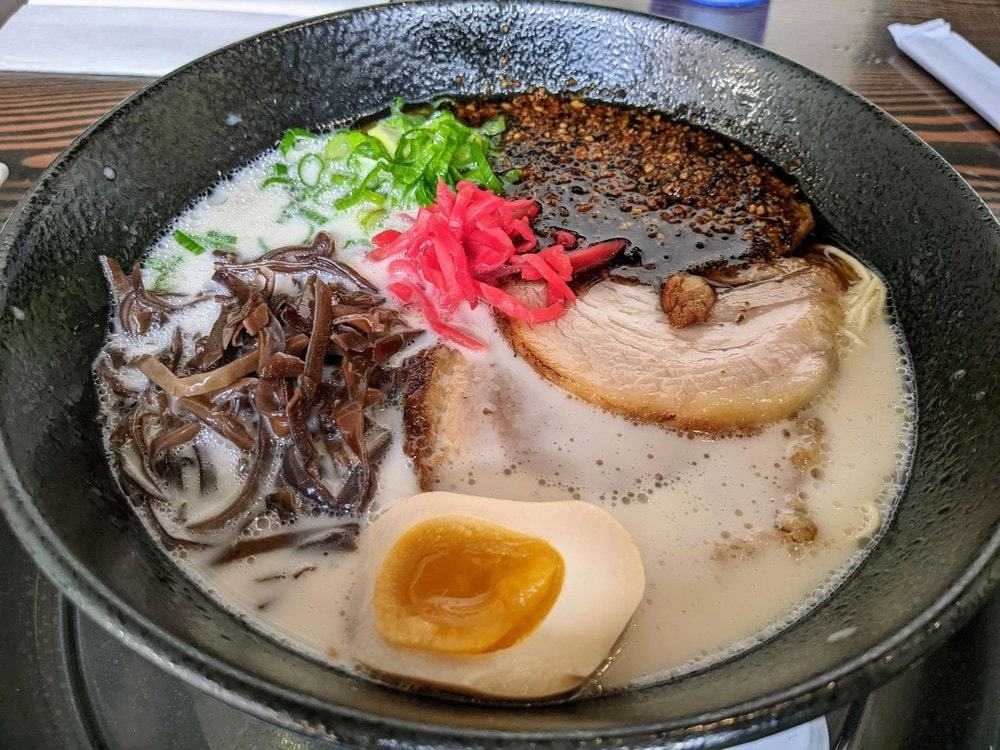 But if you'd like ramen with a stronger and garlicky taste, you should get the black garlic ramen. Being big fans of garlic, we always opt for the black garlic ramen whenever we visit this restaurant.
The rich and savory broth combined with the pungent flavor of garlic makes for a truly satisfying bowl of noodles.
---
Explore more establishments in downtown Vancouver by checking out these articles that can help you navigate through the vibrant scene of the city's downtown district.