5 Best Places for Waxing in Vancouver
If you are looking to get waxed for days on the beach or for any reason at all, you should get only the services of the top salons for waxing in Vancouver!
In this review, we looked at all the waxing shops in the area and picked which ones we believe would serve you best. Continue reading to see which ones made the list.
How much is waxing in Vancouver?
Waxing shops charge differently, but their prices usually tend to hover around a certain range. Please feel free to use the table below to get an idea of how much it costs to wax a body part.
| Type | Estimated Costs |
| --- | --- |
| Face | $35 - $50 |
| Arms | $35 - $45 |
| Legs | $40 - $75 |
| Bikini area | $38 - $70 |
Top Places to Get Waxing in Vancouver
To pick the top waxing salons in Vancouver, we sifted through numerous places and picked the best using the following criteria:
1. WAXMI Waxing Boutique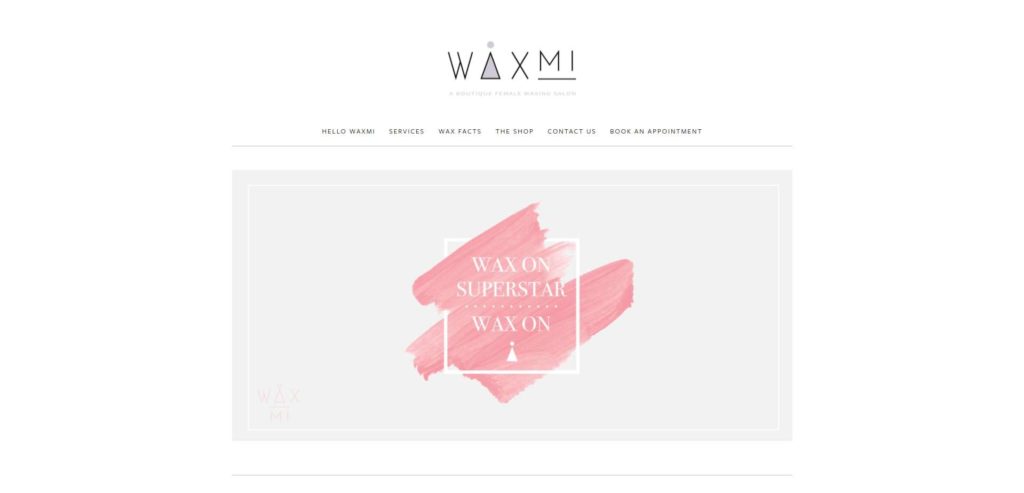 Test
Info
PRODUCTS
Brazilian Wax, French Wax, Basic Bikini Wax, Underarm Waxing
WEBSITE
waxmi.com
ADDRESS
4857 Main Street, Vancouver, BC V5V 3R9
CONTACT DETAILS
Phone: (604) 559-2797

Email: [email protected]

OPERATING HOURS
Monday - Friday: 10:00 am - 7:00 pm

Saturday: 10:00 am - 6:00 pm
| | |
| --- | --- |
| Criteria | Ratings |
| Price | ★★★★☆ (4/5) |
| Number of services | ★★★☆☆ (3/5) |
| Customer satisfaction | ★★★★★ (5/5) |
WAXMI is a female waxing boutique in Vancouver. Despite its small size, WAXMI is one of the most popular shops in the area and for good reasons.
One of the boutique's strengths is its high standards of service. We interviewed some of their prior customers, and they offered nothing but praises for the shop and its staff.
Most of the interviewees commented on how the boutique made them feel comfortable and warm and noted how its people were kind and respectful.
Other customers also said that WAXMI sends multiple reminders regarding your appointment so it is nearly impossible to miss it. We believe that this kind of quality service is what most people should look for when looking for waxing shops.
On our visit, we also noticed how clean and spotless the boutique is, adding to the more homely and cozy ambiance.
Another one of their advantages is that they list dos and don'ts on their website so that their clients can avoid irritating the waxed areas after the procedure. This can be valuable information especially for those getting waxed for the first time.
Being a female waxing boutique, WAXMI's scope of services is limited only to the bikini area and the underarms. Regardless, its professional and friendly staff, care for its customers, and near-daily opening hours gives WAXMI a spot on the list.
Open 6 days a week
Website lists dos and don'ts
Showcases shop through website
Mostly barebones website
Limited waxing services
Customer Reviews
Comfortable environment
It was my first time ever getting waxed and Wency made me feel so comfortable. She has such a warm, comforting personality and was very informative on what I needed to do before and after the appointment. She really takes her time to make sure you are properly taken care of and overall have nothing but great things to say about her. – Ness
Friendly and efficient staff
Wency is friendly and efficient! I had a lovely appointment with her yesterday and I am happy with the results. The space is clean and pleasant, and Wency is very knowledgeable and professional! I'll be returning for maintenance for sure! – Anne
2. Sugarbox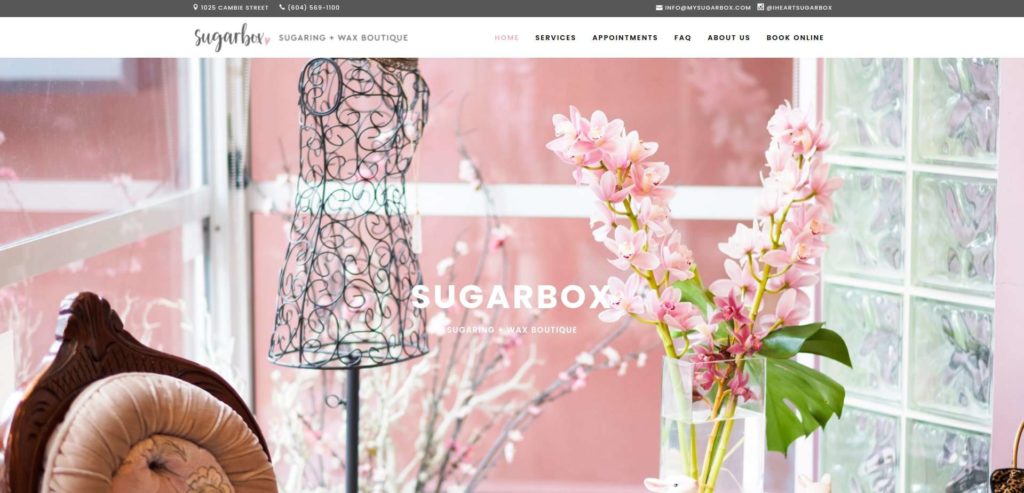 Test
Info
PRODUCTS
French Wax, Bikini Wax, Sugaring, Waxing And Sugaring For Men, Threading
WEBSITE
mysugarbox.com
ADDRESS
1025 Cambie Street, Vancouver, BC V6B 5L7
CONTACT DETAILS
Phone: (604) 569-1100

Email: [email protected]

OPERATING HOURS
Monday - Wednesday 10:00 am - 7:00 pm Thursday - Friday 10:00 am - 8:00 pm Saturday 10:00 am - 7:00 pm Sunday 11:00 am - 5:00 pm
| | |
| --- | --- |
| Criteria | Ratings |
| Price | ★★★★☆ (4/5) |
| Number of services | ★★★★★ (5/5) |
| Customer satisfaction | ★★★★★ (5/5) |
Sugarbox is a boutique that offers beauty services such as sugaring, threading, and waxing in Vancouver.
One of the things we like about Sugarbox is that it's open 7 days a week. This makes it easy for customers to set appointments and avail services at their convenience.
Another aspect we like about Sugarbox is its number of available services. The boutique has a waxing and sugaring service for men and women and for any part of the body, from the face down to the bikini area.
They also offer their services in waxing packages so you can get multiple areas waxed at once for a fraction of the price.
To get more insight into how Sugarbox treats its customers, we interviewed their past clients. Most of them share one main comment: all staff members are friendly, professional, and kind.
If you are curious about their processes, you can visit their website to get more information. However, you might want to zoom in a little.
Although Sugarbox's website is highly informative and complete with dos and don'ts, the font they used is tiny and hard to read. Looking past the font size, you will see just how much Sugarbox has to offer with just one visit to their site.
Overall, we believe that Sugarbox is best for customers looking to have a wide range of beauty services done to them at once.
Multiple waxing options
Open 7 days a week
Customer Reviews
Professional and knowledgeable staff
I love this salon. Everyone's friendly and professional. Jea always makes me feel comfortable and she's knowledgeable about sugaring and everything else she does. I highly recommend her and this salon in general! – Rio
Clean and attractive facilities
Had a great first experience with sugaring. I loved the all natural alternative to waxing and found the process to be less painful than a typical wax. The salon is super cute and clean and Katie made my experience so comfortable. Really happy with the results I got and am definitely coming back again! – Olivia
3. Bare Wax Bar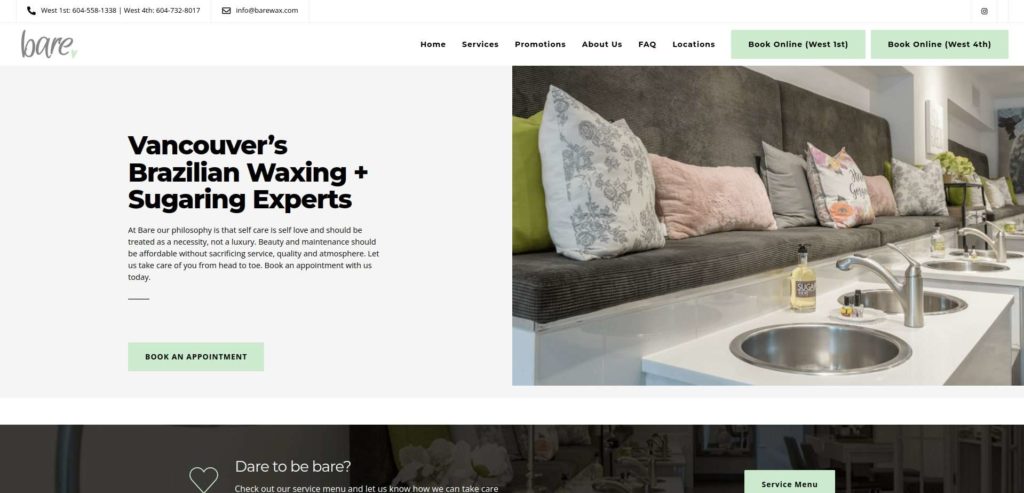 Test
Info
PRODUCTS
Ladies' Waxing, French Waxing, Bikini Area Waxing, Brazilian Waxing, Manscaping, Waxing For Arms And Legs, Threading, Facials, Manicure And Pedicure
WEBSITE
barewax.com
ADDRESS
1828 West 1st Ave, Vancouver, BC V6J 1G5 101-2065 West 4th Ave, Vancouver, BC V6J 1N3
CONTACT DETAILS
Phone: West 1st: (604) 558-1338 West 4th: (604) 732-8017

Email: [email protected]

OPERATING HOURS
Monday - Wednesday 10:00 am – 7:00 pm

Thursday - Friday : 10:00 am – 8:00 pm

Saturday: 10:00 am – 7:00 pm

Sunday: 11:00 am – 5:00 pm
| | |
| --- | --- |
| Criteria | Ratings |
| Price | ★★★★☆ (4/5) |
| Number of services | ★★★★★ (5/5) |
| Customer satisfaction | ★★★★★ (5/5) |
Bare Wax Bar is a sugaring and waxing boutique in Vancouver that also offers nail services, skin treatments, and lash and facial services.
Bare's biggest strength is that it has two locations in Vancouver with both places open 7 days a week. This setup makes Bare's services convenient and accessible to as many customers as possible.
Another aspect we like about Bare is that they provide a list of their aestheticians on their website. The list includes a background of the shop's owners and staff, most of whom have over a decade of experience in the field.
Giving out this information to the public allows customers to see the staff's credentials and potentially build trust easier and quicker. The website also answers FAQs that you may have prior to your visit.
Bare Wax Bar has numerous services for both men and women, including waxing and sugaring for all body parts. Bare's services are relatively cheaper compared to other places but the low price does not seem to diminish their quality.
We talked to some of Bare's prior customers and they said that the staff are friendly and that the salon is spotless. Others note how the aestheticians were efficient and skilled, and do their best to minimize the pain.
Despite this, there are a few reports that mention how there seem to be some hair remaining after the procedures. However, Bare offers to correct any dissatisfactory service if you notify them within 3 days of your appointment.
Shows information on aestheticians
Has 2 locations
Open 7 days a week
Few complaints of remaining hair
Customer Reviews
Highly-skilled and efficient staff
First time at this location and the front staff are very friendly. The salon is clean and tidy. Sanitization Covid measures are in place. My esthetician Annemarie was super efficient and highly skilled which helped minimize the pain and left me feeling super smooth. I can't say this enough but since I switched over to sugaring my waxes last so much longer, truly worth every penny. And I'm so thankful that service at Barewax is consistent among salons! I'll be back! – Chantelle
Good customer service
I was super nervous about getting my first brazilian wax but Vanessa was so gentle and made me feel at ease. She was very outgoing and chatted with me throughout my whole appointment. The front desk was super friendly and kind as well. I have never experienced better customer service! – Michelle
4. Stripped Wax Bar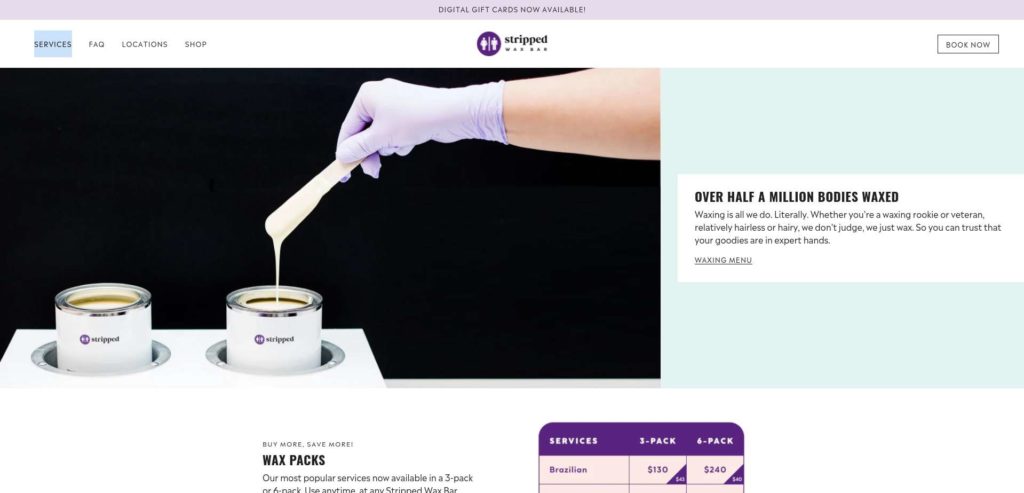 Test
Info
PRODUCTS
Brazilian Wax, French Wax, Bikini Wax, Face Wax, Waxing For Arms And Legs, Waxing For men
WEBSITE
strippedwaxbar.com
ADDRESS
1016 Mainland Street, Vancouver, BC V6B 2T5 1990 W 4th Ave, Vancouver, BC V6J 1M5 50 Lonsdale Ave #207, North Vancouver, BC V7M 2E6
CONTACT DETAILS
Phone: (604) 681-8660

(604) 566-9755

(604) 770-3327

OPERATING HOURS
Monday to Friday: 10:00 am - 7:00 pm

Saturday: 10:00 am - 6:00 pm
| | |
| --- | --- |
| Criteria | Ratings |
| Price | ★★★★☆ (4/5) |
| Number of services | ★★★★★ (5/5) |
| Customer satisfaction | ★★★★★ (5/5) |
Stripped Wax Bar offers waxing in Vancouver, with 3 different locations in the city.
Having 3 different locations that are open 6 days a week is one of Stripped's strengths, as this allows you to choose the place closest to you at your convenience.
Another thing we like about Stripped is that their prices are relatively more affordable compared to others in this list. They even offer a full body wax and other waxing combos to make the procedures cost a fraction of what they would be alone.
To get more perspective on Stripped Wax Bar's service, we talked to some of their previous customers. Most of these clients praised the staff's quick, efficient, affordable service and how professional and friendly they were.
However, there were others that did not have the same positive experience.
Some of the customers said that there were still remaining hairs on the area they had waxed. Another customer reported that the staff did not inform them of possible allergic reactions and another reported how their pain and discomfort was ignored.
Although these are only a minority of the reviews, you might want to ask as many questions about your concerns when you opt in for a visit.
Overall, Stripped Wax Bar's affordable pricing and good service earns them a spot on our list.
3 different locations in Vancouver
Open 6 days a week
Relatively affordable services
Several complaints about unprofessional behavior
Customer Reviews
Fast and Impeccable Service
I was just at Stripped and had to leave a review because I had such a positive experience! Heather was amazing. You can tell she's been waxing for years. Super fast and does such an impeccable job! Super friendly and easy to talk to which is a bonus! I'll be her regular client for sure. This location is super clean and all the girls are smiley and very friendly! Good job ladies! – TNA
Reasonable Prices
Best waxing services I've ever had. They offer a wide range of services/products at very reasonable prices, the facility is always extremely clean and their online booking feature is super easy to use. All the ladies that work here are exceptionally nice and very good at what they do. Highly recommend. – Eilleen
5. CoalitionSkin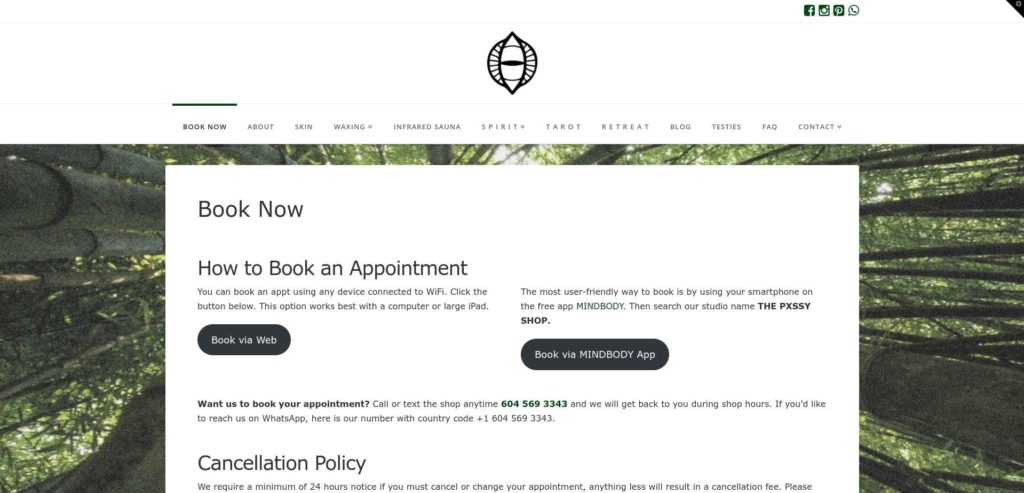 Test
Info
PRODUCTS
Brazilian Wax, Bikini Wax, Waxing For Arms And Legs, Eyebrow Shaping, Waxing For Men
WEBSITE
thepxssyshop.com
ADDRESS
424 Homer Street, Vancouver, BC V6B 2V5
CONTACT DETAILS
Phone: (604) 569 3343

Email: [email protected]

OPERATING HOURS
Tuesday - Wednesday: 12:00 nn - 8:00 pm

Friday - Saturday: 10:00 am - 6:00 pm
| | |
| --- | --- |
| Criteria | Ratings |
| Price | ★★★★☆ (4/5) |
| Number of services | ★★★★☆ (4/5) |
| Customer satisfaction | ★★★★★ (5/5) |
CoalitionSkin, also known as "The Pxssy Shop," is a shop for holistic wellness and waxing in Vancouver. Unlike most in this list, CoalitionSkin is a small local business but has a lot of personality.
The shop offers multiple waxing services for men and women alike. These services range from eyebrow shaping and beard waxing to waxing of the arms, legs, and bikini area.
The customers we interviewed offered nothing but praises for the friendly, well-informed staff and the clean, artsy ambiance of the shop. Others commented on how little pain they felt during their waxing session, which is usually unusual for these procedures.
We believe that this number of quality services is one of CoalitionSkin's biggest strengths. However, these literally come at a cost.
CoalitionSkin's services are relatively the most expensive in this list, on average.
Compared to others on this list, the boutique also has the shortest opening hours. Due to the pandemic, CoalitionSkin is only open 4 days a week which could make scheduling appointments difficult for some.
Nevertheless, they try to provide as many updates as possible regarding their entire situation on their website. They also allow customers to book appointments through their app and their website to make the process simpler.
Offers multiple waxing services
Allows booking via app and website
Relatively expensive services
Open only 4 days a week
Customer Reviews
Professional and friendly atmosphere
"Super happy with my Brazilian wax from Sara! Very professional and friendly atmosphere with a variety of local art and products. Love the vibe, I will definitely be back! Thanks again" Luna
Quick and painless service
The Pxssy Shop has a lovely shop at the entrance when I walked in with beautiful and creative products, which impressed me. I had decided to try their Brazilian service as I was told hardwax is less painful than softwax. I had never heard of hardwax before (unfortunately) and it was far less painful!! The technician was very skilled and I was impressed by how quick and painless everything was. – Courtney
FAQs about waxing in Vancouver
---
More Resources for Your Cosmetic Needs