Top 5 Debt Consolidation Companies in Vancouver
Consumer debt is something that affects pretty much everyone's life. If you're in or finished with school, have a credit card or a mortgage, or financing your car, you know what we're talking about.
Sometimes a person's debt gets to the point where they're paying off multiple debts at varying interest rates. This can get overwhelming sometimes especially with credit card interest rates, and is usually the point where people consolidate their debt.
We gathered this list of the top debt consolidation companies in Vancouver to help you put all your debts together into one loan, leaving you one interest rate to deal with. This turns five headaches into one, and saves you money in interest payments.
How much are debt consolidation rates in Vancouver?
It's hard to tell how one financial assistance or loan company charges compared to another. Some companies value assets differently and some can be friendlier than others because of who you're speaking with.
The common denominator, though, is that interest rates and loan terms in one company fall in a certain range, in their own respects. We put this down in a table for a clearer picture:
| Creditor | Interest Rates (%) | Loan Terms (Months) |
| --- | --- | --- |
| Fairstone | 19.99-39.99% | 6-120 mos |
| Canadian Cash Solutions | 12-49% | 2-72 mos |
| easyfinancial Services | 34.99-68.89% | 9-120 mos |
| Amber | 9.9-49.96% | 3-60 mos |
| TD Canada Trust | 6.99-19.99% | 36-60 mos |
The Best Debt Consolidation Companies in Vancouver
Pooling your debt together into one loan can be a decision that either improves or worsens your financial position. While this heavily depends on how diligent you are with your repayments, to an extent it relies on which creditor you choose as well.
We opted to be as objective as we could in our judgment, which led us to the following criteria:
1. Fairstone

| | |
| --- | --- |
| Criteria | Rating |
| Accessibility | ★★★★☆ (4/5) |
| ⮕Digitization | ★★★★☆ (4/5) |
| ⮕Credit Requirements | ★★★★☆ (4/5) |
| Flexibility | ★★★★★ (5/5) |
| ⮕Loan Term | ★★★★★ (5/5) |
| ⮕Prepayment | ★★★★★ (5/5) |
| Rates | ★★★★☆ (4/5) |
| Customer Satisfaction | ★★★★★ (5/5) |
Fairstone is a great company to approach in consolidating debt. They are among the best non-bank entities that provide loans with over 240 branches across Canada.
We like that they're physically accessible, and that they provide many services online such as loan applications and approvals. This makes sense since they profit from being able to approve as many loans as possible.
They provide secured loans at competitive interest rates, but also give out unsecured loans to those who don't own assets. We like how inclusive they are in this sense, making sure that anyone in need has access to debt consolidation options.
They can release up to CAD$50,000 for secured personal loans.
However, unsecured loans are capped at CAD$25,000. Unsecured loans have higher interest rates but they don't penalize prepayment but clear this with your officer first to avoid any mishaps.
We also love how requesting a quote online doesn't affect your credit score until you pursue your application. We're a generation that's spoiled for choice and this is a great way to weigh your options before committing.
Fairstone has been in the responsible lending business for 100 years, a milestone that only the most competent organizations reach. They're a well-rounded choice, and being known for their courteous and friendly staff is a great plus.
Many branches
Offers online services
Offers unsecured loans
Long tenure
High interest rates
Complaints about communication gaps
Customer Reviews
Would recommend
"Came in, and received amazing service with Meaghan. She was very thorough and explained every detail about the loan even solved a small issue with my ID. Would recommend this branch 100%" -Sean
My application went smoothly.
"Customer service is excellent and Rob made sure I am well accommodated and explained everything really well. He answered all my questions and made sure to call me back if needed. My application went smoothly." -Nelliza Gumabay
2. Canadian Cash Solutions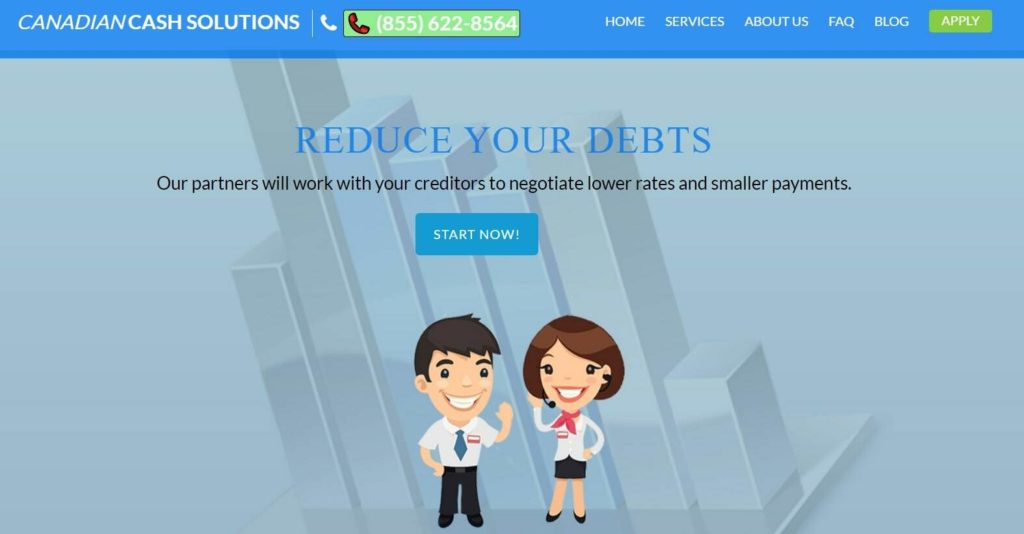 | | |
| --- | --- |
| Criteria | Rating |
| Accessibility | ★★★★★ (5/5) |
| ⮕Digitization | ★★★★★ (5/5) |
| ⮕Credit Requirements | ★★★★★ (5/5) |
| Flexibility | ★★★★☆ (4/5) |
| ⮕Loan Term | ★★★★★ (5/5) |
| ⮕Prepayment | ★★★☆☆ (3/5) |
| Rates | ★★★★☆ (4/5) |
| Customer Satisfaction | ★★★★★ (5/5) |
Canadian Cash Solutions is a company that connects its clients to loan providers nationwide. Instead of providing the loan itself, they focus more on providing the services around it to support the customer better.
It's no secret that the world of money can be quite cold and unforgiving, and being in debt makes this feel more pronounced. We like how their focus is on educating and empowering their clients; the "teach a man to fish" philosophy at work.
Clients we've talked to claim that they listen intently to your needs and find the best solutions for you, whether debt consolidation, or other means. This is also why sometimes it's better not to deal directly with a financial company and get treated like a sale.
An extra layer of communication can delay a process and cause gaps, but it can also provide an extra layer of protection. For us mere mortals, this translates to consolidating our debt with capable and trustworthy lenders.
In our opinion, this provider effectively meets the needs of their clients through the services they provide themselves, and their vast network of loan providers. Even just as a way to gather information while exploring options, Canadian Cash Solutions can help you out.
Large network of providers
Same-day release
High loan approval rate
Complaints about delays
Complaints about communication gaps
Customer Reviews
Thank you so much for this great service.
"I needed financial help and was very stressed! Canadian Cash Solutions was able to provide a title loan to me very quickly. I was able to get my cash on the very same day! Thank you so much for this great service." -Waverly Scott
Great Service!
"Great Service! Going to Canadian Cash Solutions was the best decision I ever made! The staff was so friendly and helpful. I got cash on the same day of approval." -Felix A.
3. easyfinancial Services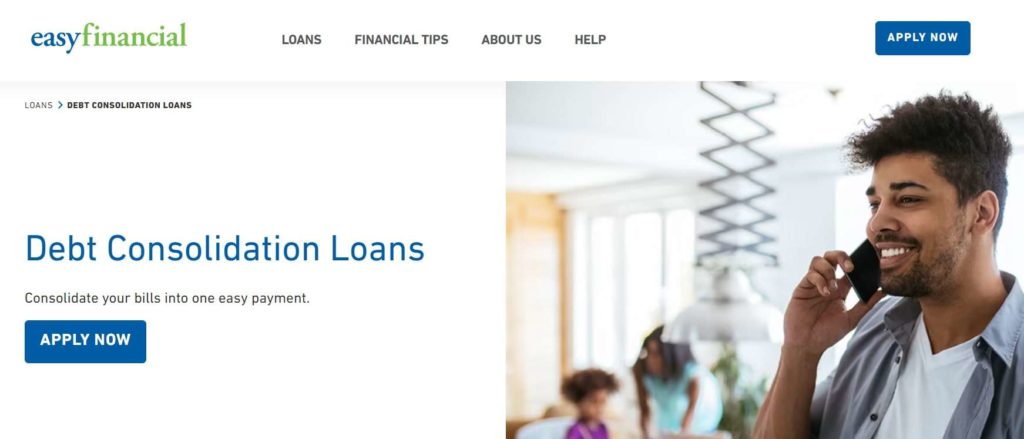 | | |
| --- | --- |
| Criteria | Rating |
| Accessibility | ★★★★☆ (4/5) |
| ⮕Digitization | ★★★★☆ (4/5) |
| ⮕Requirements | ★★★★★ (5/5) |
| Flexibility | ★★★★☆ (4/5) |
| ⮕Loan Term | ★★★★★ (5/5) |
| ⮕Prepayment | ★★★★☆ (4/5) |
| Rates | ★★★☆☆ (3/5) |
| Customer Satisfaction | ★★★★☆ (4/5) |
Easyfinancial Services is a subsidiary of goeasy, a large scale loan provider in Canada with over 450 locations in 190 cities. With over 30 years of experience under their belt, they put together a well rounded business with multi-faceted services to suit the consumer.
They provide larger loans than most so if you're looking for up to CAD$75K, easyfinancial should be near the top of your list of providers to go to. You can access this through their home equity loans with terms up to 120 months.
With regards to their unsecured loans, however, they limit it to CAD$20K, a tad lower than other companies. We also found their interest rates a bit higher than other companies, but it's what pays for the infrastructure around their services.
We like that they're proactive with their financial education campaigns, and that they seem bent on helping people raise their credit scores. There's a lot to gain from longer conversations over details and advice here, so it'd be a good idea to save their number.
In short, they approve loans to people who are generally turned away by banks, and do so in as quick as 10 minutes. We love how accessible this can become to people who need it most, and we love that it can all happen for you on the same day.
Long terms
Many locations
High equity loan amount
High interest rates
Small unsecured loan
Customer Reviews
Would definitely recommend.
"My experience has been awesome! Super kind and helpful staff made this amazing!
Specially Sirat was pretty clear with the details and how things work. Would definitely recommend." -Mir Ali
My experience has been awesome!
"My experience has been awesome! Super kind and helpful staff made this amazing!" -Leah Nicole
4. Amber Financial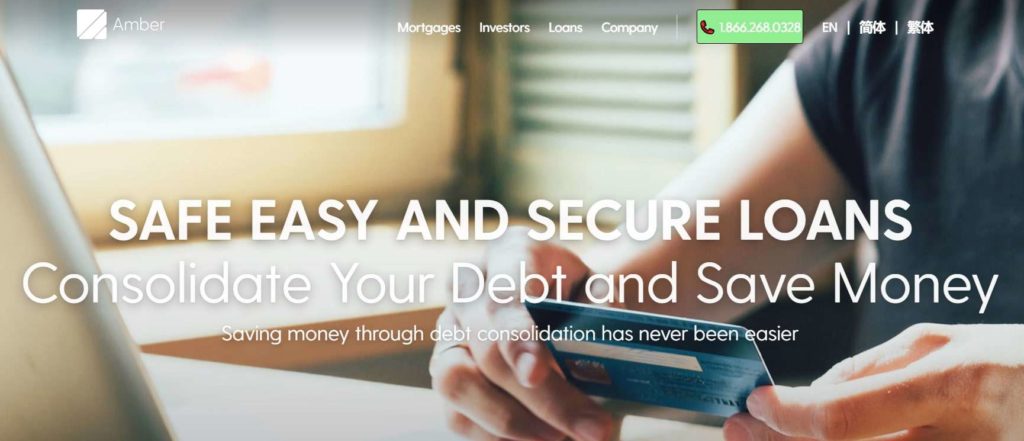 | | |
| --- | --- |
| Criteria | Rating |
| Accessibility | ★★★★★ (5/5) |
| ⮕Digitization | ★★★★★ (5/5) |
| ⮕Requirements | ★★★★★ (5/5) |
| Flexibility | ★★★★☆ (4/5) |
| ⮕Loan Term | ★★★★☆ (4/5) |
| ⮕Prepayment | ★★★★★ (5/5) |
| Rates | ★★★☆☆ (3/5) |
| Customer Satisfaction | ★★★★★ (5/5) |
Amber is a known financial company that utilizes technological advancements to bridge the gaps that conventional lending companies can't. Their philosophy rewards them with lower costs and their clients in accessibility to loans and lower rates.
We like the convenience brought by them conducting their business online, making their loans accessible and the process efficient. And you can do this safely without worrying about your information being compromised since they go above standards to protect it.
Amber also takes a step towards convenience in the repayment process of your loan, taking it out of your hair through automated deductions straight from your bank account. We know that not everyone is comfortable with this, but it's mostly based on preference.
Prepayment penalties are a pain for those who find themselves in the position of paying sooner than the loan term dictates. We love how Amber does well to protect their clients' money by abolishing this penalty altogether.
Overall, Amber provides convenience and accessibility to their borrowers through the proprietary tech in the backbone of their business. The efforts they put into maintaining a level of transparency is a big plus, and lets us know they value honesty.
No prepayment penalties
Low interest rates
Proprietary tech for secure transactions
Max loan term 5 years
Automatic deductions
Customer Reviews
Convenient and easy
"I borrowed the $5000 from Amber and got the money within 2 days. Their online application services was convenient and easy." -Wu Chunhua
Great rates
"excellent place to get a mortgage. the service was prompt, staff was very well experienced in dealing difficult mortgage application. they also have great rates." -数据美丽
5. TD Canada Trust
| | |
| --- | --- |
| Criteria | Rating |
| Accessibility | ★★★★★ (5/5) |
| ⮕Digitization | ★★★★★ (5/5) |
| ⮕Requirements | ★★★★★ (5/5) |
| Flexibility | ★★★★★ (5/5) |
| ⮕Loan Term | ★★★★★ (5/5) |
| ⮕Prepayment | ★★★★★ (5/5) |
| Rates | ★★★☆☆ (3/5) |
| Customer Satisfaction | ★★★☆☆ (3/5) |
Being the only bank on this list, TD Canada Trust is the most comprehensive loan provider here. Founded in the city of Toronto in 2000, the company has grown to have over 1,100 branches nationwide and is known for their courteous staff.
They offer a plethora of financial products to help individuals with their debt through loans, consultancy services, and negotiation. Serving as a convenient 'one-stop-shop,' people can consolidate their finances with TD for different needs.
One thing we particularly like is their digital banking service, which lets people control their finances and debts at their fingertips. We find that this feature brings the benefit of having clear oversight on your finances, adding a level of comfort in the mix.
We also love how their financial education services are advertised on their website and don't seem to be something people need to claw for. They aren't stingy with information that can help people, and even help people avoid needing help in the first place.
We like that they're putting in the effort to improve their customer service, something that's refreshing to see in the financial industry. Gaps in communication and service are being addressed, focusing on the customers' experiences.
As a whole, we find that TD Canada Trust is a well-rounded bank that values customer experience and strives for excellence. If you're looking for a lender that can serve more purposes than one, you'd be talking to the right company.
Many branches
Offers digital banking
Full service bank
Complaints about communication gaps
Complaints about poor customer experience
Customer Reviews
Incredibly positive experience
"I've had an incredibly positive experience at this branch. I want to personally mention Ying, who has delivered exemplary service both in her knowledgeability and professionalism consistently – all with a warm demeanor." -quin barber
Very, very Helpful
"They are very, very Helpful, and know what they're doing. They keep things going and are friendly about it too. Really friendly for someone who doesn't know too much about it banking and they don't try to take advantage of you." -Darius W. Meikle
FAQs About Debt Consolidation
---
This ends our list of the best debt consolidation companies in Vancouver. We wish you the best in your financial journey and hope we've provided meaningful information to help you along your way.
A healthy financial attitude does wonders in keeping you free from bad debt. Make the most out of your conversations with financial professionals and get insider information on how to make your money work for you.
Are you in need of smaller short-term loans just to get through the week? We got you covered with this list of the best payday loan services in Vancouver!