Well, hello there, pal. We're sure you've heard about Stanley Park, so maybe this intro is useless, but hey, we all need a little help getting around this massive oasis in the middle of the city.
But seriously, it's pretty huge, right? So put on your walking shoes, grab a coffee, and let us be your guide, so you can navigate the park like a pro in no time.
Why is Stanley Park so famous?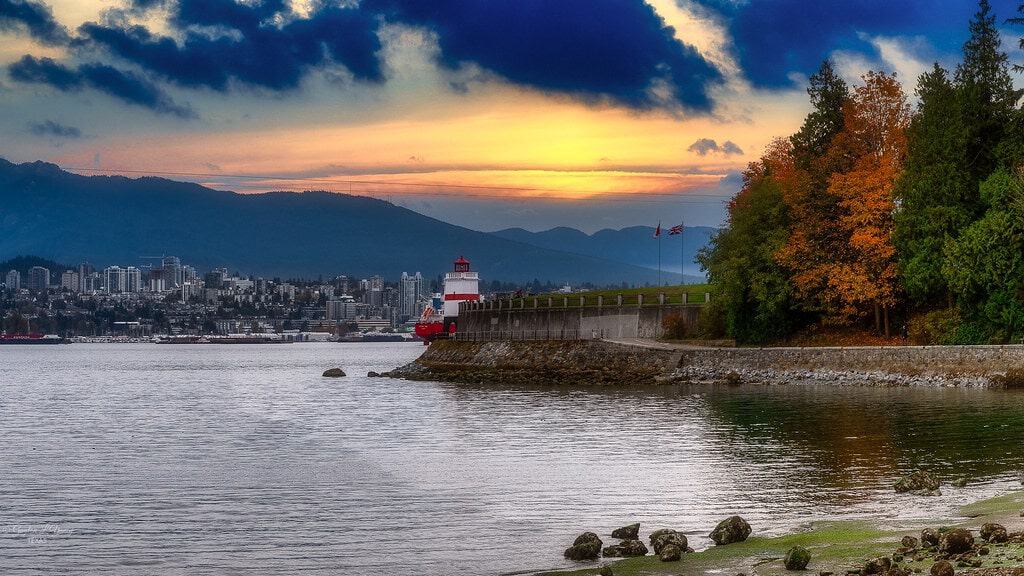 Stanley Park is famous for its beautiful scenery, including its lush forests, stunning waterfront views, and many recreational activities.
This includes hiking, cycling, and swimming, as well as popular attractions like the Vancouver Aquarium, Totem Poles, Hollow Tree, Siwash Rock, and the Stanley Park gardens.
The park also has a variety of restaurants, such as Prospect Point and the Teahouse Restaurant.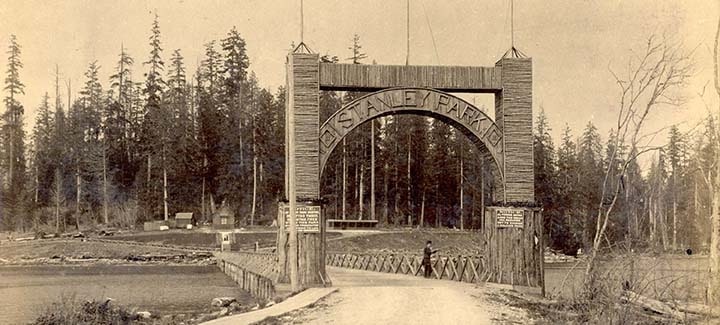 Stanley Park actually has quite a dismal history. It was previously the territory of the Coast Salish First Nations of Musqueam, Squamish, and Tsleil Waututh. It was one of the largest indigenous settlements in the Lower Mainland.
In 1886, the Vancouver City Council asked the Canadian government for permission to use the space as a public park, which was granted a year later.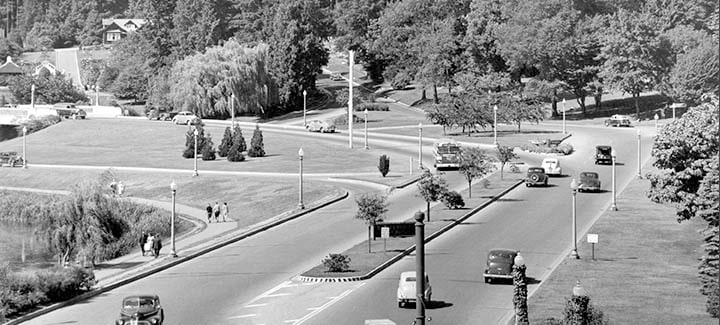 In 1887, city workers started to demolish the structures and evicted the residents to make way for the first Park Road.
Despite all this, the residents remained in Stanley Park until the Park Board eventually won a case against them in the 1920s. Evictions soon began afterward in the 1930s.
However, the Park Board permitted Tim and Agnes Cummings to remain in their home in Stanley Park until their deaths in the 1950s.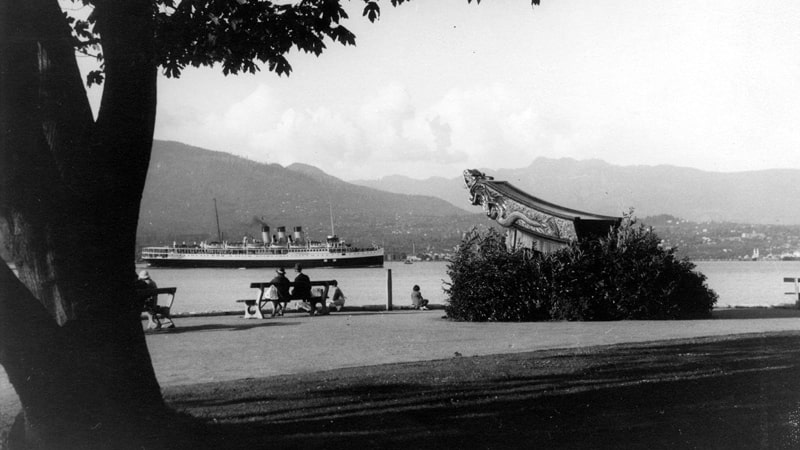 Throughout the late 19th and early 20th centuries, the Park Board undertook multiple projects and renovations to construct facilities and other park features to improve the park's recreational activities.
These enhancements included a zoo, pathways, beaches, open spaces for outdoor sports, and many other features.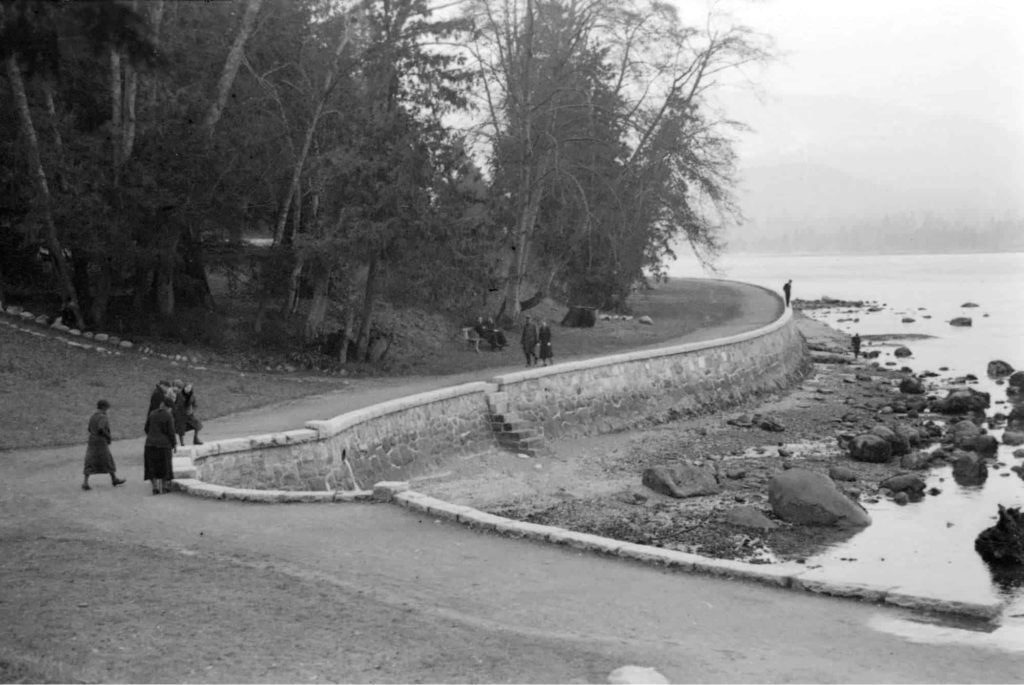 Perhaps the most well-known infrastructure in Stanley Park is the SeaWall. This 8.8-kilometer project began in 1914, took over a half-century to finish, and was finally completed in 1971.
Today, Stanley Park is home to some of British Columbia's most popular tourist attractions, including the Vancouver Aquarium and the Brockton Point Totem Poles, among others.
What do people do in Stanley Park?
1. Explore by Biking

Biking in Stanley Park is one of the most popular ways to explore the park. You want to know something cool? The park has 10 kilometers of flat, paved paths that circle the park!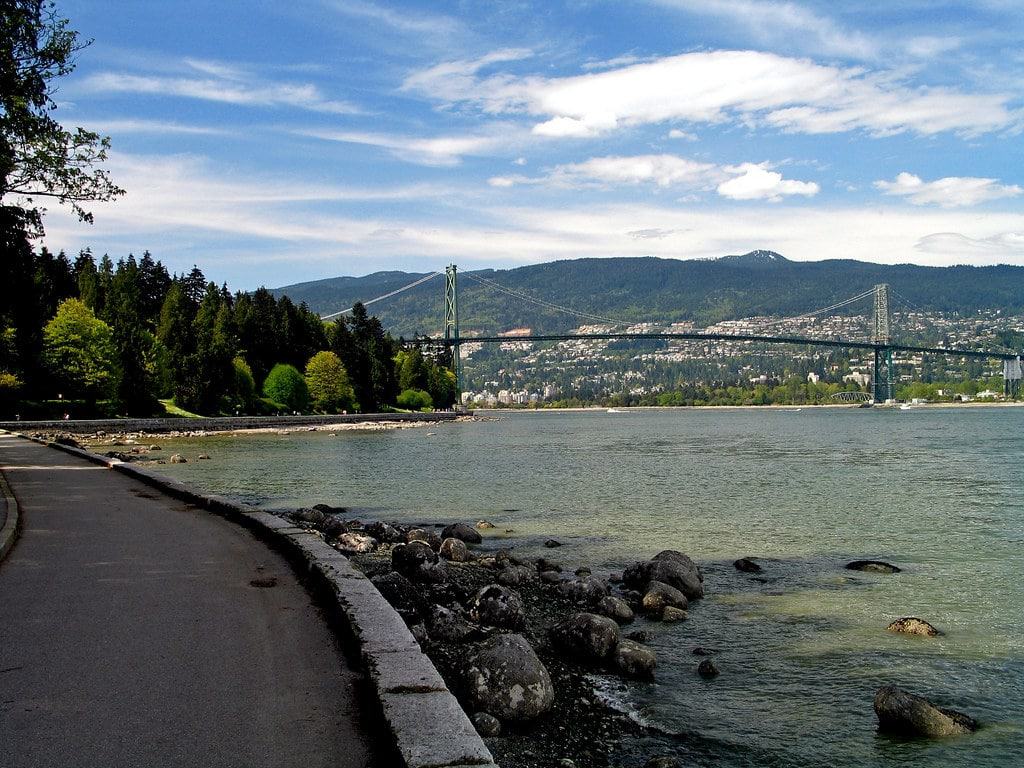 The view is also just gorgeous, as you're rewarded with scenic views of the North Shore mountains and Lions Gate Bridge.
If you're like us and you also don't have your own bike, don't worry, as there are rental shops nearby where you can easily rent one for a reasonable price. Here are a few recommendations on where you can rent a bike:
So you may be wondering, "How long does it take to bike around Stanley Park?" Well, it should take you an hour to finish the path, but hey, we're not judging if you exceed more than that.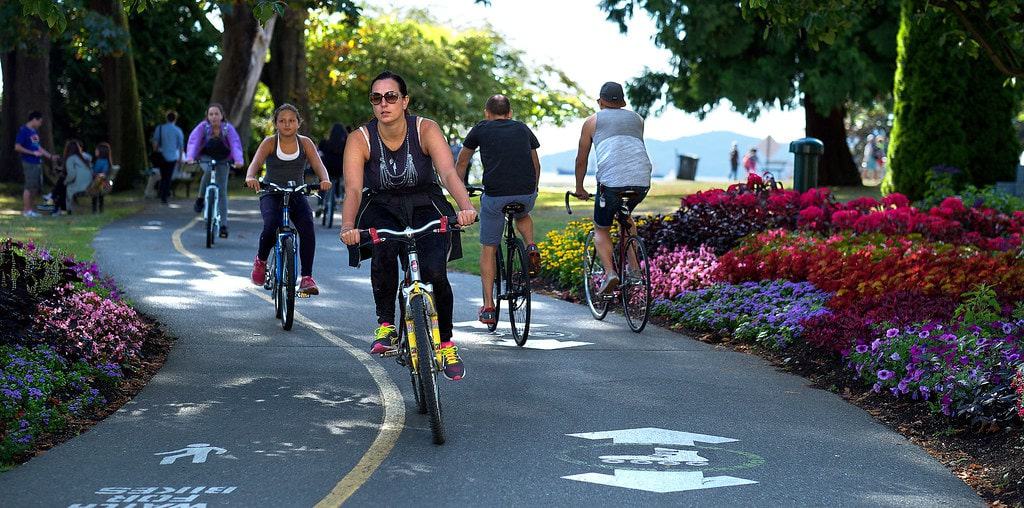 Oh, hey! Before we forget, remember that the bike path is one-way, so it's wise to cycle counterclockwise around the park. Also, don't forget to wear a helmet and stay on the designated path to ensure your safety and the safety of others using the park.
2. Walk along the Seawall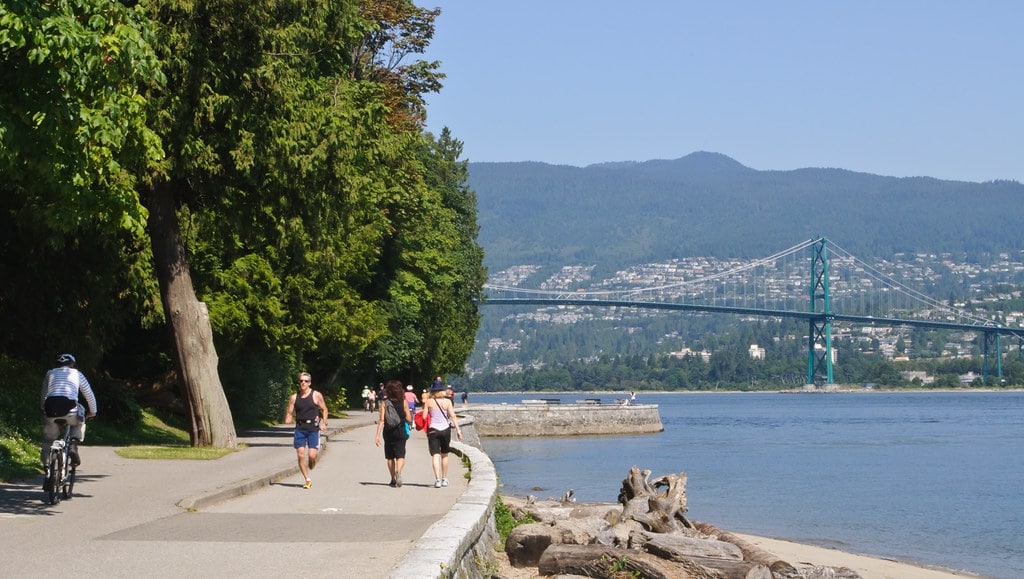 Remember when we told you to bring your walking shoes? Well, it's actually for your own good, as it takes around two to three hours to walk around Stanley Park.
If you plan to spend your entire day here, walking would be the best way to experience the park.

Whether you walk along the Seawall, Stanley Park Loop, or the numerous walking paths, you will find that this park is one of the most beautiful urban parks in the world.
Literally, everywhere you look is a postcard-worthy view of nature, from towering trees to scenic beaches and breathtaking mountain vistas.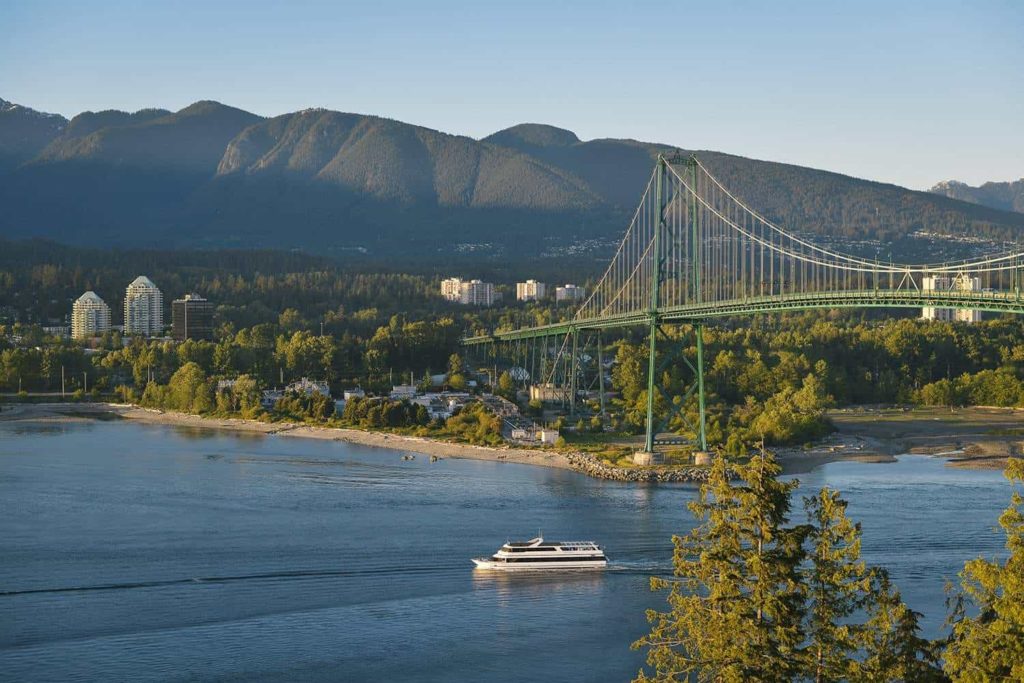 Our favorite view has got to be from Prospect Point, where you can see the Lions Gate Bridge spanning across the water and the North Shore Mountains towering in the distance.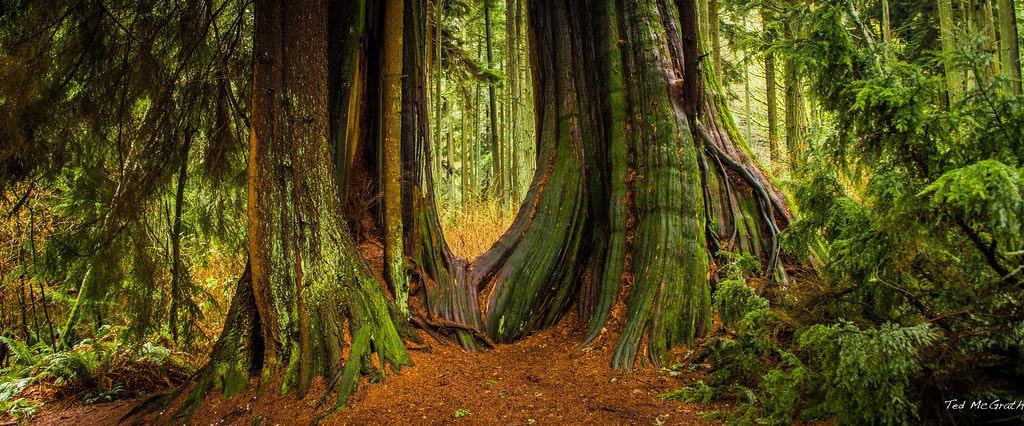 Or, if you prefer more nature, you can take a stroll through the park's dense forests. We think the fall season is the best time to walk here as the leaves change colors and the park is awash in oranges, yellows, and reds.
3. Ride the Stanley Park Train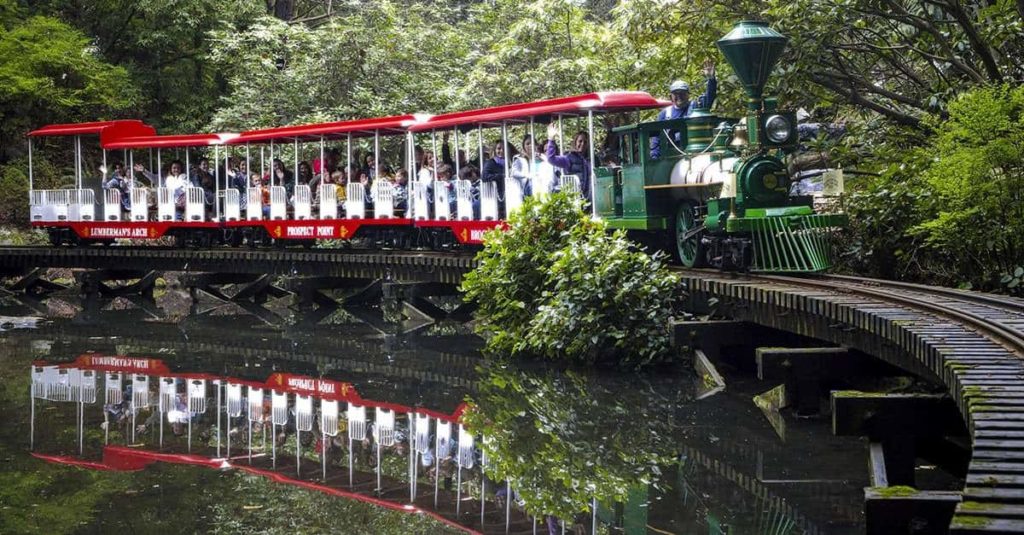 If you think that riding a colorful train is childish, think again. The Stanley Park Train is a must-try experience that you won't regret.
Not only does it take you on a scenic journey through the park, but it also winds its way through lush forests, providing a unique perspective on the natural beauty of Stanley Park.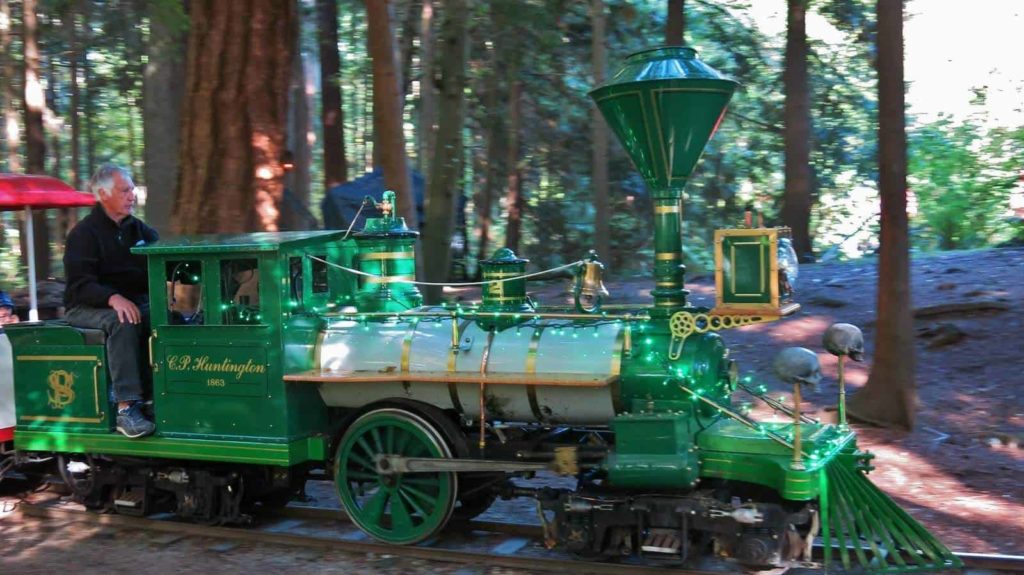 What's great about the train ride is that it's a perfect option for those who want to enjoy the sights without walking. The ride lasts for about 20 minutes, making it a convenient and efficient way to explore the park.
The Stanley Park train runs from March to October, and you would need to pay CAD 7 for adults and CAD 5 for children.
If you're a family of four, then it's ideal to opt for the family pack that includes two adult tickets and two child tickets, which costs CAD 25.
4. Dine at Prospect Point Cafe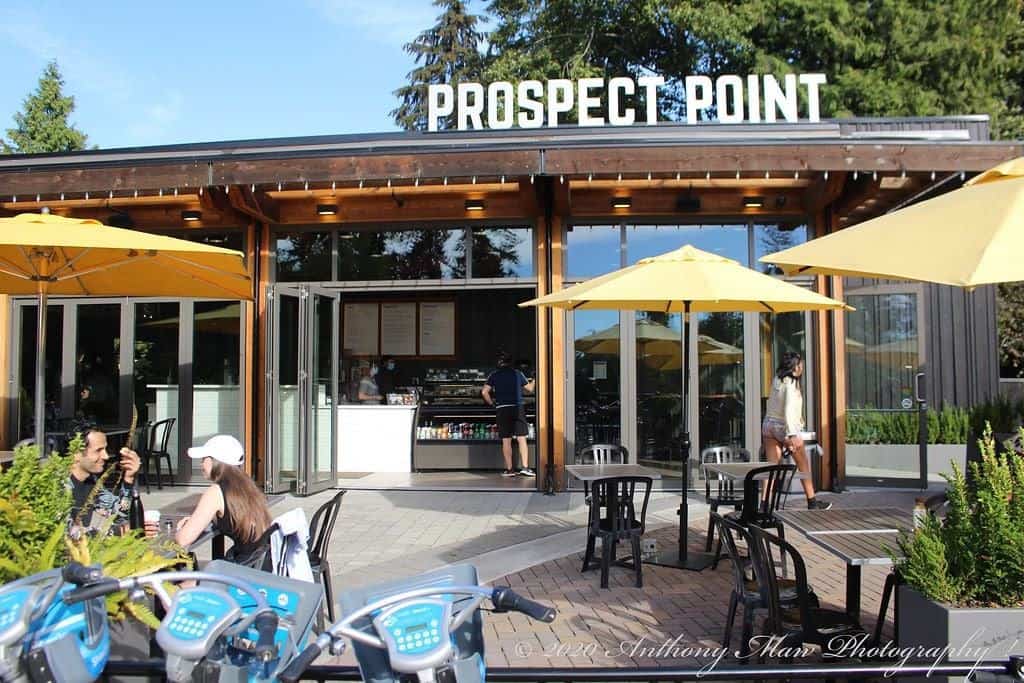 Of course, after spending all day in the park, we're all going to get hungry. That's what Prospect Point Bar & Grill is for. This lovely spot right at the tip of Prospect Park has a cafe at the front and a bar and grill inside.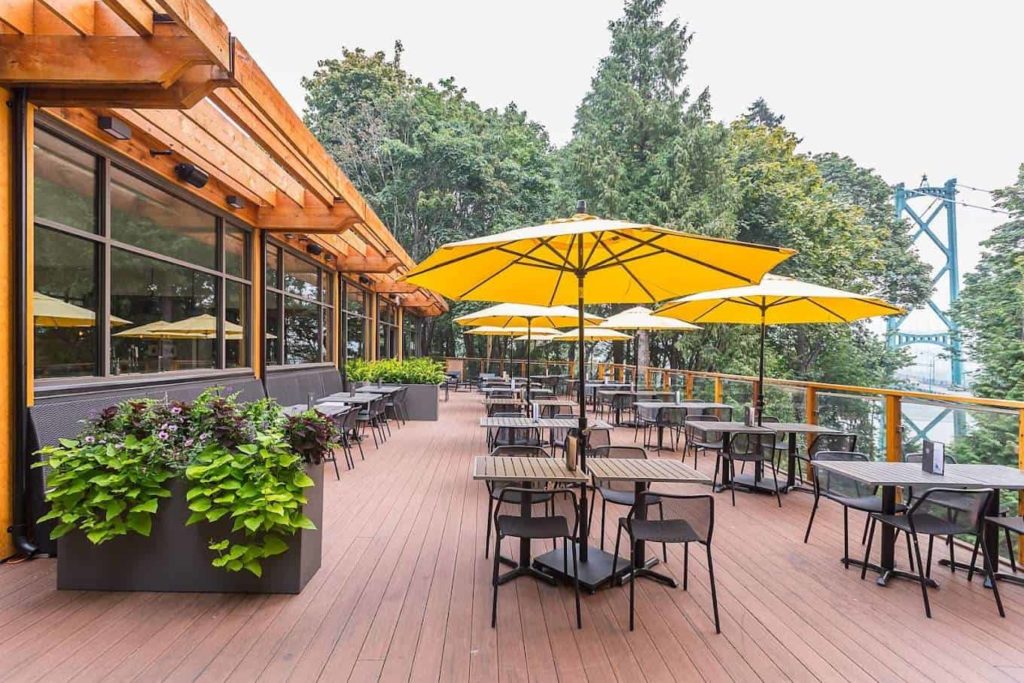 Try to get a seat out on the deck so you can get a beautiful view of the harbor. Although you would have to wait 15 minutes or so for your food to be served, it's well worth it as each dish is beautifully-presented, and not to mention, delicious.
Our top pick here is the hamburger with side salad, because let's be honest, nothing beats this classic. But if you're looking for something more filling, get the breakfast special! It's packed with pork belly, potatoes, and poached eggs.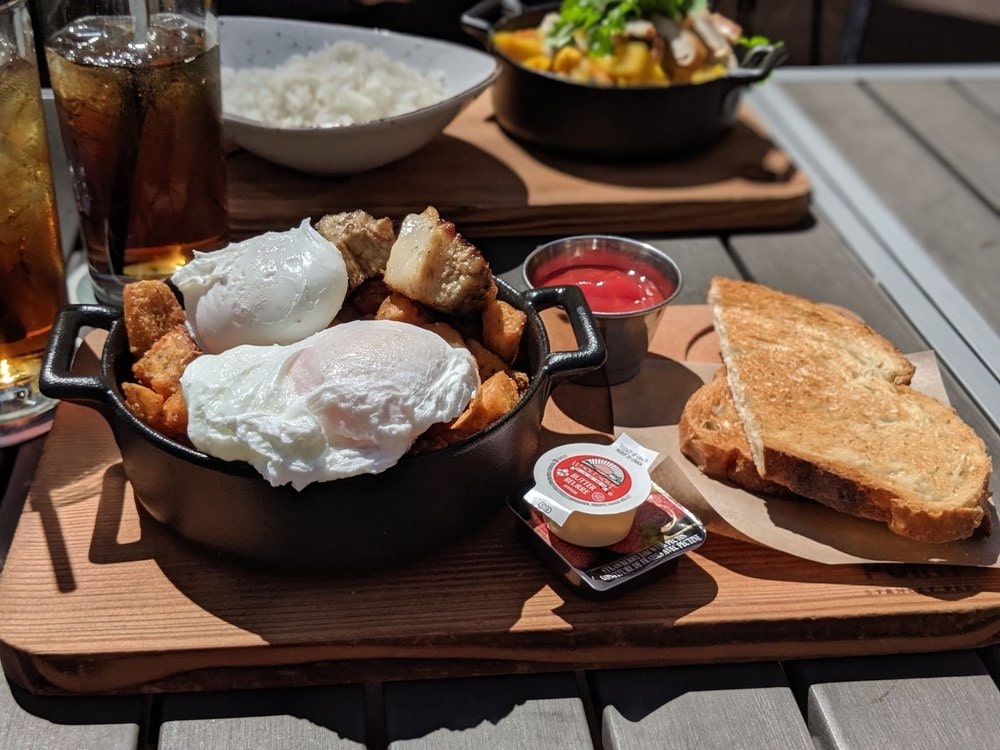 Here's a little tip for you to cool down. Prospect Point Bar & Grill also refreshing iced coffees, both normal and alcoholic. Our favorite is the baileys and coffee but you can also try their other options.
5. Visit the Totem Poles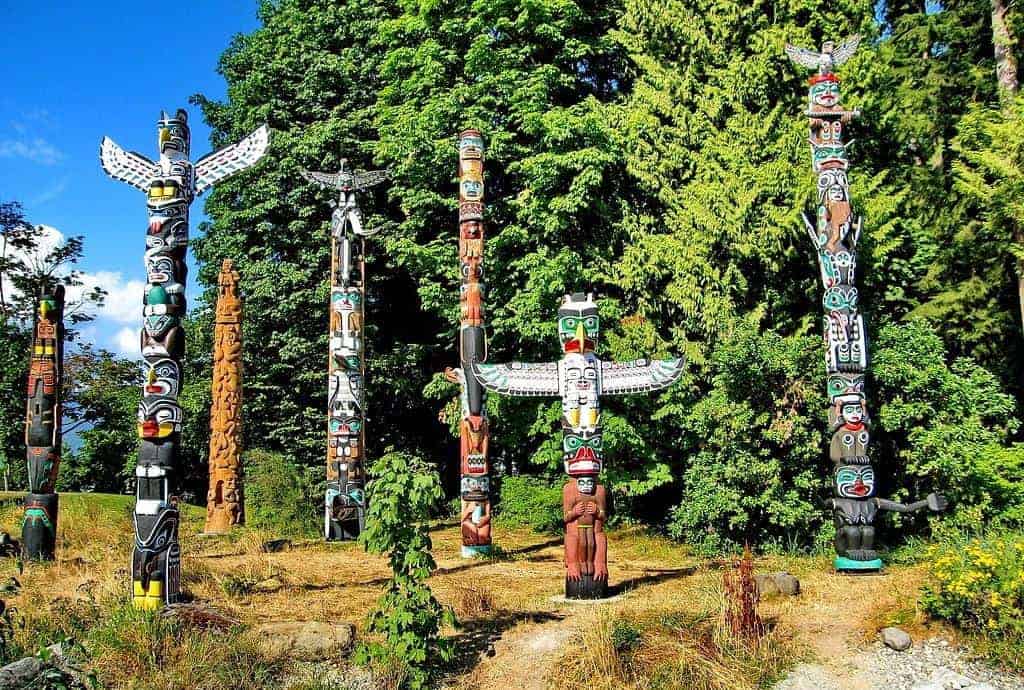 The totem poles in Stanley Park are famous. But first things first: what exactly are these wooden poles with a bunch of carvings on them?
Well, these totem poles were actually created by the First Nations of the Pacific Northwest to commemorate ancestry, histories, people, or events.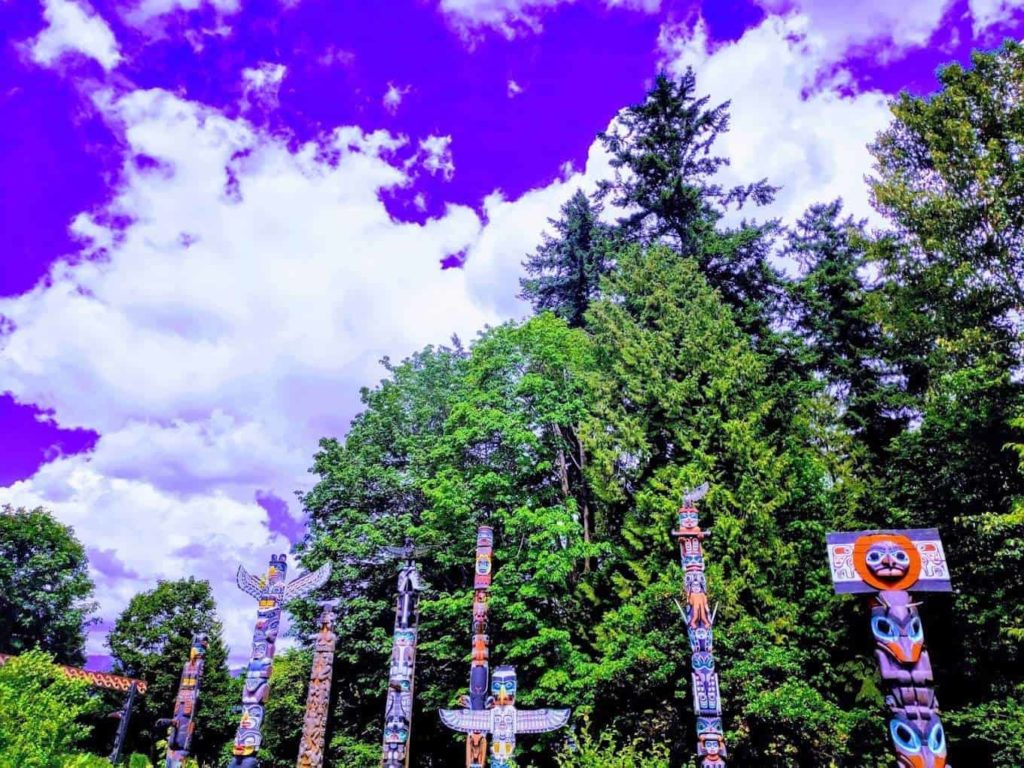 Each carving on the totem pole has a specific meaning and significance within the First Nations culture. There are a total of nine poles to honor the area's original inhabitants.
Want to know something interesting? The collection of these poles began in 1920, making some of them at least 100 years old and still standing strong!
So, if you're ever in Vancouver, make sure you take some time to check out the totem poles in Stanley Park. They're a real treat for the eyes, and you might even learn something new.
6. Explore the Vancouver Aquarium
We'll start this off by saying that this aquarium is huge. It's got all kinds of sea creatures that you can just spend hours watching and checking out all the different exhibits. It's the perfect spot to bring toddlers as they can see the animals up close!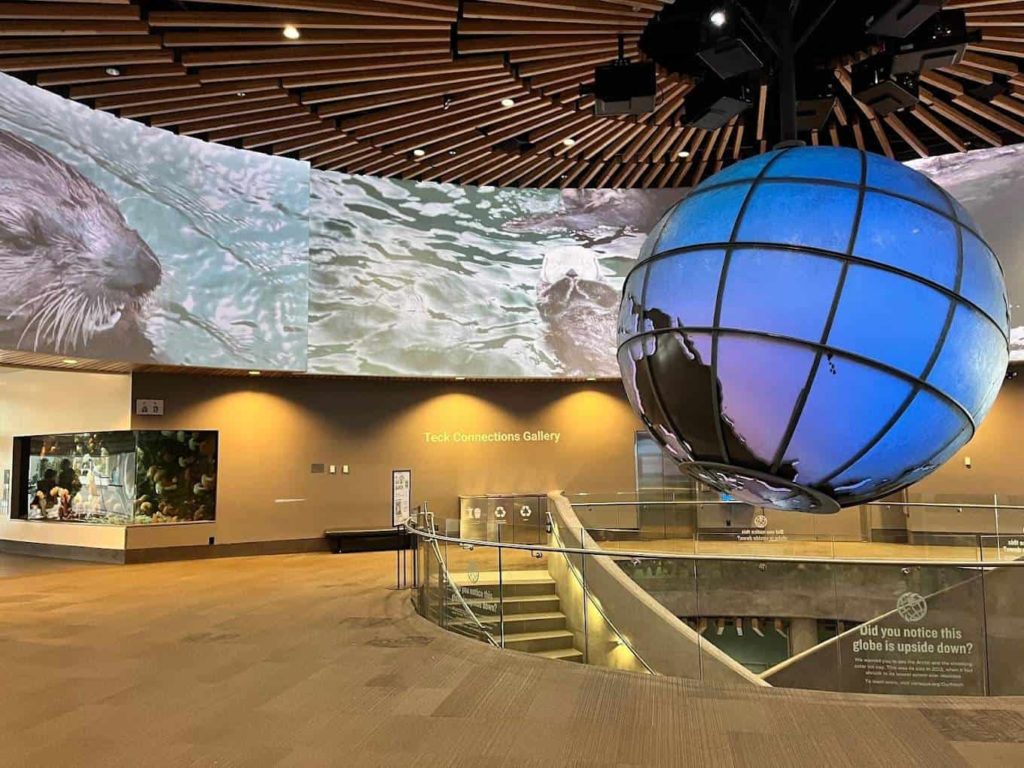 But our favorite spots to visit here are the interactive exhibits that let you get up close and personal with the animals. Some of them are cute, like the Wet Lab, where you can hold a number of marine animals with no spinal cords.
But there's this one exhibit that got us feeling a little squeamish: the BBC Earth's Shark: A 4D Experience®.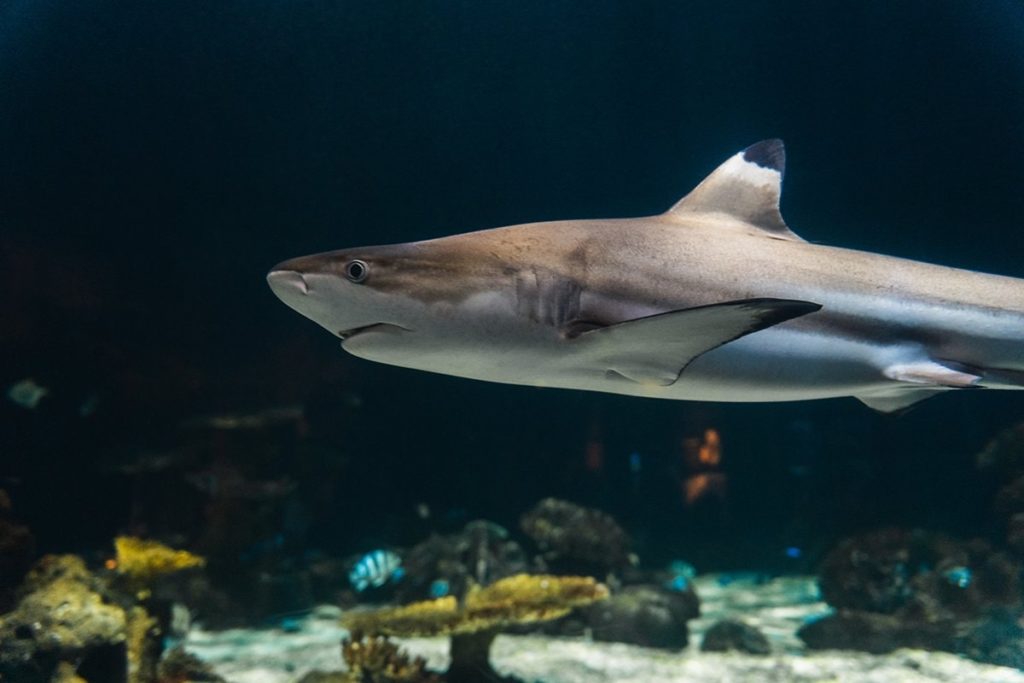 This exhibit allows visitors to come face-to-face with sharks, and honestly, as scary as they were, we learned a lot about their habitat and behavior, which was fascinating.
7. Check Out Siwash Rock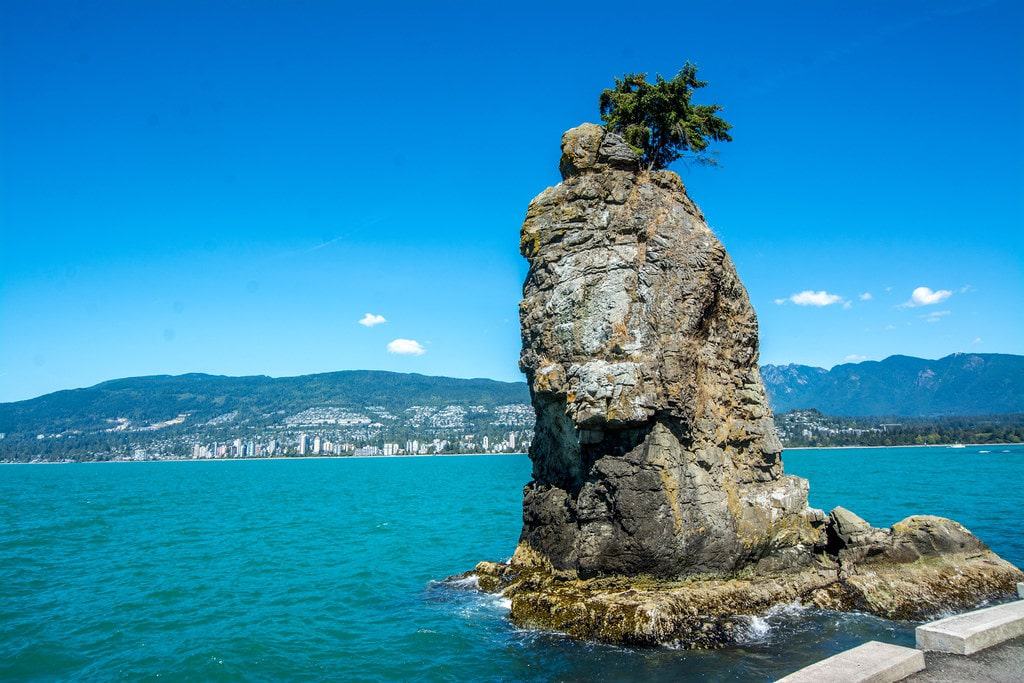 Siwash Rock has an interesting history, which is why it's so well known. You can't miss it; it's the big ol' rock that sticks out of the water beside the Stanley Park seawall.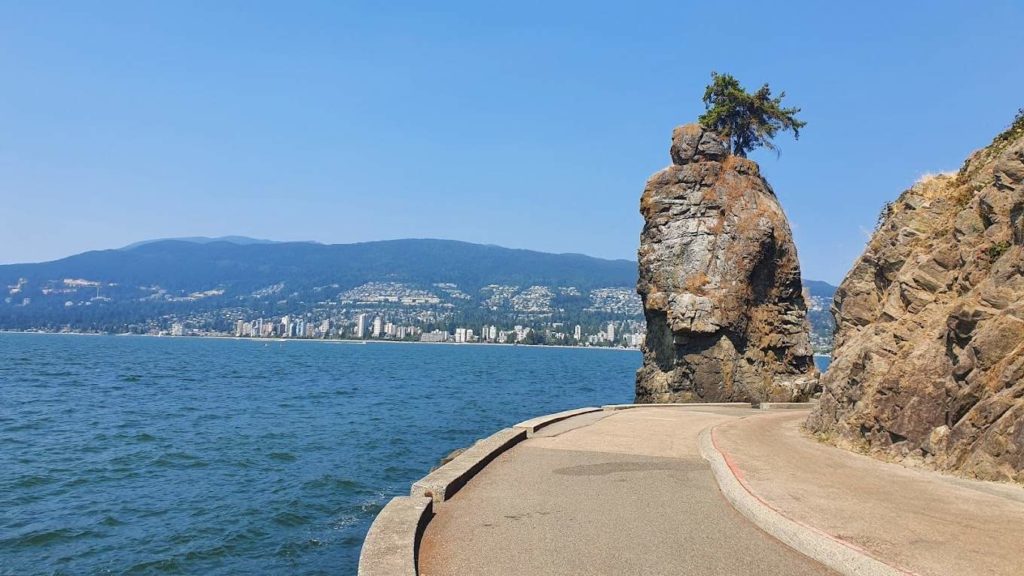 Legend says that the rock represents a warrior who turned into stone to ensure his child's future. The rock symbolizes purity and dedication to fatherhood so this may just be a great spot for father's day.
It may not be the tallest landmark in the park, but it's definitely one of the most unique. And let's be real: Siwash Rock is also a great spot for a photo op.
8. Walk along Beaver Lake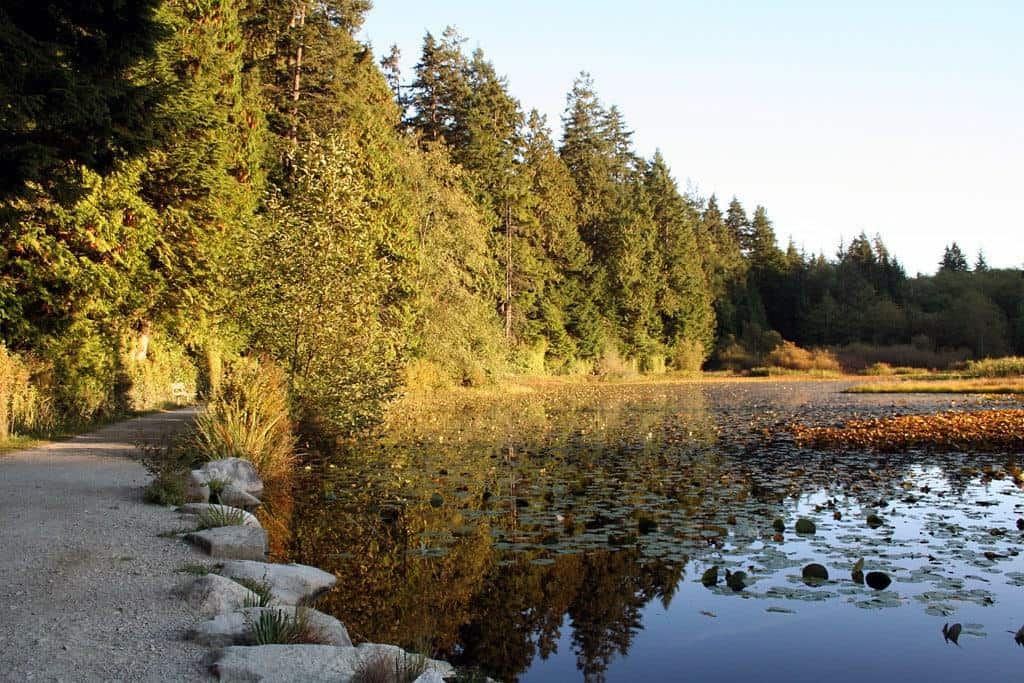 Ironically, Beaver Lake has been beaverless for more than 60 years, but at the moment, there are over five beavers that work hard to plug up the water flow out of Beaver Lake into Beaver Creek.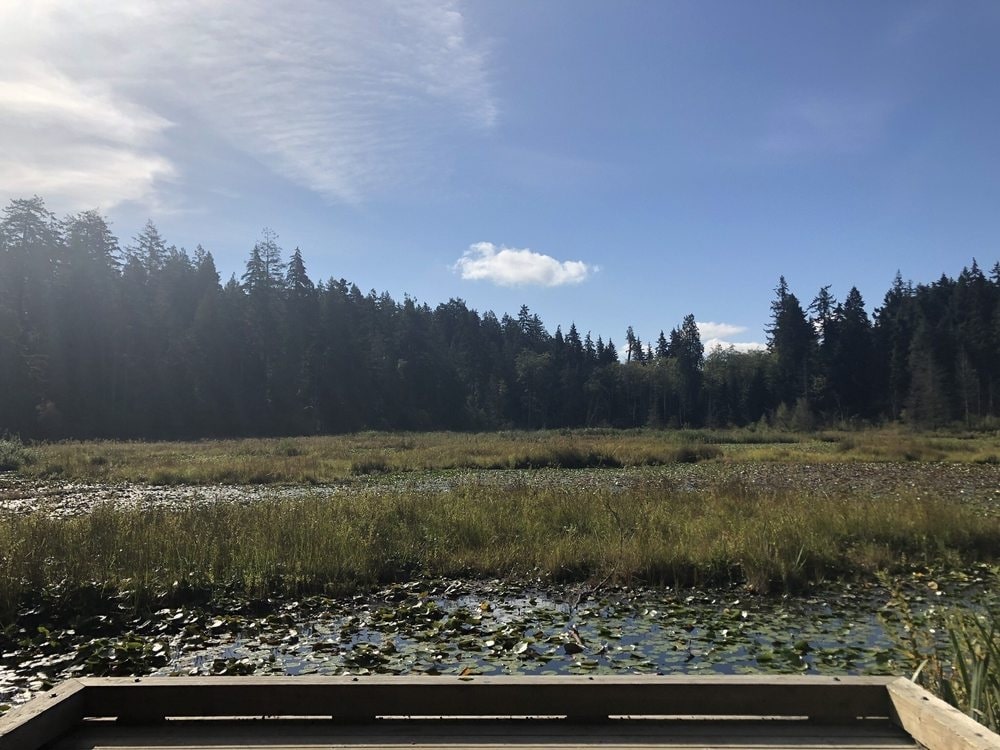 Anyway, back to the topic! Beaver Lake is a wonderful little walk through the marshes and lotus flowers. If you're in Stanley Park, we definitely recommend going here. The hike was nice and cool as there were various tree tops covering the sun.
There's a trail that follows the water's edge so that you can enjoy the ducks and water plants. Personally, we sat on one of the benches to sit and watch the water. It's also quiet so we may or may have talked for more than 15 minutes.
The Beaver Lake Trail loops around the whole lake and back to the main road area to see the rest of Stanley Park.
9. Admire the View at Prospect Point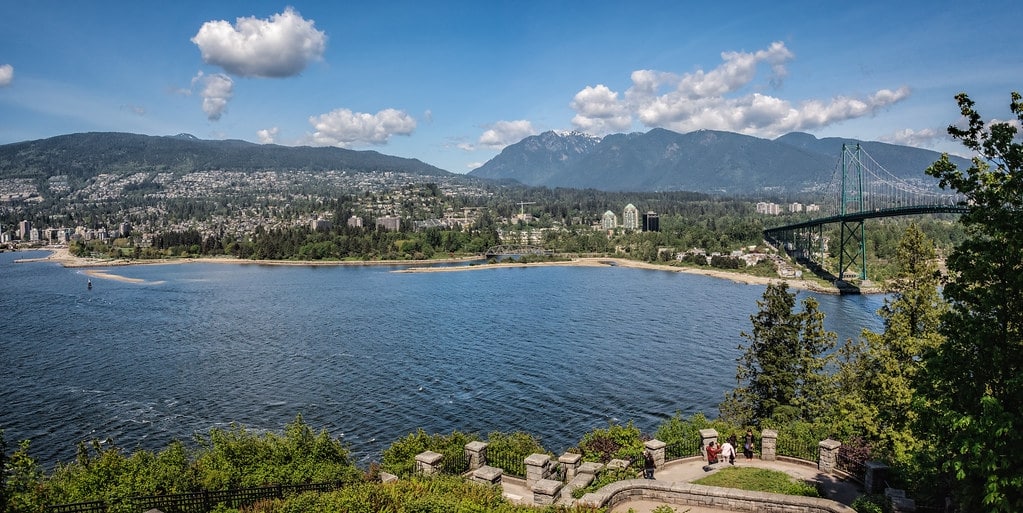 The view at Prospect Point in Stanley Park is stunning. You can find this spot by walking up the Bridle trail or the steep trail off of the north side of the seawall. Don't worry, magnificents views will be a reward for your hard work.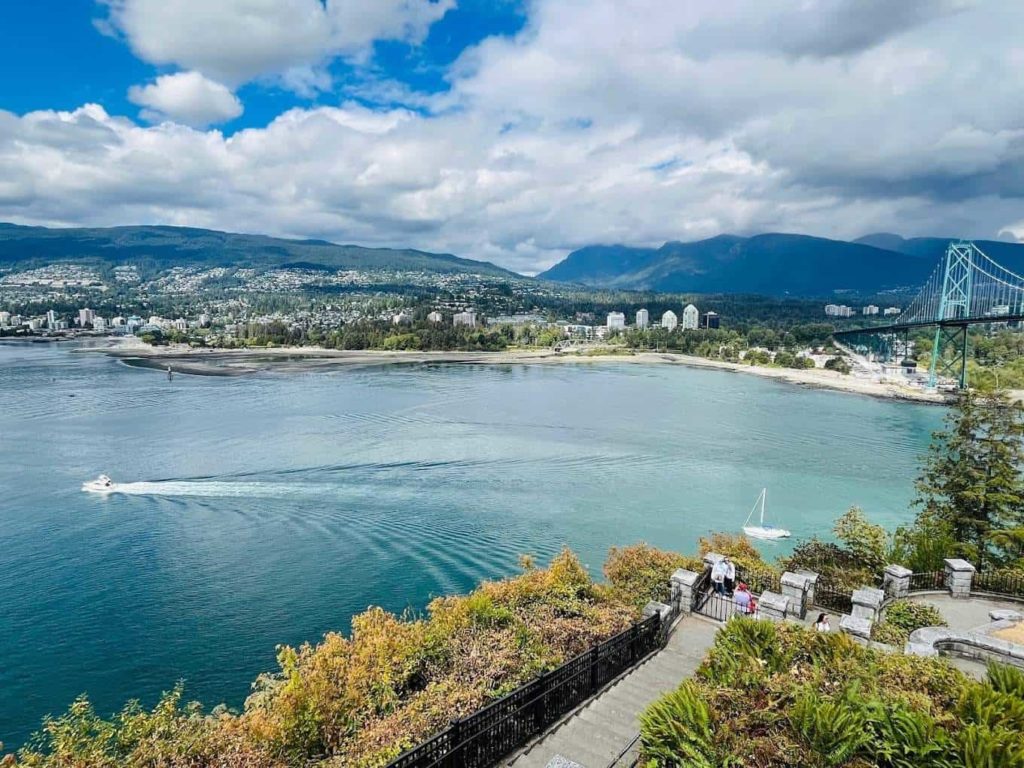 Let us describe the view you have in three words: stunning, panoramic, and breathtaking. You're given unobstructed views of the city, Lions Gate Bridge, West Vancouver, Burrard Inlet, and some of the larger mountains.
If we're given a chance, we'll go there over and over again. It's the perfect chill spot and has nice scenery no matter what time of day.
10. Drop by the Stanley Park Gardens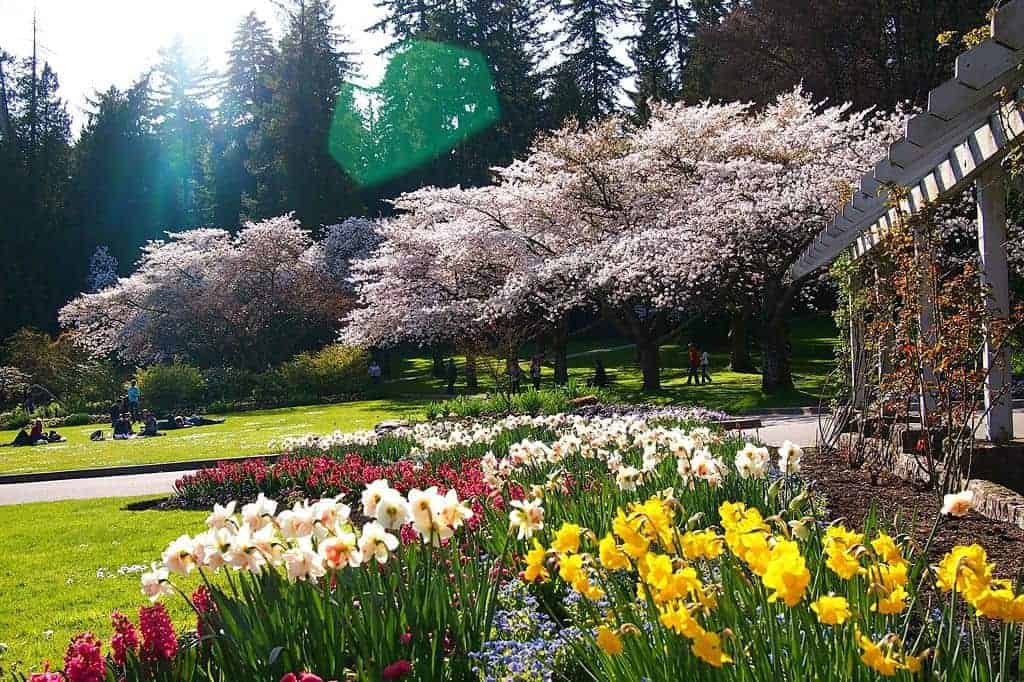 The Stanley Park Gardens are a must-visit spot if you're a fan of gardens, especially during the spring and fall when the garden is in full bloom.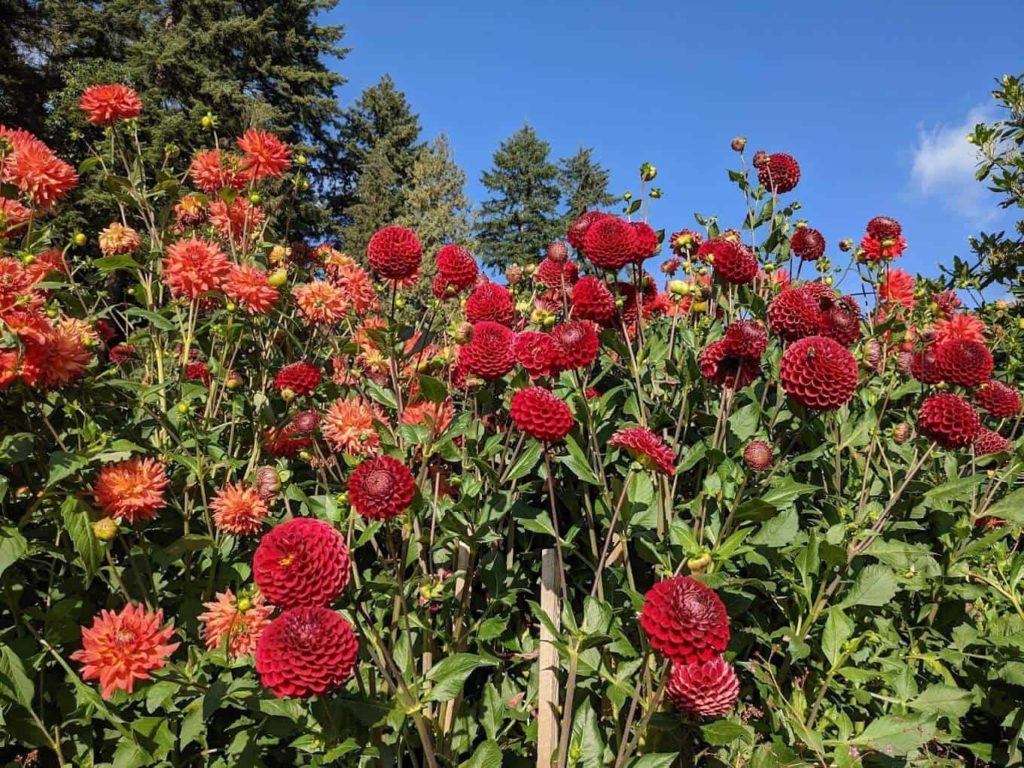 With over 3,500 rose bushes, floral displays, perennials, and many varieties of trees that are mentioned in Shakespeare's plays and poems, there is no shortage of natural beauty to take in.
But what really sets the Stanley Park Gardens apart is the peace and serenity that you can find here.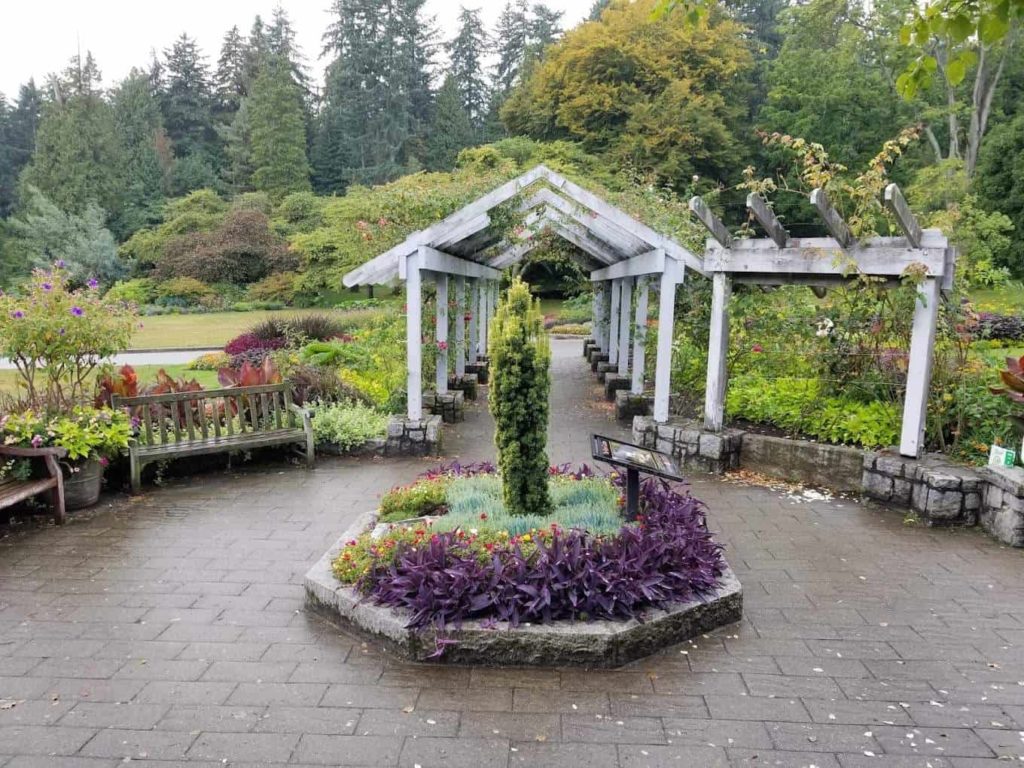 Whether you want to take a leisurely stroll through the different sections, or just find a quiet spot to sit and relax, the gardens offer a tranquil escape from the hustle and bustle of the city.
And here's a little insider tip for you: those rose bushes we were talking about earlier? They're not just pretty to look at, but they also vary in fragrance. So don't forget to take a moment to stop and smell the roses!
11. Play Golf at the Stanley Park Pitch & Putt Golf Course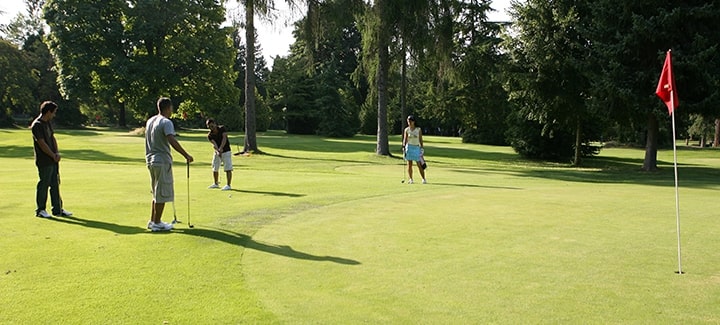 The Stanley Park Pitch & Putt Golf Course is one of the best public golf courses in Vancouver. Wanna know why? Well, not only is the course well-maintained, it's also surrounded by natural forests, and there's a good range of holes.
The course is 1,200 yards long and has 18 holes of pitch and putt, and it should take around 1.5 to 2 hours to complete.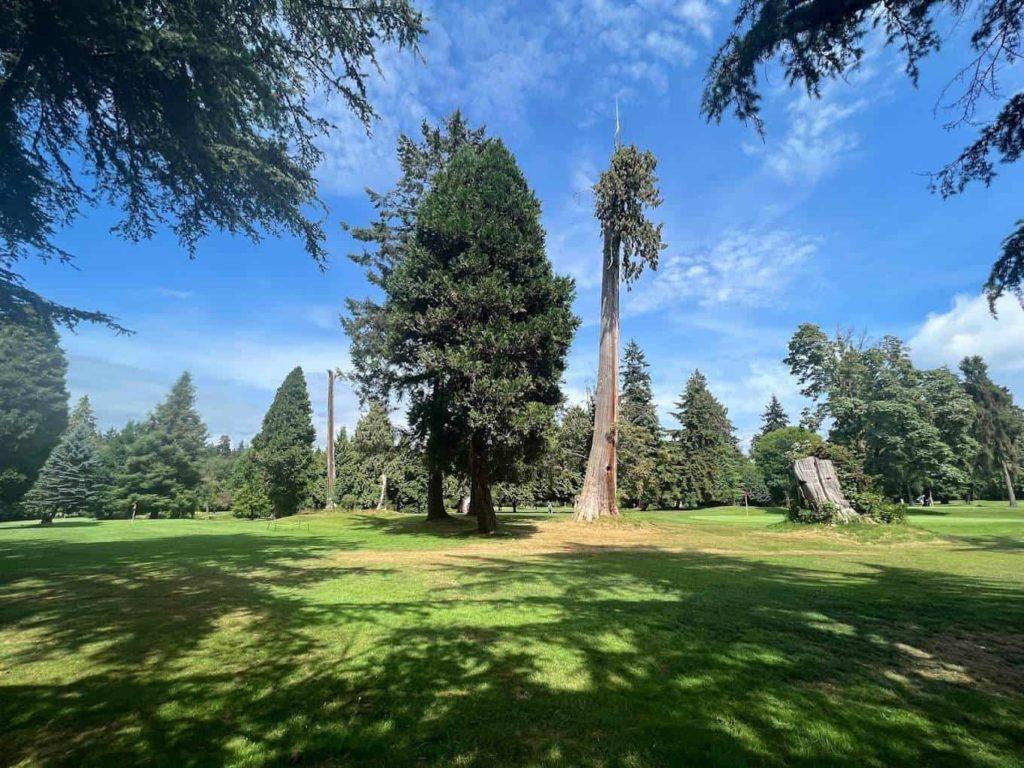 We'd say it a pretty perfect place for beginners as there's no hazards on the course but it still offers a good challenge for more experienced players with its tricky greens and varying hole lengths.
There are also plenty of golf equipment rentals, and they even have a temporary locker room if you have a lock to store things in. Although, keep an eye out for the resident coyotes!
12. Walk around Lost Lagoon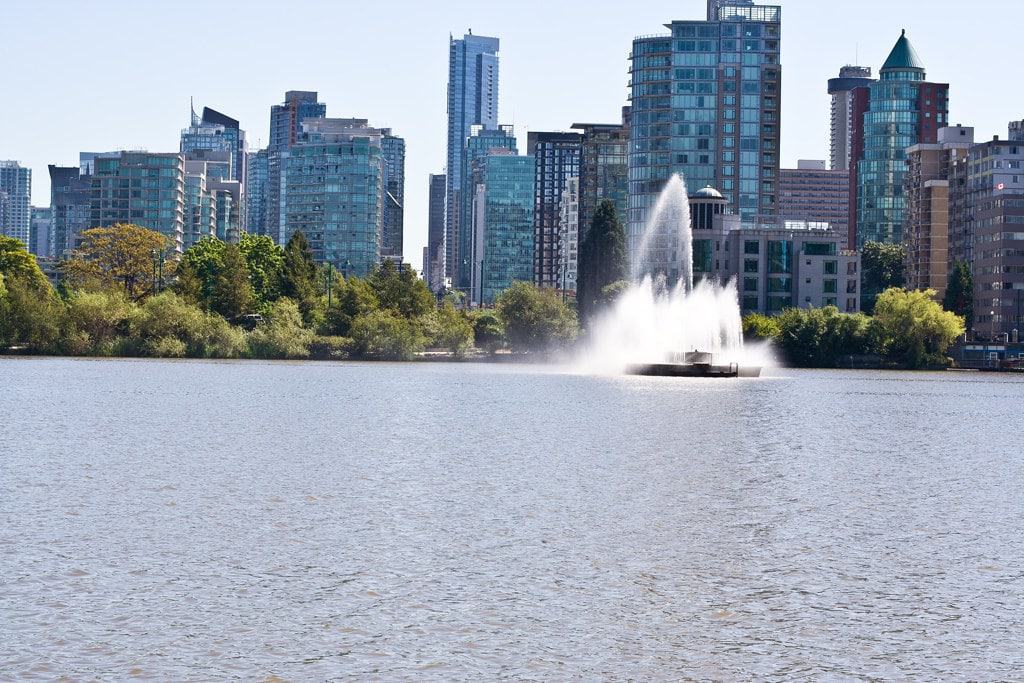 Lost Lagoon is just near the entrance of Stanley Park, and many folks walk around the 1.8 kilometer path, which takes about 30 minutes. Sure, it's a relatively short walk, but there's so much to see!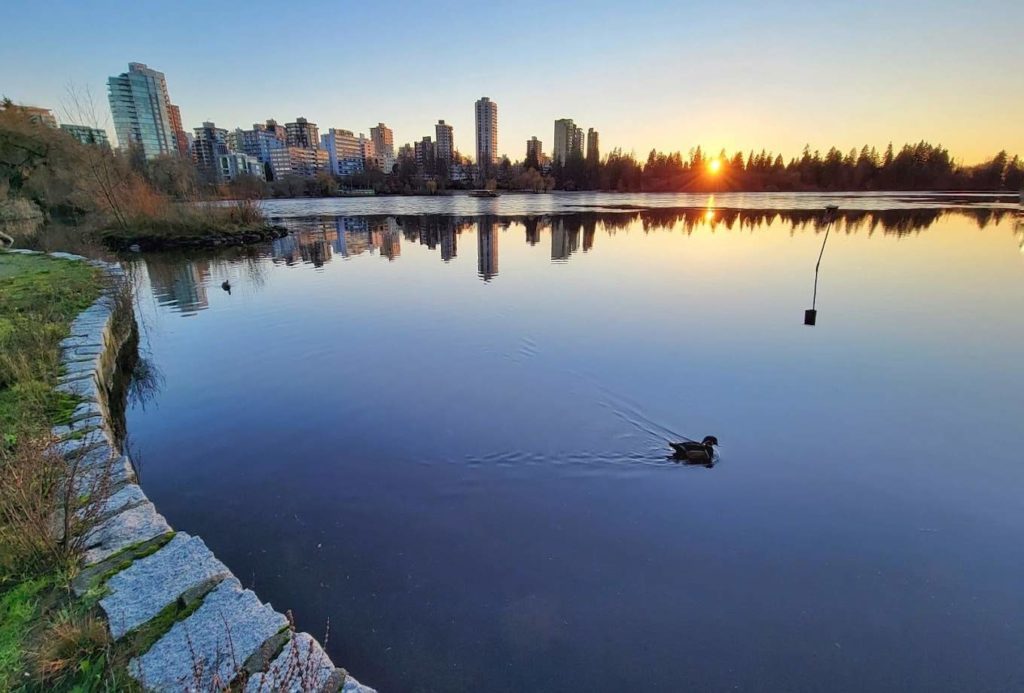 First, you have the Golden Jubilee Fountain, which was built way back in the 1930s for the city's 50th anniversary.
This fountain is stunning, especially at night when it is illuminated with colorful lights that reflect off the water and create a mesmerizing display.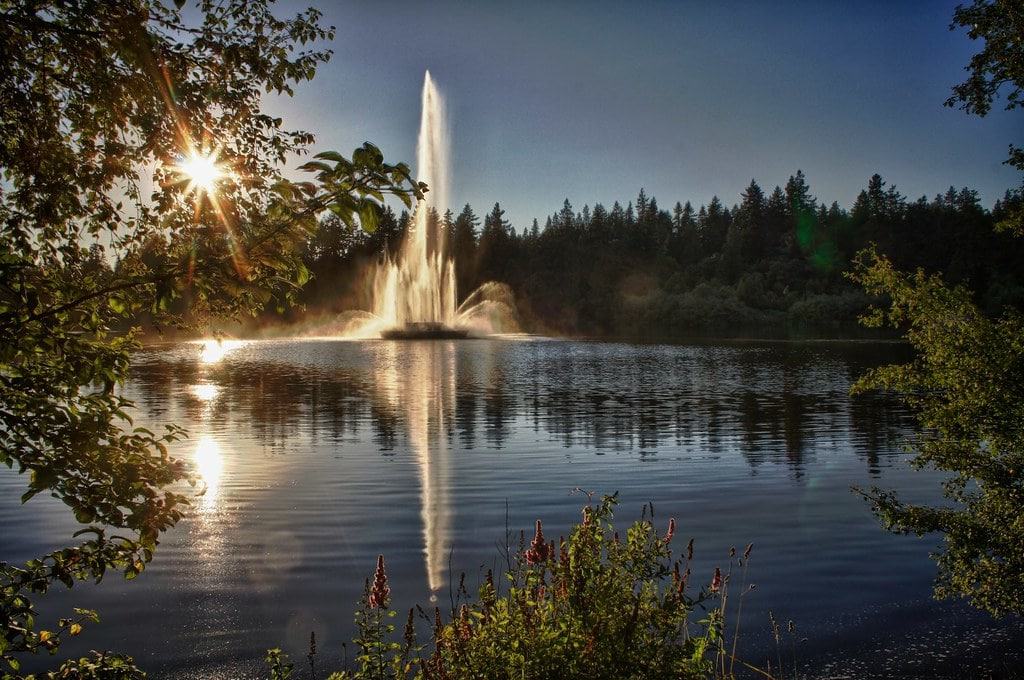 Secondly, Lost Lagoon is a bird sanctuary, so don't be surprised to see swans and ducks in the water. Mixed in with birds are raccoons, coyotes, and sometimes deer.
Lastly, you can also drop by the Stanley Park Ecology Society, located southeast of the Lost Lagoon. They offer special sessions on plant identification and natural history tours.
13. Have a Picnic beside the Hollow Tree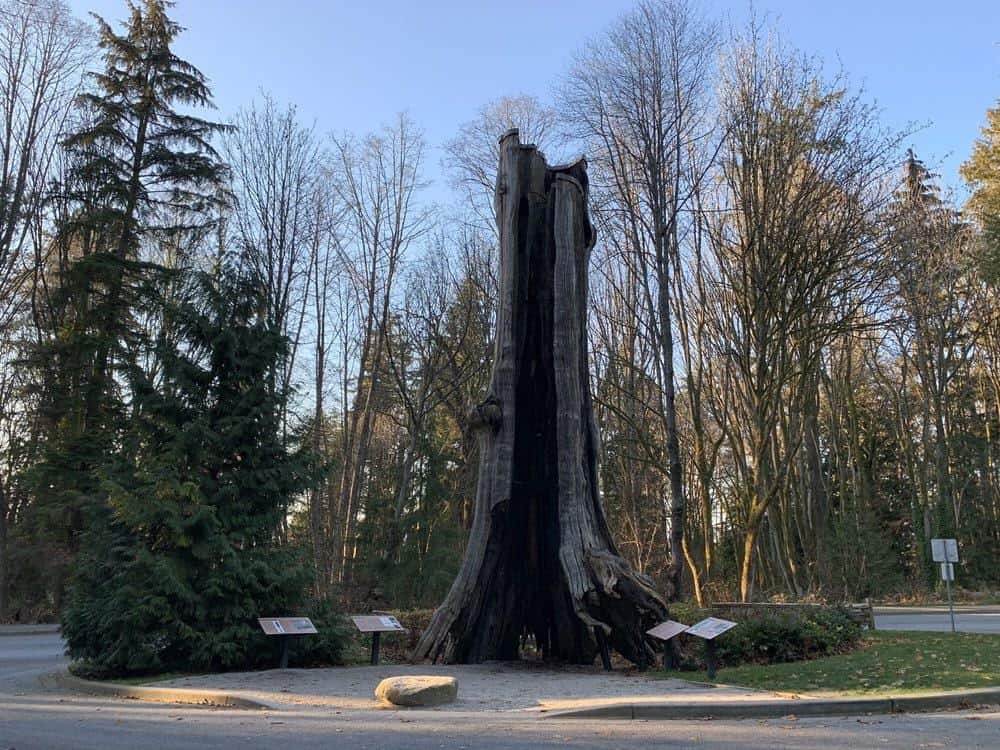 We know what you're thinking: "What's so fascinating about a tree?". Hear us out. The Hollow Tree is actually a massive Western Red Cedar tree that's over 1,000 years old. It's quite possibly the oldest tree in the park!
We know some of you may think that it's just a tree stump, but it's so much more than that. This tree has watched thousands of visitors grow up, and it's filled with the history of this place.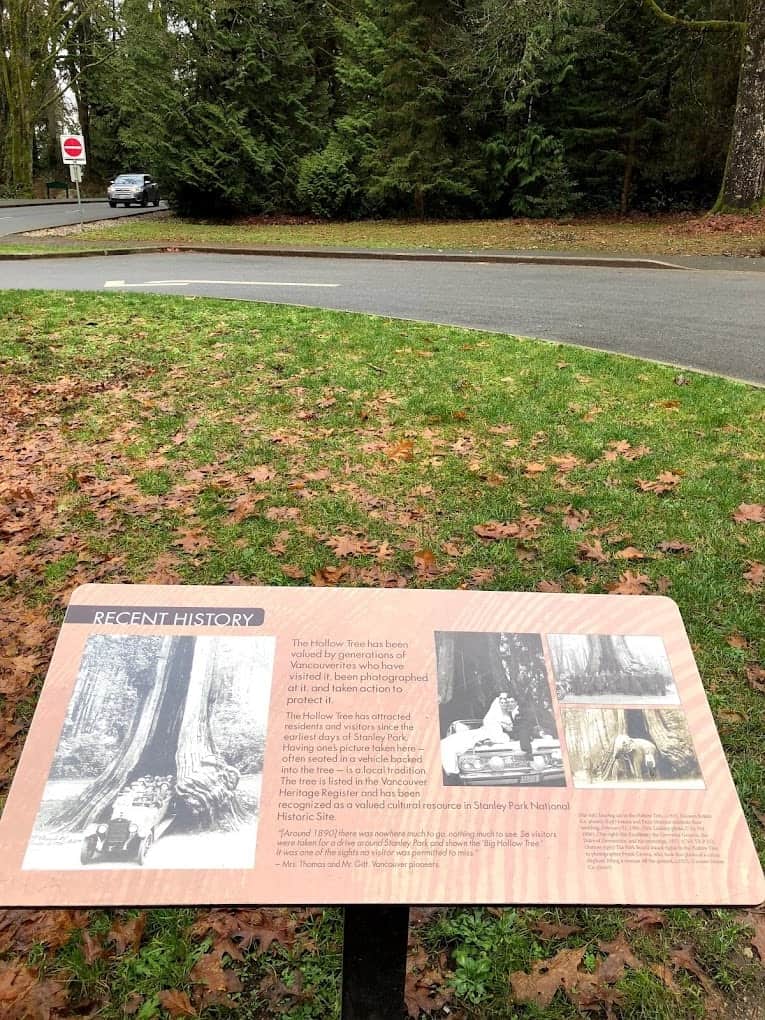 Make sure to read the sign which gives information about the history of the tree and shows historical photos of various people posed in front of the tree.
There are also picnic areas around the tree, which provide a perfect spot for a relaxing breakfast or lunch.
14. Chill Out at the Teahouse Restaurant

Ah, the Teahouse Restaurant in Stanley Park. We have had multiple brunches here with family and friends and aside from the food, the restaurant has some of the best views of English Bay and the North Shore Mountains.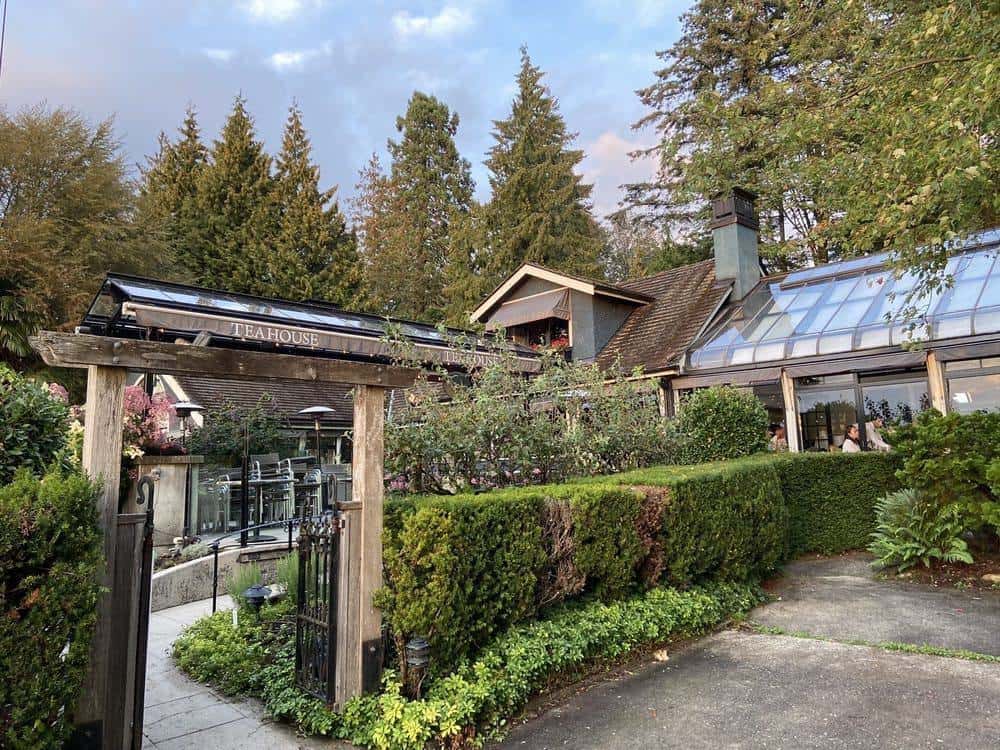 When you enter this restaurant, it feels like a visit to your grandma's country home, as the entrance is through iron gates with green hedges that lead to the dining room.
Our favorite here is the steak with beets and mash, and we usually get it medium rare. Alongside that, we also get the angus beef burger and truffle fries because they're delicious and of course, we can never resist a good burger and fries combo.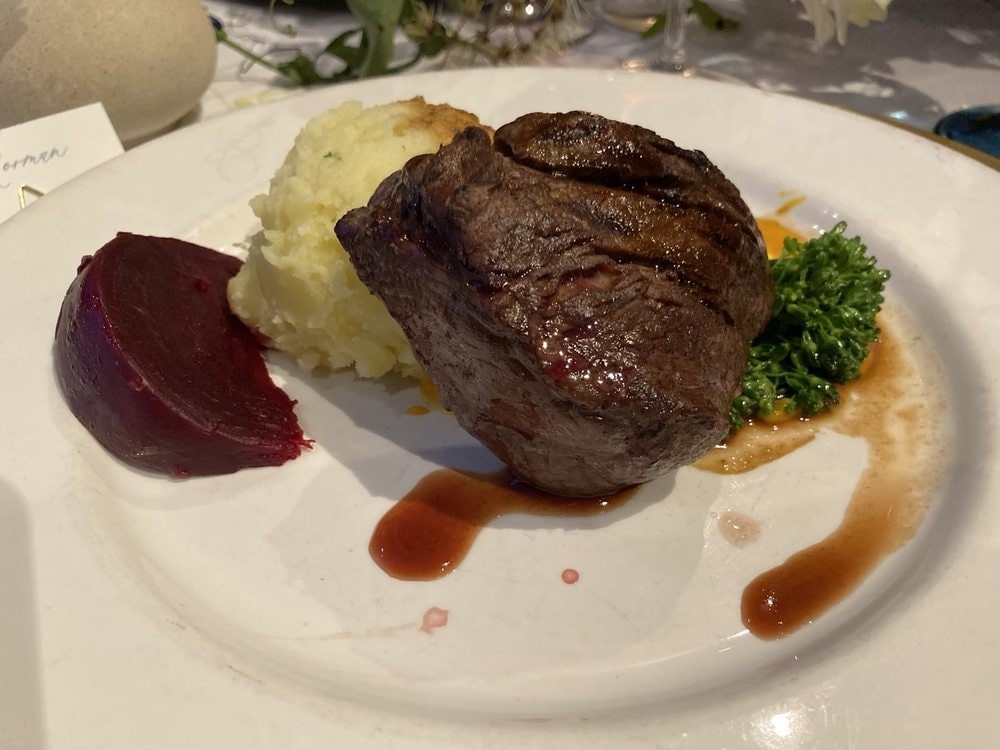 We also highly recommend the Steak Diane. This dish features grass-fed tenderloin, pavé de pommes de terre, and seasonal vegetables that are simply irresistible. The potatoes in this dish are divine!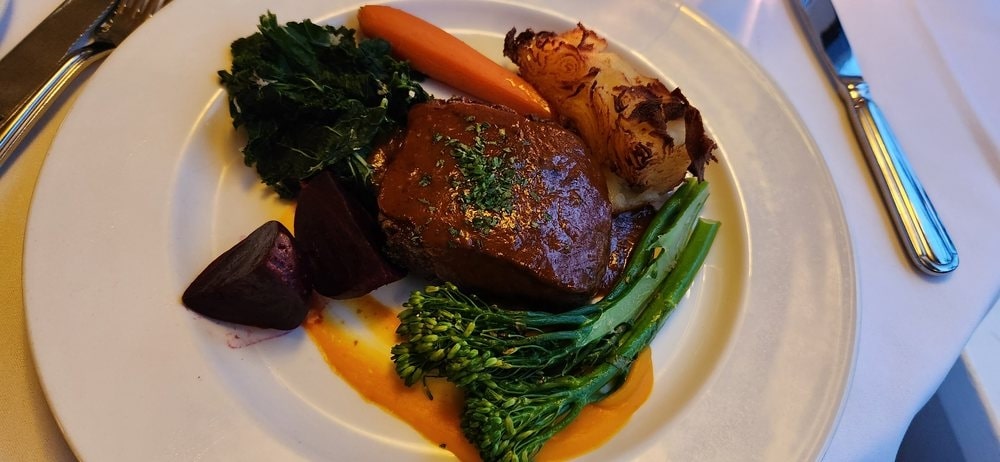 15. Get Tanned at Second Beach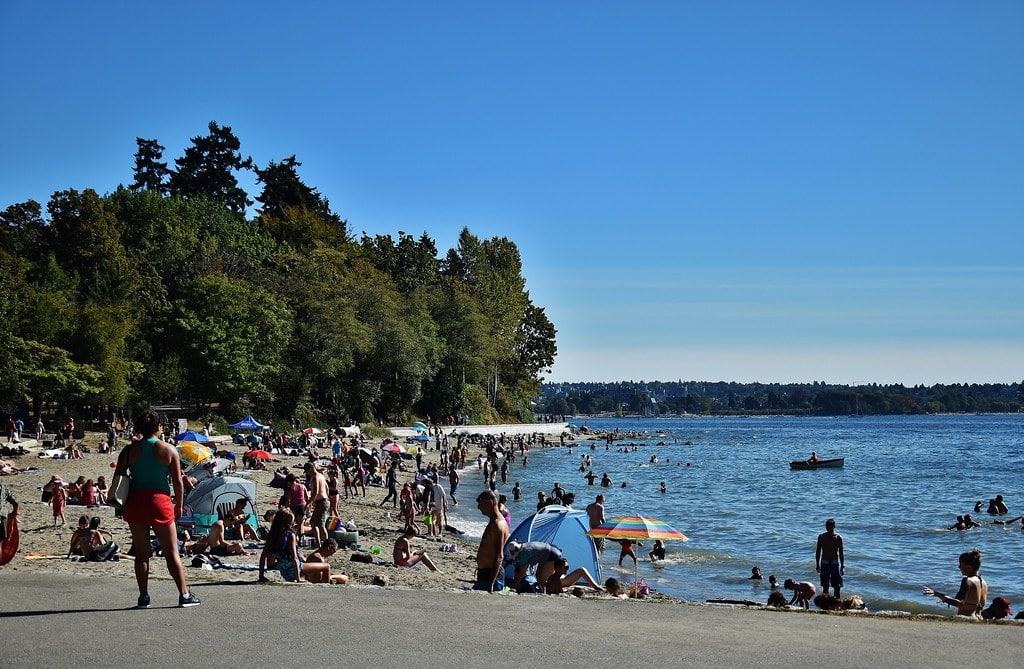 We're not going to lie, it gets pretty crowded here at Second Beach. Who can blame them though? This sandy beach provides stunning views of the city skyline, the North Shore Mountains, and the Pacific Ocean.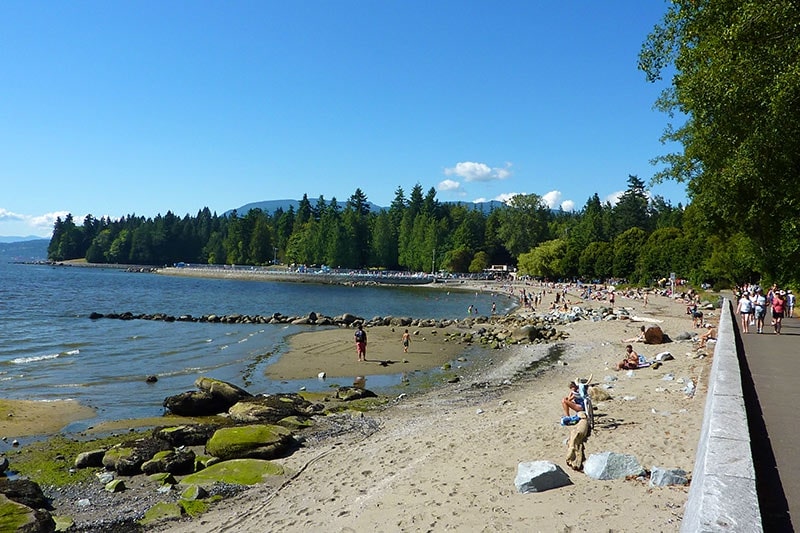 It also stretches for over 1,000 feet, providing ample space for visitors to sunbathe, swim, and play beach games. Aside from the beach, it also has a heated outdoor pool, which is open from May to September.
So if you're looking to relax and soak up the sun, you can't miss a visit to Second Beach. There's plenty of space to lie down and read while soaking up some vitamin D!
How to Get to Stanley Park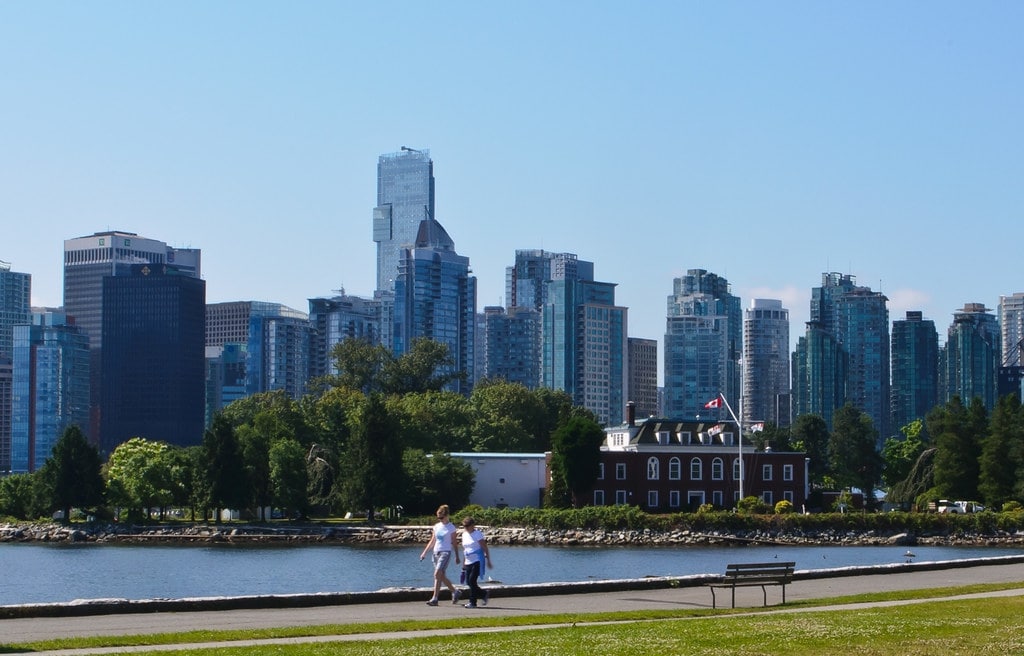 By Foot or Bike: You can access the park from the west entrance off English Bay via the seaside route, and if you're cycling you can head to Second Beach or you can enter the park from the Georgia street entrance.
By Public Transit: Board the Skytrain to Burrard or Waterfront station. Then, transfer to the #19 Stanley Park bus which will take you to the park's entrance at Georgia and Denman.
By Car: You can access the park from the main entrance, which is on the west end of Georgia Street or you can also enter from the English Bay side via Beach Avenue.
Parking in Stanley Park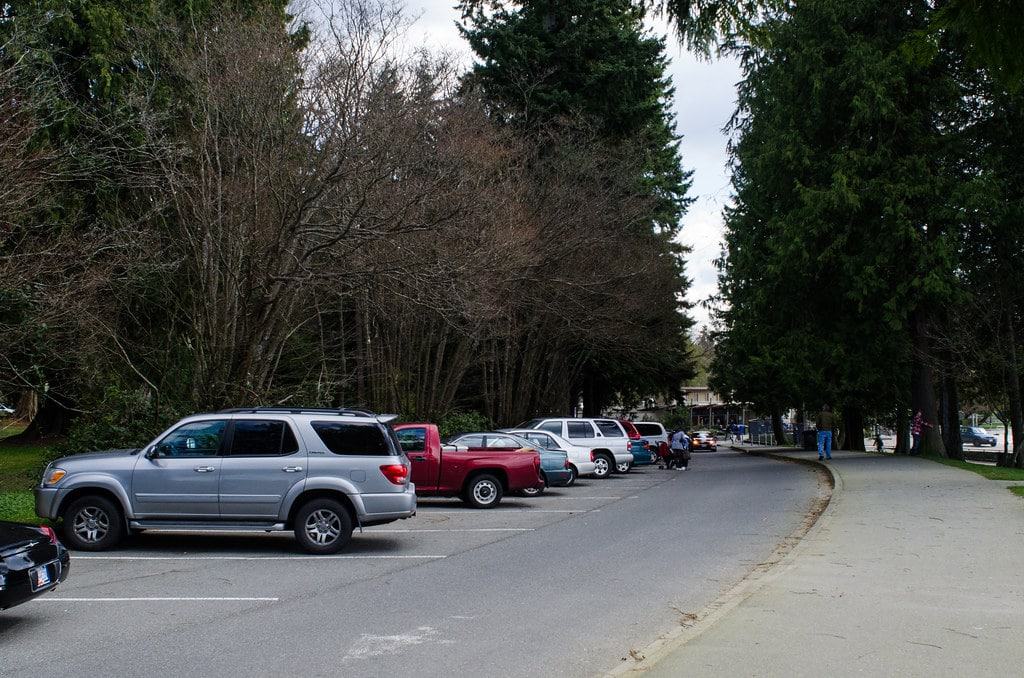 Ah, yes. Parking. Well for those of you who are planning to drive to Stanley Park, don't worry as there's ample pay parking throughout the park. But if you're planning to stay all day, we highly recommend you get daily passes.
| DATE | HOURLY | DAILY |
| --- | --- | --- |
| April 1 to September 30 | CAD 3.75 | CAD 15.25 |
| October 1 to March 31 | CAD 2.75 | CAD 8.25 |
Data from Stanley Park Van via https://stanleyparkvan.com/
The park has several parking lots, including the North Parking Lot and West Parking Lot, as well as limited street parking on Stanley Park Drive and Pipeline Road.
Here's a map of the locations of the pay parking stations in Stanley Park to give you an idea on where to park your car.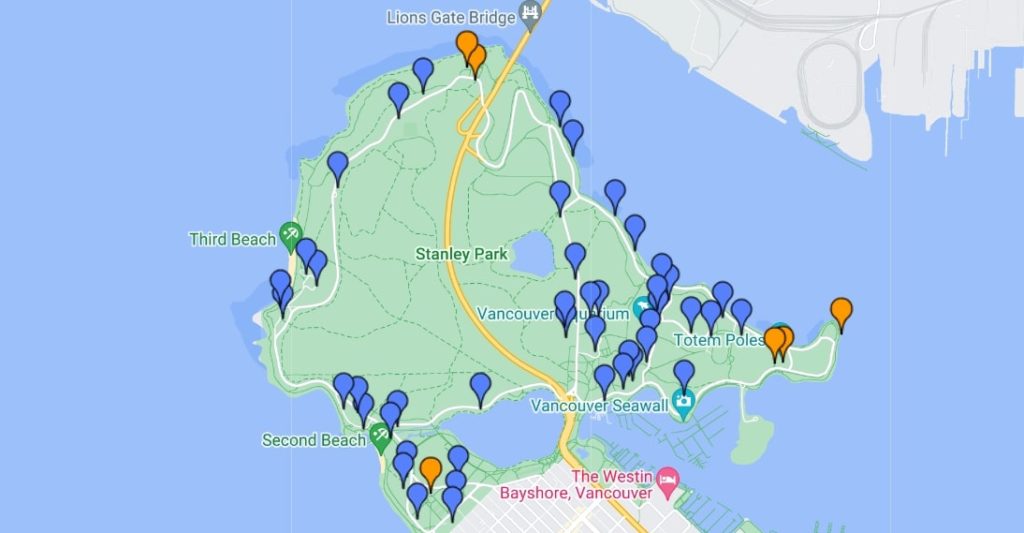 Keep in mind that parking in Stanley Park can be limited during peak hours, so it's recommended to arrive early or consider taking public transportation.
---
Well, there you have it. We hope our article has helped you get to know Vancouver's largest and best-known park and how you can spend your time here.
If you need more ideas on what you can do in the city, you're in luck as we've listed down some of the things you can do in Vancouver.