The Top 5 Delivery Services in Vancouver
Do you need your package delivered? Say no more, because we're going to go over the best delivery services in Vancouver today!
From same-day delivery to freight trucks, we've got you covered! We've also discussed how much it would cost to have your parcels shipped to a nearby city or a distant remote province.
Ready to read more? Let's go!
How Much Does Delivery Service Cost in Vancouverbord
The size of the package and the distance to which it is being sent are two of the many factors that will influence the cost of delivery services.
A dependable courier service with reasonable rates and delivery times can help increase sales and provide a positive shopping experience.
To serve as a guide, we based some of the estimated costs in the table below on current national averages.
| Delivery Service | Estimated Price Range |
| --- | --- |
| Bicycle Messenger | $15 - $30 |
| Car Delivery Service | $100 - $300 (varies in distance) |
| Truck Delivery Service | $250 - $500 (varies in distance) |
| Van/SUV Deliveries | $100 - $500 (varies in distance) |
| Air Freight | $2 - $5 per kilogram |
| Same Day Courier Service | $3 - $10 |
Top Delivery Services in Vancouver
With an idea of the potential costs, let us now look at the criteria we used to assess the businesses included in our listicle.
1. Eeko Couriers Inc.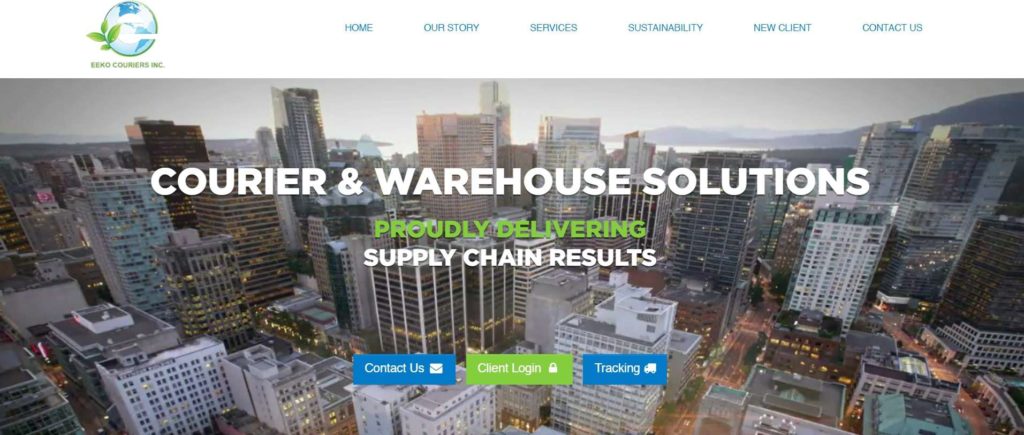 SERVICES
Bicycle Messenger Vehicle Fleet Freight Fleet Custom Logistics / 'Milk Run' In-house Courier & Freight Trucks
ADDRESS
Unit B - 509 Richards Street, Vancouver, V6B 2Z6, BC
CONTACT DETAILS
Phone: 604-688-9500

Email: [email protected]

OPERATING HOURS
Mondays to Fridays, 08:00 AM - 05:00 PM
WEBSITE
https://eekocouriers.com/
| | |
| --- | --- |
| Range of Delivery | ★★★★★ (5/5) |
| Customer Service | ★★★★★ (5/5) |
| Availability | ★★★★☆ (4/5) |
| Pricing and Payment Options | ★★★★☆ (4/5) |
Established in 2009, Eeko Couriers started offering messenger services covering the entire Lower Mainland.
We found their spacious parkade impressive as they have fleets of bicycles, cars, vans, and freight trucks ready to deliver packages.
However, the majority of consumers we've spoken to praise their exceptional services in terms of on-time deliveries, an easy-to-use online user interface, and courteous staff.
It is also worth noting that in 2017, this company expanded its services and opened its warehouse, which we find efficient.
They can now provide inventory management, order fulfillment, and supply chain management. This demonstrates that Eeko has had many satisfied customers over the years as a result of the high demand for its services.
Another thing we found impressive is how we can use their delivery services for any size item and how they offer custom local logistics procedures to help their business partners increase productivity.
We believe that E-commerce companies can benefit from Eeko's warehouse and fulfillment services, as Eeko provides assistance from inventory receipt and secure storage to worldwide shipping.
Aside from that, Eeko also provides Direct Car services within 60 minutes, providing clients with an efficient and professional way to travel.
Furthermore, they provide 'Milk Run' services, in which they learn about your local logistics procedures and design specialized services and routing to help increase the efficiency and productivity of your business.
Another thing that impressed us was the establishment's commitment to using efficient vehicles and reducing their clients' CO2 emissions by more than 50% on every delivery.
Eeko employs hybrid cars and freight trucks, paperless digital bills, and a Sustainability Community Program.
Overall, we believe Eeko deserves a spot on our list because of its large customer base and diverse range of services.


Offers warehouse and fulfillment services
Generous number of delivery vehicles 
Environment-friendly vehicles and services
Unclear as to their delivery radius
No prices available on website
Customer Reviews
Prompt response and high-quality customer service
"Ryan was very pleasant to deal with. You can tell he has pride in what he does and he went above and beyond to get my package delivered to me. It was even after hours. Great communication skills. Will definitely trust this company with my future deliveries." -Jackie M.
Excellent service
"Exceptional service. The staff there are very diligent and professional. They make sure the job is done right. And they make you feel very valued as a customer. " -Alex A.
2. Vre Nord Delivery Co.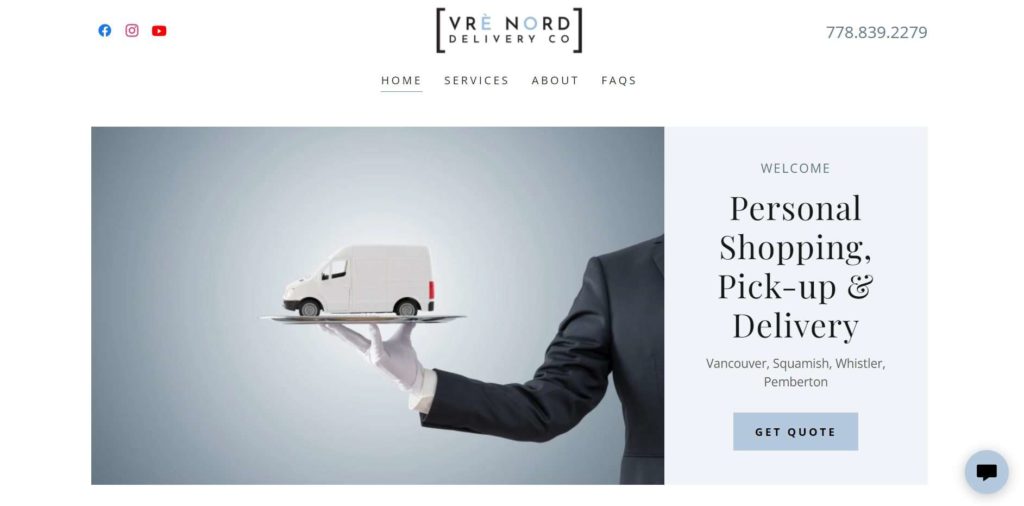 Pub
Beer, Wine and Cocktails
SERVICES
Sea to Sky

Delivery Service

Butler Service

Shopping Service

Errands

ADDRESS
1509 W 59th Ave, Vancouver, BC V6P 0H2, Canada
CONTACT DETAILS
778-839-2279
OPERATING HOURS
Mondays to Fridays, 09:00 AM - 05:00 PM
WEBSITE
https://vrenord.ca/
| | |
| --- | --- |
| Range of Delivery | ★★★★★ (5/5) |
| Customer Service | ★★★★★ (5/5) |
| Availability | ★★★★☆ (4/5) |
| Pricing and Payment Options | ★★★★☆ (4/5) |
Despite being relatively new to the delivery service business, Vrè Nord has proven to be a fair competitor.
We particularly like that they provide a wide range of highly personalized and dedicated delivery, pick-up, and shopping services for individuals and businesses.
The Magnifico Butler Service is what sets this company apart. Vrè Nord provides shopper services to their customers who need help with their errands such as grocery shopping, gift shopping, and pick-up and delivery.
In addition, for an extra fee, Vrè Nord provides urgent same-day deliveries. We believe this service is extremely useful for legal documents and perishable items.
Despite the additional cost of same-day deliveries, we believe it is a good bargain.
We also like how they combined their delivery and shopping services, as this increases the businesses' dependability.
Customers benefit from this time fee model because Vrè Nord explains that their hourly fees are reasonably priced.
Whereas popular mass shopping service providers raise the price per product purchased by $3 to $4, making rates more expensive when charged per item.
Another thing that caught our attention is that Vrè Nord offers Errand services.
This service assists individuals and businesses who cannot complete their regular errands. This service costs $35 per hour with a minimum two-hour charge.
Vrè Nord's delivery radius is flexible – they can accommodate deliveries to numerous cities around Greater Vancouver, North Vancouver, West Vancouver, The Tri-Cities, and many more.


Offers butler services
Wide delivery radius
Charges by the hour
Higher prices compared to competitors
Customer Reviews
Swift delivery
"I placed my order in the morning and got it in the afternoon! Fast delivery! Great customer service! Make your shopping so much easier! If you have a tight schedule like me, you will love this!." -Linda W.
Punctual and approachable
"So very happy we found Vrè Nord to help us with last minute delivery and pick up service that we need for Creekside Health Clinic. Great service, very friendly and on-time. Merci!." Dominique V.
3. Dumondes
SERVICES
Residential Moving

Commercial Office

Moving Social Service

Moving Upright and Grand Piano

Moving Professional Packing Service

Pool Tables

Moving Furniture Disassemble & Reassemble

Delivery Services

ADDRESS
1285 W Broadway #600B, Vancouver, BC V6H 3X8, Canada
CONTACT DETAILS
Phone: 1-778-223-3468 or 1-888-570-8880

Email : [email protected]

OPERATING HOURS
Mondays to Sundays - 07:00 AM - 11:00 PM
WEBSITE
https://dumondes.com/
| | |
| --- | --- |
| Range of Delivery | ★★★★★ (5/5) |
| Customer Service | ★★★★★ (5/5) |
| Availability | ★★★★☆ (4/5) |
| Pricing and Payment Options | ★★★★☆ (4/5) |
Dumondes, which was founded in 2003, has helped many of its customers with deliveries, relocation, and professional packing services.
Their range of services includes residential and commercial moving and social service moving, and upright grand piano moving.
We think this company is ideal for customers with much bigger packages such as furniture, appliances, and even office, and business equipment.
We especially like how Dumondes saves truck space by disassembling furniture and equipment. We find this convenient because more items can be loaded, resulting in fewer trips and more time saved.
They do all the heavy lifting and return everything to its original state. We believe that their disassemble and reassemble services set them apart in that the heavy items they can transport are limitless.
Another thing we found impressive is that their delivery radius covers all of Metro Vancouver and beyond.
Moreover, they also provide junk removal services. All of your unwanted items, such as furniture, mattresses, appliances, garbage, and so on, will be efficiently removed by them.
It is also worth noting that they have partnered with several key companies, including Vortex Restaurant Equipment, IKEA, Sleepmart, and many others. This establishes the company's reputation and dependability in terms of services.
Overall, we thought Dumondes deserved to be on our list because of their ability to transport large and heavy items, as well as their large delivery radius.
Offers disassemble and assemble services
Offers Junk Removal Services
Wide delivery radius
Charges an additional fee for Moving Protection
Prices are not available on website
Customer Reviews
Helpful staff
"I've got my delivery today, driver Prince is ontime and goes above what is expected for him to do!! He's very helpful and awesome! Definitely 5 stars!!." -Kim A.
Admirable service
"Highly recommend them!! They were so careful with wrapping up my high quality furniture! Extremely patient and professional! There were a few hiccups along the way, furniture too big or stuck, but Prince was able to tackle them all and ensure that everything will be great! Very professional! I felt like I was in good hands with their service!." -Tiffany Yu.
4. Rocket Ship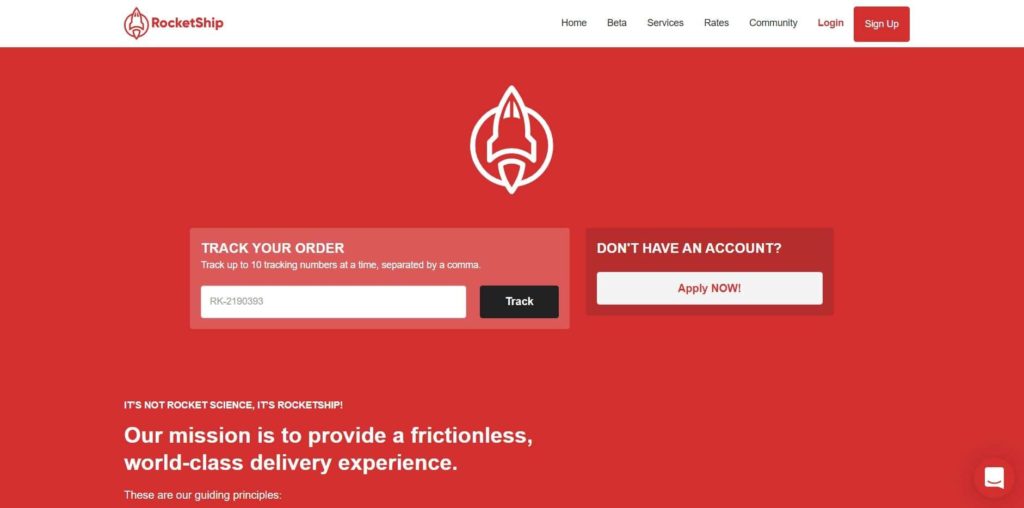 SERVICES
Bicycle Delivery Service

Car Delivery Service Van/SUV

Deliveries Cube Van

Delivery Service

ADDRESS
603 - 151 West Hastings Street, Vancouver, B.C. V6B 1H4, Canada
CONTACT DETAILS
Phone: 604-900-2022

Email: https://rocket-ship.ca/

OPERATING HOURS
Mondays to Fridays - 09:00 AM - 08:00 PM

Saturday - 11:00 AM - 08:00 PM

Sunday - 11:00 AM - 05:00 PM

WEBSITE
https://rocket-ship.ca/
| | |
| --- | --- |
| Range of Delivery | ★★★★★ (5/5) |
| Customer Service | ★★★★★ (5/5) |
| Availability | ★★★★☆ (4/5) |
| Pricing and Payment Options | ★★★★☆ (4/5) |
Rocket Ship began offering delivery services in the fall of 2021, with the overall aim of becoming one of Canada's most dependable delivery services.
They serve all 21 Metro Vancouver cities and municipalities, as well as the western Fraser Valley (Mission and Abbotsford). They can also accommodate areas outside of the towns above upon request!
We appreciate how open they are about how they charge for their services. You multiply their base rate ($7) by the distance fare ($25.61 per km) and the weight fee ($1.50 for the first 20 pounds), and you've got yourself a ride!
The Goods and Services Tax (GST) is not, however, yet included in the added price.
This company distinguishes itself by being able to accommodate multiple same-day delivery orders. This is a huge convenience for many people as this eliminates travel time and increases efficiency.
We also like how easy it is to use their delivery platform. Rocket Ship provides a convenient tracking interface for customers to monitor their deliveries.
However, it is important to note that Rocket Ship only accepts packages with a maximum weight of 22.67 kg for a single piece.
While Rocket Ship has yet to provide more than same-day delivery services, the company has highlighted its future goals as they expand to bicycle cargo services and partners with major e-commerce platforms such as Woocommerce, Shopify, and many more!
Another noteworthy aspect of this company is that they donate 2% of every dollar earned to charity. They are committed to increasing that figure and to continuing to support a small number of charitable organizations.
Upfront rates
Has delivery tracking platform
Can accommodate multiple same-day delivery orders
Donates 2% of every dollar to charity
Limited Quantity and Consumer Commodity shipments 
Weight Restrictions
Only offers same-day delivery services 
Customer Reviews
Noteworthy customer service
"Phenomenal company goes above and beyond to make sure that you get your package exactly when you needed to arrive absolutely would recommend to everyone I know." – Lindsay P.
5. Vancouver Rush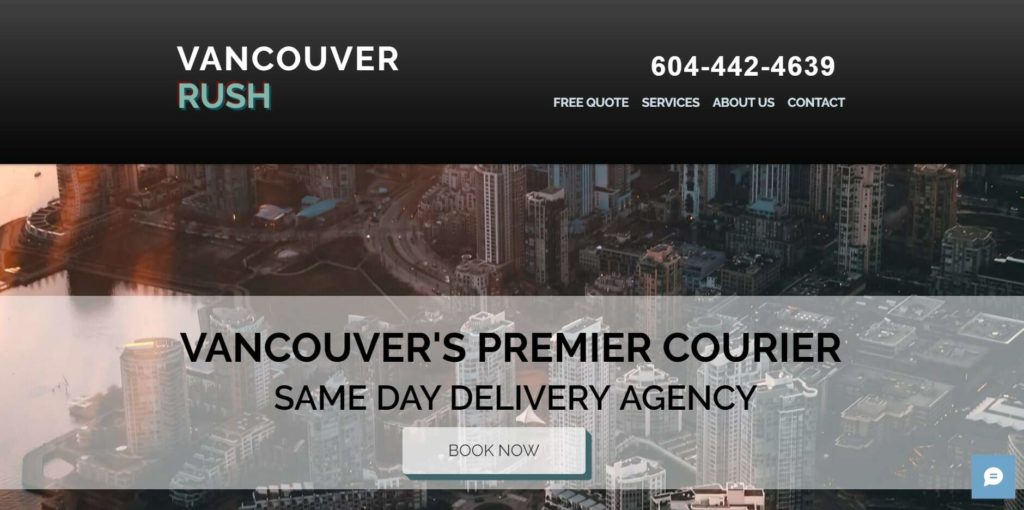 SERVICES
Bank courier service

Payroll/Cheque

Pick Up and Delivery

Flower Delivery

Package Delivery

Post Office Pick Up Direct Courier

Service Business to Business Delivery

Service Mail Service

Home Deliver Service Food & Alcohol Delivery

Service Dry Cleaning/Laundry

Pick up and Drop Off Pharmacy Pick Up and Delivery

Retail Delivery Parcel

Delivery Same Day Courier Service

ADDRESS
5051 Lougheed hwy, Burnaby, BC V5B 4T5
CONTACT DETAILS
Phone: 604-442-4639 Email: [email protected]
OPERATING HOURS
Mondays to Fridays - 7:30 AM-6:00 PM
WEBSITE
https://www.vancouverrush.com/
| | |
| --- | --- |
| Range of Delivery | ★★★★★ (5/5) |
| Customer Service | ★★★★★ (5/5) |
| Availability | ★★★★☆ (4/5) |
| Pricing and Payment Options | ★★★★☆ (4/5) |
Do you need rush delivery? Vancouver Rush has you covered!
They provide various services, including urgent prescription pickups and delivery of business documents such as legal papers, invoices, and contracts. In addition, they also do package deliveries.
We like how their service offerings appear to cover almost everything we need. This company is well-suited for direct and expedited deliveries because they provide four fast delivery services to their customers.
They can pick up and drop off your parcel within 60 minutes with direct services. This is their quickest delivery option.
In addition, Vancouver Rush provides Rush (within 2 hours), Hot (within 3 hours), and Same-day (within 4 hours) deliveries.
Moreover, many of the customers we've spoken to comment on how prompt and dependable their delivery services are. Most of them were surprised at how quickly their items were picked up and delivered.
On a whole, Vancouver Rush is one of the best delivery services you can find in Vancouver as they provide quick same-day deliveries and transparency when it comes to their job timeframe.
Fast pick-up and drop-off delivery services
Provides job timeframe
Only offers same-day deliveries
Limited delivery radius
Customer Reviews
Commendable services
"I've booked couriers with Vancouver Rush twice and both times they were super reliable and quick to deliver—even during the Christmas rush. 5/5." -Currane L.
Offers fair prices
"Excellent service. Reliable and fairly priced. They were extremely prompt and most importantly handled my packages with care. I use them for both business and personal deliveries. Respectful with COVID protocols too so my package recipient was comfortable with the delivery. Thanks Rush Courier!." -A&B Dental Reception
FAQs about Delivery Services in Vancouver
---
Need to have a gift delivered but you're not sure what to get? Check out our review of the best options for flower delivery in Vancouver.
Just in case you got hungry after reading, we got you covered with the best places to get pizza delivery in Vancouver as well.