Which Vancouver Neighborhood Should I Live In?
Vancouver is a popular destination for people from all over the world. It's one of the most livable cities in Canada, with a thriving economy and some of the most amazing views.
If you're thinking about moving to Vancouver and want to know where the best neighborhoods are to live, then this is the article for you.
Top Vancouver Neighborhoods
Granville Island, Burnaby, Commercial Drive, Kitsilano and Gastown are among the best places to live in Vancouver. This is due to their rich culture, diverse commercial options, safe and clean streets, and convenient public transportation.
Let's look closely at each neighborhood to see which one best meets your needs.
1. Granville Island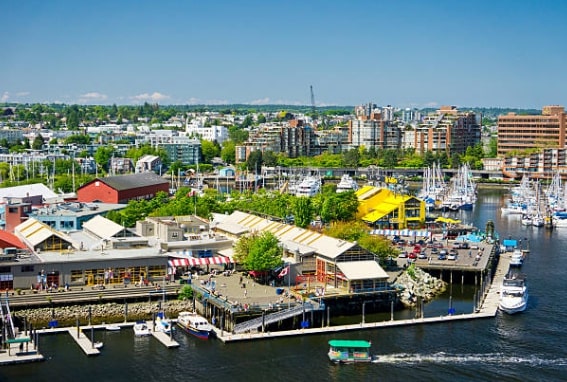 Image by iStock via https://www.istockphoto.com/
In the 1900s, Granville Island was once home to industrial establishments such as factories and processing plants.
It was then transformed in the 1970s from an industrial center to one of Vancouver's artistic and cultural hubs, making it one of the world's most unique attractions.
The neighborhood sits under the Granville Bridge, and you can reach it through the Aquabus, which runs from 7:00 a.m. to 9:00 p.m. daily.
Granville Island currently has 326 residents; however, this number is expected to grow in the coming years, with an 8.1% increase in 2040.
It's also good to know that Granville Island's crime rate is statistically 19% lower than the national average. In fact, many residents are out on the streets late at night and early in the morning.
Granville Island has a good mix of high-end shops and independent businesses, making it an excellent place to live for people of all income levels. It's also a very social neighborhood, with many community events throughout the year.
The neighborhood is also home to many art galleries, boutiques, restaurants, pubs, and public markets where you can score fresh produce.
There's also the Sea Village, which consists of floating homes made from recycled building materials and employs eco-friendly practices such as heat pumps and solar panels.
Pros
Low crime rate
Wide variety of amenities
Affordable cost of living
Vibrant nightlife
Cons
Well-known tourist spot so it may get crowded during holidays
It can get a bit noisy
2. Burnaby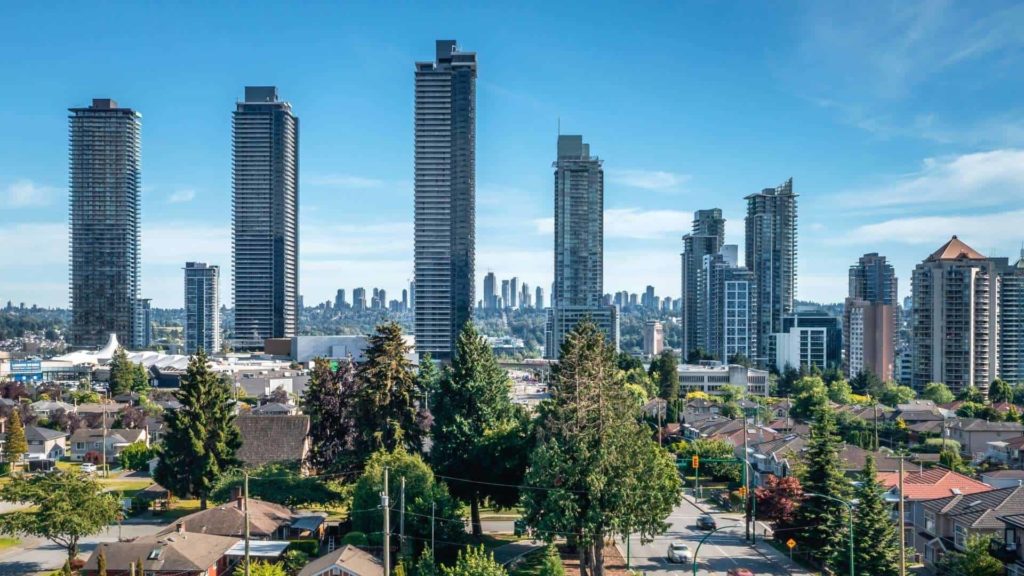 Image by City of Burnaby via https://www.burnaby.ca
Burnaby is located in the center of the Burrard Peninsula, the third largest city in British Columbia.
This area has an excellent public transportation system. It has two Skytrain lines, one connecting Burnaby to New Westminster and Surrey and the other connecting Burnaby to Port Moody and Coquitlam.
Burnaby also has over 150 parks, a lively art scene with numerous art galleries and art schools, and numerous housing options and social programs.
This neighborhood is home to nearly 250,000 people, and the city's population density exceeds 6,380 people per square mile.
Burnaby is also 60% safer than other Canadian cities. Its crime rate has decreased by 6% yearly, and violent crime is 23% lower than the national average.
As a result, Burnaby is a secure neighborhood, and the city's abundance of natural environments makes it a wonderful place to live, work, and play. Burnaby also has many expats because it's well-connected to the city center by public transportation.
Pros
Convenient public transport system
Parks aplenty
60% safer than other Canadian cities
Numerous housing options and social programs
Cons
High cost of living
Excessive traffic
3. Commercial Drive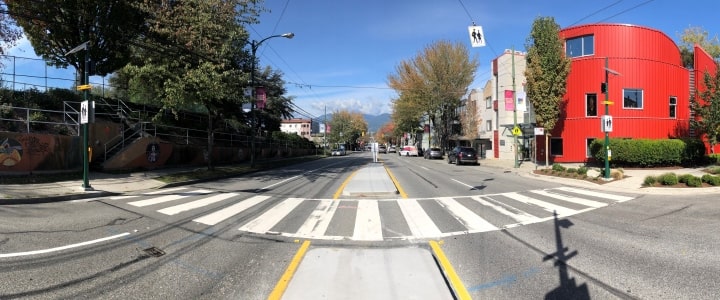 Image by the City of Vancouver via https://vancouver.ca
Commercial Drive is one of the best and most vibrant neighborhoods in Vancouver. It has a wide variety of shopping establishments, dining options, and nightlife districts.
This is also the location of Vancouver's Little Italy, which was historically a haven for ethnic Italians and Italian businesses.
There are over 300 retailers in this area, including cozy boutiques, different restaurants, live music and bars, movie theaters, coffee shops, and many others.
Commercial Drive has a population of over 28,529 people and a population growth rate of 9.4%, with the dominant age group being 30 to 34 years old.
The neighborhood is generally safe, and violent crime is rare. A new police station on Commercial Drive has also helped to further reduce crime.
Overall, this neighborhood is one of Vancouver's most culturally-rich districts. There are tons of amenities and entertainment for all ages.
Pros
Home to Vancouver's Little Italy
Low crime rate
Average population
Wide variety of shopping and dining options
Cons
Fairly busy streets
Less green spaces
4. Kitsilano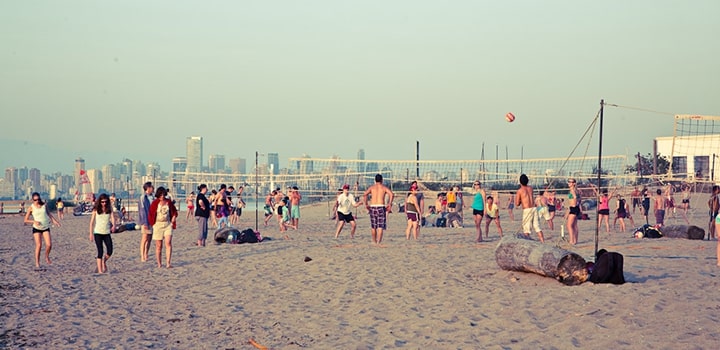 Image by the City of Vancouver via https://vancouver.ca
The Canadian Pacific Railway named Kitsilano after Squamish Chief August Jack Khatsahlano in 1886.
Kitsilano is a laid-back Vancouver neighborhood known for Kitsilano Beach and scenic mountain views. It also has unobstructed views of Vancouver's the North Shore Mountains and downtown.
This area is ideal for those seeking a relaxed beach atmosphere. If you want to live an active lifestyle, the neighborhood has plenty of paths for cycling and jogging along the waterfront.
There are also substantial schools in Central Kitsilano, such as General Gordon Elementary School, Fraser Academy, and Kitsilano Secondary High School.
Over the years, Kitsilano had a population growth of 4.0%, with a total of 546 residents in 2016. Within the last 15 years, the neighborhood's growth rate has increased by 15%.
As a result, housing costs have skyrocketed, but the neighborhood provides an excellent quality of life.
If you prefer an active and healthy lifestyle, we recommend living in Kitsilano because there are many yoga studios, health food stores, and gyms.
Pros
Laid-back culture
Home of Kits Beach
Numerous schools
Ideal for those who have an active lifestyle
Cons
High housing prices
Crowded during the summer season
5. Gastown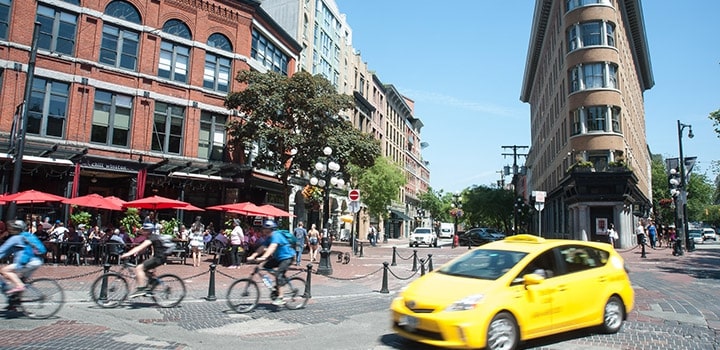 Image by the City of Vancouver via https://vancouver.ca
Gastown is an old town because of its historic brick buildings, tourist shops, and diverse restaurants. In 2009, this area was designated as a national historic site.
You can get to this neighborhood by taking the Skytrain to Waterfront Station. We recommend you visit the Vancouver Lookout at the Harbour Center, located between Waterfront Station and Gastown.
At about 550 feet (or 168 meters) in height, you can see a 360-degree view of the city. Once you reach the top, there are plenty of tables and chairs to sit at and enjoy the view.
If you're into photography, Gastown is an ideal neighborhood to visit, as the overall vibe of this historic district allows photographers to capture unique and vintage shots.
Because of the area's vibrant nightlife, the streets can get a little crowded, especially at night. If you prefer peace and quiet, head to Water Street, where there are numerous quaint cafes where you can enjoy a meal and a glass of wine.
Pros
Accessible neighborhood
Historical district
Vibrant nightlife
Plenty of shops and restaurants
Cons
Can get crowded during nighttime
Limited nearby parks
---
In conclusion, the best neighborhoods in Vancouver have excellent public transportation, low crime rates, a diverse culture, and affordable housing options.
If you're still doubting whether you should move to Vancouver, we highly recommend you read our article on why Vancouver is the best city.