The Four Seasons of Vancouver
One of Vancouver's most famous features is its four seasons. The city features long, warm, and sunny days, snow to brush the streets, rain, and even some wind.
While it doesn't have extreme temperatures, you can still enjoy a full spring and summer with crisp, cool mornings, warm afternoons, and a chill in the winter months.
Keep reading as we look into the four seasons of Vancouver.
The Four Seasons of Vancouver

Vancouver has four distinct seasons: spring, summer, autumn, and winter. Even so, residents enjoy all four seasons without the harsh winters found in other cities.
This is because the Rocky Mountains prevent snow from falling in Vancouver by blocking cold air from the Arctic, allowing the city to have a good climate all year.
Find out about each season and know what activities and attractions are available in Vancouver during spring, summer, autumn, and winter.
1. Spring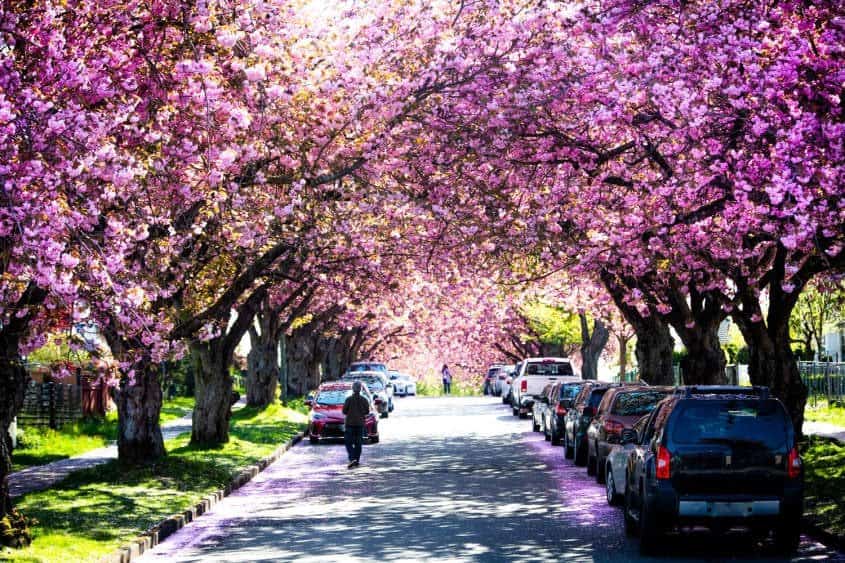 Image by Destination Vancouver via https://www.destinationvancouver.com
Vancouver enters the Spring Season in March, April, and May. During this time, the temperature in the city warms up around 7˚C – 19˚C, making it the perfect time to head outside and check out Vancouver's parks and tree-lined streets.
What to Wear
We recommend wearing light layers because the weather is warm. Most clothing stores sell spring apparel and footwear, so be sure to drop by one before you explore the city. Vancouver has many boutiques, such as Robson Street, Gastown, and Mount Pleasant.
What to Do in Vancouver during Spring

Image by the City of Vancouver via https://vancouver.ca
It goes without saying that Vancouver is home to some of the most famous parks in the world, the most well-known of which is Stanley Park. This 405-hectare public park is filled with gardens, walking routes, family-friendly areas, and cycling paths.
This park can be reached by walking along the beach, which offers breathtaking views of the ocean and mountains. There are many things to do in Stanley Park, which has a variety of dining options, historical landmarks, beautiful beaches, and the Seawall.
The mild climate of Vancouver allows green spaces to blossom, enhancing the city's natural beauty. We recommend you visit some during the Spring season if you enjoy gardens.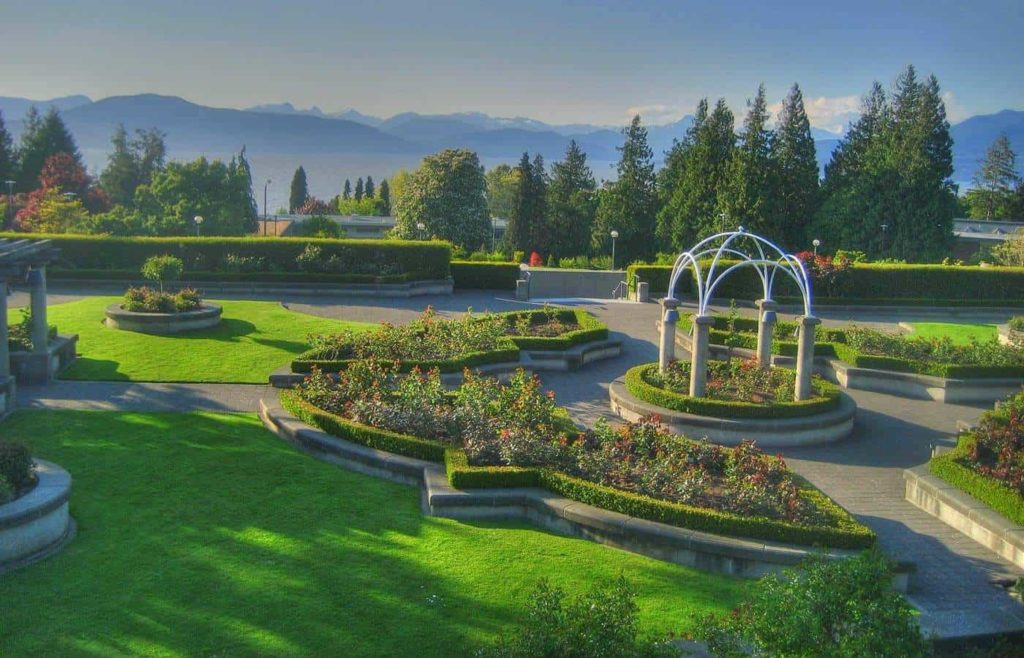 Image by UBC Botanical Garden via https://botanicalgarden.ubc.ca
The oldest and one of the most famous botanical gardens in Canada is the UBC Botanical Garden, located at 6804 SW Marine Drive.
This garden contains over 30,000 plants from 8,000 accessions worldwide and some of British Columbia's native flowers and trees. The highlight is the Greenheart TreeWalk, where visitors can walk on a suspended bridge to get a bird's eye view of the garden.
Another garden worth visiting is the Vandusen Botanical Garden, located against the North Shore Mountains.
This 55-acre is home to many nurseries and over 7,500 plant species and varieties, making it an ideal location for learning about nature. We recommend visiting in late Spring when all the flowers bloom.
2. Summer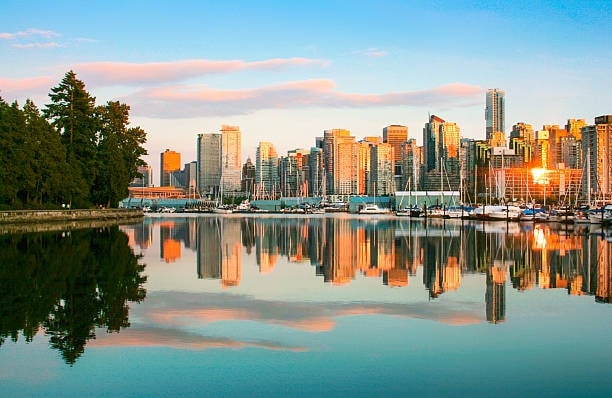 Image from iStock via https://media.istockphoto.com/
Summer in Vancouver is from July to September. July is the hottest month of the year, with average temperatures ranging from 20°C to 30°C. The nights are more relaxed, around 13°C, so there are a lot of nighttime festivals and events.
What to Wear
Vancouver has warm, comfortable summers, so it's best to wear light jackets, t-shirts, and short-sleeved shirts. The temperature at night can be cool, especially when you're around mountains.
What to Do in Vancouver during Summer
Summer in Vancouver is warm but not too sunny, making it the perfect season the head to the beach.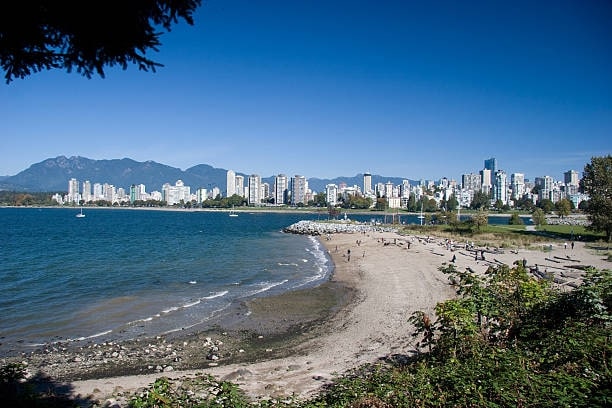 Image from iStock via https://media.istockphoto.com/
Kitsilano Beach is one of Vancouver's most popular. This attraction, also known as "Kits" beach, is located in Cornwall, and the Seawall runs alongside the beach and Kitsilano Pool.
The beach features scenic views of English Bay and the North Shore mountains. It has a variety of activities for people of all ages, as well as sports such as beach volleyball, frisbee, badminton, and many others.
It's also an excellent place to learn about different cultures, as this beach has a diverse restaurant selection that includes Italian, Japanese, French, Fusion, and many others.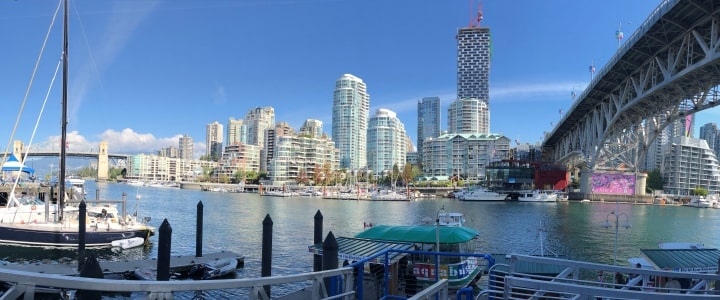 Image by the City of Vancouver via https://vancouver.ca
Granville Island, located across False Creek from downtown Vancouver, is another excellent summer destination.
Granville Island is well-known for its delicious food, quirky shops, vibrant nightlife, and breathtaking waterfront views. It's a great place to hang out and explore with friends and family because there's something for everyone.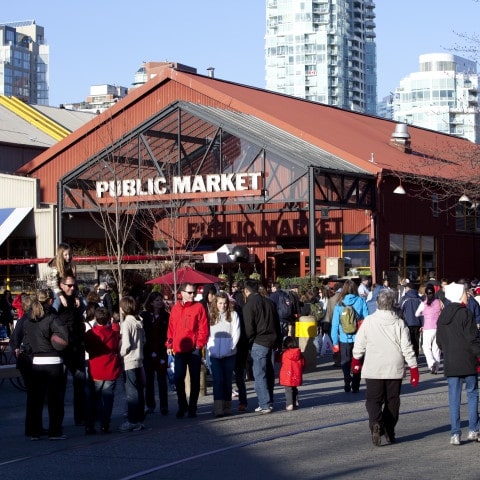 Image by Granville Island via https://granvilleisland.com/directory/granville-island-public-market
Visitors can also visit the Granville Public Market for fresh produce, fish, ice cream, and vegetables. For those looking to try authentic and locally-sourced coffee, Granville Island has a plethora of bakeries and coffee shops.
3. Autumn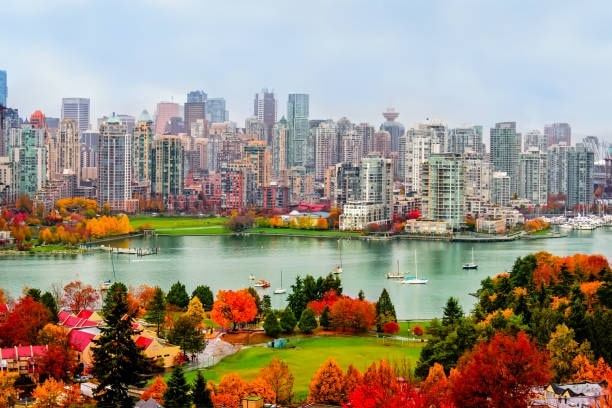 Image by iStock via https://www.istockphoto.com
Autumn in Vancouver is from late September to November, with a temperature range from 14° to 19°. The trees start changing their colors to red, brown, and orange.
What to Wear
Autumn in Vancouver is gentle, with a climate similar to that of summer. You'll be able to enjoy sunny mornings and cool evenings, so dress warmly. It's also possible that rain will fall, so bring an umbrella.
What to Do in Vancouver during Autumn
When it comes to weather, spring is usually one of Vancouver's best months. The leaves change color as the weather cools. The vibrant red, orange, and yellow leaves pop against the lush greens.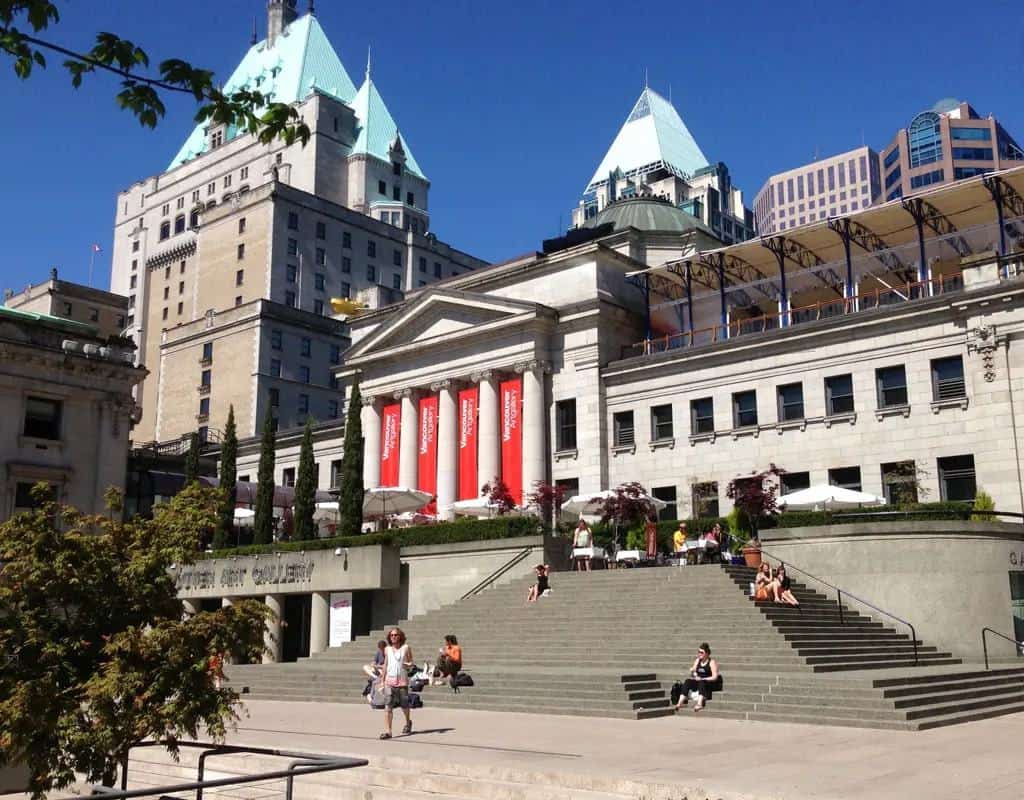 Image by Vancouver Art Gallery via https://www.vanartgallery.bc.ca
We recommend that those who enjoy art galleries visit the Vancouver Art Gallery. This is the largest art museum in Western Canada, and it's located adjacent to Robson Square in Vancouver.
The Vancouver Art Gallery is home to some of the best contemporary pieces worldwide, with a touch of historical art, and serves as a global platform for BC's artistic community.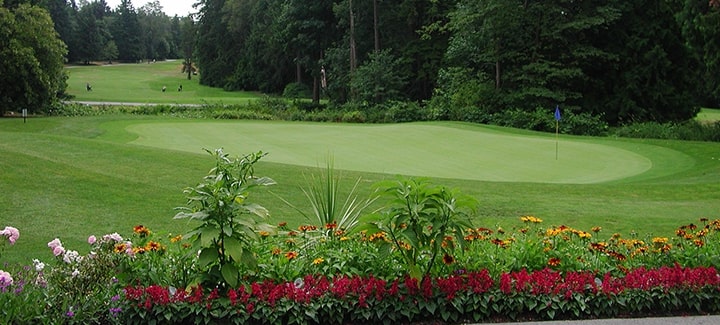 Image by the City of Vancouver via https://vancouver.ca
Another good idea is to play golf at the Fraserview Golf Course. This golf course has been around since 1936, establishing itself as one of Canada's oldest municipal golf clubs.
Fraserview Golf Course is an 18-hole, par-72 course with tree-lined lawns, putting greens, and a driving range. The abundant nature surrounding the golf course adds to the place's overall appeal, making autumn the best time to visit.
4. Winter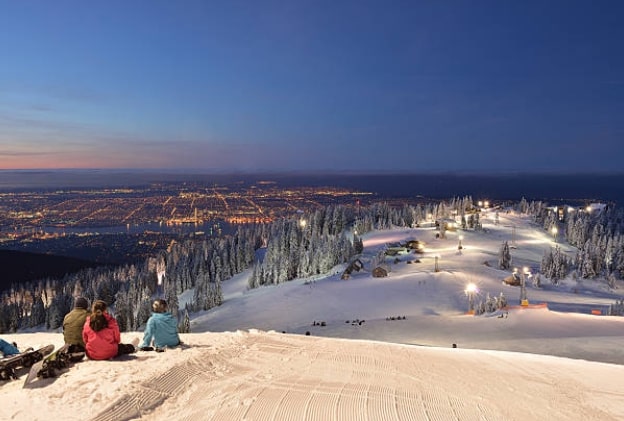 Image by iStock via https://www.istockphoto.com
Winter in Vancouver lasts from December to January, with temperatures dipping to around 7 °C or 8 °C. There isn't much sun during this time of year, and all you can see is rain and dark clouds.
What to Wear
Winter in Vancouver is mild and rainy, but the city remains one of Canada's most popular ski destinations despite the lack of snow. If you're going to explore the city in the winter, dress warmly. Wear multiple layers, gloves, and scarves.
What to Do in Vancouver during Winter
In Vancouver, winter usually brings more rain than snow. On average, the city only gets 4 inches of snow falls every year, so what better way to take advantage of that than going to a ski resort.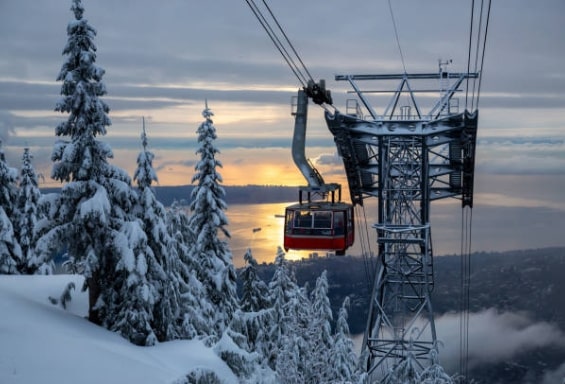 Image by iStock via https://www.istockphoto.com
Grouse Mountain is one of Vancouver's most well-known ski resorts. This attraction provides stunning views of the city and is a great place to visit during the winter because it has a variety of activities.
Grouse Mountain's activities include hiking, snowboarding, skiing, and snowshoeing on its well-maintained terrain parks. These parks have varying obstacles suitable for all skill levels, such as halfpipes, full snow jumps, and many more.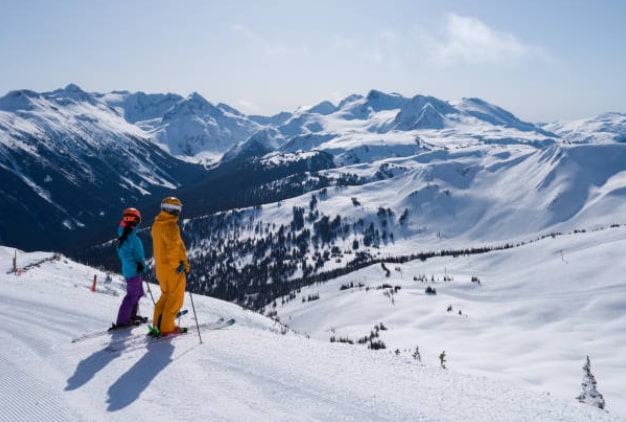 Image by iStock via https://www.istockphoto.com
Whistler Blackcomb is another popular ski resort you should consider visiting. This attraction consists of the majestic Whistler and Blackcomb mountains, which offer over 200 ski runs.
If you get hungry or thirsty, Whistler Village has a wide variety of restaurants, cafes, and bars where you can eat good food and drink a hot cup of coffee.
---
Vancouver's year-round temperate climate and diverse topography create four unique seasons in the city. Each season carries its own unique charm, whether it's the vibrant spring blossoms or the fresh summer aroma of strawberries and asparagus.
A winter wonderland festooned with festive lights and colorful Christmas trees or the fresh fall colors of delicious BC apples.
If you still need more help finding activities in the city, check out our article on the best things to do in Vancouver.