9 Best Electricians in Vancouver
Electrical breakdowns, faulty wires, and other electrical issues are inevitable aspects of maintaining a property. While it's tempting to take on a DIY approach, it can be dangerous, stressful, and may even worsen the problem.
A professional electrician can undoubtedly do a better job than you. However, not all electricians offer the same quality of service.
So here, we created a comprehensive guide on choosing the best electricians in Vancouver. We'll talk service providers, rates, FAQs, and more!
How Much Does It Cost to Hire an Electrician in Vancouver
The cost of hiring an electrician varies from one company to another and the complexity of the task at hand. However, to give you an idea of how much to expect to spend, we'll discuss the average cost of hiring an electrician in Canada.
Hourly Rates
The hourly rate of electricians depends on their license type and the kind of job. Below is a table of their average hourly rates by license type.
| | | |
| --- | --- | --- |
| Type of Electrician | First Hour | Average Hourly Rate |
| Master | $195+ | $129 |
| Journeyman | $84+ | $71 |
| Apprentice | $84+ | $51 |
The first hour is higher to cover gas and travel time. Also, keep in mind that these rates don't include the parts that will be used for the job.
If you need an electrician for emergencies, or during off-hours, weekends, and holidays, expect to be charged 1.5 to 2 times the regular hourly rate, on top of a trip charge that may range from $130 to $260.
Project Rates
When you call an electrician, the minimum trip fee that they will charge per visit is around $30. Sometimes, this is already included in the first hour fee, so better clarify when you contact the electrician.
If you want to cut down costs, it is recommended to group tasks together into projects instead of calling them multiple times and paying for trip fees. Here is a table of the average project rates.
| | |
| --- | --- |
| Services | Average Project Costs |
| Generator Services | $325 – $1296 |
| Outlet & Switch / Socket Installation | $195 – $325 |
| Wiring a House | $700 – $972 |
| Light Fixture Work | $195 – $972 |
| Electrical Breaker | $130 – $200 |
| Attic Fans | $260 – $520 |
| Ceiling Fans | $65 – $260 |
| Smart Home Installation | $518 – $2500 |
The Best Electricians in Vancouver
If you're financially ready to hire an electrician based on the national average costs outlined in the previous section, check out our top picks for the best electricians in Vancouver.
1. EVSOL Energy
BEST FOR
Residential and Commercial Electrical Projects
SERVICES
EV Chargers
Smart Appliances
Lighting
Solar Panel Installations
Safety Upgrades
Inspections & Audits
Seasonal Lighting
Residential Construction and Renovations
Commercial Construction and Renovations
WEBSITE
https://evsolenergy.com
ADDRESS
170-13988 Maycrest Way
Richmond, BC
CONTACT DETAILS

[email protected]


(778) 318 2070
OPERATING HOURS
Mon to Fri: 8:30am to 5:00pm
Sat to Sun: By Appointment
EVSOL Energy is a registered BC Company (BC1306254) that offers a wide range of electrical services including lighting & home maintenance, electrical panel upgrades, EV charger & solar panel installations to the needs to residential and commercial clients alike.
With 10+ years of combined experience in the business and its commitment to excellent workmanship, EVSOL Energy is the trusted service provider for Vancouver-based companies, property management organizations & stratas. They even back their work up with a lifetime labour warranty. The team of electricians from the company are highly qualified, counting decades of experience amongst them, including Red Seal Certification & BC Master Electrician FSR Class B. Moreover, they're always timely when it comes to delivering services, and strive to be polite and professional to every client they take on.
They always ensure that every electrical system installed follows the BC Electrical Code, because their customers' safety is paramount.
Why EVSOL Energy?
Accommodates residential and commercial clients
Fully licensed, bonded, and insured
WorkSafeBC certified
Transparent rates
Has a wide array of payment options to choose from
4.9-star Google rating
Accommodates residential and commercial clients
Offers free quote and consultation
Fully licensed, bonded, and insured
Transparent rates
Has a wide array of payment options to choose from
4.9-star Google rating
Weekend services are by appointment only
Customer Reviews
Here are some of the reviews from their past clients:
"Hired Evsol to replace my electric baseboard heating and thermostats, they were so awesome. Knowledgeable, friendly, efficient and professional. Worked fast and explained everything, I highly recommend them!" – Krystal Smith
"The electrician was excellent, and solved my multiple wiring issues in a short time! But the office needs to stop booking appointments so closely together or double-booking. Give the guys time to do their job." – Brian Nichols
2. Wicks Electric
BEST FOR
Commercial electrical projects
SERVICES
Residential Construction and Renovations
Commercial Construction and Renovations
Service and Maintenance
Lighting Control and Automation
Boat Access and Off-Grid Electrical
Green Energy
Low Voltage
WEBSITE
https://wickselectric.ca/
ADDRESS
1328 W Pender St, Vancouver, BC V6E 4T1, Canada
CONTACT DETAILS
+1 604-765-8439


[email protected]

OPERATING HOURS
7:00 am to 6:00 pm (Monday- Friday)
10:00 am to 4:00 pm (Saturday- Sunday)
Wicks Electric is an award-winning electrician in Vancouver that serves the entire Lower Mainland. It won the Best Company in BC Award in 2018 through Small Business BC, as well as Vancouver's Top Choice Award for electrical contractor and Best of the City.
This fully licensed and insured electrician is one of the highest-reviewed contractors in British Columbia. Their team can work on small electrical service jobs and large-scale residential or commercial projects.
Customers love their professional team for the quality and efficiency of their service. Working with them starts with a site visit, followed by a detailed estimate, the actual completion of the job, and a follow up service.
Award-winning electrician guarantees quality of service
Virtual consultations available
Offers sustainable energy options
Shorter hours during the weekends
No emergency electrical service
Customer Reviews
Here are some of the reviews from their past clients:
"Wicks did a commercial project for me and everything went smoothly. They followed the quote they gave me prior and were able to finish the job in the timeframe that was allotted to get the job done. Overall, will use again and would recommend. A+" -Melanie McCready
"Sincere thanks for your quality of work so far on our Commercial project. Your attention to detail is excellent and we have been extremely impressed by your Company's work ethic and communication. Rolling out a project, whatever size, remotely during COVID has required a considerable re-work of our model at Evolve Design Build, and it is imperative we work with companies who uphold trust and integrity. We work with many Contractors and you really are standing head and shoulders above many of your peers. Thank you!" -Jules Galloway
"Wicks was such a great company to deal with. Currently I'm working with a construction management company and a non profit organization to coordinate some updates to various buildings. I contacted Wicks for some minor electrical work, as I was being quoted high prices. They were quick and responsive, and gave me a very fair price for the work, even though it wasn't in the most ideal part of town. Their professionalism has been outstanding, and I would not hesitate to recommend them for any project – big or small." -Olivia Creagh
3. Kerrisdale Electric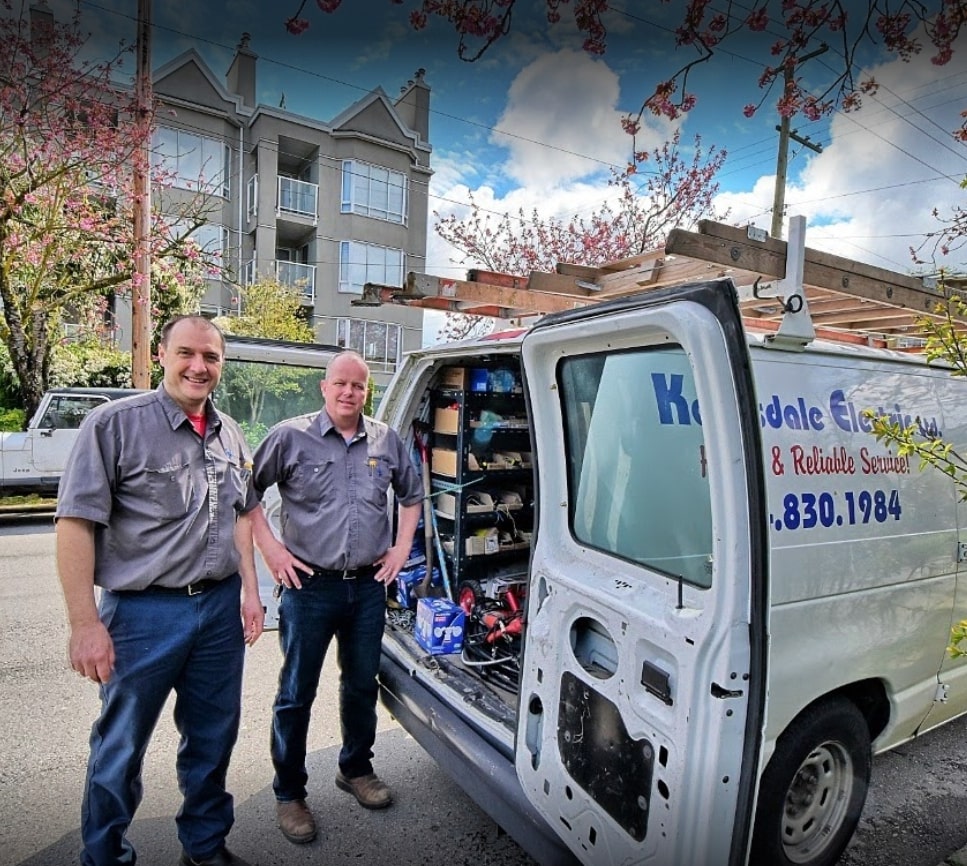 BEST FOR
Specialty lighting and electrical upgrades
SERVICES
Commercial Services
Electrical Panel Repair
Generator Repair
Lighting Repair
Outlet Repair
Wiring Installation
Electrical Panel Installation
Generator Installation
Lighting Installation
Outlet Installation
Residential Services
Wiring Repair
WEBSITE
http://kerrisdaleelectric.ca/
ADDRESS
2768 West King Edward Ave Suite 95 Vancouver, BC V6L 1T7
CONTACT DETAILS
+1 604-830-1984
OPERATING HOURS
8:00 am to 5:00 pm (Monday- Friday)
Established in 2002, Kerrisdale Electric has become one of the most trusted electricians in Vancouver. Their team is supervised by an experienced electrician who has been working in the industry for more than 25 years.
This fully licensed, bonded, and insured electrician has an A+ rating with the Better Business Bureau. Many of their clients love their promptness and ability to complete the job quickly.
Aside from the general residential and commercial electrical services, Kerrisdale Electric also specializes in specialty lighting and upgrades, electrical heating installation, standby generator installations, and ballast replacement for fluorescent light fixtures.
Also offers electrical heating installation
Led by an expert with 25+ years of industry experience
Closed during the weekends
No emergency electrical service
Customer Reviews
Below are some of the comments from their past clients:
"We have been using their services for several years at our condominium and are most pleased with the results. Jody and Sammy are great people to work with. The are very professional, do a great job, arrive on time and their work is good value. I highly recommend Kerrisdale Electric." -Hugh Clarke
"Trent arrived promptly to troubleshoot why our furnace had no power. He was communicative and effective with his time. I was very pleased with the interaction with him – of course helped by his ability to solve our problem! I will call Kerrisdale Electric again in future, no question!" -Dara Sklar
"Jody and Trent have provided first class service for us. They were prompt, efficient, courteous, diligent, and provided excellent advice on issues we had no idea about. We strongly recommend them to anyone who requires electrical services." -Blain Archer
4. Protec Electrical Services
BEST FOR
EV charging station and network service and installation
SERVICES
Lighting Installation
Electrical Panel Installation
EV Charging Station Installation
Heater Installation
Cabinet Light Installation
Ceiling Light Installation
Fluorescent Light Installation
Kitchen Light Fixure Installation
Outdoor Light Repair
Recessed Light Installation
Sconce Light Installation
Track Lighting Repair
Outlet Installation
Residential Services
Security System Repair
Wiring Installation
Commercial Services
Electrical Panel Repair
Generator Installation
Bathroom Light Fixture Installation
Ceiling Fan Installation
Chandelier Installation
Fluorescent Light Repair
LED Strip Light Installation
Pendant Light Installation
Recessed Light Repair
Track Lighting Installation
Outdoor Lighting Installation
Outlet Repair
Security System Installation
Smoke Detector Installation
Wiring Repair
WEBSITE
https://protecelectricalservices.ca/
ADDRESS
991 Hornby St #179, Vancouver, BC V6Z 1V3, Canada
CONTACT DETAILS
+1 (778) 322-8255
+1 (778) 241-5102


[email protected]

OPERATING HOURS
6:00 am to 6:00 pm (Monday- Friday)
Protec Electrical Services is a longstanding electrical services company operating since 1986. They serve clients from Vancouver to Abbotsford, providing residential, commercial, and industrial electrical services.
All their electricians are licensed, bonded, and insured. What makes them unique is that aside from general electrical work, they also provide network systems installation and EV charging station setup.
They can set up multiple charging stations for electric vehicles for multiplex buildings and commercial premises. As authorized designer and distributor of Wirewerks structured cabling systems, they can even provide for your telecommunications needs with a 25-year warranty.
Longer operating hours during the weekdays
Also offers network service and installations
EV charging station setup
Closed during the weekends
Customer Reviews
Here are some of the testimonials from their past clients:
"I scheduled for today to change my razor-only outlet into a gfci, he was right on time, and did a pretty neat job. He also didn't take any longer than the time he said its supposed to take (since i had to leave for work). Also accepting card payments on the spot is very convenient. Im actually very satisfied. Thanks a lot. I'll recommend to friends." -Sherif T
"We recently had numerous issues with our electrical outlets in the kitchen and heaters. Graham managed to help us out in the time of great need on such short notice. We greatly appreciate his professional and efficient service. Highly recommend!" -Hyun E C.
"Graham did a great job of fixing a bunch of sketchy DIY electrical work, doing a thoroughly good job of figuring out what all was going on in there and repairing a number of other odds and ends while he was here." -Simon B.
5. MJR Electric BC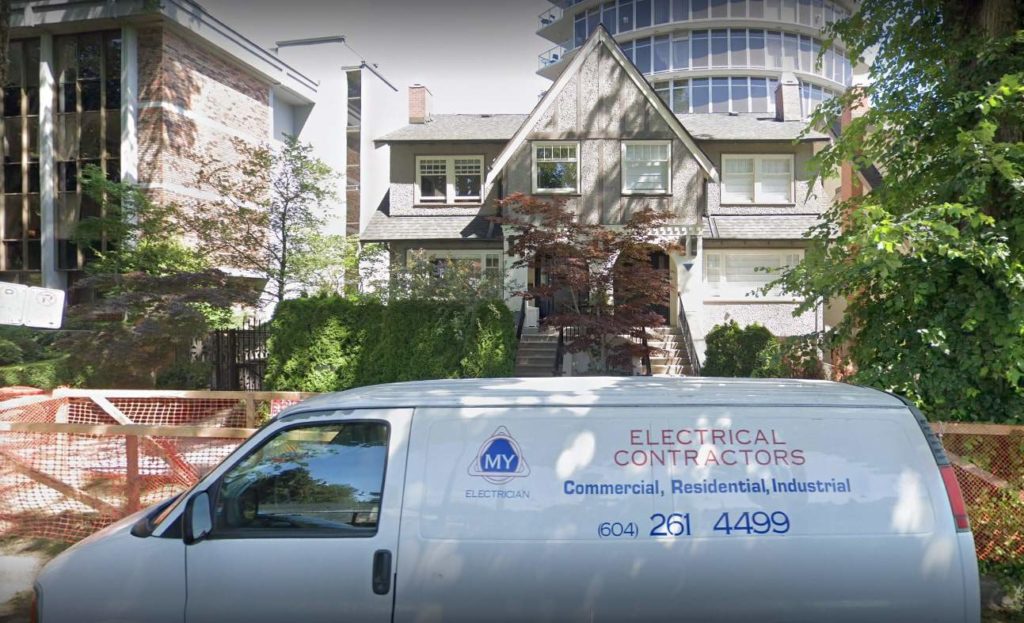 BEST FOR
Solar panel and EV charger installation
SERVICES
Commercial Services
Electrical Panel Repair
Generator Installation
Heater Repair
Lighting Installation
Security System Installation
Solar Panel Installation
Wiring Installation
Electrical Panel Installation
EV Charging Station Installation
Heater Installation
Home Theater Installation
Residential Services
Smoke Detector Installation
Solar Panel Repair
Wiring Repair
WEBSITE
https://mjrelectric.ca/
ADDRESS
1611 W 14th Ave, Vancouver, BC V6J 2J3, Canada
CONTACT DETAILS
+1 778-776-4781


[email protected]

mjrelectric.ca
OPERATING HOURS
7:00 am to 4:00 pm (Monday-Friday)
MJR Electric BC is a Vancouver-based electrical contracting company that offers residential, commercial, and industrial electrical services.
They serve all of Vancouver, West Vancouver, and Burnaby. However, most of their clients are in Vancouver and the Okanagan area of British Columbia.
Aside from general electrical work, they also specialize in solar and LED lighting, as they have a vision to help reduce carbon emissions. They can also install charging stations for your electric vehicle at home or within business premises.
If you are a local contractor who needs a subcontractor to help you with residential and commercial projects, you can reach out to MJR Electric BC for that too, as they accept subcontractor projects.
Big on green energy (solar panels and LED lighting)
Accepts subcontractor projects
Various packages for EV charger installation
Closed during the weekends
Customer Reviews
Check out some of the testimonials from their past clients:
"Quinn gave us a tailored quote and listened to our concerns and offered pragmatic solutions and options we would not have thought of. MJR's staff were cheerful and efficient. They also took other strata noise concerns into account during the installation. The quote we got is what we were charged in the end. We are very very happy with MJR Electric's work and highly recommend them. Quinn also walked us through the provincial incentives." -Eric Derbez
"From start to finish, MJR Electric not only met but exceeded my expectations. Their employees are knowledgeable, helpful and professional. The quote I received was timely and detailed. The work was executed without issue and scheduling was easy. I would recommend MJR Electric without hesitation and would welcome them back again to do any other work that I may require." -Allison Schatz
"I am very happy with the electrical EV charger work done by MJR Electric. Your electrician John and Douglas were very professional, punctual and great to deal with. They also made sure my place was clean and tidy after they completed their job. Thanks Quinn" -Justin Chiang
6. Bertling Electrical
BEST FOR
Residential electrical services
SERVICES
Residential electrical services
Commercial electrical services
Emergency response
Electrical upgrades and maintenance
Energy savings
WEBSITE
http://bertlingelectrical.com/
ADDRESS
1610 Pandora St, Vancouver, BC V5L 1L6, Canada
CONTACT DETAILS
+1 604-723-2169

[email protected]

OPERATING HOURS
7:30 am to 5:00 pm (Monday-Friday)
Bertling Electrical is a family-owned electrical contractor founded in 2008 in Vancouver. As a full-service firm, it offers a wide range of residential and commercial electrical services.
Customers love them for their friendly licensed staff who offer superior workmanship and great customer service. They are also led and trained by an expert electrician with over 18 years of experience in the industry.
Aside from the usual electrical work, Bertling Electrical also offers electrical upgrades and energy savings options. The best thing about them is that they do emergency restoration and electrical troubleshooting for victims of flood or fire.
Accepts emergency electrical work
Offers specialty lighting installations
Closed during the weekends
Doesn't offer sustainable energy solutions
Customer Reviews
Here's what their clients have to say about their service:
"We have used Michael and Bertling Electric over the last couple of years, I rarely post reviews, however, their call back service is to be commended. There was an issue on one of our sites that was corrected and paid for by Bertling, where other electrical contractors would have contested the issue. I am impressed at their willingness to return, fix the problem and not charge for the repair. Great Service all in all. Randy Level One Construction" -Randy K.
"This is a much overdue review for Bertling. A year and a half ago, I had an electrical issue in my condo. Bertling came in the same day and fixed my problem! They were friendly and professional and didn't make me feel stupid for creating my own electrical issues 😉 I would use Bertling again in a heartbeat!!" -Cin N.
"I had Michael and Bertling Electrical do a complete rewire of my large heritage house. The scope of the work was quite extensive, and included tracing and removing some of the leftover original knob and tube wiring. They rewired all four floors of my home, and also did my exterior electrical work. Most recently, they installed spot and motion lighting in my front, side, and back yards. I cannot recommend Bertling enough, whether your project is large or small. Communication is timely and impeccable, the electricians are always personable and professional, and the work is consistently top-tier. Not only did they rewire my house, they are now my go-to for smaller electrical jobs. Of the endless number of trades I have had through my house in the last twelve-plus years, Bertling Electrical Group are the ones I know I can depend upon to always be on time, personable, affordable, professional, tidy, and flawless in their work. I firmly recommend them to anyone in need of electrical work." -Michael B.
7. JRG Electric Ltd.
BEST FOR
Electrical services
SERVICES
Custom Homes & Renovations
Service Upgrades
Home Automation
Automatic Stand By Generators
Lighting Upgrades
And More
WEBSITE
https://jrgelectric.ca/
ADDRESS
Surrey, BC, V3S 5V9
CONTACT DETAILS
Phone: (604) 765-8790
Email: [email protected]
OPERATING HOURS
Mon – Fri: 7:00AM – 4:00PM
Sat & Sun: By Appointment Only
JRG Electric Ltd is a top-rated electric company serving the local community. They offer fast, reliable, and affordable electrical services to residential and commercial clients alike.
One of their most defining characteristics that set them apart from other companies is how they also help you acquire permits. Not many electricians offer this service, and they help make the process a little bit easier with this added boost
Past clients have also commended them on their level of experience, since they were able to answer all the concerns they had regarding the project.
Works well with construction teams
Able to apply permits for you
Rates are unavailable online

Doesn't offer sustainable energy solutions
Customer Reviews
Here's what their clients have to say about their service:
"I reached out to Jeff for his expertise and advice. Even though I am not quite yet ready to work on electrical, Jeff was responsive and helpful. Being in business and attracting clients can be like throwing a fishing line in and trying to catch fish. The ones that develop a reputation for care and take the time to build relationships will reap a greater benefit. I know that when the time is right for my project, I will not hesitate to reach out to JRG Electric."
"Jeff has been a pleasure to work with on my new construction. Friendly, professional and very knowledgeable. Great suggestions and advice from placement, practically, to future proofing. Hard working, easy to talk to/discuss items, responsive, and prices his work fairly. He is also fully certified and an FSR/electrical contractor so he is able to apply for permits — many other electricians I contacted are not certified to this level. I will definitely use his company for any future electrical work and have already referred him to a friend looking for an electrician"
8. Vancity Electric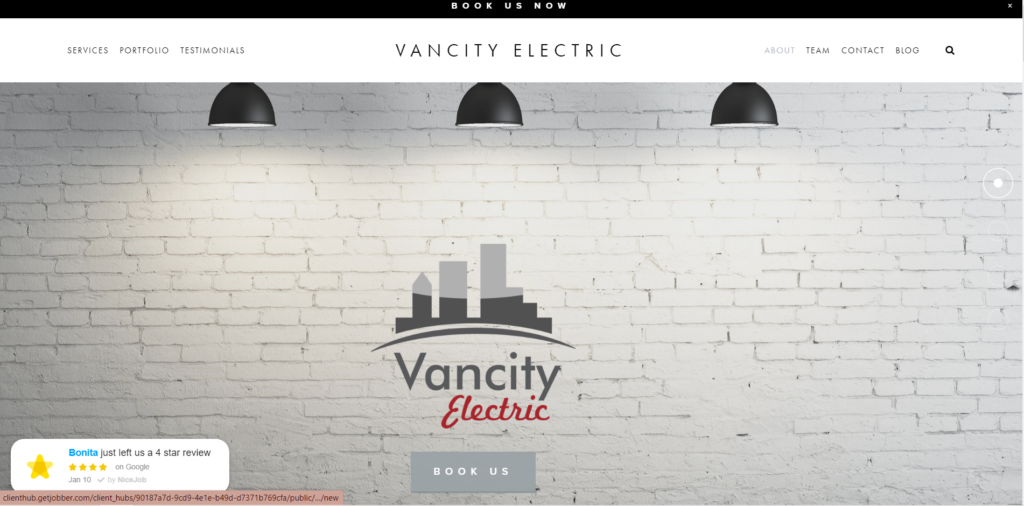 BEST FOR
Electrical Service Calls
SERVICES
Residential and Commercial Services
WEBSITE
https://www.vancityelectric.ca/
ADDRESS
3766 Nanaimo Crescent,
Abbotsford, BC, V2S 7A1,
Canada
CONTACT DETAILS
778 839 6771
[email protected]
OPERATING HOURS
Contact for more details
Vancity Electric is a leader in commercial electrical and residential electrical, with upwards of 20 years experience. From large commercial projects, to custom home builds, to small electrical repairs, they are the best electricians for the job.
They provide electrical services to people in North Shore as well as to clients across Metro Vancouver and the Fraser Valley.
They have talented crew members that live in all areas of the greater Vancouver area, meaning they can quickly and efficiently take on the role of a Vancouver electrician, Abbotsford electrician, and other nearby areas.
Their customers have all commended them for providing them with long-lasting fixes that lasted them for years.
Boasts over 200 exceptional client reviews
Won best of HomeStars, best of Houzz, best of Trusted Pros, as well as the "Giving Back Award"
Their service calls may arrive within 8 hours or less
Customer Reviews
Here's what their clients have to say about their service:
"I am very happy & satisfied of their services – from quoting to the installation of the baseboard heaters &fan-forced heaters, they were professional & on time. I had contacted three other electrical companies none could come up with the solution of Cory's ingenious idea. Then Dustin & TJ completed the job well. Of course Geoff was very responsive to my requests and changes. Thank you to you all. I would not hesitate to recommend Vancity to all my friends."
"Cory's team is very friendly and professional. Cory stands behind his work and is committed to customer satisfaction. A great company that I highly recommend. I would deal with Cory and Vancity Electric again without hesitation and will be recommending them to friends and family."
9.   Expert Electric
BEST FOR
Emergency Electric Services
SERVICES
Residential Electric Services
Commercial Electric Services
WEBSITE
https://www.expertelectric.ca/
ADDRESS
Vancouver
CONTACT DETAILS
+1 604-681-8338
OPERATING HOURS
Expert Electric is a company that provides clients with electrician services all days of the week within their area of service. From outdoor installations to indoor lighting, they are highly knowledgeable in all aspects of electrical and are able to give reliable advice and service when it comes to residential and commercial issues.
We like that they are able to accommodate emergency services 24/7 so that clients can expect a speedy response when it comes to both service and diagnosis of the problem wherever the client is in the area.
Their website also has assistive features that are made more convenient and flexible for the busy schedules of the client since they can easily book an appointment at any time that they are available in the comfort of their homes.
Clients are also informed ahead of time regarding the pricing and what to expect upon the accurate inspection and diagnosis of the problem to ensure transparency and to get the best value of services as well.
Overall, with certified electricians available and with a readily stocked truck of materials and equipment, we highly recommend them for clients looking for emergency electrical services at any time they need them.
Wide range of electric expertise available
Accommodates emergency services
Easy booking feature
Operating hours unavailable
Customer Reviews
Here are some reviews from their clients:
"Very pleased with the service and quality of the work! Hamid installed a new fuse box, fan and heat lamp combo, outside fixtures plus wiring an unsafe job done that was previously done by a contractor."
"I was very pleased with Brad's workmanship, courtesy and overall thoroughness. Great job, Brad! And, James had always been most helpful for me over the phone. Always been prompt and efficient. Thanks everyone!"
FAQs About the Best Electricians in Vancouver
---
Instead of rolling up your sleeves, ready to do some electrical work through the DIY tips you found online, use this guide as a quick reference for which electrician to call.
Have you tried any of those who made it to our list of the best electricians in Vancouver? Let us know about your experience!