Best Hand-Pulled Noodle Places in Vancouver
We lost count of how many chopsticks we've used on our journey to find the best hand-pulled noodles in Vancouver, and boy are we full! We've slurped, savored, and enjoyed every single bite at these spots, and may have overindulged.
However, don't go on this journey with us if you're not willing to try new flavors but if you're up for an adventure, then you're in for a treat.
1. Legendary Noodle
AVERAGE PRICE
CAD 15.99 - 18.99
WEBSITE
https://www.legendarynoodle.ca/
ADDRESS
1074 Denman St, Vancouver, BC V6G 2M8, Canada
CONTACT DETAILS
Phone: +1 604-669-8551
SOCIAL MEDIA
Facebook
OPERATING HOURS
Monday - 12:00 PM - 09:00 PM

Wednesday - Sunday: 12:00 PM - 09:00 PM
Dining at Legendary Noodle was like being in an old Canton caboose. The restaurant looks very much like shops in the street alleys in China. We're so glad we listened to our instincts and went into this hole in the wall noodle shop.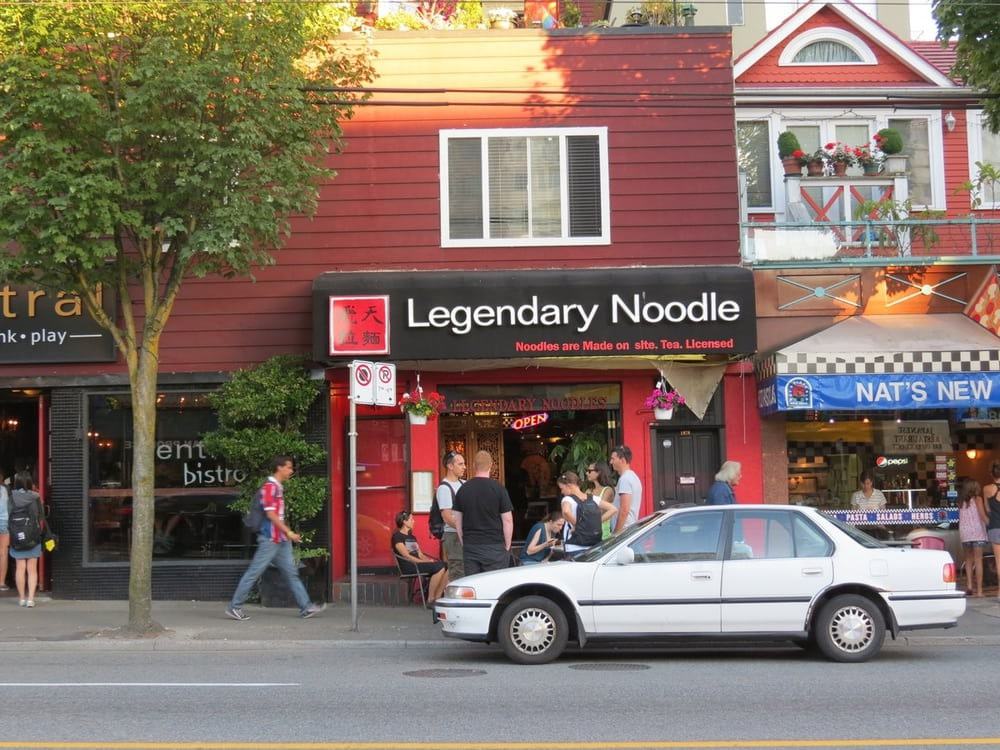 There's a ton of seating in the dining room, and we liked that we could see the chefs making the noodles in the kitchen. They even had lovely folk music playing on the radio.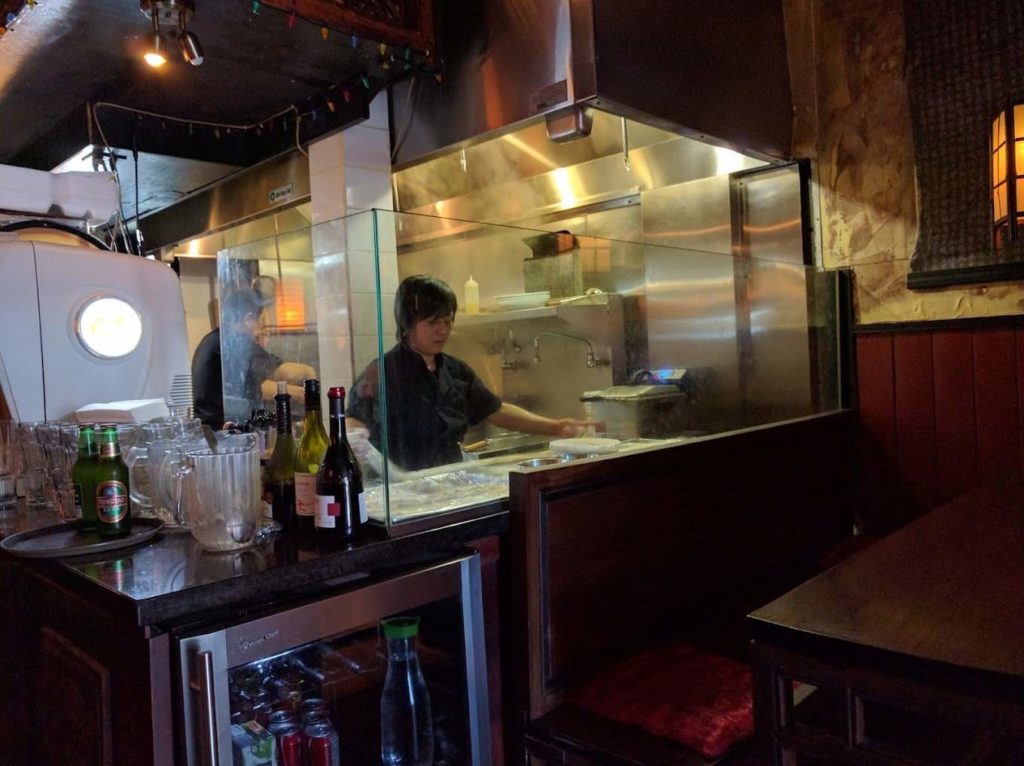 The staff were very accommodating too, as we may have dropped our chopsticks twice, and we didn't have to request new ones as they came swooping in with a brand new pair.
We had the oxtail noodles and it had a super tasty broth and we could tell that it was seasoned very authentically.
We also tried the Lanzhou noodle soup and chicken curry noodles, although the broth was a little unseasoned, it was nothing a complimentary soy sauce and vinegar can't fix.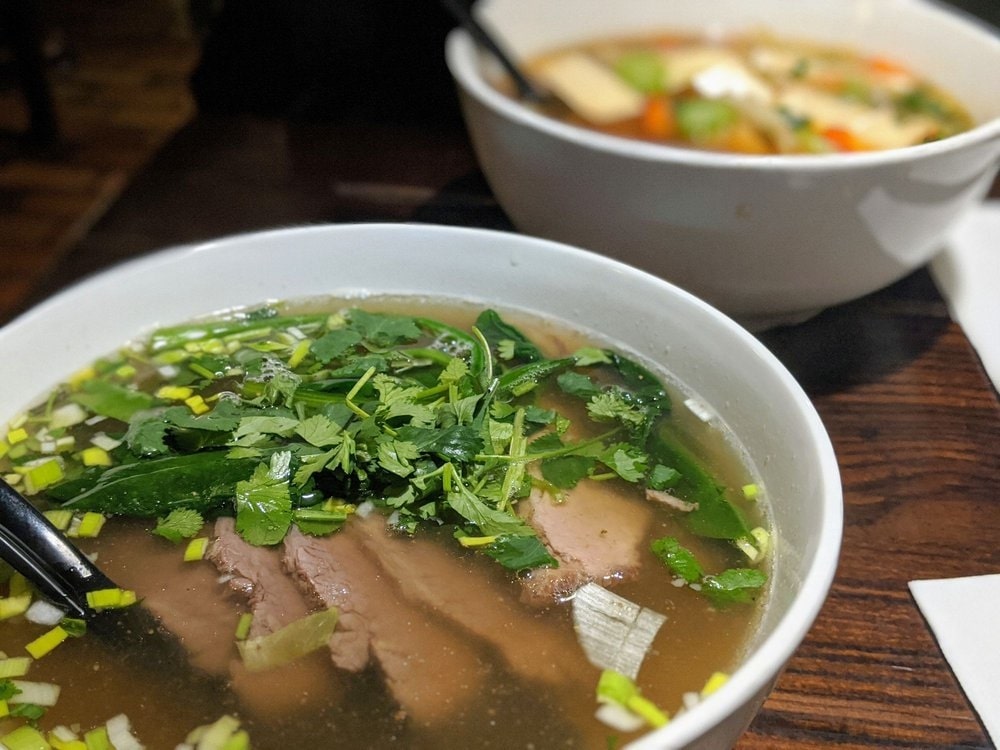 However, if we had to pick favorites, it's really the spicy pork with flat noodles that stood out to us the most.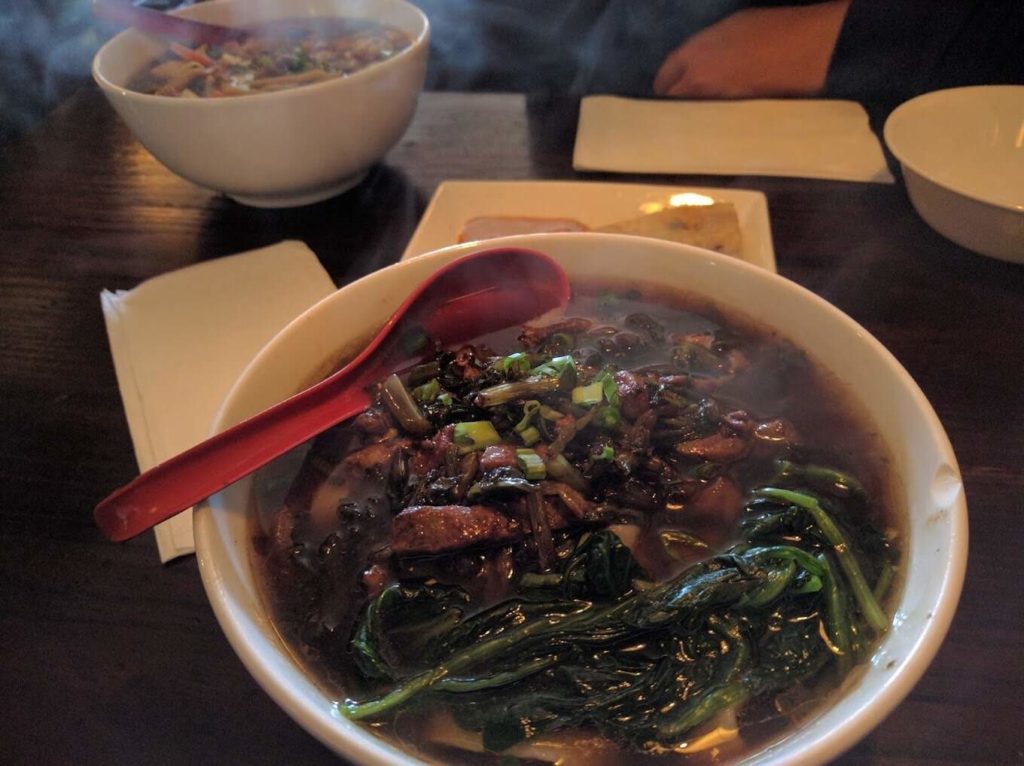 This dish was packed with flavor, and although it's a bit spicy, the combination of the tender pork and the savory broth was absolutely delicious.
2. Noodle Arts
| | |
| --- | --- |
| AVERAGE PRICE | CAD 14.95 - 20.99 |
| WEBSITE | https://noodlearts.com/ |
| ADDRESS | Robson St, CA BC Vancouver 1739, V6G 1C9 |
| CONTACT DETAILS | Phone: +1 604-673-5688 |
| SOCIAL MEDIA | Facebook |
| OPERATING HOURS | Monday - Sunday: 11:00 AM - 09:00 PM |
We started our meal at Noodle Arts with fresh chrysanthemum tea to clear our palates for what was to come. When you order, you get to choose the thickness and style of the noodles, and of course we got not just one, but three dishes!
First, we ordered the Dan Dan Noodles with Peanut Sauce. It was creamy and had just the right balance of spiciness. The minced meat and veggies on top really added a nice texture and flavor to the dish. We highly recommend it.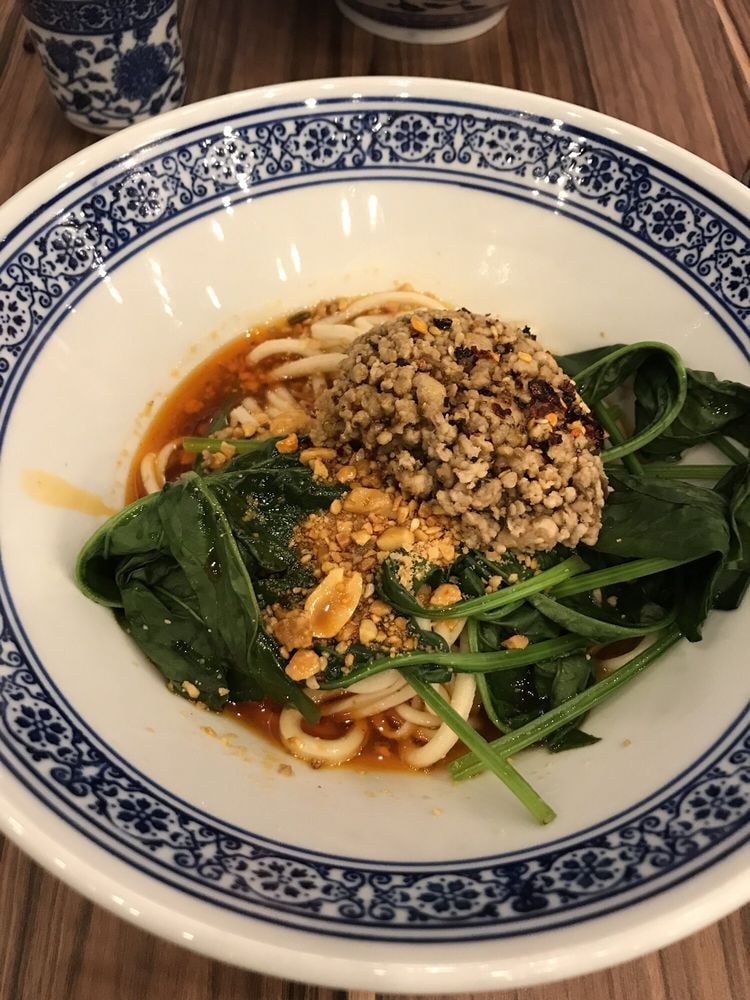 Up next is the Lanzhou pickled cabbage with beef noodle soup, which is our top pick from this restaurant! Although the pickled cabbage was new territory for us, it actually added a tangy and refreshing flavor to the savory beef broth.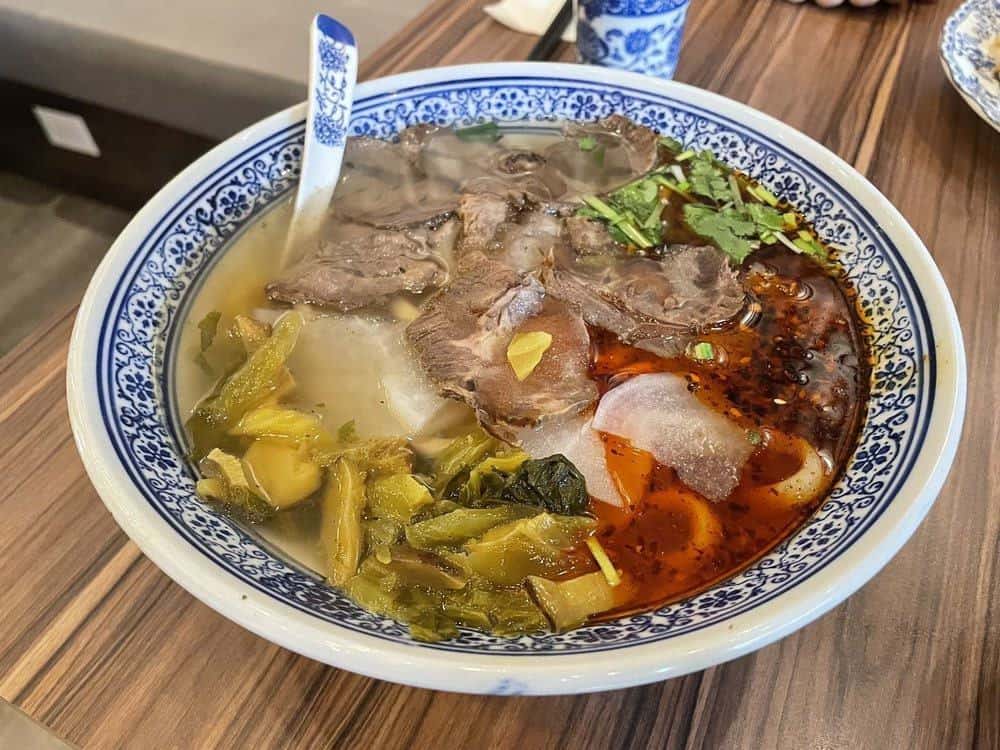 The beef was also incredibly tender, and let us tell you, we sipped that bowl clean because we couldn't get enough of the tasty broth.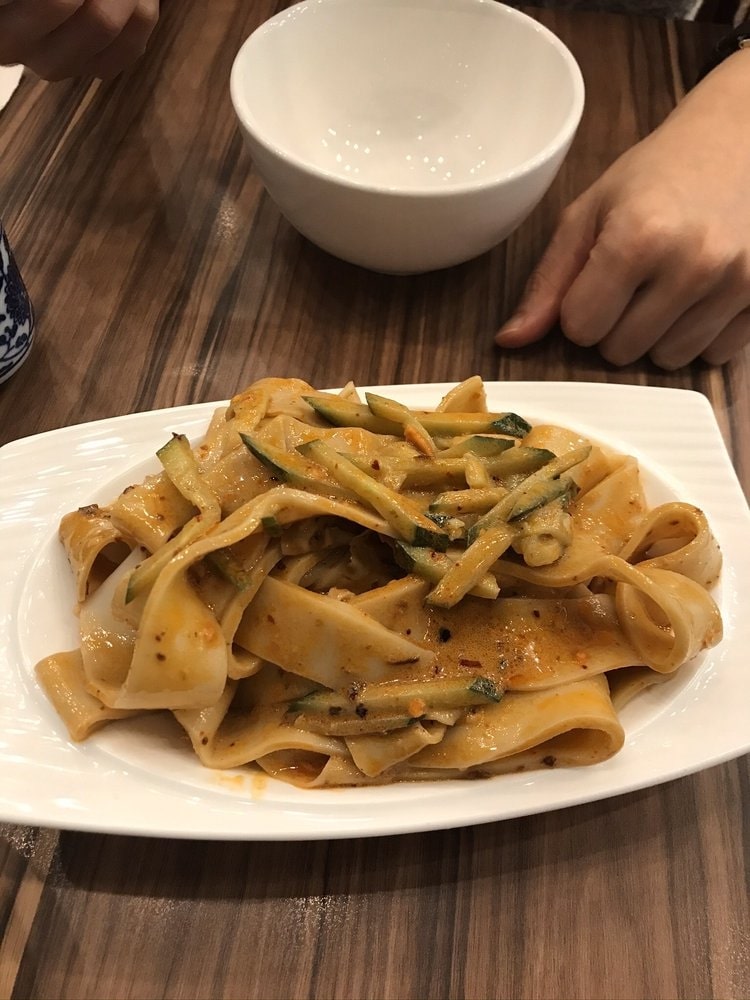 Lastly, we got the traditional cold, thick noodle, which was okay. We must admit, this dish was a little underwhelming after having such amazing flavors from the previous dishes. However, it was still a refreshing and light option to end the meal on.
3. Peaceful Restaurant
AVERAGE PRICE
CAD 10.95 - 16.95
WEBSITE
https://www.peacefulrestaurant.com/
ADDRESS
532 W Broadway #110, Vancouver, BC V5Z 1E9, Canada
CONTACT DETAILS
Phone: +1 604-879-9878
SOCIAL MEDIA
Facebook
OPERATING HOURS
Monday - Thursday: 11:00 AM - 09:30 PM

Friday - Saturday: 11:00 AM - 10:00 PM

Sunday: 11:00 AM - 09:30 PM
We're not sure if it's always peaceful at the Peaceful Restaurant on Broadway, but when we got there, there weren't many customers, so we were able to enjoy our meal in a quiet and relaxed atmosphere.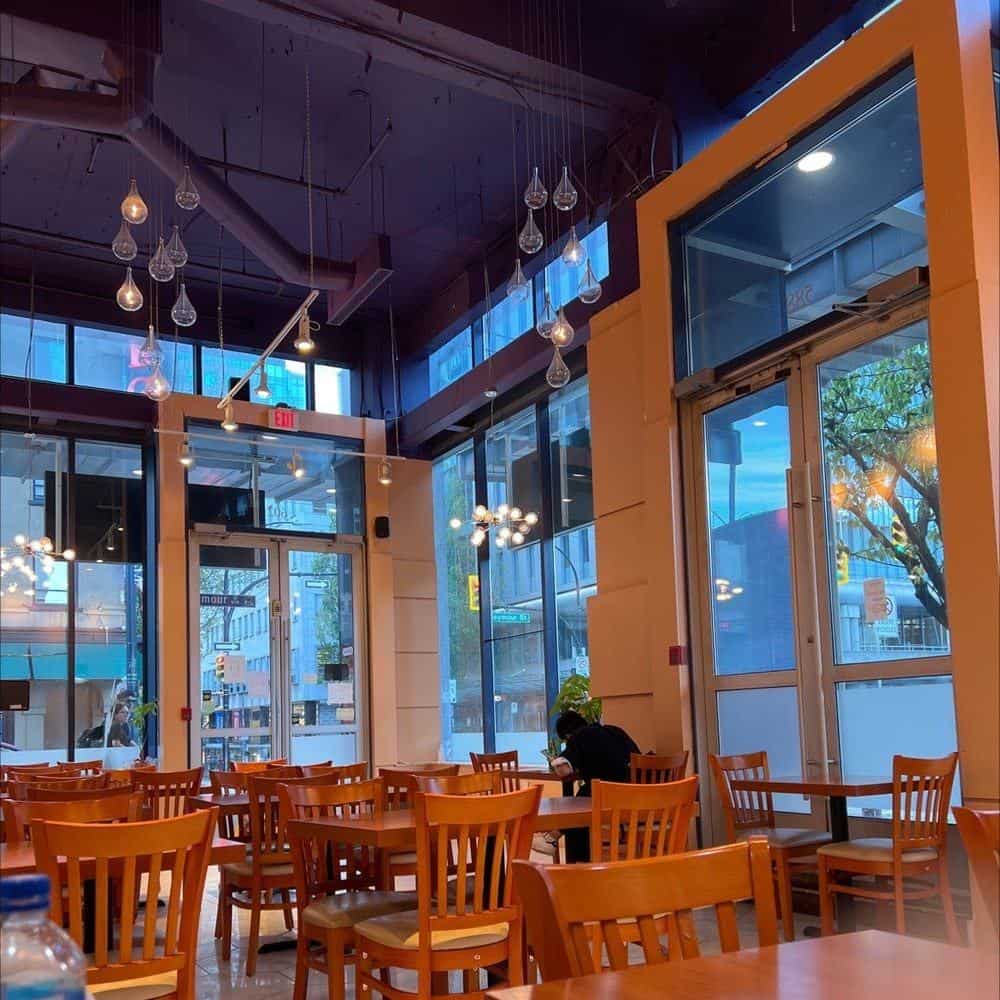 We have nothing else to say but how much we recommend the Peaceful House Stir-Fried noodles. We've tasted tons of noodle dishes over our lifetime, but this dish was just all the right kinds of sweet and savory.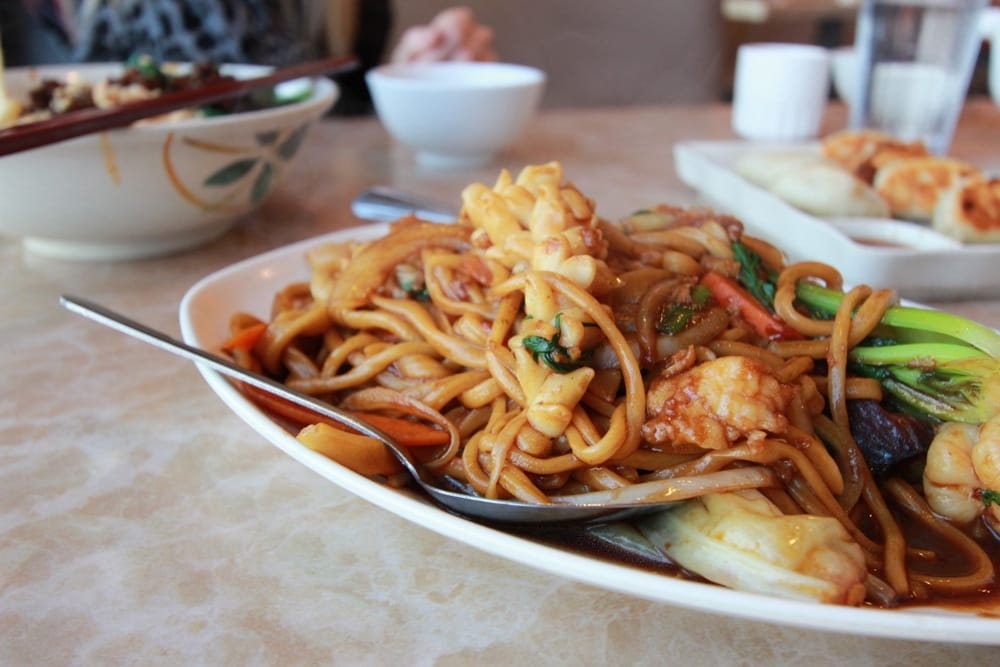 We found ourselves slurping and slurping, and the steamed vegetables and meat were also generous, it was really filling.
The Dan Dan Mein is also worth a try if you prefer to sip some flavorful broth. Fair warning: this dish is a bit spicy because of the sichuan peppercorns.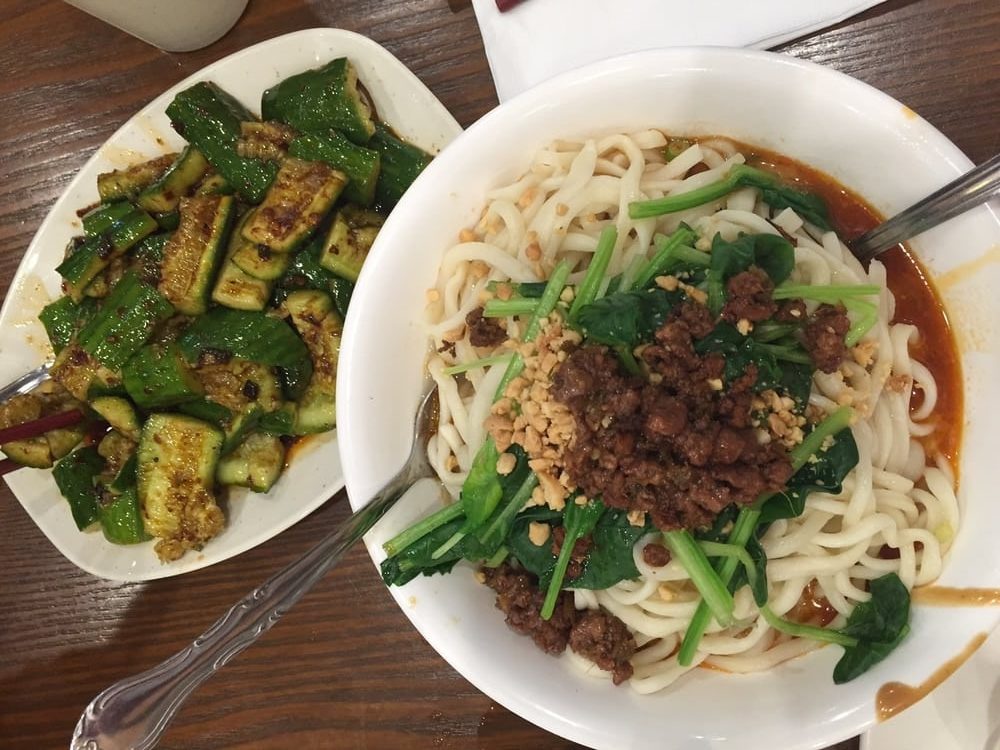 Don't worry about the heat overwhelming you because the meat and vegetables, the creamy peanut sauce, and the chewy texture of the noodles will counteract it.
Just make sure to have a glass of water nearby to cool down your taste buds. Or do it like us, as we ordered a cold Yanjing beer to combat the spiciness.
4. Joojak Restaurant
| | |
| --- | --- |
| AVERAGE PRICE | CAD 3.95 - 10.25 |
| ADDRESS | 3337 Kingsway, Vancouver, BC V5R 5K6, Canada |
| CONTACT DETAILS | Phone: +1 604-563-8816 |
| SOCIAL MEDIA | Instagram |
| OPERATING HOURS | Wednesday - Sunday: 12:00 PM - 09:30 PM |
Joojak Restaurant might be small, but the food here is just mind-blowingly good and authentic. We want to highlight how much we appreciate the owner as he noticed us struggling on what to get so he gave us a rundown.
We shared that we're on a journey to find the best hand-pulled noodles in the city and he quickly recommended that we get the Biang Biang Noodles, and we're so happy he did.
This dish is topped with chili oil and it's super fragrant! It's spicy and numbing and because the noodles are seasoned, it's very savory and tangy.
Know what else is good here? The pork burger! Look, we know it's not noodles, but we heard that this is a popular dish here at Joojak Restaurant, so we decided to give it a try.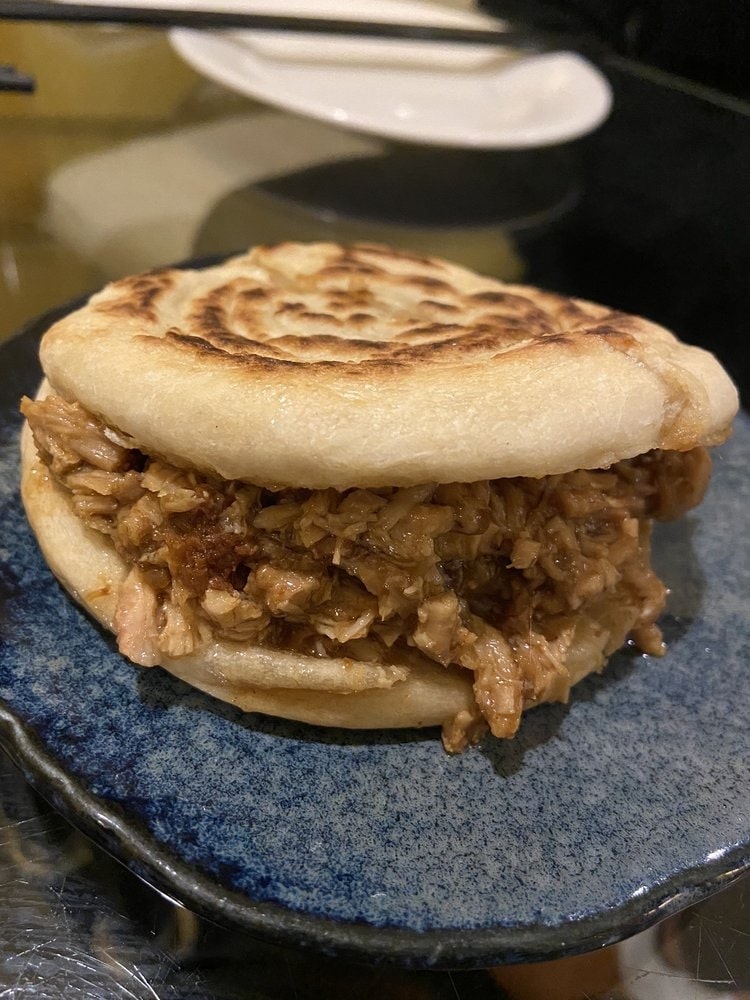 These burgers are made from scratch every day, and just look at how packed this sandwich is! It's also very juicy. We promise it's worth the extra CAD 7!
5. Yu Xiang Yuan Restaurant
| | |
| --- | --- |
| AVERAGE PRICE | CAD 16.95 - 17.95 |
| WEBSITE | https://yuxiangyuantogo.com/ |
| ADDRESS | 6591 Fraser St, Vancouver, BC V5X 3T4, Canada |
| CONTACT DETAILS | Phone: +1 604-620-1856 |
| SOCIAL MEDIA | Facebook |
| OPERATING HOURS | Monday - Sunday: 11:00 AM - 10:00 PM |
You know a Chinese restaurant is authentic when the storefront is decorated with red lanterns and Chinese characters. That's why we didn't think twice about stopping by Yu Xiang Yuan Restaurant as we heard they make pretty good noodles.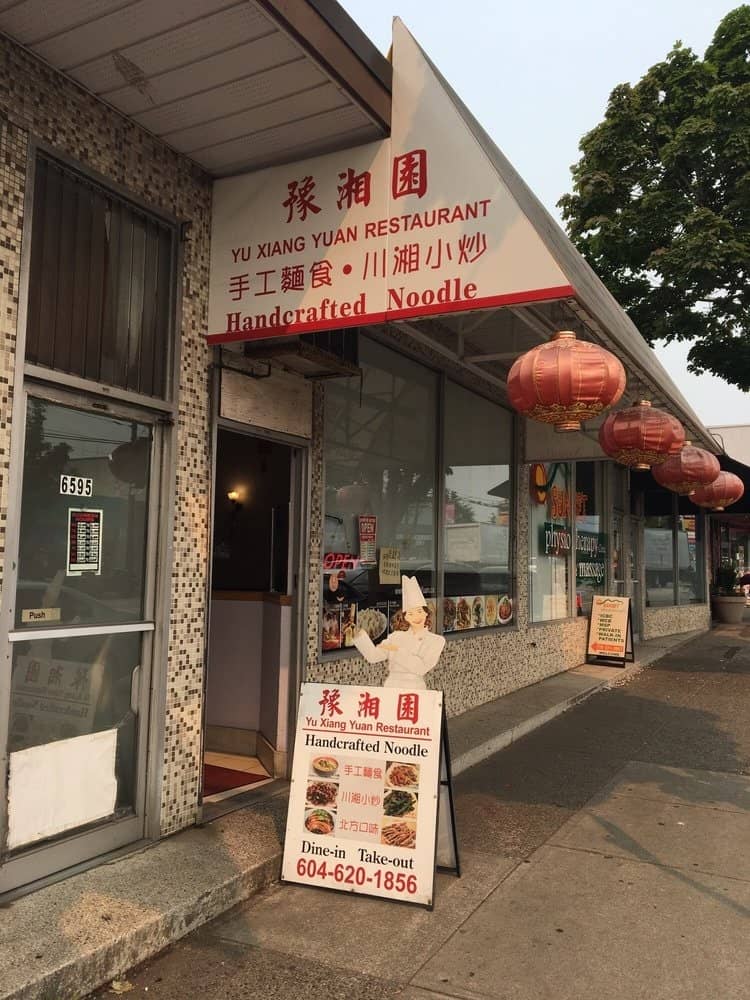 Sure enough, the noodle dish with pork and pickled cabbage was honestly one of the best noodle dishes we've ever had, with perfectly cooked noodles and a flavorful broth that complemented the pork and pickled cabbage perfectly.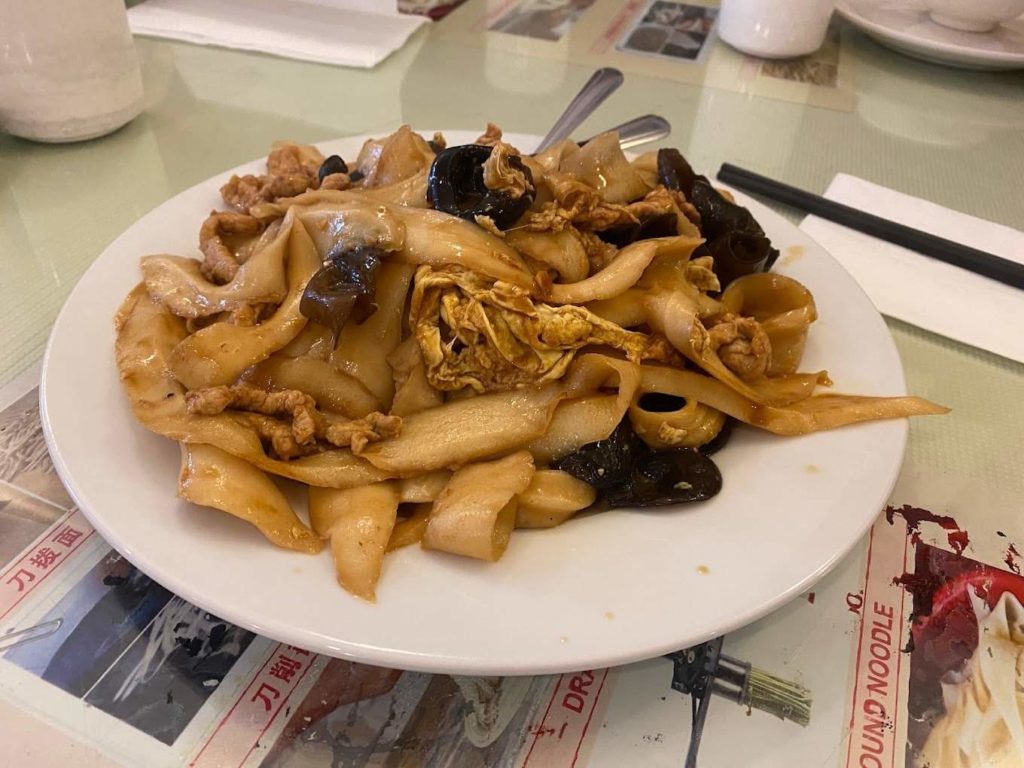 We also highly recommend the cumin skewers! It was juicy and tender, and we enjoyed chewing on the flavorful meat.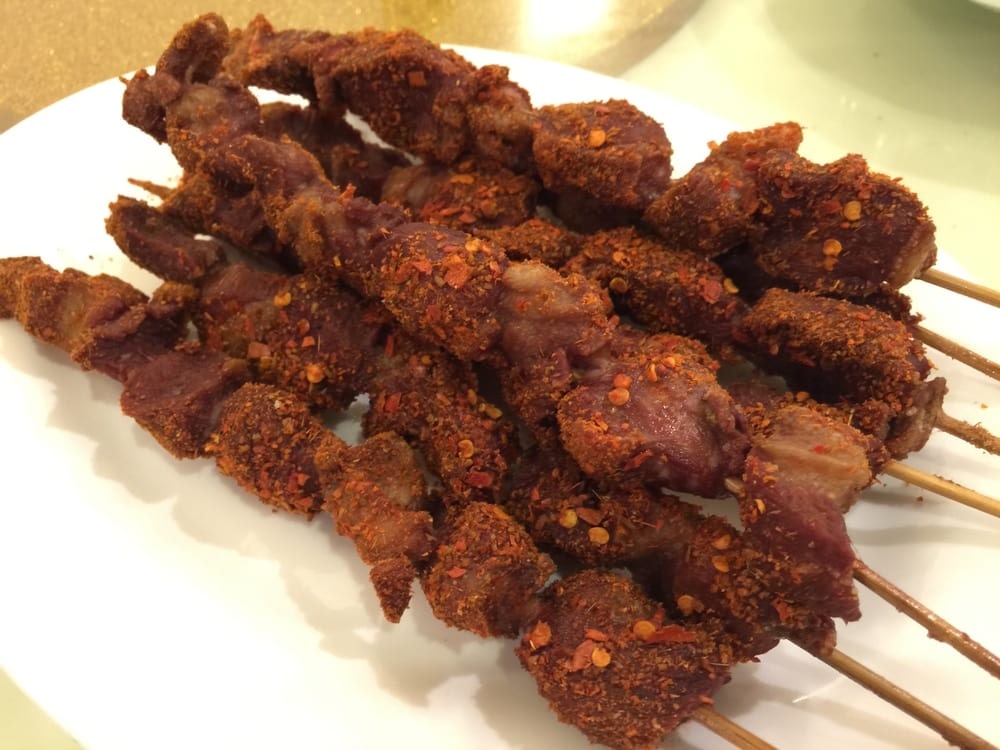 6. Lanzhou Beef Noodles
AVERAGE PRICE
CAD 14.98 - 16.98
ADDRESS
3217 W Broadway, Vancouver, BC V6K 2H5, Canada
CONTACT DETAILS
Phone: +1 604-558-3217
OPERATING HOURS
Monday - Tuesday: 11:00 AM - 09:00 PM

Thursday - Sunday: 11:00 AM - 09:00 PM
We absolutely loved the hand-pulled broad flat noodles here at Lanzhou Beef Noodles. It heals our souls during the winter months, and the tea they give out doesn't taste cheap even if it's free.
From where we're sitting, we have an unobstructed view of the kitchen, so we watched them hand-pulling the noodles behind the counter.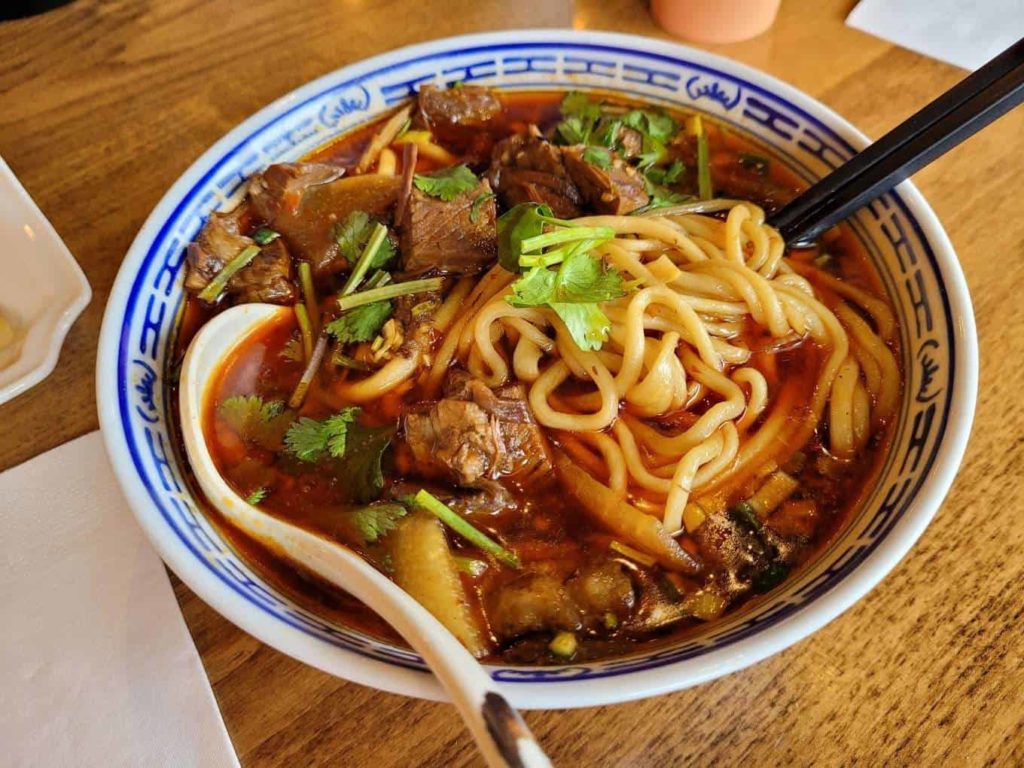 The stir fried noodles are also our go to when we dine here, and we like to pair them with steamed pork buns or spring rolls.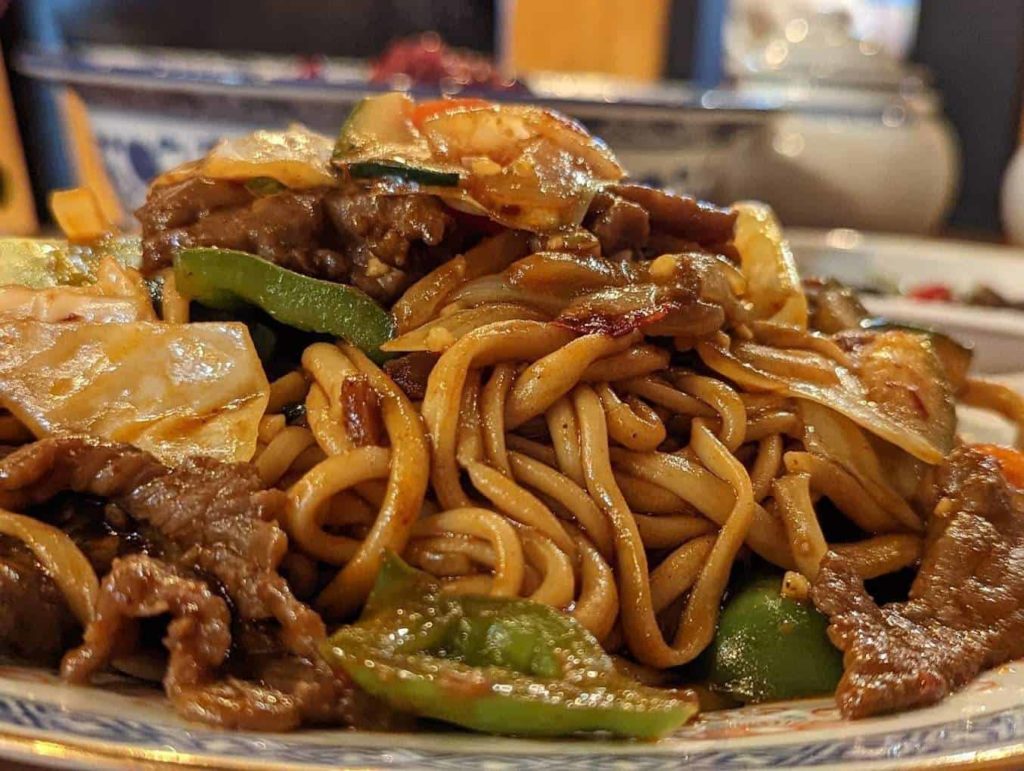 Although you have a lot of choices for appetizers, we suggest you go for the dim sums with your dishes, as we liked to dip them in our noodle broth or sauce.
But if you'd like more flavor on your stir fried noodles, you should get the cumin spiced lamb noodle!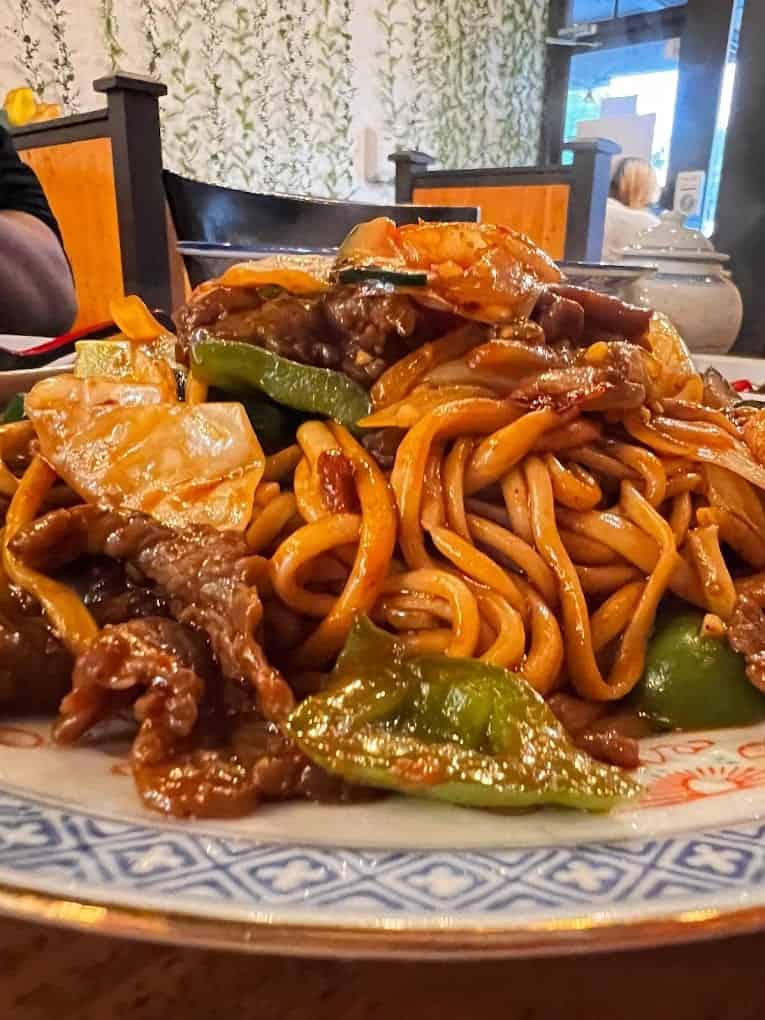 This dish is very filling and has a strong cumin flavor that pairs well with the tender lamb and chewy noodles. It's a great option for those who enjoy bold and savory dishes.
7. Flower & Horse in Spring
| | |
| --- | --- |
| AVERAGE PRICE | CAD 14.95 - 18.55 |
| ADDRESS | 1741 Robson St, Vancouver, BC V6G 1E1, Canada |
| CONTACT DETAILS | Phone: +1 778-379-6198 |
| SOCIAL MEDIA | Facebook |
| OPERATING HOURS | Monday - Sunday: 11:00 AM - 09:00 PM |
We have to say that it was visually entertaining to dine at Flower & Horse in Spring. The restaurant is decorated with all sorts of traditional Chinese knick-knacks, such as lanterns, Chinese posters, and antique furniture.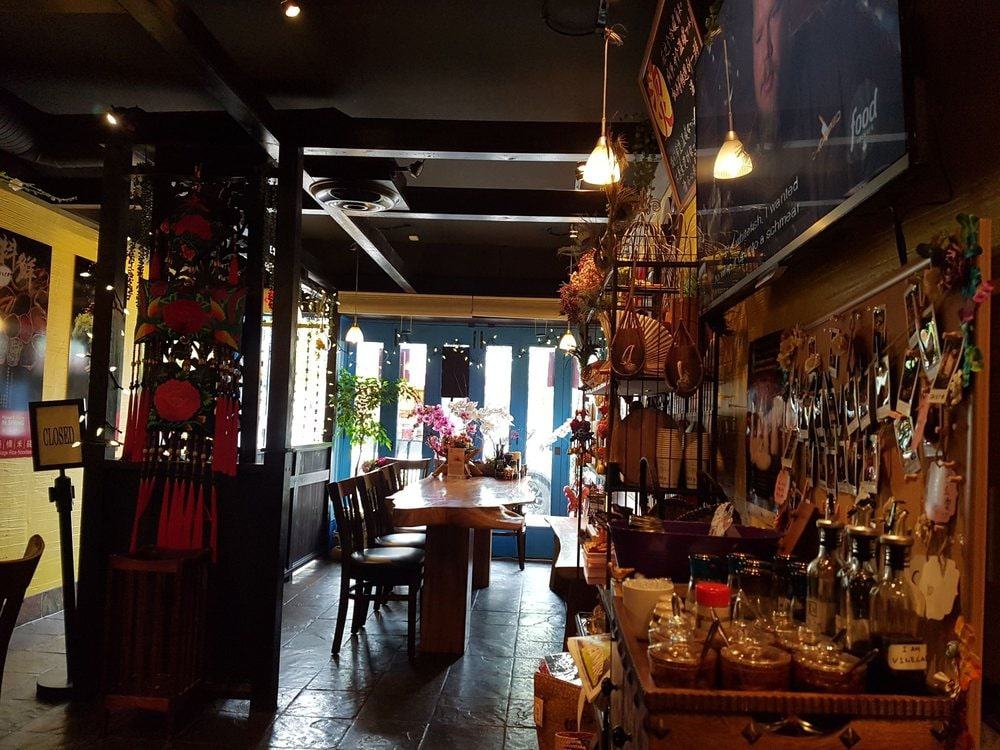 Okay, hear us out first. You should definitely order the intestines noodle soup when you visit Flower & Horse in Spring. We know it sounds a bit unusual, but trust us, it's one of their specialties and it's absolutely delicious.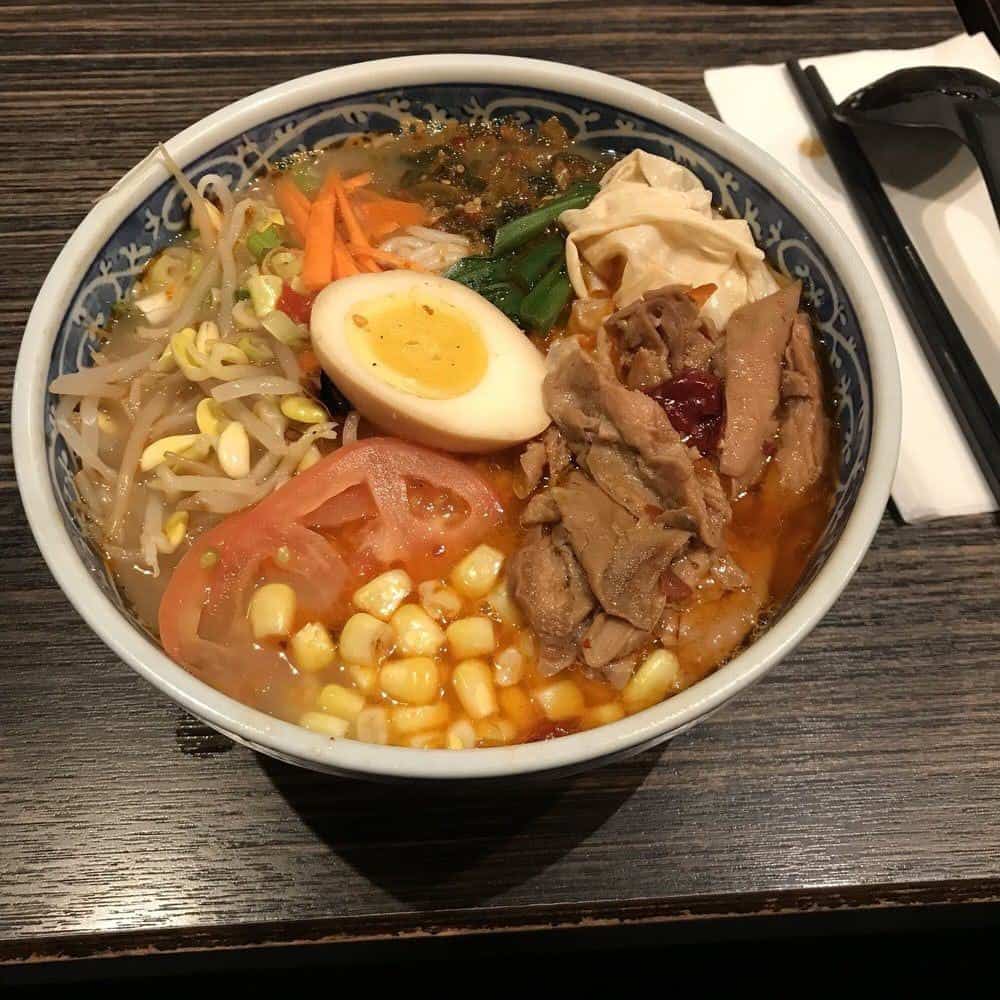 The broth is flavorful, and the texture of the noodles and intestines is unique and satisfying. The intestines are seasoned with soy sauce to taste, and it's chewy.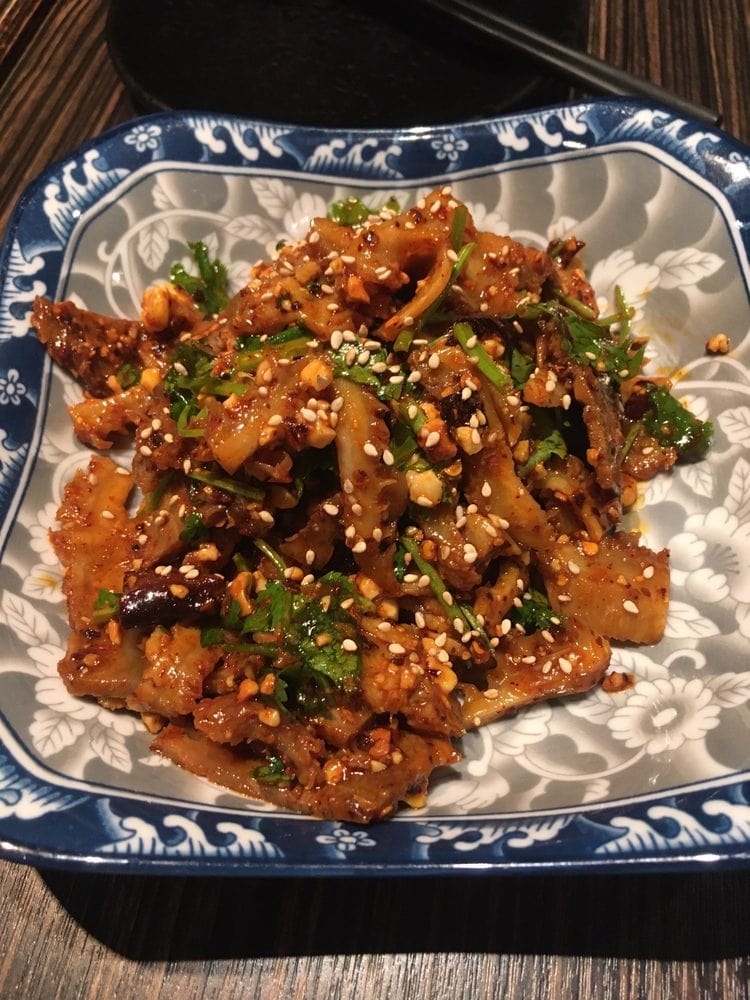 Since we're very open to trying new things, we also ordered the spicy marinated beef and tripe, and we think you should too. We snacked on these in between conversations while sipping on their complimentary tea.
8. RedBeef Noodle Kitchen
| | |
| --- | --- |
| AVERAGE PRICE | CAD 15.55 - 22.95 |
| WEBSITE | https://www.redbeef.ca/ |
| ADDRESS | 550 Main St, Vancouver, BC V6A 2T9, Canada |
| CONTACT DETAILS | Phone: +1 604-423-5500 |
| SOCIAL MEDIA | Facebook |
| OPERATING HOURS | Monday - Sunday: 11:00 AM - 09:00 PM |
We made our way to RedBeef Noodle Kitchen after hanging out all afternoon at Kits, and let's just say their beef noodle soup is worth the hype.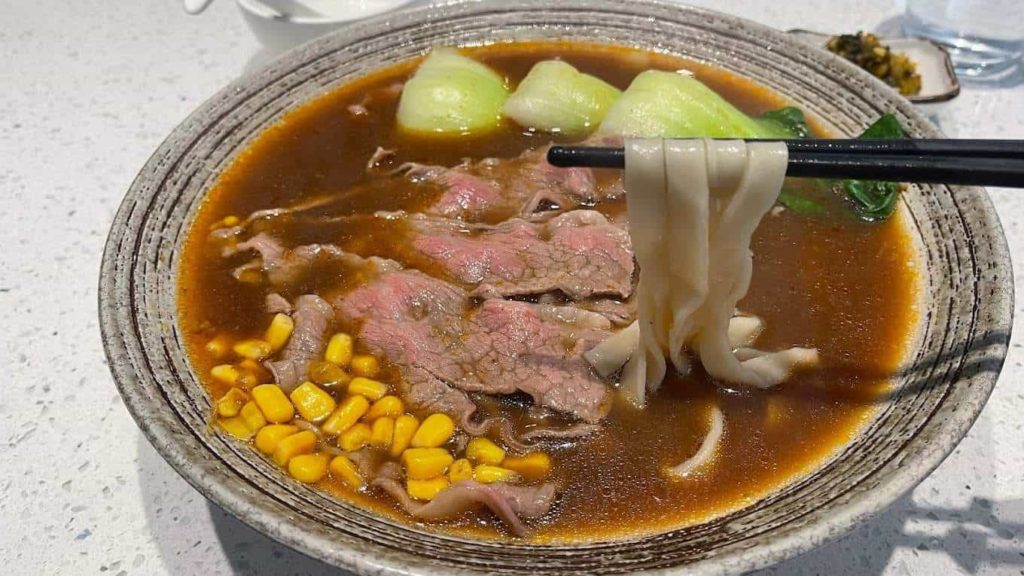 We got the premium red beef noodle soup, and let us tell you, the beef was so tender that it fell apart as soon as we put our chopsticks on it. The broth was rich and flavorful too.
But we recommend you get a glass of passion fruit iced tea along with this dish. When we visited, the weather was a bit hot, and the passion fruit iced tea was a refreshing complement to the dish and helped cool us down.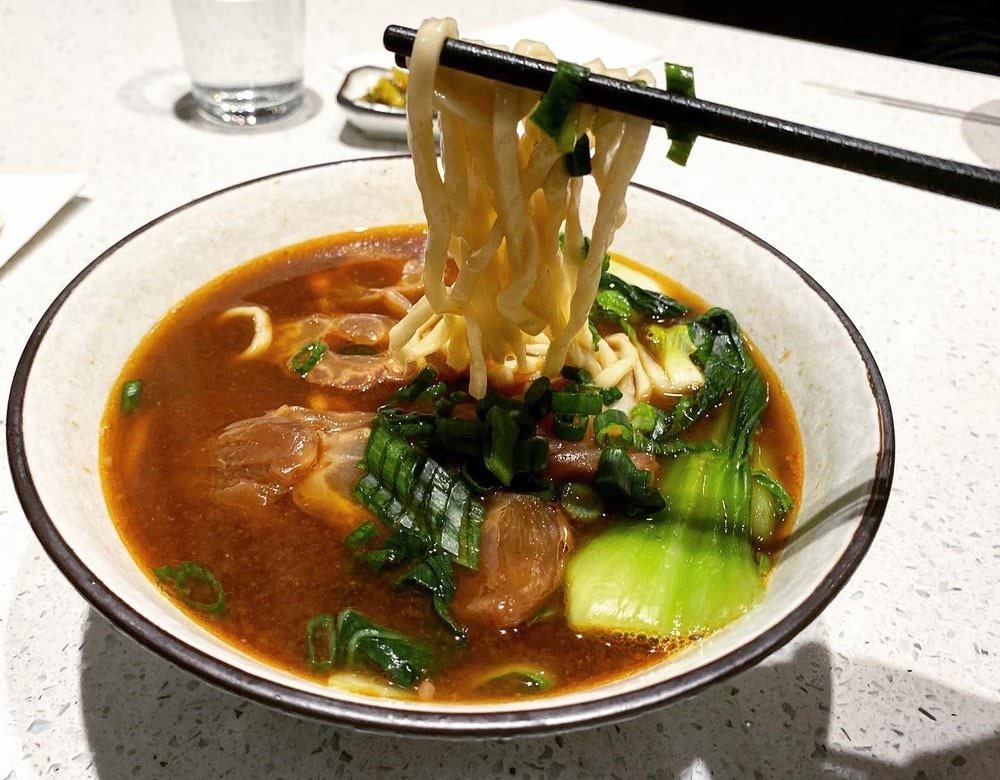 We also recommend the tendon beef noodle if you want something a little lighter on the stomach. It has the same tasty broth as our first recommendation but is served with thinner noodles and slices of tender beef tendon.
9. Kung Fu Noodle
AVERAGE PRICE
CAD 13.50 - 16.95
WEBSITE
https://kung-fu-noodle.com/
ADDRESS
5615 Harold St, Vancouver, BC V5R 4J9, Canada
CONTACT DETAILS
Phone: +1 604-559-8868
OPERATING HOURS
Monday - Tuesday: 11:00 AM - 09:30 PM

Thursday - Sunday: 11:00 AM - 09:30 PM
We heard that Kung Fu Noodles specializes in hand-pulled noodles, so we ordered a bunch of noodle dishes on their menu, and here are a few of our recommendations.
We're not generally obsessed with peanut sauce, but their Dan Dan noodles were amazing! The amount of peanut sauce was just right and the cucumber did a great job balancing the flavors.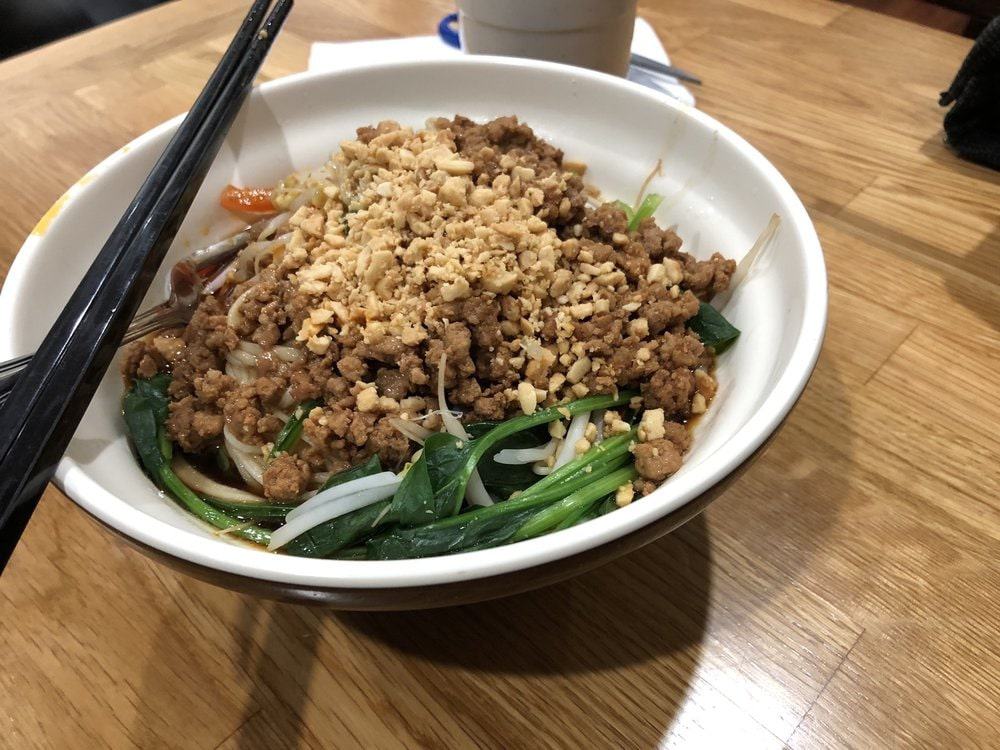 You should also try the beef-fried hand shaved noodles. As you can see, the portions are quite generous, and as for the taste, well, it's simply amazing. The beef is tender and flavorful, and the noodles are perfectly cooked and coated in a delicious sauce.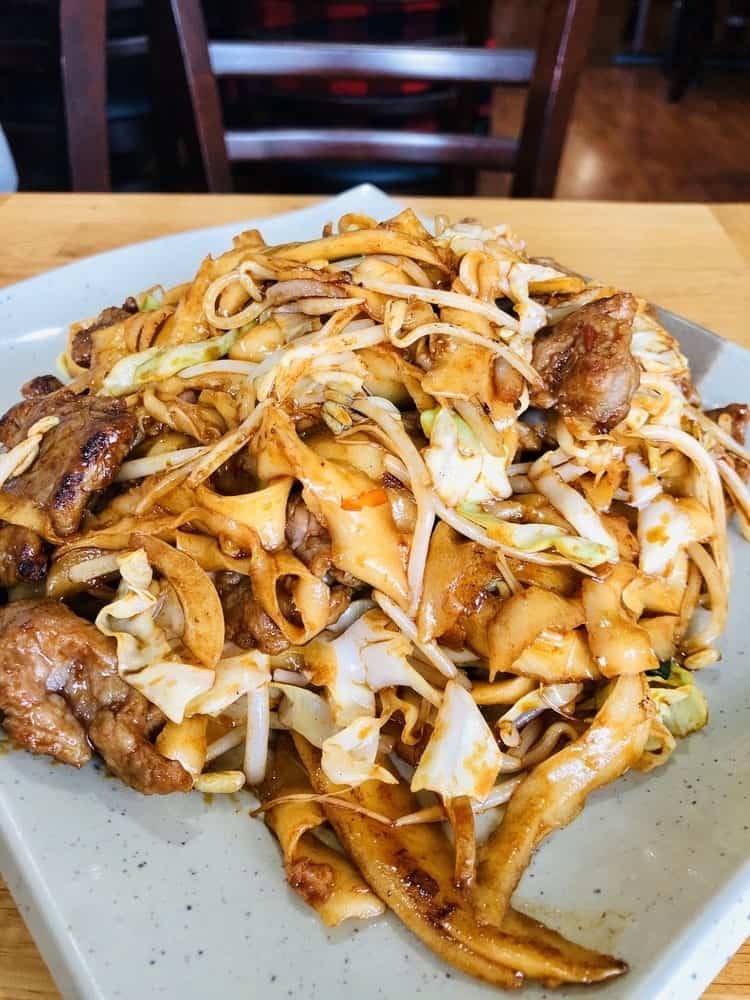 Oh, and do order a side of their fried dumplings! You're gonna need some crispy and meaty goodness after eating those savory noodles, and this would be the ideal choice.
10. Happy Noodle House
Another option is the Happy Noodle House. Look, we're going to be honest with you, we had a hard time picking favorites here because whatever we have sampled turned out to be mouth watering.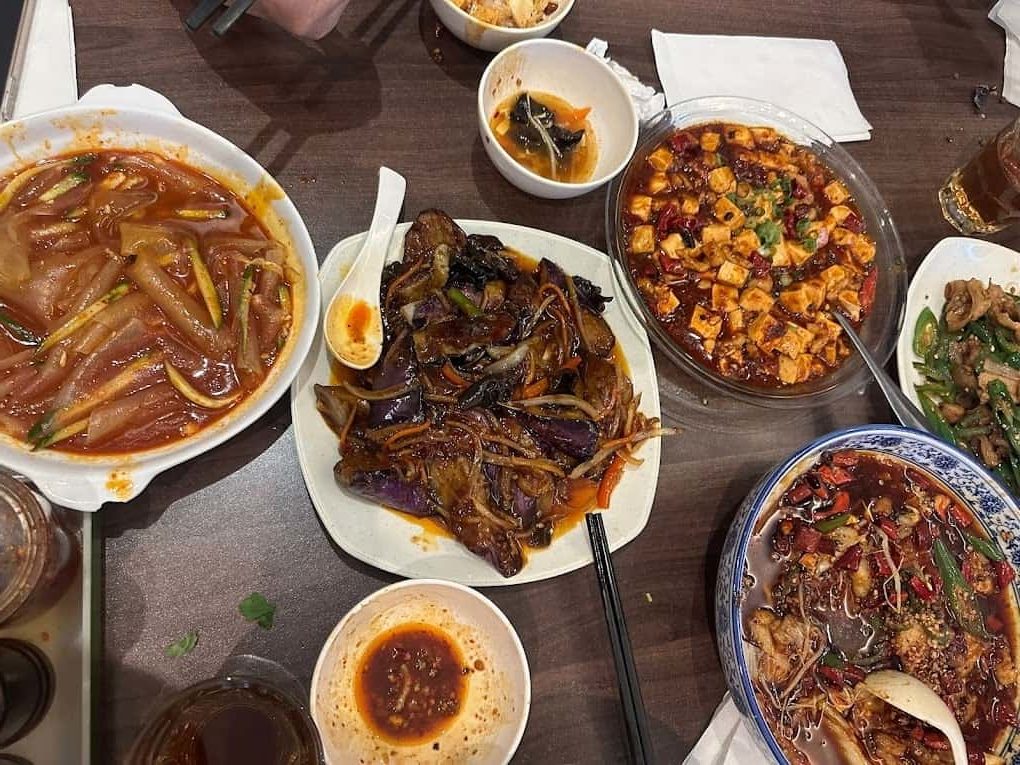 Every dish we tried came out piping hot, quickly and so tasty and the hand-pulled noodles are great. The Szechuan beef noodle soup in particular was a standout dish with its rich and spicy broth, tender beef slices, and perfectly cooked noodles.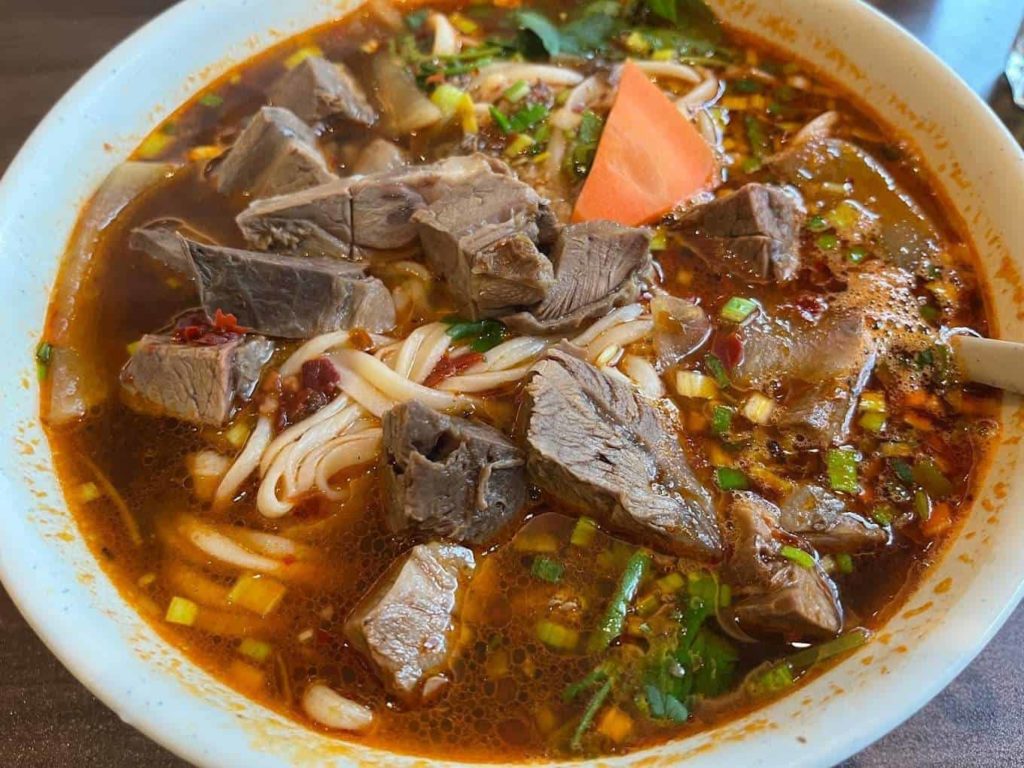 The green onion oil noodle was also a pretty surprising dish for us as even though it only had bok choys for toppings, the noodles were incredibly flavorful and had a nice chewy texture that paired well with the subtle onion flavor of the oil.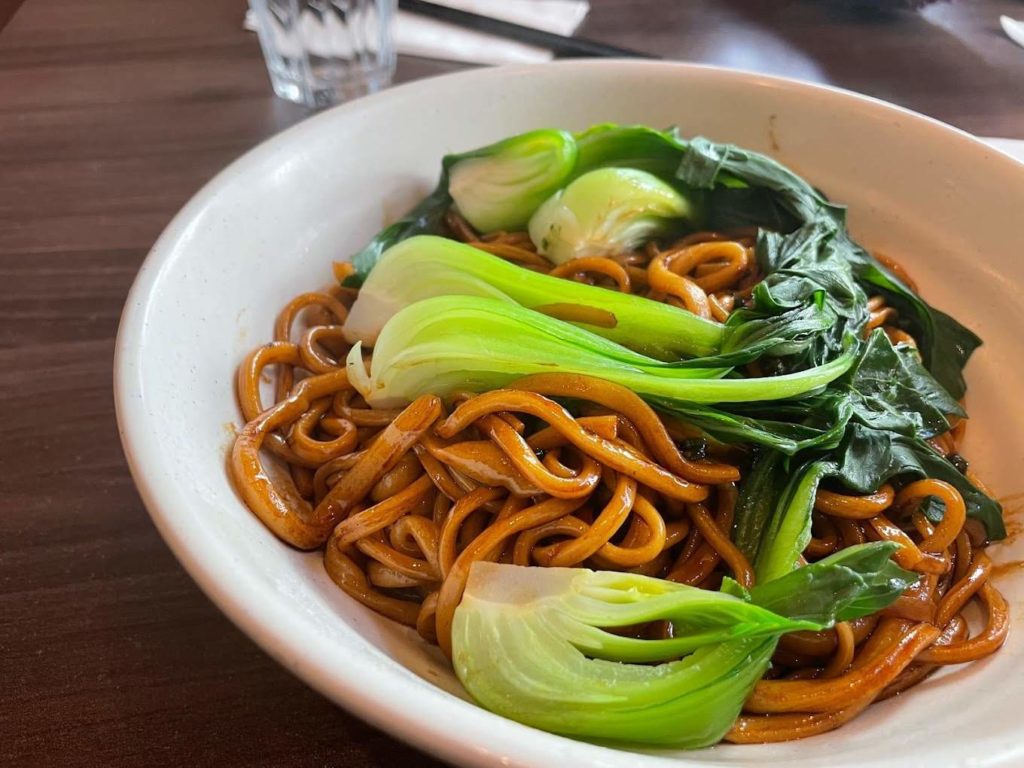 Ultimately, we think we found a great place for a Sunday lunch with our family and friends. We'll definitely be back here again to try more of their noodle dishes.
---
Well, there you are. We hope that our recommendations have helped you in your quest for the perfect bowl of hand-pulled noodles.
If you ever find yourself in Chinatown, try out the best dim sum shops in Chinatown to experience more flavorful Chinese delicacies!