The Best Rock Climbing Gyms in Vancouver
Whether it's for a new hobby or for exercise, a lot of people find themselves getting into rock climbing. But not everyone knows how or where to find a place to get a climb in.
To help you with that endeavor, we've compiled a list of the best places in Vancouver to go rock climbing.
The Cost of Rock Climbing in Vancouver
There are a lot of factors that go into how much you may end up paying overall. Different gyms may have different fees for walk-ins and memberships, not to mention the cost of the gear.
| | |
| --- | --- |
| Membership | $50+ per year |
| Coaching | Free+ |
| Shoe rental | $6.50+ |
Keep in mind that the above table may not be completely reflective of the actual cost. Different places will charge different fees for their lessons, their equipment, and their access.
The Best Rock Climbing in Vancouver
We assessed the best rock climbing in Vancouver based on the following criteria:
1. The Hive Bouldering Gym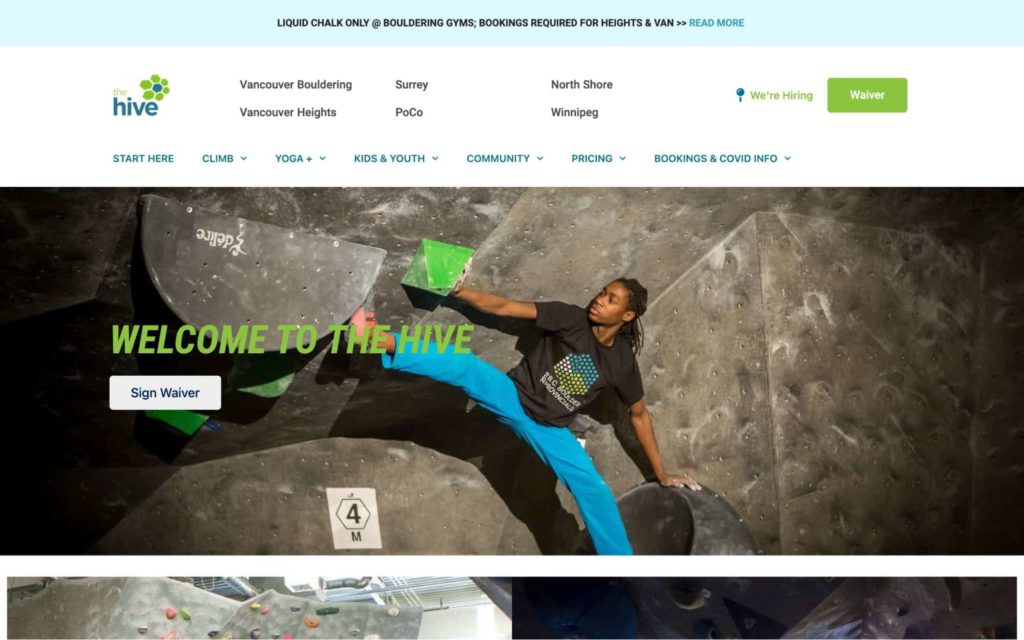 ADDRESS
520 Industrial Ave, Vancouver, BC V6A 2P3, Canada
CONTACT DETAILS
+1 604-683-4483
WEBSITE
https://hiveclimbing.com/
OPERATING HOURS
Monday: 12-9PMTuesday: 12-11PM

Wednesday

Thursday

Friday: 7AM-11PM

Saturday & Sunday: 9:30AM to 11PM
| | |
| --- | --- |
| Climbs | ★★★★☆ (4/5) |
| Value | ★★★☆☆ (3/5) |
| Facilities | ★★★★☆ (4/5) |
| Customer Satisfaction | ★★★★☆ (4/5) |
There are a lot of things that we like about The Hive Bouldering Gym and that make us think it's a great place for climbers of all types to get a climb in. They have different climbs for climbers of all levels of expertise, to start with.
That's something that we like about them since not everyone who walks into a climbing gym is going to be a veteran climber. A lot of people are just starting out or are in the middle of their climbing journeys but aren't experts yet.
Speaking of people who aren't experts at climbing, Hive has courses available for those people since being a neophyte shouldn't stop you from being able to climb, after all.
Another thing that we like is that they have a separate climbing area for the kids so they don't have to get in the way of adult climbers or find themselves discouraged at how difficult the climbs for adults are.
The staff at the gym is also there to show newbies the ropes, so to speak, and to answer any questions climbers of all levels may have about the facilities and the climbs they have available.
The staff know that rock climbing can be somewhat intimidating, so they also know to make people comfortable and secure in what they're about to do. We really liked that about the gym as it speaks to how seriously they take their guests' comfort.
The only thing about them that we've encountered that doesn't totally blow us away is their price. We've noticed that a small number of customers have gripes about the price of their services.
Diverse amount of climbs for all climbers
Lessons for all beginners
Lots of space
Customer reviews
Great climbing gym
"Great bouldering gym with lots of space and sufficient climbs. I thought the setting was good, with a reasonable variety between styles and grades. I did think some more climbs could be fit, but this might be because I'm used to denser setting.
There was a good workout area with lots of equipment that I enjoyed. If you have kids, there's a separate area for their climbing too." – Christopher Choquette
Super helpful
"We came here with some friends and the staff were super helpful and showed us how to climb and jump down. They were friendly and helpful during our visit. The gym was a bit busy and we had to wait to do some of the courses, and I didn't find there were many beginner courses to climb but overall we had a good time! Definitely coming again!" – Amanda Lawrence
2. Vancouver Mountain Guides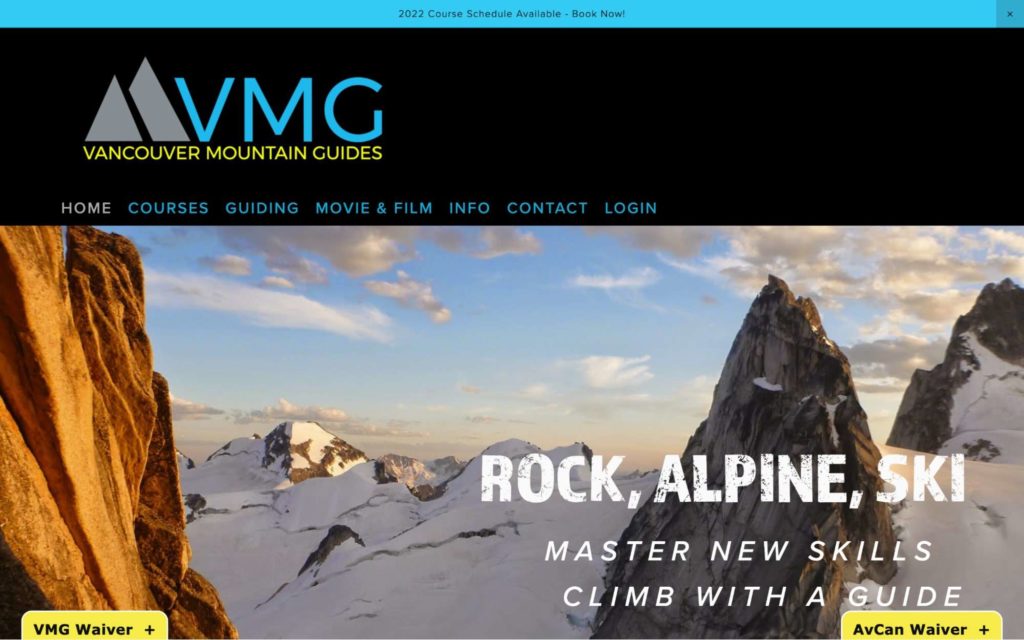 | | |
| --- | --- |
| ADDRESS | 4649 Inverness St, Vancouver, BC V5V 4X3, Canada |
| CONTACT DETAILS | +1 778-874-7386 |
| WEBSITE | http://www.vanmtnguides.com/ |
| OPERATING HOURS | Monday to Sunday: 8AM to 4PM |
| | |
| --- | --- |
| Climbs | ★★★★☆ (4/5) |
| Value | ★★★★☆ (4/5) |
| Facilities | ★★★★☆ (4/5) |
| Customer Satisfaction | ★★★★★ (5/5) |
If someone coming with you to an indoor rock climbing session decides the climbing isn't their thing, then Vancouver Mountain Guides might have something that means you can still spend time together.
It's not just rock climbing that they specialize in. They also do mountaineering, ice, and ski & avalanche courses.
Basically, they have something for everyone, even those who've never done an outdoor climb before or those that haven't acclimated to outdoor climbs from indoor ones.
They have accelerated courses, which is something that caught our eye. We found that they can help a person get up to speed on the fundamentals or beyond in a relatively short amount of time.
We found that even the accelerated courses were able to instill a sense of confidence without a false sense of security.
Some of the customers we've had the privilege of interacting with also raved about the instructors and the courses. These instructors and courses emphasize their safety systems so as to avoid injury.
These customers raved about how the instructors and the courses gave them the confidence they needed to go on actual climbs.
Our overall impression of Vancouver Mountain Guides is one of a confident group of people that know what they're doing and teach other people to also know what they're doing.
Many different types of climbs 
Accelerated lessons
Private climbs
Outdoor environment may not be for everyone
Customer reviews
The place to go
"Vancouver Mountain Guides is the place to go to learn and upgrade your climbing skills. No need to read more. Go on. Book it already. What are you waiting for.
Vancouver Mountain Guides has exceeded my expectations.
After being extremely impressed with the lessons and instructions for Level 1 I decided to go back for Level 2.
Low and behold, we got matched up with the master of rock climbing instructor, self proclaimed dancing king himself, Jake.
Jake has a wealth of knowledge that he expertly passes on to the class, with clear and concise lessons. After completing the level 2 accelerated course, I am feeling confident in my abilities to go out with my friends and continue to explore rock climbing without relying on a guide. I can't recommend VMG enough. I'm sure i'll be back for Level 3 and beyond in the future." – Daniel Funk
Great experience
"I've now taken two courses (Level 3, Intro to Trad and Rock Rescue) and have had a great experience in both classes. The instructors helped break down complex concepts by starting with basics and building on top of that. It's really helped me develop more confidence in my systems and my climbing ability. If you are looking to progress into new disciplines of climbing but uncertain how to, I would highly recommend Vancouver Mountain Guides!" – Gregory Fox
3. The Aviary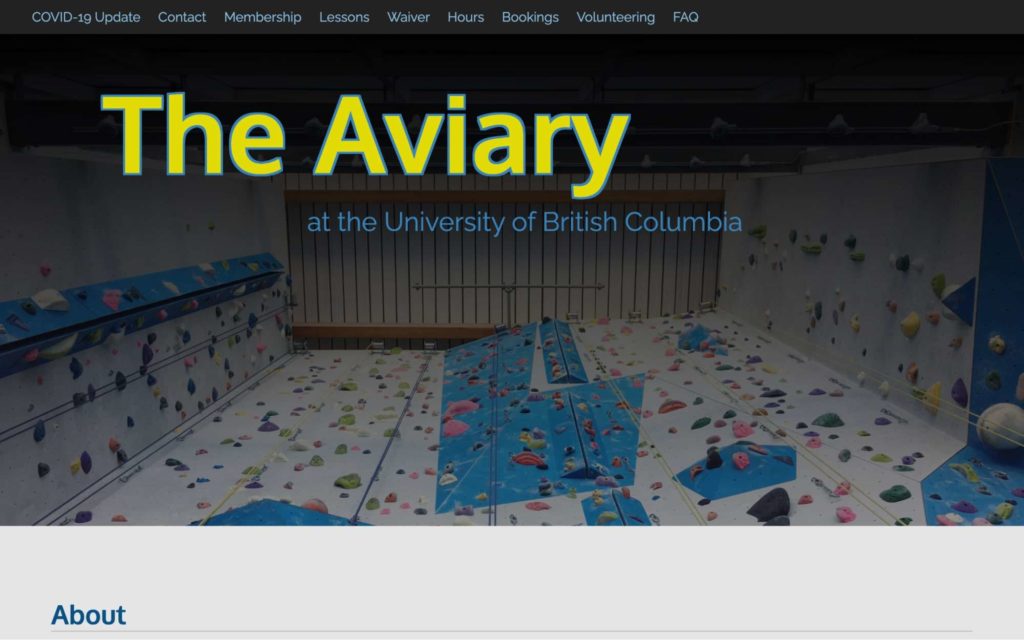 | | |
| --- | --- |
| ADDRESS | 637 E 15th Ave, Vancouver, BC V5T 3K5, Canada |
| CONTACT DETAILS | +1 604-785-9282 |
| WEBSITE | https://ubc-aviary.com/ |
| OPERATING HOURS | Variable and subject to change on short notice |
| | |
| --- | --- |
| Climbs | ★★★☆☆ (3/5) |
| Value | ★★★★☆ (4/5) |
| Facilities | ★★★☆☆ (3/5) |
| Customer Satisfaction | ★★★★★ (5/5) |
If you're looking for a relatively cheap place for rock climbing, then the Aviary is a pretty good option as far as options go.
If a little permanence is what you want and you plan on climbing consistently, then they also offer memberships for about $50 a year. We found that to be a rather great value considering the quality of their facilities and the prices of other rock climbing gyms.
They also offer lessons, though those lessons are usually booked pretty far in advance so if you're looking to start lessons, then you may want to be prepared to wait awhile before you can actually start them.
We understand that their low price points make them more accessible than others and that'll naturally mean more people… but just because we understand doesn't mean that we like the long wait.
The climbs themselves are pretty good, considering the price. As far as value goes, we don't think the Aviary can be beat.
Nothing's broken or missing and everything is pretty basic but all the essentials for rock climbing are present and accounted for.
The customers we've had the pleasure of interacting with also have high praise for the volunteer staff, many of them saying that the staff to help you learn how to climb or help you with climbing if you already know how but are maybe a little rusty.
If there is one downside to it, it's that it's not the biggest gym and attracts quite a lot of people, so it might be a little crowded for anyone with performance anxiety and the lines, while mostly manageable, might be a little too long for those who are in a rush or are otherwise impatient.
Somewhat undersized
Can be crowded
Lessons must be booked well in advance
Customer reviews
Great place
"Great place for working, lots of creative talent gathered under one roof. The space is beautifully designed and lots of attention has been given to the details of work. They use great chairs which is an important piece of the puzzle! The biggest benefit for me has been having access to interesting people to work around." – Puya Khalili
Definitely recommend
"We had our wedding reception at The Aviary in June and couldn't have been more pleased with such a beautifully designed space with warm, communicative, and flexible staff. We were able to configure the furniture to our liking (the wide array of plants added a lovely touch), had a food truck parked out front, and even had a cellist play in the evening. It made for such an intimate celebration and we were so lucky to chance upon this hidden gem of a venue when we attended a Fraserhood block party event in 2016. Definitely recommended! x" – Clare Yow
4. Ground Up Climbing Centre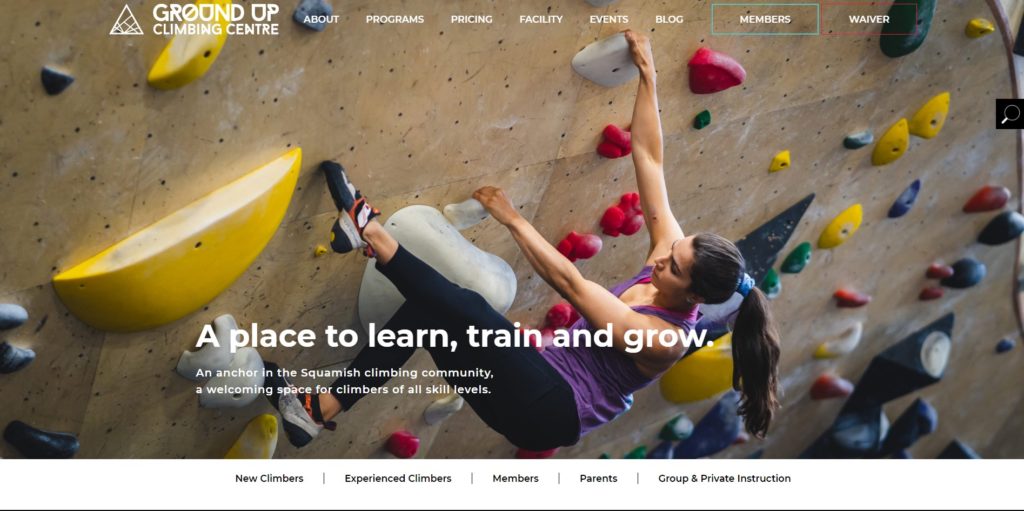 ADDRESS
1201 Commercial Pl #207, Squamish, BC V8B 0V1, Canada
CONTACT DETAILS
604. 567. 8850
WEBSITE
https://climbgroundup.com/
OPERATING HOURS
WINTER HOURS (September 12th to June 18th)

Monday : 12:00PM – 11:00PM

Tuesday – Friday: 6:00AM – 11:00 PM

Saturday & Sunday: 10:00AM – 7:00PM

They will be setting the bouldering area on Tuesdays between 8am-3pm, during our new open hours. It will be louder than usual with drills. Only 1 or 2 sections of the wall will be closed for setting on any given day.
**Stat Holiday hours may vary**
SUMMER HOURS (June 19th- September 11)

Weekdays: 12:00PM – 10:00PM

Saturday & Sunday: 10:00AM – 7:00PM

Wednesday & Friday Early Birds: 6:00AM- 9:00AM **Closed on Stat Holidays**
| | |
| --- | --- |
| Climbs | ★★★★★ (5/5) |
| Value | ★★★★☆ (4.5/5) |
| Facilities | ★★★★★ (5/5) |
| Customer Satisfaction | ★★★★★ (5/5) |
Ground Up Climbing Centre is a rock climbing gym that aims to create a sustainable climbing community focused on knowledge, training, and growth.
What's great about them is that they strive to create an inclusive space where climbers of all levels feel welcome. Whether you are a beginner or an experienced climber, the gym provides a supportive environment for growth and improvement.
We also like that they offer comprehensive climbing education that helps climbers develop good habits, problem-solving skills, and decision-making abilities throughout their climbing journey.
Another pro in working with them is how they provide community engagement through indoor climbing. By organizing events, programs, and initiatives, they encourage climbers to connect with one another, share experiences, and build relationships.
This sense of community fosters a supportive and motivating atmosphere for climbers to thrive.
Unlike others, Ground Up Climbing Centre prioritizes quality route setting. The gym offers a range of routes that cater to different skill levels and climbing objectives.
By following the Yosemite Decimal System, they provide clear grading information to help climbers choose routes that align with their goals. The attention to route setting allows climbers to challenge themselves and progress in their climbing abilities.
Ground Up Climbing Centre is located in Squamish, British Columbia, which may pose a challenge for climbers who live outside the area or have limited access to transportation. Climbers outside of Squamish may need to consider alternative climbing gyms that are more conveniently located.
Inclusive Space for Climbers
Focuses on Community Engagement
Quality Route Setting
Customer reviews
Here are some reviews from their previous customers:
"Yes it may be the only large climbing gym in the area but they don't abuse that monopoly. Reasonably priced compared to other gyms; they actually have some of the lowest rates in comparison to the lower main land. A good chunk of routes and boulders are changed every week which is awesome! They have a pretty balanced representation of grades, this is defiantly a climbing town though so not a lot of beginner routes. Don't let me get your hopes down it's still a blast to try the harder routes and watch your progression over time. They have a small training room which has everything you could need. Overall their staff are gems and always make you feel welcome and part of the community. They have lots of programs too that I have yet to sign up for but have heard from others great things. Now with restrictions lifting you can really feel the community vibe here, and meet other like minded climbers."
"Some of the best route setting I've seen across BC gyms. The training area — including a "tread-wall" — was very impressive. The staff were very kind and welcoming and the community was very friendly. 10/10: would recommend to any climber visiting Squamish on a rainy day"
5. Coastal Climbing Central
SERVICES
Rock Climbing Services
Groups and Parties
Programs
WEBSITE
coastalclimbing.ca
ADDRESS
#202 – 7728 128 Street
Surrey, BC. V3W 1L3
CONTACT DETAILS
(604) 594-0664 
[email protected]
OPERATING HOURS
Monday – Friday, 4:00 PM – 10 PM
Saturday – Sunday, 11:00 AM – 5 PM
| | |
| --- | --- |
| Climbs | ★★★★★ (5/5) |
| Value | ★★★★☆ (4/5) |
| Facilities | ★★★★★ (5/5) |
| Customer Satisfaction | ★★★★☆ (4/5) |
Coastal Climbing Centre in Surrey, BC, offers a wide range of rock climbing services for climbers of all levels. The facility provides a low-stress learning environment for beginners, with patient and thorough instructors and thought-provoking routes for experienced climbers. The centre is known for its fun and challenging competitions, members' nights, and fundraising events, creating a vibrant and supportive climbing community.
The youth team at Coastal Climbing Centre is highly regarded in local competitions, and they also offer the Little Lions Climbing Club, catering to ages 5 to 9. Additionally, the centre organizes affordable field trips for schools and other groups, ensuring a minimum of fuss for an enjoyable climbing experience.
With over 75 years of climbing experience on staff, Coastal Climbing Centre maintains a high-quality standard for route setting and instruction. The facility features 7,500 square feet of climbing wall and 650 square feet of climbable ceiling, offering top-rope climbing, lead climbing, and bouldering for climbers of every ability. The gym floor is covered in thick foam padding for safety, and there are various training areas equipped with campus boards, hangboards, and other equipment.
The Introduction to Climbing course is perfect for newcomers, where qualified instructors teach basic climbing techniques, body positioning, and climbing terminology. The course includes rental gear and provides a comprehensive introduction to the world of climbing.
Coastal Climbing Centre's commitment to providing a welcoming and supportive climbing scene, along with their extensive experience and top-notch facilities, make them a go-to destination for climbers in Surrey and the surrounding areas.
Wide range of rock climbing services for all levels.
Vibrant community with fun competitions and events.
High-quality facilities and experienced instructors for comprehensive climbing experiences.
Not very beginner friendly
Customer Reviews
I can't say enough good things about our experience
"I can't say enough good things about our experience. We arrived around 7pm with a Groupon and noticed there was a very large group already in the space. I was worried we weren't going to be able to climb as we didn't call or make a reservation. Thomas was our first point of contact and he warmly welcomed us into the space and gave a run down of what to expect. Once we were ready to go he provided a fantastic and engaging tutorial of how to use the equipment and really made sure my 9 year old first timer felt confidant and excited to head out. All the climbs were so much fun and even with a large group and other climbers did it feel crowded or like we had to wait for the climbs we wanted to do. Throughout the climbs Thomas would circle around and provide encouragement and give pointers and on where to grab or step next. It was incredibly helpful! All in all our first time experience at Coastal Climbing was a memory we will never forget. We drove from Vancouver and would happily do it again for Thomas' attentive, helpful and super positive energy!" – Jacilyn Mearns
Very affordable place to rock climb
"Very affordable place to rock climb. Good place to rock climb solo since they have their auto belay device so you don't need a partner to hold the ropes. It seems like a very safe system with little to no issues. My only issues is that if you're a first timer at this place, they don't give any information, just enough to use the auto belay and put on harness. Lots of the holds don't really make sense and not beginners friendly if you're climbing the auto belay ones. Still a decent place to climb for a cheap price." – Posy
FAQ about Rock Climbing in Vancouver
---
If you're looking for things to do in Vancouver other than rock climbing, then check out this list of things to do.