The 6 Best Insurance Companies in Vancouver
Vancouver is home to a good number of insurance companies but of course, we only want the best. We've collected the necessary information on them, laid out the services each company offers, and weighed out the pros and cons all so you can come to a decision.
If you want chief advice for this milestone in your business, by the way, feel free to speak to some of the top financial advisors that we've personally reviewed in the city.
How Much Business Insurance Costs in Vancouver
We took the provincial average for the costs of some of the common types of business insurance in the market and put them here for reference.
Note that insurance plans may have different names depending on the company that's offering them but they should more or less be similar.
| | |
| --- | --- |
| Common Types of Business Insurance | Average Estimates |
| General Liability Insurance | ~$65/month |
| Business Income/Interruption Insurance | ~$40 – $130/month |
| Professional Liability Insurance | ~$97/month |
| Workers' Compensation Insurance | ~$111/month |
| Data Breach Insurance | ~$140/month |
| Commercial Property Insurance | ~$63/month |
| Commercial Umbrella Insurance | ~$129/month |
| Commercial Auto Insurance | ~$142/month |
The Best Business Insurance Companies in Vancouver
We check out all options but review only the best in-depth. The following companies were rated based on the criteria below.
1. AMC Insurance Services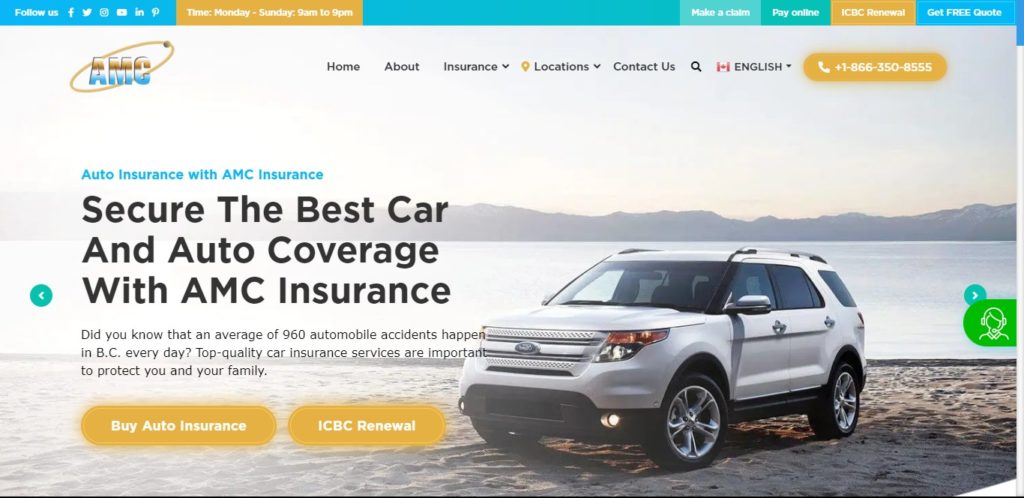 Test
Info
PRODUCTS
Life insurance

Home insurance

Auto insurance

Condo insurance

Tenant insurance

Bike insurance

Travel insurance

Business insurance

Boat insurance

Marine insurance

WEBSITE
https://amcinsurance.ca/
ADDRESS
12888 80 Ave #120, Surrey, BC V3W 3A8, Canada
CONTACT DETAILS
Phone number: (604) 239 - 3164

Toll-free number: (866) 350 - 8555

OPERATING HOURS
Monday: 9 am - 9 pm

Tuesday: 9 am - 9 pm

Wednesday: 9 am - 9 pm

Thursday: 9 am - 9 pm

Friday: 9 am - 9 pm

Saturday: 9 am - 7 pm

Sunday: 10 am - 6 pm
| | |
| --- | --- |
| Criteria | Ratings |
| Value | ★★★★★ (5/5) |
| Services Provided | ★★★★★ (5/5) |
| Customer Service | ★★★★☆ (4/5) |
AMC Insurance Services is an extremely popular agency in Vancouver with hundreds of excellent reviews to its name. Many clients praise the agency's ability to form comprehensive policies in an efficient, stress-free manner.
This feedback is congruent with the company's hands-on approach to building personalized insurance policies. During a consultation, clients can expect to sit down with a representative in order to discuss various lifestyle factors and coverage needs.
In order to provide more comprehensive plans, AMC insurance is also partnered with other insurance companies. This gives clients the option to choose from a list of companies that offer similar services at different price points.
As an umbrella service, AMC's life insurance offering encompasses a wide variety of products. These include mortgage protection, disability insurance, critical illness insurance, health insurance, and of course term, whole, and universal life insurance.
Overall, we think AMC can be a great option for clients who wish to build an insurance policy with the assistance of a qualified insurance agent. It does mean you have to go through quite a few more hoops to get your policy, but for those who prefer customised options, it's worth it!
Partnered with multiple insurance agencies
Focuses on building personalized policies
Extremely large client base
Most agents speak both English and Punjabi
Walk-ins are available in all branches
Has 9 branches
Personalized insurance policies take time to make
Not ideal for clients who want a standardized policy
Customer Reviews
AMC Insurance is my new home for all my insurance needs
"AMC insurance is my new home for all my insurance needs. The staff and especially Gopal Parmar are friendly and efficient. I insured my home insurance and found great coverages and discounts. Furthermore I will also transfer all my car insurance and my business insurance here because of the excellent service! This location also is very covid friendly, the staff all wear masks and use protocols. You can also find sanitizer at all agents desks. Thanks once again until next time" – Jason S.
I would definitely recommend coming here
"AMC Insurance is a family owned and operated insurance company. They can take care any of your home, commercial or auto insurance needs. I would definitely recommend coming here!" – Vanshdeep S.
2. Co-operators – Tanious Insurance & Investment Services Inc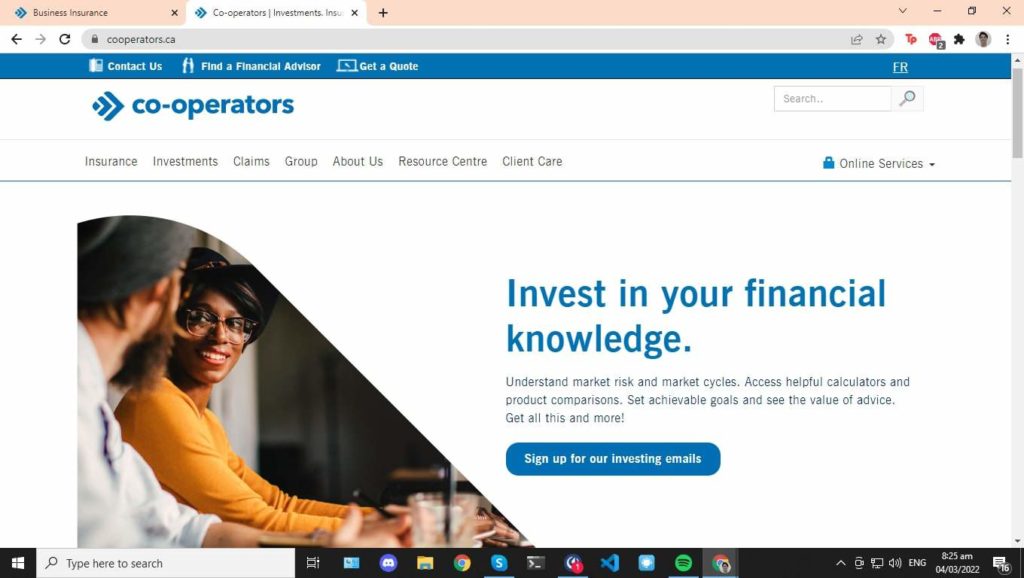 Test
Info
PRODUCTS
Home Insurance

Life insurance

Investment Insurance

Business Insurance

Farm Insurance

WEBSITE
https://www.cooperators.ca/local/nyroze-tanious
ADDRESS
2630 E Hastings St, Vancouver, BC V5K 1Z6, Canada
CONTACT DETAILS
604 255-7747
OPERATING HOURS
Monday to Friday 9:00 am – 6:00 pm

Saturday 9:00 am – 4:00 pm

Sunday Closed
| | |
| --- | --- |
| Criteria | Ratings |
| Value | ★★★★☆ (4/5) |
| Services Provided | ★★★★★ (5/5) |
| Customer Service | ★★★☆☆ (3/5) |
Founded way back in 1945, Co-operators is among the longest-standing insurance companies with over 600 locations across the country (including Vancouver, of course). Tanious Insurance & Investment Services Inc is a branch of the company, by the way.
Proportional to the years they've been in the industry, they're now catering to a wide variety of business insurance plans and solutions. From the description in the table above, you can see that they can more or less cater to most kinds of businesses.
What we like most among their policies is actually their Privacy Breach coverage, which is basically insurance for when personal information is lost or mistakenly shared. We found that the coverage includes free access to emergency response services and tips from CyberScout®, a global leader in cyber security.
In the digital-age, we highly recommend businesses to at least have some form of data privacy insurance, so this is an attractive plan.
While their services may seem great, though, there were some clients we spoke to who weren't satisfied with the customer service. Specifically in instances where they'd visit an hour or two before closing only to be turned away by the staff stationed in their office.
Knowing this, we recommend heading earlier to your local Co-operator branch if you ever want to set an appointment or make a claim from them.
We find it especially nice that they provide 24/7 claims support available online, which you can use to review your plans and rework them, if necessary (otherwise called Client Review). This is also good if you aren't too familiar with the processes after signing your first policy from the company.
Overall, it's a reliable company with an A- rating (S&P) with great coverage available. Some of the staff could be trained better in customer service, but other than that, it's hard to complain.
Claims guarantee
Dedicated financial advisers 
A- rating (S&P)
Not very accommodating employees
Customer Reviews
Competitive pricing, satisfying service
"I was referred to Nyroze through a friend when looking for insurance for my new business. Not only did Nyroze and his experienced team gave me a competitive quote, they helped me get right cover for all aspects of my business. I was so impressed by the service, I moved my personal insurance coverage to Tanious Insurance. I would really happily recommend them to all my friends and family." —Upasna Sharma.
Turned away from staff before closing time
"Was turned away when I arrived 15 minutes before close after I got off work. Needed the help to get in contact with ICBC to renew and was told to go down the street. They obviously did not want to co-operate with me or have my business." —Will Alabazo.
3. Habitat Insurance Agencies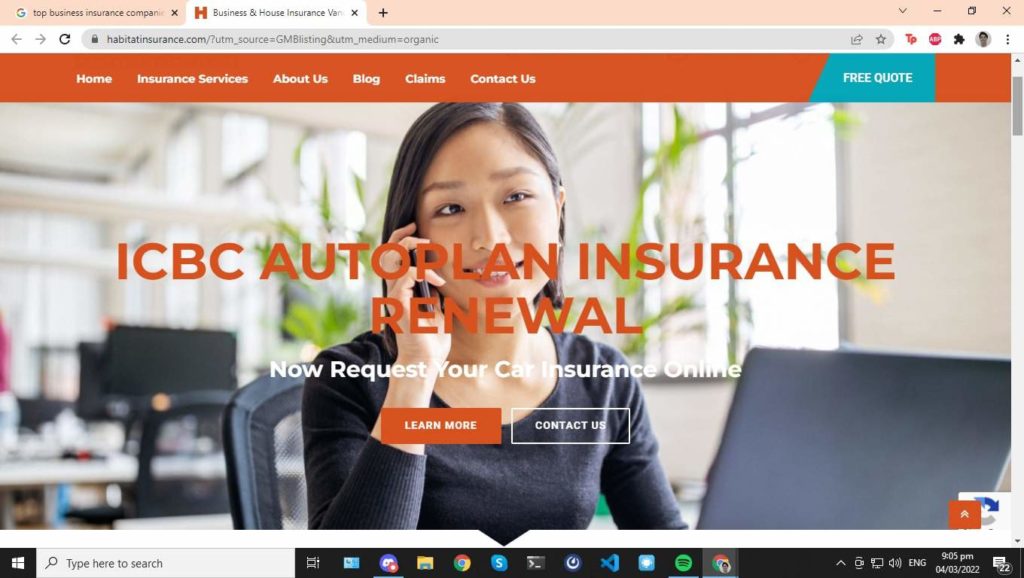 Test
Info
PRODUCTS
Property and contents insurance

Business interruption insurance

Com­mer­cial gen­eral lia­bil­ity insur­ance

Pro­fes­sional lia­bil­ity insur­ance, Direc­tors and offi­cers' lia­bil­ity insur­ance

Prod­uct lia­bil­ity insur­ance

Commercial Auto Insurance For Business Use

WEBSITE
https://www.habitatinsurance.com/insurance-services/business-insurance/
ADDRESS
2152 Kingsway Van­cou­ver, BC, V5N 2T5
CONTACT DETAILS
604 438-5241

Email: [email protected]

OPERATING HOURS
Monday to Friday 9:00 am – 6:00 pm

Saturday 9:00 am – 4:00 pm

Sunday Closed
| | |
| --- | --- |
| Criteria | Ratings |
| Value | ★★★★★ (5/5) |
| Services Provided | ★★★★★ (5/5) |
| Customer Service | ★★★☆☆ (3/5) |
Habitat Insurance Agencies have been providing insurance options to their clients ever since 1978 with, as they claim, some of their very first clients staying with them today. Though we had a bit of trouble verifying this, their customer satisfaction has received more than enough positive feedback in the previous years to suggest that the claim is true.
After speaking with a few recent clients, however, we found some issues in their service. There were occasional difficulties with clients being redirected to the wrong departments.
For example, in some instances when clients called in for a quote, the staff who answered reluctantly redirected the customer to the company email address—where the company replied that they can't give a quote.
We're not crazy about being given runarounds like these, so that definitely dropped their score when we were assessing them.
But in any case, the company does have its strengths: it offers a wide range of liability insurance plans to cater to the specific needs of various businesses. Whether you own a small or large business, the company probably has a solution that can fit you.
Moreover, they actually offer earthquake insurance, which you can add to any business insurance plan you have for an additional premium or monthly/yearly fee. We recommend getting this, especially since earthquakes are quite common in Vancouver.
In the event that you do purchase your first policy from them, you can expect a personal follow-up visit from their representative from time-to-time.
Overall, we think this is a decent company with competent services to get the job done, that is, if you can handle the occasional rude agent.
Personal follow-up
Available earthquake insurance
Affordable prices
Customer Reviews
Rude staff
"Phoned in and the lady that answered did not seem to want to provide and quote and asked me to email the company. After emailing, the email response was they could not provide a quote. I was able to get a quote from another company within the same day." —Jenny Lam.
Affordable pricing
"Thank you Grace. Habitat Insurance has been one of the most positive, consistent business in our neighbourhood. They care about their neighbours and it shows. I'm in business today because of the actions they have taken to ensure we get the products we need at a price we can afford." —Colin Shandler.
4. Westland Insurance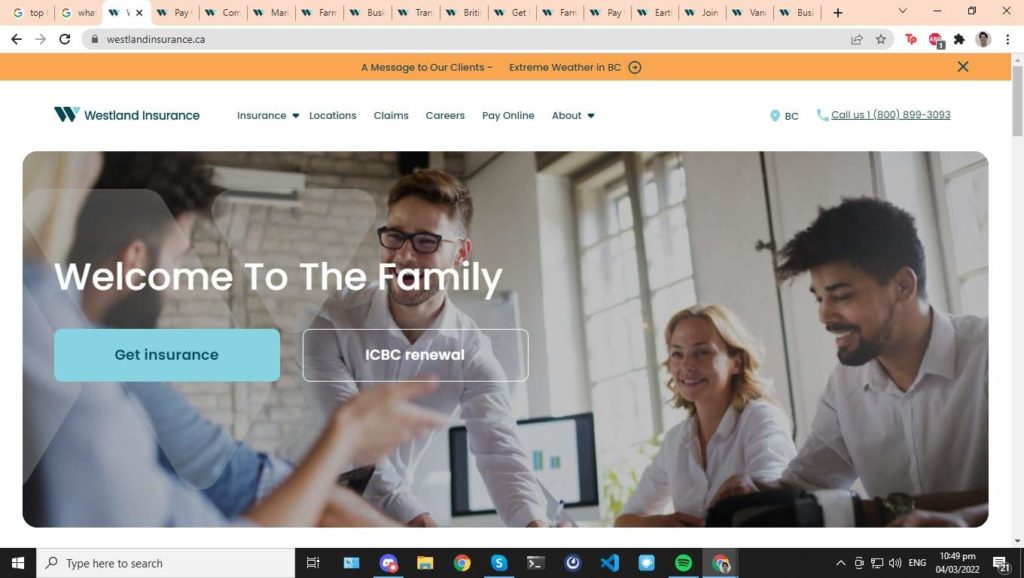 Test
Info
PRODUCTS
Business Insurance Basics

Liability Insurance

Small Business Insurance

Cyber Insurance

Industry Specialties

Farm Insurance

Commercial Property Insurance

Business Interruption Insurance

E&O/Professional Liability Insurance

Transportation & Logistics Insurance

Commercial Auto Insurance

Directors & Officers Insurance

WEBSITE
https://www.habitatinsurance.com/insurance-services/business-insurance/
ADDRESS
715 W 16th Ave, Vancouver, BC V5Z 1S8, Canada
CONTACT DETAILS
(800) 899-3093

Email: [email protected]

OPERATING HOURS
Monday to Thursday 9:00 am – 5:00 pm

Saturday & Sunday Closed
| | |
| --- | --- |
| Criteria | Ratings |
| Value | ★★★☆☆ (3/5) |
| Services Provided | ★★★★★ (5/5) |
| Customer Service | ★★☆☆☆ (2/5) |
One of the largest Canadian-owned independent brokerages is Westland, with over 2200 employees at over 190 locations in the country. They're constantly growing, with over 70+ partnership acquisitions since 1980.
In our opinion, they've really made a name for themselves, recently obtaining the title of Big Brokerage of the Year in the 2021 Insurance Business Canada Awards.
However, clients we interviewed did have conflicted views regarding their customer service, with some satisfied and others not at all.
In one instance a client had tried to phone in his claim and, instead of being supportive, the company reminded him that it would count against his policy.
Statistically speaking, they do have more positive reviews for their customer service than negative ones. Still, we do recommend thoroughly reviewing the company's policies before claiming and even better, do it with a lawyer to avoid any inconveniences.
The company offers a variety of insurance solutions, including earthquake and marine & boat insurance, by the way. In cases of earthquakes, policyholders can easily pick up their claims via the catastrophe offices that the company would set up post-calamity (which we like).
We recommend their marine & boat insurance for businesses engaging in the maritime industry. We find it nice that theirs is an all-in-one package that covers property damage, damage to your boat, and liability coverage.
Sets up catastrophe offices after calamities
Offers marine & boat insurance
Offers earthquake insurance
Issues with customer service staff
High-priced plans
Customer Reviews
Helpful representatives
"We unknowingly had been paying an incorrect high rate of insurance for several years and this year our new representative Nicole discovered it immediately upon reviewing the policy! She even managed to provide a refund for this year as we had already paid online! We are extremely thankful for her knowledgeable and astute attention to our account. We highly recommend her and will be using her and the company for all our insurance needs. Thanks, Nicole." —Colin Shandler.
Overpriced
"Recently after 15 years of using Westland, I decided to get a new quote for home insurance, I called a couple of other competitors and their quotes for "apples to apples" was significantly lower than Westland. I called Westland whom I have been a loyal customer with for 15 years in the Vancouver BC area and they told me they can't touch the two lower quotes and I should go with the other Insurance agencies. I had 1 claim in 15 years and they treated me well but apparently, loyalty means nothing. I am saving almost $1000 per year with the new company. Good bye Westland" —Michael Dowling.
5. Murrick Insurance Services (West End)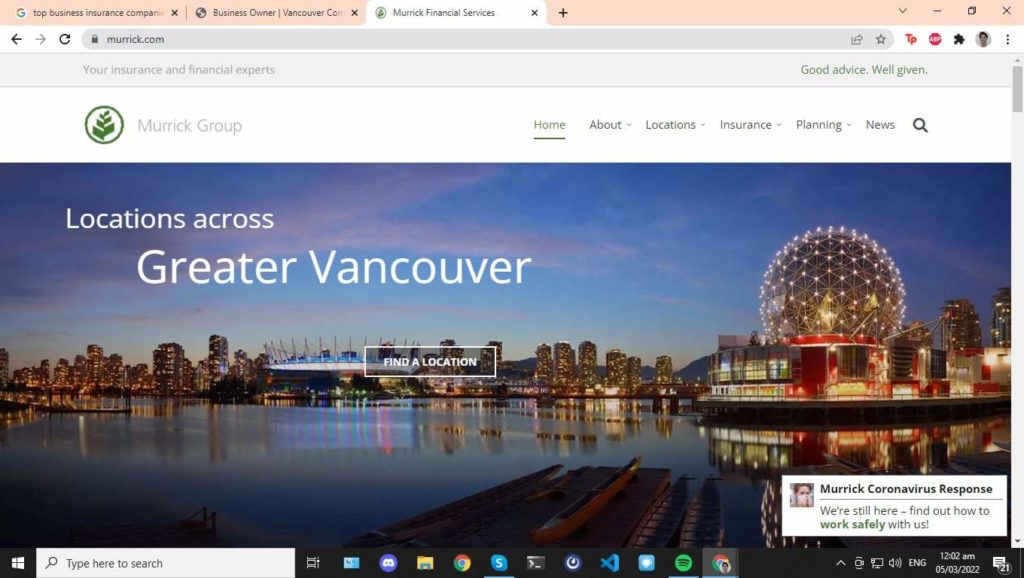 Test
Info
PRODUCTS
General liability

Commercial property

Crime coverage

Professional office

Retailers

D&O

Professional liability

Mining risks

Photographers

WEBSITE
https://offices.insurebc.ca/vancouver/westend/
ADDRESS
#109-1030 Denman Street Denman Place Mall, Vancouver, BC V6G 2M6, Canada
CONTACT DETAILS
+1 604 681-5454
OPERATING HOURS
Monday to Thursday 9:00 am – 5:30 pm

Saturday 9:30 am – 5:00 pm

Sunday Closed
| | |
| --- | --- |
| Criteria | Ratings |
| Value | ★★★★☆ (4/5) |
| Services Provided | ★★★☆☆ (3/5) |
| Customer Service | ★★★★☆ (4/5) |
Murrick Insurance Services, located at the West End of Vancouver, is part of a group of insurance agencies that offer multiple forms of coverage.
Aside from life, travel, and home insurance, they also offer a variety of business insurance options to cover common business needs. These business services range from general liability to D&O and mining risks.
We highly recommend these services for small businesses that are still starting out in their industry. We think their Loss of Income and Business Liability insurance would prove invaluable.
Another service they provide is Crime Coverage, which protects your money and securities from fraud and counterfeit currency —easily applicable to most businesses. They even auto-enhance your money and security limits up to 25% for seasonal variations.
We found they also offer a somewhat rare Boiler and Machinery insurance, which covers loss or damage to electrical and mechanical equipment. This should be a good choice for businesses engaging in the tech industry with a lot of equipment on-hand and in daily use.
From the clients we talked to, their employees were described to be very pleasant-mannered and helpful. Even in long and repetitive processes, a lot of positive feedback came back from the policyholders.
That said, we did have one instance where a client had a fairly disagreeable encounter with an employee, saying that she was unable to provide information about a particular policy.
However, this is probably the case of an inexperienced staff member and the issue was dealt with personally by the company manager. That at least tells us that their managers are on point.
Generally good customer service
Offers boiler and machinery insurance
Good insurance options for small businesses
Customer Reviews
Easy renewals, accommodating staff
"The Murrick agents we dealt with were so helpful and knowledgeable. It was a pleasure to work with them! Renewing our insurance in this difficult time without going to their office was easy and painless. Thanks so much!!" —Thelma Schrock.
Great customer service
"All staff are very efficient and helpful in handling my requests and insurance needs.
Professional, polite and knowledgeable. Have been using them for the past several years and will continue to do so, even though I've moved out of the area.
Superior customer service still exists and this branch is a perfect example!" —James Fildes.
6. Perosa Insurance Agencies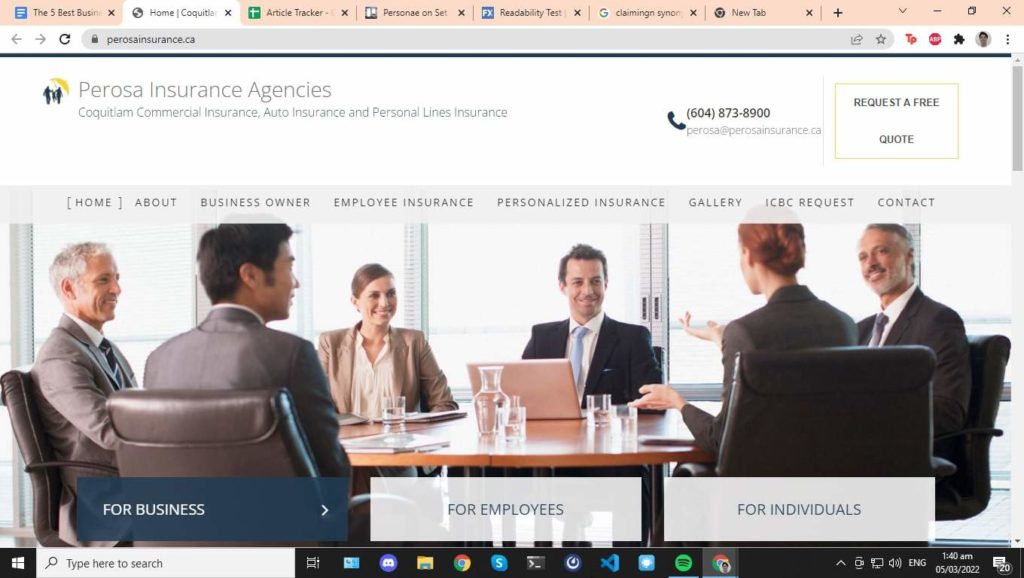 Test
Info
PRODUCTS
Commercial auto insurance

Commercial property insurance

General liability insurance

Commercial umbrella insurance

Professional liability insurance

WEBSITE
https://perosainsurance.ca/
ADDRESS
2740 Commercial Dr, Vancouver, BC V5N 5P4, Canada
CONTACT DETAILS
+1 604 873 8900

Email: [email protected]

OPERATING HOURS
Monday to Friday 8:30 am – 7:30 pm

Saturday 9:00 am – 5:00 pm

Sunday 10:00 am – 4:00 pm
| | |
| --- | --- |
| Criteria | Ratings |
| Value | ★★★★☆ (4/5) |
| Services Provided | ★★★★★ (5/5) |
| Customer Service | ★★★☆☆ (3/5) |
Perosa Insurance Agencies has been in the industry for over 40 years and has been serving Canadians in and Vancouver ever since.
In terms of overall insurance, the company offers plenty of options (though only a decent number for businesses in particular). Their general liability, commercial property, and professional liability insurance plans offer most things that businesses usually need.
We find it good that they customise their general liability insurance according to the business in question. This means no matter how small or large your business is, there's a custom policy for you.
However, in the event of a lawsuit and overwhelming cost claims, general liability insurance won't be enough to cover it. We recommend availing of their Commercial Umbrella Insurance, which offers additional protection and actually covers where your standard liability policies fall off.
Oh, by the way, they also offer free quotations so it wouldn't be a problem to compare this company with others to find the best price.
While the company's services are adequate, its employees are a different question. There have been a number of complaints from clients we've interviewed on the staff's attitudes, asserting that they didn't feel accommodated enough.
We did receive a statement from one of their representatives, however, that they have been continuously attempting to improve ever since. Although, we can't say for sure, it's best to visit this agency with an open mind.
Free quotes
Commercial umbrella insurance
Not a lot of business insurance plans available
Adequate service
Problems with staff training and service
Customer Reviews
Great service
"I came here after an awful experience at Sussex insurance on commercial.
I think Richard was our insurer and he was kind, courteous, polite and helpful.
The service was incredible, I had never sold a car before and was kindly and patiently guided through the process, the buyer was also assisted in buying insurance while I was there and it was a speedy and efficient process.
I will definitely come back here." —André Tassé.
Staff with bad attitude
"Insured a lot of my vehicles and such here…the staff is so so. I think language barrier can be an issue, and this is a result of the bad reviews you read. Have some patience and things go smooth, come in rushed and you will write a negative review.
Overall the staff needs an attitude adjustment no doubt, you provide a service be respectful to the customers who come in." —Michael Dowling.
FAQs about Business Insurance
Finding the right insurance company can be the difference between success and setback during unforeseen circumstances. For your property along with the lives of your employees and clients, it's best to come prepared.
After reading this article, we hope you now have a comprehensive understanding of which business insurance company would serve you best.
And if you need more advice on financial and business services, check out our other reviews! For instance, if you want the top financial advisors in Vancouver, we've already laid out an article about them.