The 7 Best Pharmacies in Vancouver
In many ways, modern pharmacies have taken on a one-stop-shop corner store role where clients can find medicine, supplements, and even common groceries. Good pharmacies provide all these products while also making them easy to procure.
Given the many medical establishments in and around Vancity, we thought it wise to make a list of the best pharmacies in Vancouver. So that you know we're not just picking them randomly, we've also included customer reviews, pros & cons, and summaries for each place.
How Much Do Pharmacies Cost in Vancouver?
Along with standard groceries and the like, pharmacies fill prescriptions provided by physicians. Depending on the type of medication being prescribed as well as the amount to be filled, pharmacies can charge a specific dispensing fee.
These fees can range from $10 to $15 and the only way to know the amount is to inquire at the pharmacy of your choosing. On top of the dispensing fee, clients will also have to pay for the cost of the actual medicine being prescribed.
Aside from prescription-only meds, pharmacies also offer over-the-counter medication, which can be slightly more affordable. Such medications can cost anywhere from $5 to upwards of $100 depending on the size and type of medicine.
The Best Pharmacies in Vancouver
Since you now have a sense of pharmaceutical costs, it's time to get familiar with the best pharmacies in Vancouver.
1. Finlandia Pharmacy & Natural Health Centre
SERVICES
Herbal medicine
Pharmacy
Consultation
Online store
WEBSITE
http://www.finlandiahealthstore.com/
ADDRESS
1111 W Broadway, Vancouver, BC V6H 1G1, Canada
CONTACT DETAILS
Phone number: (604) 733 – 5323
Toll-free number: (800) 363 – 4372
Fax: (604) 484 – 0002
OPERATING HOURS
Monday: 9:30 am – 6 pm
Tuesday: 9:30 am – 6 pm
Wednesday: 9:30 am – 6 pm
Thursday: 9:30 am – 6 pm
Friday: 9:30 am – 6 pm
Saturday: 9:30 am – 6 pm
Sunday: 11 am – 5:30 pm
Finlandia is a medium-size pharmacy with various offerings for vitamins, cosmetics, and prescription medication. These folks often keep a healthy stock of naturally sourced supplements too.
Aside from natural supplements, Finlandia also offers cosmetics made with natural ingredients. This makes the pharmacy a great option for customers who prefer to use less processed medicinal products.
In addition to its many naturally sourced products, this pharmacy has a sizeable in-house dried herb bar. With these herbs, clients can whip up all-natural remedies in the comfort of their own homes.
With various brands, both named and generic, customers can choose from tons of vitamins and supplements that conform to their budget. Given the high cost of medicine and health products, many clients would agree that these savings are more than welcome.
In-house dried herb bar
Offers both named and generic brands
Tons of naturally sourced products
Various cosmetic products
Limited selection of snacks available
Customer Reviews
Finlandia's wide selection of natural products has made it popular with many Vancouverites:
"I have been shopping at Finlandia Pharmacy for all my dietary supplements and beauty products since 2014. I love my shopping experience in this place, staff here are very polite, knowledgeable and professional. My kids love to visit this place with me, especially to meet with Tanja. She is very friendly and caring my kids enjoy interacting with her." – Shreeya M.
"Great place to find a variety of natural products. The staff are very helpful in explaining and suggesting products!" – Emily L.
2. Marks Marine Pharmacy
SERVICES
Pharmacy Online store
WEBSITE
https://www.rxcanada4less.com/
ADDRESS
239 SE Marine Dr, Vancouver, BC V5X 2S4, Canada
CONTACT DETAILS
Toll-free number: (877) 888 – 9265
Fax: (877) 888 – 9805
Email:

[email protected]

OPERATING HOURS
Monday: 9 am – 5 pm
Tuesday: 9 am – 5 pm
Wednesday: 9 am – 5 pm
Thursday: 9 am – 5 pm
Friday: 9 am – 5 pm
Saturday: closed
Sunday: closed
Marks Marine Pharmacy is well-known for being a small, reliable, family-owned establishment in South Vancouver. Over the years, this pharmacy has gained renown with both American and Canadian consumers.
This is because of their extremely affordable prices and dispensing fees, which are some of the lowest in the area. These low prices apply to a wide variety of medications and almost any prescription can be filled regardless of whether it's prescribed in America or Canada.
Marks regularly ships out hundreds of orders each day across the lower mainland and even some parts of Wisconsin. They are able to do this with great efficiency thanks to their convenient location just 12 minutes from Vancouver International Airport.
Since many customers only make virtual transactions, it can be tough to answer certain questions about a prescription. To remedy this, Mark's also has a hotline where clients can speak to their team of pharmaceutical experts, which is the real highlight of their service, for us.
Caters to both US and Canadian clients
Extremely affordable pricing
Rapid turnaround times for online orders
Hotlines can be very busy during weekdays
Customer Reviews
With great service and fast turnaround times, it's easy to see why Mark's is the pharmacy of choice for many Canadians and Americans:
"These people are truly amazing. Whether by email or on the phone, they listen, they hear, and not only they empathize but they go above and beyond to get your medication to you ASAP. The process and the packing could not be more professional, and the prices — obviously! — are the reason we have to order certain meds from Canada. I found out about them on a feline diabetes discussion board and I am only too happy to pass along their name and contact info to anyone who needs insulin. You won't regret it." – Trixie M.
"Best online pharmacy bar none. Great prices, professional and courteous service, couldn't ask for much more. Keeps me healthy and at the top of my game. Will be sure to continue using them for years to come." – Dave S.
3. Cloud Pharmacy Inc.
SERVICES
Medication Pharmacy Online store
WEBSITE
http://www.canadacloudpharmacy.com/
ADDRESS
4918 Victoria Dr, Vancouver, BC V5P 3T6, Canada
CONTACT DETAILS
Toll-free number: (800) 901 – 0041
Fax: (888) 258 – 7962
Email:

[email protected]

OPERATING HOURS
Monday: 8 am – 6 pm
Tuesday: 8 am – 6 pm
Wednesday: 8 am – 6 pm
Thursday: 8 am – 6 pm
Friday: 8 am – 6 pm
Saturday: 8 am – 6 pm
Sunday: 8 am – 6 pm
Recently, many consumers have taken to purchasing Canadian medication online due to the cheaper pricing and comparable quality of such products. To fill the growing need for an online Canadian medicine distributor, Cloud Pharmacy stepped forward.
These folks mainly focus on filling and serving online prescriptions and medicinal purchases. As a result, their services are extremely quick and efficient, relying only on an online portal and the occasional phone call to create and fill orders.
Being a cloud pharmacy, this establishment mainly derives sales from filing and shipping online purchases. As a result, their physical location is somewhat lacking in variety and quantity, but it's still a great option if you're in a rush and you need to pick up some meds in a jiffy.
Overall, Cloud Pharmacy is an excellent option for those who prefer to have their medicine delivered instead of stepping out to purchase it. As long as you don't mind waiting a couple of days, this place is perfect for all your medicinal needs.
Focuses on online pharmaceutical purchases
Extremely easy ordering process
Wide variety of brands at the online portal
Small physical store
Depending on location, delivery of orders can take some time
Customer Reviews
With its quick and efficient online process, Cloud Pharmacy has changed the way many people find and purchase medicine:
"Cloud Pharmacy is AWESOME. I was able to purchase a prescription from them that Medicare nor my secondary insurance would cover. In addition, they saved me 600.00! They are the best and their staff is SO nice and professional. I WILL be back! Thank you Cloud!!! P.S. And they are fast!" – Mary W.
"Brian is super friendly and super helpful! He did spend his time to help me to check PharmaCare policy on a specific drug even though I don't have an account at this store yet." – Susan L.
4. Safeway Pharmacy King Edward
SERVICES
Immunization and flu shots Family health online
WEBSITE
https://www.safeway.ca/
ADDRESS
990 W King Edward Ave, Vancouver, BC V5Z 2E2, Canada
CONTACT DETAILS
Phone number: (604) 733 – 9342
Toll-free number: (800) 723 – 3929
OPERATING HOURS
Monday: 9 am – 6 pm
Tuesday: 9 am – 6 pm
Wednesday: 9 am – 6 pm
Thursday: 9 am – 6 pm
Friday: 9 am – 6 pm
Saturday: 10 am – 6 pm
Sunday: 10 am – 6 pm
Though Safeway is mainly known for its grocery services and various household goods, the company also has a decent pharmaceutical branch. With a decent selection of meds, vitamins, and supplements, they can easily compete with other pharmacies.
Having an in-house pharmacy is useful when customers can't spare the time to make multiple stops during errands. At Safeway, you can easily have a prescription filled while you're out browsing the grocery aisles.
If you're only stepping out to purchase some vitamins or refill a prescription or two then this place also has an in-house Starbucks. This means you can enjoy a nice hot cup of coffee or an iced latte while you're waiting for your prescription.
Oh, and you won't have to worry about getting stuck in line at any of the registers in this Safeway during busy hours. This is because pharmacy-goers can pay at the pharmacy counter in a separate line.
Located inside a grocery store
Has an in-house Starbucks branch
Opens early and closes late
Prescription refills can sometimes take longer
Customer Reviews
Thanks to the convenience of Safeway's combined grocery and pharmacy, many people frequent this establishment for all their household needs:
"The King Edward Safeway has a good sized selection, floral, deli, and meat departments, and a pharmacy. They also have a Starbucks inside. Parking is free but the lot can be challenging occassionally. The narrow, one way parking lot can be a bit of a wait sometimes but patience pays off more in the end." – Tahir A.
"Pretty decent selection of food. Produce and meat are a little lacking, but the layout is very clear and organized. The pharmacy seems to be quite acceptable. Fine for a standard family grocery trip." – Kurtis H.
5. London Drugs
SERVICES
Prescription refills
Telemedicine service
Prescription deliveries
WEBSITE
https://www.londondrugs.com/ldhome/
ADDRESS
710 Granville St, Vancouver, BC V6Z 1E4, Canada
CONTACT DETAILS
Phone number: (604) 448 – 4802
Toll-free number: (888) 991 – 2299
OPERATING HOURS
Monday: 8 am – 9 pm
Tuesday: 8 am – 9 pm
Wednesday: 8 am – 9 pm
Thursday: 8 am – 9 pm
Friday: 8 am – 9 pm
Saturday: 9 am – 9 pm
Sunday: 10 am – 8 pm

London Drugs offers everything from electronics and groceries to cosmetic products and pharmaceuticals. While this itself is quite an admirable accomplishment, many people actually flock to this pharmacy to receive various vaccinations.
Along with standard illnesses like Malaria, the Flu, Measles, and Mumps, this establishment also offers a vaccine for COVID-19. Now while these shots are restricted to select branches, this offering certainly makes London Drugs worth a visit.
If you're all vaccinated and you just want to stay healthy and fit, this place also has a ton of products to help. They offer vitamin C in various forms including a powdered drink which is great for kids who don't do well with pills.
In case you find yourself lacking basic first-aid supplies the pharmacy also stocks a ton of bandages, rubbing alcohol, swabs, and whole kits. Last but not least, we'd be remiss if we didn't mention that this pharmacy also has a large selection of personal protective equipment.
Offers various vaccinations
Carries the Pfizer vaccine in select branches
Well-stocked with PPE and first aid supplies
Busy during mid-day hours
Customer Reviews
Despite having some limited offerings, London Drugs packs the essentials in bulk making them a go-to option for pharmaceuticals:
"Thanks to Valerie and Lily for being so kind and professional! The best people work at this pharmacy" – S. T.
"I find the pharmacy is really great they're super helpful and in general their staff are just very good at their jobs and they almost always have everything I need" – Katherine L.
6. Sina Pharmacy & Health Centre
SERVICES
Pharmacy
Medical Clinic
Compounding Lab
Natural Supplements
Homeopathy
Clinical Counselling
Naturopathic Clinic
Aesthetics & Beauty
WEBSITE
https://mysina.ca/
ADDRESS
1111 W Broadway, Vancouver, BC V6H 1G1, Canada
CONTACT DETAILS
Pharmacy:
[email protected]
Fax: 604-336-7461
Medical Clinic:
[email protected]
Fax: 604-336-7463
OPERATING HOURS
Monday: 8:00 AM – 7:00 PM
Tuesday: 8:00 AM – 7:00 PM
Wednesday: 8:00 AM – 7:00 PM
Thursday: 8:00 AM – 7:00 PM
Friday: 8:00 AM – 7:00 PM
Saturday: 10:00 AM – 6:00 PM
Sunday: 10:00 AM – 6:00 PM
Sina Pharmacy & Health Centre is a multi-functional centre that offers a wide range of medical and pharmaceutical services such as regular prescription services, compounding lab, homeopathy, natural/herbal/professional supplement lines, medical services 7 days a week (family doctors; specialists – internal medicine, pediatrician, sports medicine; walk-in clinic services), aesthetics and beauty, counselling services, and naturopathic services (offering naturopathic consultations, IV nutrient therapy, Microneedling/PRF). They also have an online store where patients can purchase their supplements online.
The center has already four years of excellence in which they are one of the top 3 pharmacies for three consecutive years from 2017 to 2020. Furthermore, they also provide a lot of additional healthy tips and articles that are easily viewable and accessible on their website free of charge.
They also offer a comprehensive system for patients to be able to see a doctor online, order the given prescription and be able to have it delivered for free on the same day as well. Their team is composed of highly qualified family doctors and specialists and pharmacists in order to deliver reliable and trustworthy service and give only what is best for each and every patient they accommodate.
We recommend this center for patients looking for a one-stop at their medical needs and steadfast service in areas such as Vancouver, Richmond, and Burnaby.
Offers wide range of pharmaceutical and medical servicesOffers same-day free delivery
Open long hours 7 days a week
Purchases may be done online
For supplement a minimum of $70 is required for free delivery (but Rxs are free regardless of cost)
Customer Reviews
Here are some reviews from their customers:
"I have had a great experience so far with Sina pharmacy and health care. I have seen two doctors and both were on time, friendly and genuinely caring. Their online booking is great! recommend 100%" – Maria Schlossky
"Lovely owners, great juices and smoothies and wonderful selection of products/supplements! Fatimeh also compounded me a custom Vitamin C cream for wrinkles/fine lines and it's amazing!" – Kate Marshall
7. Beta Pharmacy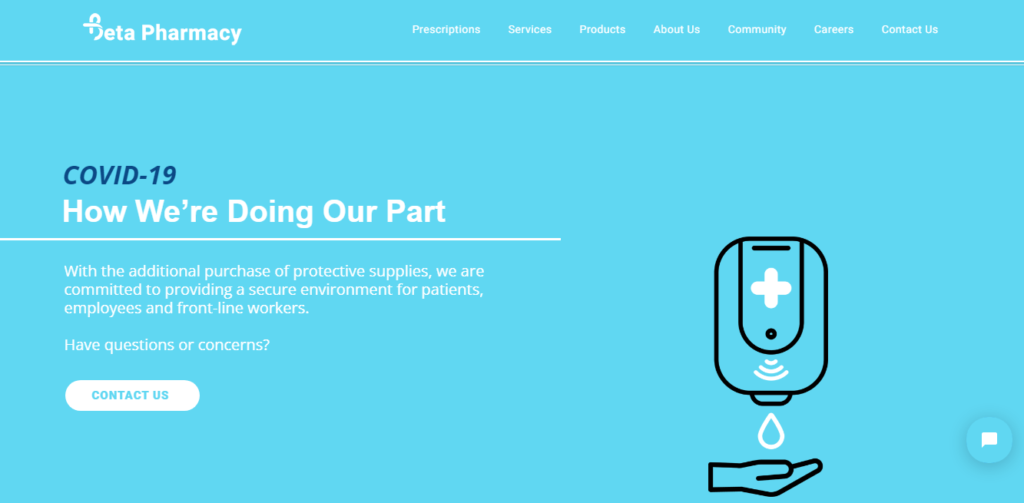 Beta Pharmacy is a pharmaceutical company that offers a wide array of products and services in the said field such as RX prescription refill and medication delivery among others. Supplements such as herbal and over-the-counter medication are also available for ordering along with many more trusted brands in health, wellness, and baby care supplies.
Established back in 2015, the pharmacy aims to provide the local community in which they are located with reliable and innovative high-quality pharmaceutical services. They are comprised of a small team of high credible pharmacists that clients may fund more information about on their website should they have any queries.
The company is also open all week with varying operating hours but has a 24/7 customer service line that is open anytime for customers who have any inquiries any time of the day or night. Furthermore, the company also gives back to the community by offering a safe and sanitary environment along with active involvement in supporting local charities and organizations as well.
We recommend for clients in the said area looking for reliable and high-quality pharmaceutical services as they also offer online ordering and delivery in which clients may make their own account and order their needed medication hassle-free.
Accommodates online ordering and delivery
Excellent customer service
Values philanthropy
Limited operating hours on weekends
FAQs About Pharmacies
---
As you can see, pharmacies can offer a lot of useful products from basic groceries and snacks to vitamins and prescription medication. Now that you're familiar with the best pharmacies in Vancouver, you'll have an easier time choosing a place to frequent.
By the way, we have other lists you might like. If you'd like some advice on where to catch a flick or two, for instance, we've also got a list of the best movie theatres in Vancouver. Along with contact information and showtimes, you'll also have access to patron reviews, and cinema summaries.