Fun Things to Do in Vancouver
Vancouver is one of the most beautiful cities in Canada. This city is known for its vibrant culture, unique attractions, and fantastic events.
Whether you like visiting parks and gardens, experiencing Vancouver's diverse culture or enjoying the city's nightlife, Vancouver offers many options.
We have something for you if you plan to visit the city in the coming months. Keep reading to discover some fun things to do in Vancouver.
Where is Vancouver Located
Vancouver is the third most populous city in Canada and is located in British Columbia. It's in the Lower Mainland, between the Burrard Inlet to the north and the Fraser River delta, opposite Vancouver Island to the south.
The city is located just north of Washington, USA, and has a beautiful harbor with sea views and mountains.
Fun Things to Do in Vancouver
Cycle around Stanley Park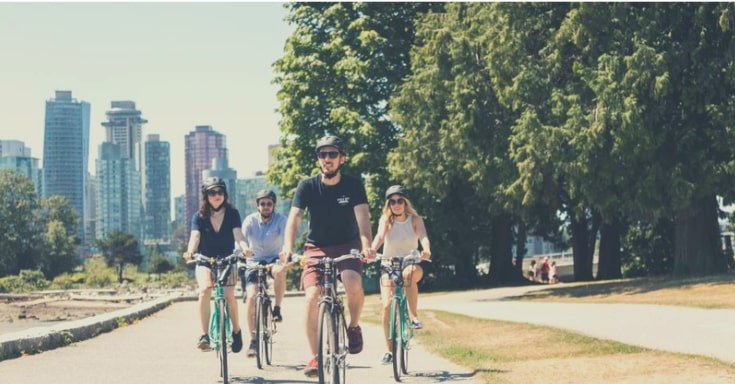 Image by GetYourGuide via www.getyourguide.com
Biking in Stanley Park is one of the fun things to do in Vancouver. Cycling around the park provides breathtaking views of the Burrard Inlet, English Bay, Coal Harbour, and downtown Vancouver.
The most famous ride in Vancouver is Stanley Park's Seawall. This attraction is part of The Great Trail, where many people go cycling, especially on weekends.
This route offers a scenic view of the ocean, and the abundance of nature makes it the perfect place to have a peaceful ride away from Vancouver's busy city streets.
Aside from that, you can also make your own route within Stanley Park, as it's equipped with numerous paved and gravel paths and bike trails throughout the park.
For those who want a more challenging cycling experience, the west side trail of Stanley Park has some vertical slopes for you to practice cool bike tricks on.
There are also a number of nearby bike rentals where you can select from a wide range of rental bikes. Depending on the ride, an hour of bike rental should cost between CAD 7 and CAD 10.
Stanley Park has over 9 kilometers of bike paths which is why it's a popular location for cyclists. It's a unique way to explore the city's first and largest urban parks.
Wander Dr. Sun Yat-Sen Classical Chinese Garden
Image by Condé Nast Traveler via www.cntraveler.com
If you're into gardens and learning about different cultures, we highly recommend you drop by Dr. Sun Yat-Sen Classical Chinese Garden.
This attraction is located at 578 Carrall Street in Chinatown, and it's the first Chinese Garden built outside of China. This public park is well-landscaped and maintained, making it the perfect place to visit for nature lovers.
You'll arrive at Dr. Sun Yat-Sen Classical Chinese Garden through the Chinese Cultural Center. Inside, there are numerous beautiful plants and mighty trees, including bamboo, Bonzai, and others.
There is also a pond in the center of the garden and numerous gravel paths and walkways where visitors can stroll while admiring the garden's unique scenery.
In case you get tired, the garden has a Chinese-style gazebo right in the center where you can lounge and enjoy the abundance of nature.
In the midst of Vancouver's busy streets, the Dr. Sun Yat-Sen Classical Chinese Garden feels like stepping into a hidden sanctuary where you can learn about Chinese culture, which made us want to stop by a Chinese restaurant after our visit.
You also have the option to book a private tea ceremony with a certified tea artist where you can learn about the history of the tea ceremony and how to make tea a meditative practice.
They also provide art classes where a professional artist will teach you various Chinese art techniques for a fee ranging from CAD 45 to CAD 55.
An admission ticket costs approximately CAD 32; however, other events such as yoga or a private tea ceremony will cost an additional fee of approximately CAD 12 to CAD 25.
Head over to Granville Island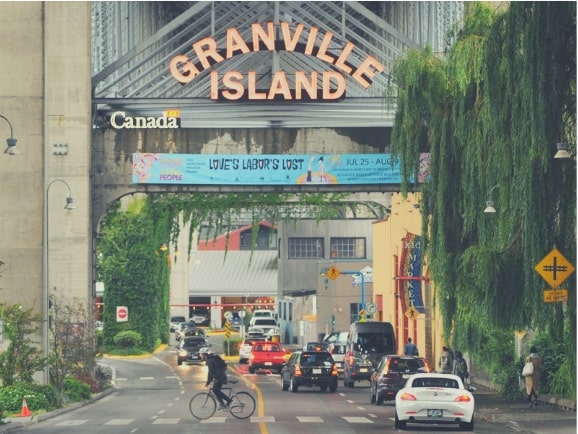 Image by Vancouver Extended Stay via www.vancouverextendedstay.com
Granville Island is a well-known shopping area in Vancouver. It's under the south end of the Granville Street Bridge, just across False Creek.
The island is Vancouver's exclusive artistic and cultural hub, providing some of the best and most unique attractions that garner many visitors worldwide.
If you're looking for fun things to do in Vancouver, then Granville Island should definitely be on your list.
The Public Market, which has a variety of retail shops, restaurants, art galleries, boutiques, and dining options, should be your first stop.
But first, you must eat breakfast to energize yourself for the rest of the day, and we just happened to know the perfect brunch spot.
A Bread Affair is British Columbia's first organic bakery, serving organic and locally-sourced pastries, sandwiches, and many more. Their artisan bread is made without preservatives and in small batches to ensure that each piece is delicious.
Next, ChocolaTas is a must-visit for anyone with a sweet tooth. This locally owned and operated chocolate shop offers artisanal chocolates that suit every chocolate lover's tastes.
99% of their chocolates are gluten-free, and if you prefer sugar-free chocolates, they also have sugar-free chocolate bars that are 54% cocoa dark and sweetened with Maltitol.
Now, for those looking for a vegetarian restaurant to dine in while visiting Granville Island, Chau Veggie Express is the place to go. This restaurant serves primarily vegan dishes inspired by Vietnamese cuisine.
Granville Island and most of its shops and establishments are open from 9:00 am to 6:00 pm, including holidays, and it's the best place to visit for families and friends.
Experience Gastown
Image by History Hit via www.historyhit.com
Gastown is one of Vancouver's most well-known historical districts for its stunning Victorian architecture and abundance of old brick buildings and cobbled streets.
This neighborhood features a diverse community of boutiques, dining options, bars, and a lively art and tech scene.
A trip to Gastown wouldn't be complete without exploring the many restaurants the district offers. Out of all of them, we highly recommend having a meal at Al Porto Ristorante.
This Italian restaurant serves authentic Italian dishes that establish the rich flavors of Italy, such as delectable plates of pasta and luscious pizzas and linguines.
Now, just in case you're planning on bringing your furry friend with you on your trip to Gastown, we suggest you stop by EZ Dog, located at 56 Powell Street.
This family-owned and operated dog grooming and supplies stores offer numerous grooming packages such as basic baths, full grooms, and many more.
If you're looking to get piercings, we recommend Arcane Body Arts, located at #230-332 Water Street. This establishment is a vegan tattoo and body piercing studio that provides various piercing options and cosmetic tattooing.
---
If you ever get the chance to visit British Columbia, Vancouver is a great place to visit. Whether you are traveling alone, with a partner, or with the whole family, there are lots of fun things to do in Vancouver that will make your trip much more enjoyable.
Just in case you're still looking for more activities to do in the city, check out our article on the best things to do in Vancouver.