Visiting Vancouver Chinatown? Here's What to Expect When Exploring the Neighborhood
Every corner of Vancouver Chinatown tells a story.
The aromas of delectable food, the vibrant colors of the storefronts, and the intricate architectural details weave stories of hard work, history, and hope that are bound to draw you in.
If you're exploring the diverse neighborhoods of Vancouver, a visit to Vancouver Chinatown is a must-do. Plan ahead – our ultimate guide has all you need to immerse yourself in the cultural tapestry of this important part of the city.
What is Vancouver Chinatown known for?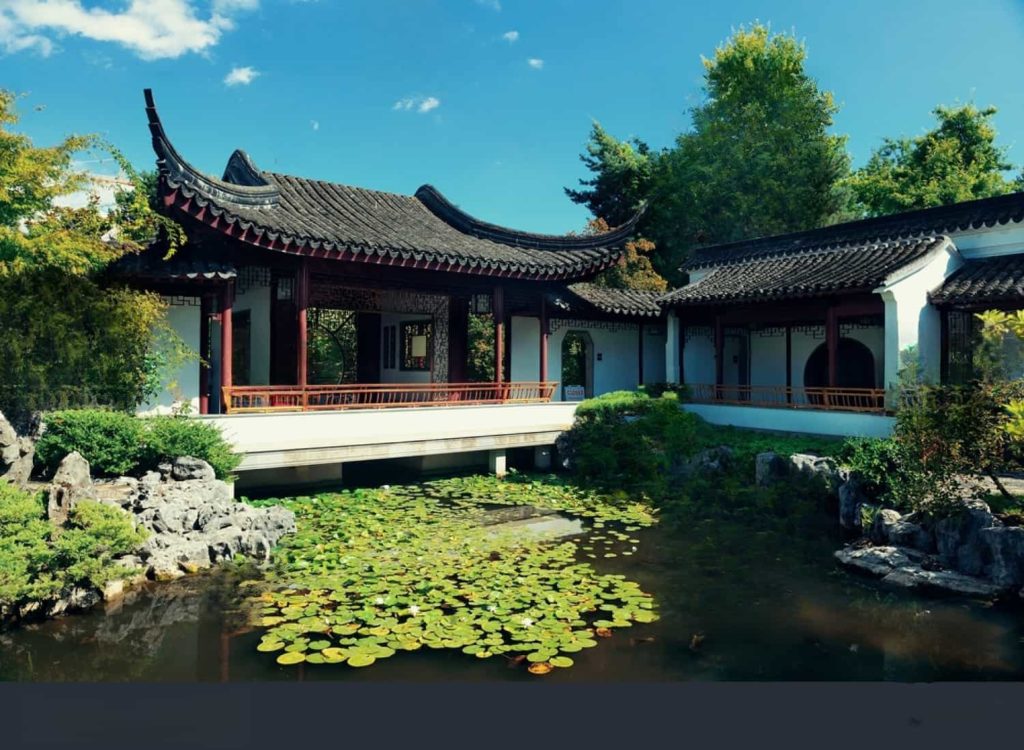 The largest Chinatown in Canada, Vancouver Chinatown is known for its authentic Chinese culture showcased through its restaurants and stores, the serene Sun Yat-Sen Garden, and festivities such as the annual Chinese New Year parade.
One of the highlights of the neighborhood is its wide-ranging selection of Chinese cuisine, featuring popular dishes such as dim sum, noodles, and flavorful stir-fried creations.
It's also known for its stores offering unique Chinese goods, ranging from traditional clothing and herbal remedies to exquisite crafts and tea. A few modern shops sit on Pender Street, but traditional stores proudly showcase their wares along the sidewalk.
Another prominent attraction in Vancouver Chinatown is the Dr. Sun Yat-Sen Classical Chinese Garden. With the elegance of traditional Chinese gardens, this attraction is a tranquil oasis amidst the bustling city.
Festivities also attract spectators to the neighborhood. The annual Chinese New Year parade may be the most popular, with its colorful floats and vibrant dragon and lion dances performed at various locations including the Sun Yat-Sen Garden.
Why is Vancouver Chinatown important?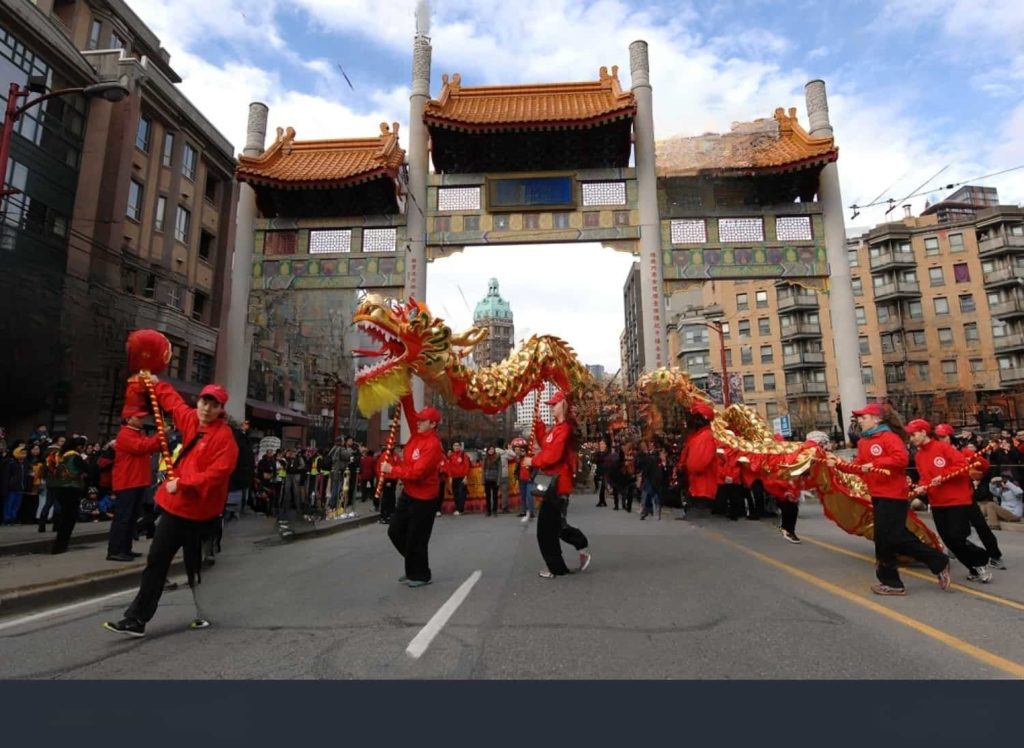 Vancouver Chinatown is important as it embodies the spirit of a community that has preserved its traditions, created iconic landmarks, and contributed greatly to the cultural fabric of Vancouver. It's rightfully named one of Canada's National Historic Sites.
The neighborhood traces its roots back to the city's incorporation in 1886 when it emerged with a small Chinese population.
It has had a long and distinct history since then, which involves the grave impact of the Chinese Immigration Act of 1923, a discriminatory legal measure that banned Chinese immigration to Canada.
The community persevered nonetheless. Although its population shrank and demolitions continued from the 1940s to 1960s, the neighborhood endured until Hong Kong's investments came in the 1970s and brought new life to the area.
Cultural projects were initiated in the 1980s, including bilingual street signs and the establishment of landmarks like the Classical Chinese Garden.
Today, it stands not only as a stronghold of the Chinese community in Vancouver, but a great reminder of the meeting of Chinese and Western cultures.
Which streets make up Vancouver Chinatown?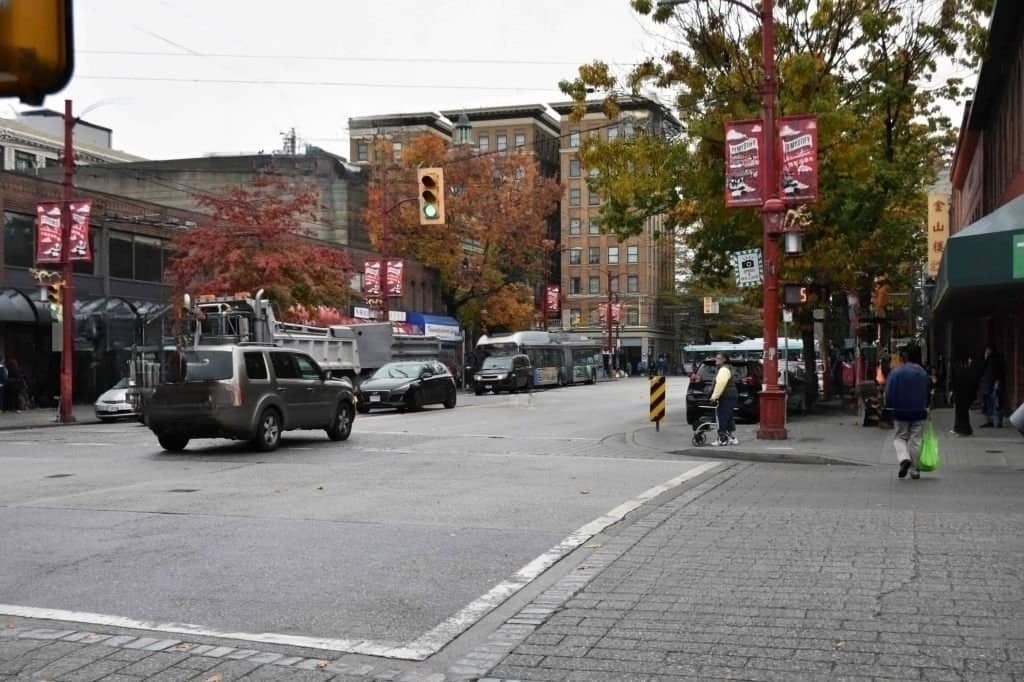 Officially, the streets that make up Vancouver Chinatown include East Pender Street, Gore Avenue, East Georgia Street, Carrall Street, Hastings Street, Taylor Street, and Keefer Street. Still, the neighborhood unofficially extends into Downtown Eastside.
Within the official borders of Vancouver Chinatown, the commercial hub is centered on Pender and Keefer Streets. Just beyond those borders, though, Main Street runs along DTES and adds to Chinatown's mix of commercial and cultural experiences.
East Pender Street hosts numerous Chinese association buildings, with ground floors leased to restaurants and stores. The block between Main and Gore Streets is primarily occupied by Chinese grocers, butchers, and restaurateurs.
Time Zone
Pacific Standard Time (PST) (UTC-8)
Best Time to Go
The best time to visit Vancouver's Chinatown is during Chinese New Year which typically falls in January or February.
During this time, people gather to immerse themselves in Chinese culture as they watch the festive parade and witness traditional Chinese customs.
Another great time to go is in mid-July or August, when the Vancouver Chinatown Festival occurs. On the weekends, the streets are filled with Chinatown's culinary delights and a lot of performances such as martial arts demonstrations.
If you want to explore the neighborhood at a more relaxed pace, you should visit Chinatown during weekdays, particularly in the morning or early afternoon when there are smaller crowds.
Things to Know
Currency: Canadian Dollar
Language: English
Calling Code: +1
How to Get There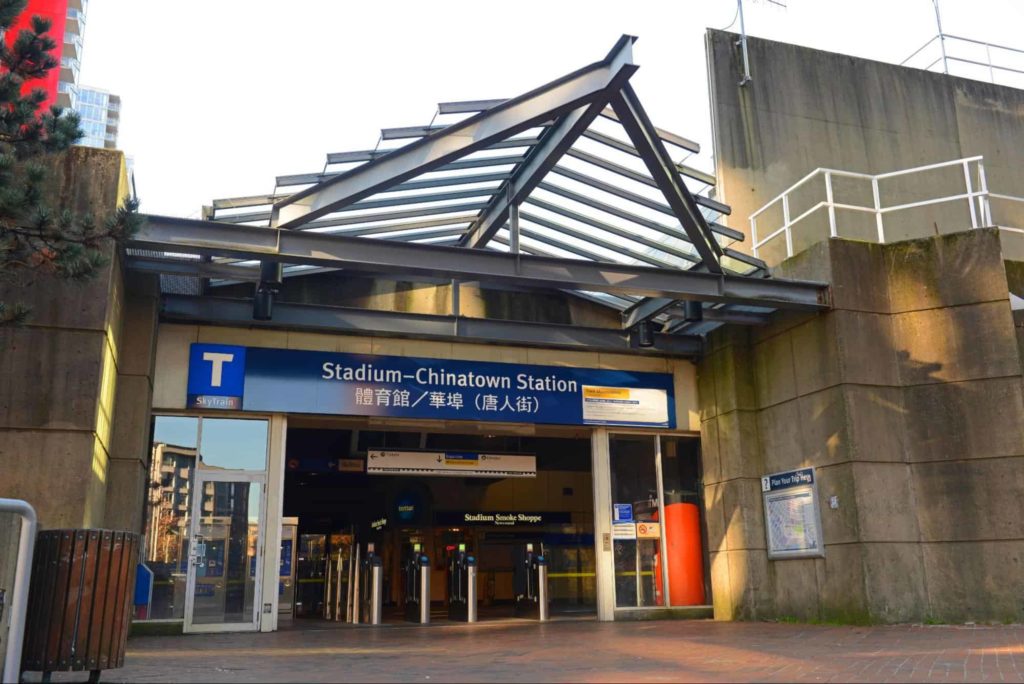 Trains: You should board the Expo Line and get off at Stadium-Chinatown Station if you're going to Vancouver Chinatown. 
Coming from downtown, the train is heading eastbound towards King George Station. The Stadium-Chinatown Station is the third stop, so you only need around five minutes to get there from Waterfront.
You'll be out on Beatty Street once you get off at Stadium-Chinatown Station. Just follow the signs towards the Expo Boulevard exit for Rogers Arena and Chinatown and turn left onto Abbott Street.
West Pender Street should appear in about 300 meters. Turn right and you'll see the entrance to Vancouver Chinatown, the iconic Millenium Gate.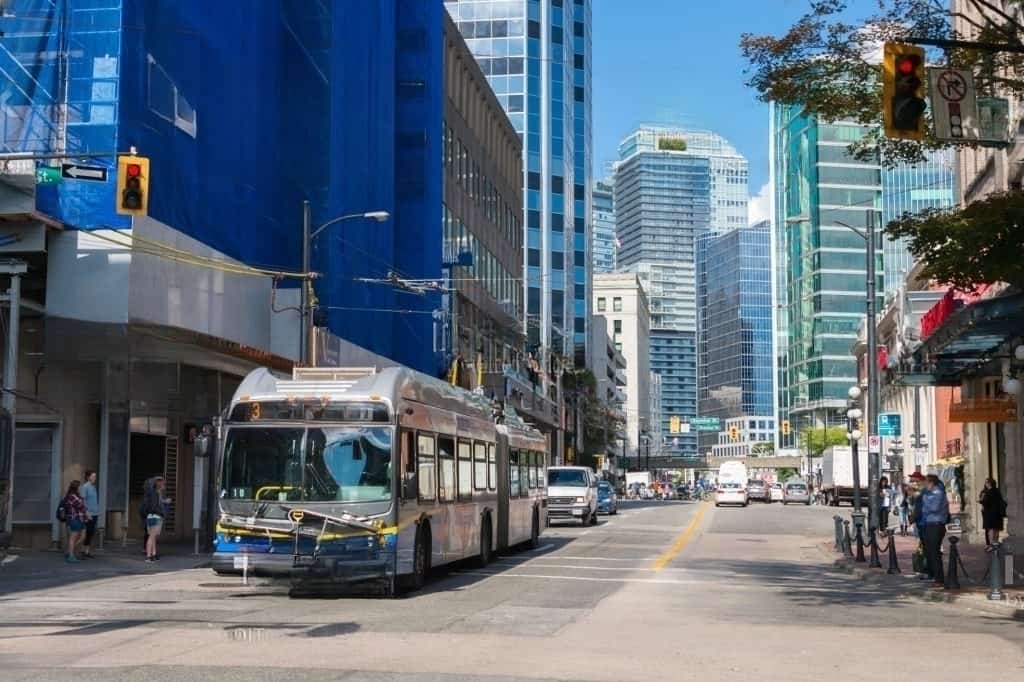 Buses: Depending on your starting point, you can take one of these bus routes to reach Chinatown: 8, 16, 19, 22, 23, and 210.
Once you are in downtown Vancouver, you can get off at any of the bus stops along Main Street, Keefer Street, or East Georgia Street. From there, you can walk towards Chinatown by following the signs or using a map for guidance.
Note that bus routes and schedules can change, so it's best to always check the latest information through TransLink's official website or their mobile app for the most up-to-date transit options.
Taxis: If you need a taxi to go to Chinatown, you'll find plenty of options with companies like Vancouver Taxi and Yellow Cab serving the area. Ride-sharing services like Uber and Lyft are another convenient option.
Car service: If you'd rather have your own wheels to explore the city at your own pace, you can rent a car from agencies like Classique Car Rental.
Where to Stay in Vancouver Chinatown
YWCA Hotel Vancouver
Address: 733 Beatty St, Vancouver, BC V6B 2M4
Phone: (604) 895-5830
Pricing: $$
Book Now
With its excellent location near both Chinatown and Yaletown Metro stops, guests at YWCA Hotel Vancouver will have easy access to the city. They also offer a variety of single rooms, including an option with shared bathrooms that provides good value.
Plus, the rooftop space offers a lovely spot to enjoy a beautiful sunset.
L'Hermitage Hotel
Address: 788 Richards St, Vancouver, BC V6B 0C7
Phone: (604) 682-5555
Pricing: $$
Book Now
Just on the fringe of the city center, L'Hermitage Hotel offers a nice alternative to larger chain hotels. If you're coming from or going to the airport after your stay, you only need eight minutes to get to the nearest SkyTrain station on foot.
The hotel has an underground car park. But if you prefer to park at the nearby open lot, use it only during daytime hours for added safety.
Georgian Court Hotel
Address:773 Beatty St, Vancouver, BC V6B 2M4, Canada
Phone:+1 778-327-4100
Pricing: $$
Book Now
Georgian Court Hotel makes it convenient for guests to cross neighborhoods from Chinatown to Yaletown to the bustling financial district. The hotel's chic contemporary design and extensive amenities also create just the right atmosphere for unwinding.
Enjoy Southern Italian flavors in their on-site restaurant, Frankie's Italian Kitchen. If you're into jazz music, check out the shows lined up at Frankie's Jazz Club every Thursday to Sunday at 8 PM.
EXchange Hotel Vancouver
Address: 475 Howe St, Vancouver, BC V6C 2B3, Canada 
Phone: (604) 563-4693
Pricing: $$
Book Now
Whether you want to go to Chinatown, visit Stanley Park, or drink some craft beer in Gastown, you'll find it all just steps away from the EXchange Hotel Vancouver.
They also have a knowledgeable concierge team. They can assist with making reservations, provide insider tips for tourists, and help arrange transportation for their guests.
Victorian Hotel
Address: 514 Homer St, Vancouver, British Columbia V6B 2V6
Phone: (866) 266-3306 
Pricing: $$ 
Book Now
Aside from sporting historic charm and modern aesthetics, the Victorian Hotel puts you close to all the fun attractions, restaurants, and shops in Vancouver.
If you take West Pender Street, you'll need nine minutes to stroll from the hotel to Chinatown. Admire the unique blend of Chinese and Western influences on the buildings while you're at it.
Where to Eat in Vancouver Chinatown
Bao Bei
Address: 163 Keefer St, Vancouver, BC V6A 1X4, Canada
Phone: +1 604-688-0876
Pricing: $$
Website
Bao Bei is a popular restaurant in Vancouver Chinatown with a cool modern take on traditional Chinese dishes like dim sum, Shan tofu, and sticky rice cakes. Be there early, though – evenings are pretty busy for them and they don't take reservations. 
Sai Woo
Address: 158 E Pender St, Vancouver, BC V6A 1T3
Phone: 604-568-1117
Pricing: $$
Website
Sai Woo pays homage to its historic namesake, Sai Woo Chop Suey, with a modern twist on globally-inspired cuisine. Their menu, which features galbi truffle pasta and tartare, shows that well.
Honestly, some dishes are hit or miss. What you can't go wrong with is their selection of signature cocktails.
Kissa Tanto
Address: 263 Pender St E, Vancouver, British Columbia V6A 1T8 Canada
Phone: +1 778-379-8078
Pricing: $$
Website
Kissa Tanto brings together Japanese and Italian flavors in unique dishes like the Tajarin pasta that's dressed with butter, miso-cured egg yolk, and parmesan.
The restaurant earned a Michelin star in 2022, so it's worth a visit if you're looking for an exceptional dining experience, or you're just plain curious.
The Ramen Butcher
Address: 223 E Georgia St, Vancouver, BC V6A 1Z6, Canada
Phone: +1 604-806-4646
Pricing: $
Website
The Ramen Butcher is a popular spot specializing in Hakata-style Tonkotsu Ramen. If you like your broth rich but not overpowering, then you should get your ramen fix here.
Their noodle portions are generous, but in case you need it, here's our tip – your first kaedama (noodle refill) is on the house.
Social Crust Cafe
Address: 335 West Pender Street Vancouver, BC V6B 1T3, Canada
Phone: +1 604-684-3352
Pricing: $
Website
Social Crust Cafe & Catering serves quality sandwiches and soups, with prices typical for lunch spots downtown. As Social Crust is a social enterprise of Coast Mental Health, you're also supporting youth facing employment barriers whenever you dine here.
Chinatown BBQ
Address: 130 E Pender St, Vancouver, BC V6A 1T3
Phone: (604) 428-2626
Website
Chinatown BBQ makes it to our list of the best barbecue joints in the city. If you haven't yet, try their BBQ pork and duck (or goose).
Their prices are extremely reasonable, so you can indulge in the Four Treasures Chef Plate without any guilt.
What to Do in Vancouver Chinatown
Follow a Local Expert on a Guided Tour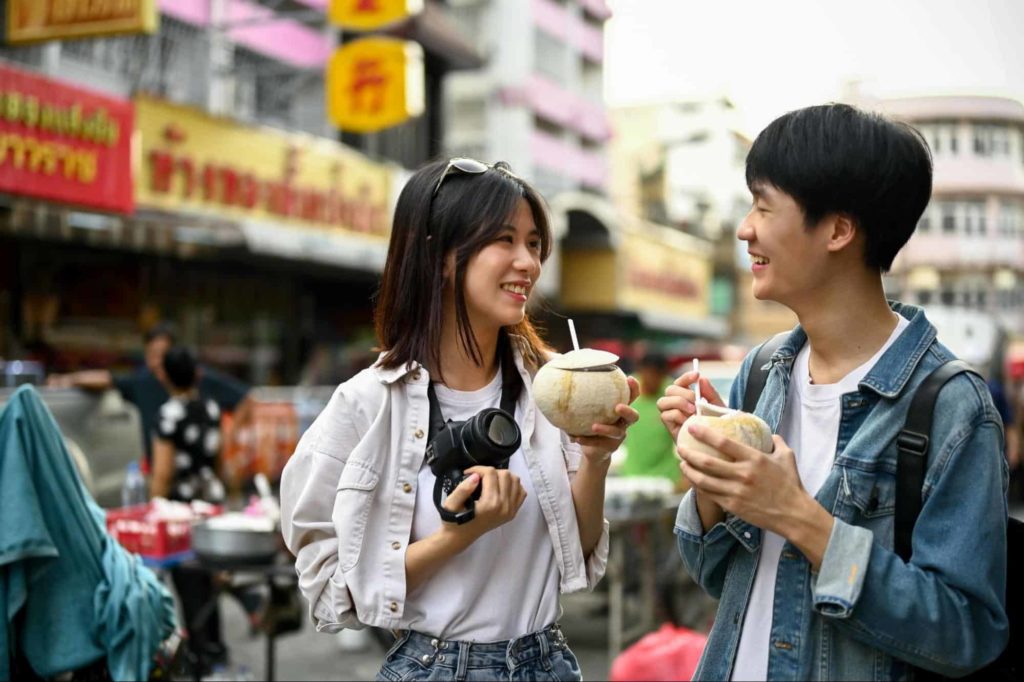 If you happen to find a local who's eager to show you around, consider yourself lucky. But if you don't, there are many fantastic tours available that offer a similar experience in a shorter time frame.
Food lovers will enjoy the popular "A Wok Around Chinatown" tour with chef and tour guide Robert Sung. Those who are curious about the neighborhood's cultural heritage can take one of the Historical Chinatown Tours led by expert Judy Lam Maxwell.
Take an Architectural Walk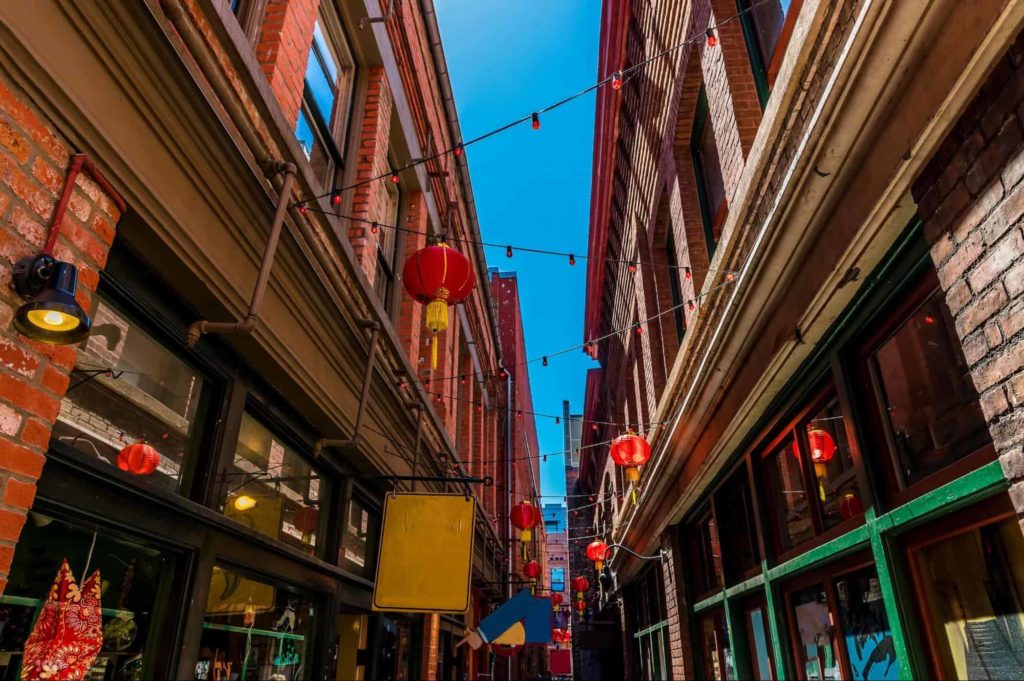 Exploring the streets of Vancouver Chinatown is a treat for the eyes, with several architectural stand-outs to spot along the way. We followed the City of Vancouver's recommended route and discovered over six points of interest.
Our favorite? It's a tie between the Shanghai Alley (from which the Chinatown expanded) and Sam Kee building (known as the world's narrowest building based on the Guinness Book of World Records).
Visit Chinatown Storytelling Center and/or Chinese Canadian Museum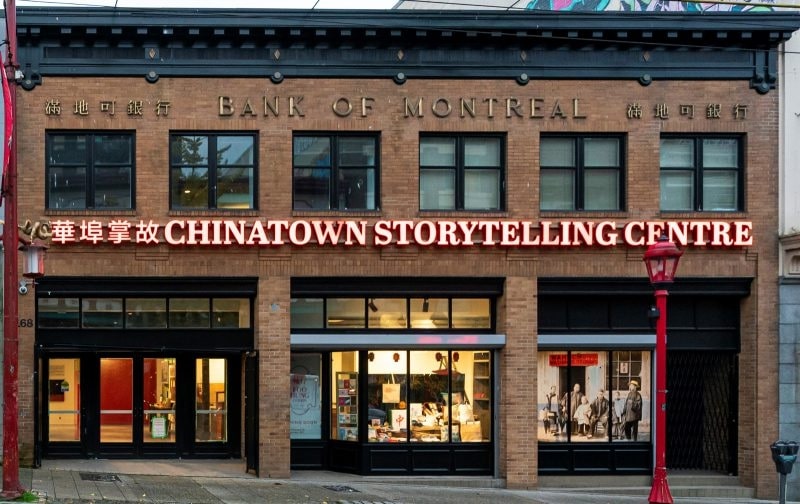 Just its mission to preserve memories of the neighborhood is enough to make the Chinatown Storytelling Center a special place. Listening to oral histories, we felt how meaningful (almost sacred) the place was as it honored this Chinatown community.
Now, if you're seeking to connect with the broader narratives of the Chinese in the country, we suggest also stopping by the Chinese Canadian Museum. 
Visit the Dr. Sun Yat-Sen Classical Chinese Garden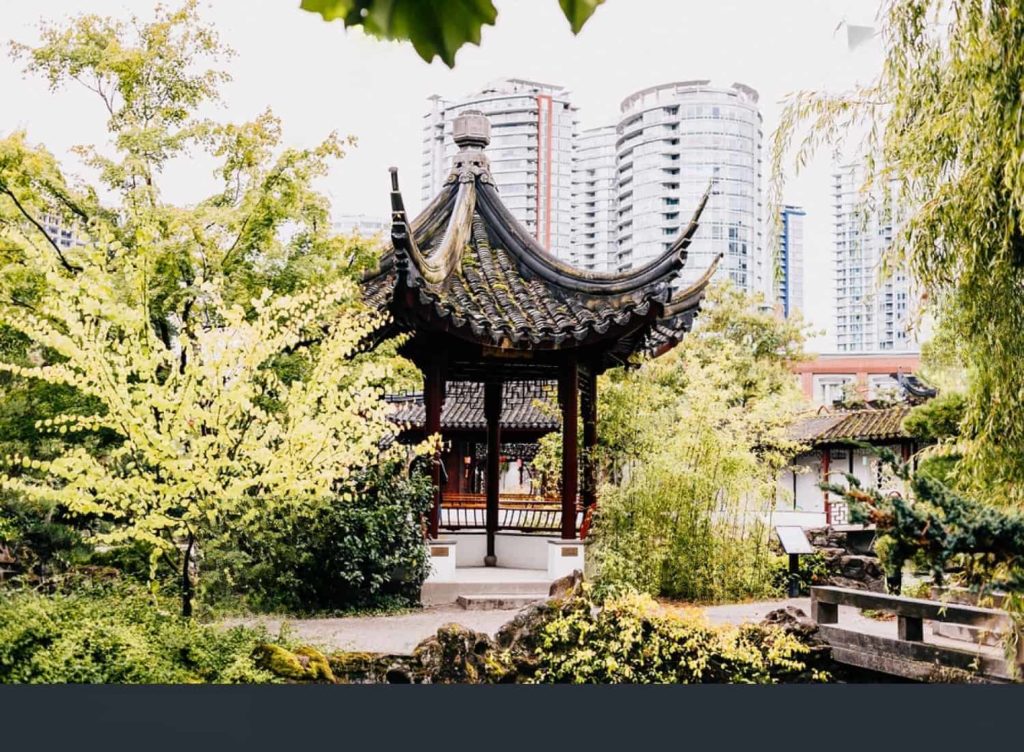 Dr. Sun Yat-Sen Classical Chinese Garden stands as the largest traditional Chinese Scholar's Garden outside of Asia. Even if no one knows that, though, its sheer beauty is enough to draw anyone in.
You can explore alone and appreciate the ornate pavilions and winding pathways to the serene water features and lush greenery.
If you want to get insights into Chinese garden design and philosophy as you look around, the garden also offers cultural programs and guided tours.
It's a paid attraction, though, so if you prefer to skip the admission fee, there's the adjacent Dr. Sun Yat-Sen Park which offers a taste of the garden's ambiance without any cost.
Take Part in the Chinese New Year Parade
Attending a Chinese New Year parade is the quintessential must-do when you're in Vancouver Chinatown. So, if possible, plan your visit to coincide with the festival.
Be prepared for large crowds, so plan ahead to secure a spot with a clear view. Once the marching band and lion dances kick off, you'll be quick to understand why so many people flock to the neighborhood this time of year.
If you have spare time, make sure to drop by the International Village or the Sun Yat Sen Garden. These two go all out to welcome the new year with a bang – stalls (at least for the mall), performances, decor, and all!
Other festivities are also worth checking out, such as the Vancouver Chinatown Festival and Mid-Autumn Festival organized by the Vancouver Chinatown BIA Society.
Where to Shop in Vancouver Chinatown
Bamboo Village
Address: 135 East Pender St. Vancouver, BC. Canada
Phone: (604) 662-3300
Pricing: $$
Website
Bamboo Village is a beloved family-owned store located in the heart of Vancouver's Historic Chinatown. You won't miss the round sign with the bamboo-eating panda in front of the store.
The best part? You can get cool housewares, antique furniture, or tropical plants without breaking the bank.
Treasure Green Tea Company
Address: 227 E Georgia St, Vancouver, BC V6A 1Z6, Canada
Phone: (604) 687-4181
Pricing: $$
Website
Treasure Green Tea Company is a favorite spot among locals and visitors alike. Their tea blends, carefully crafted with a mix of tea, sugar, fruit, and herbs, cater to both tea enthusiasts and casual drinkers.
The immersive experience is a highlight, as the owner takes the time to guide you through the tea-steeping process. Remember to grab some take-home sachets so you can enjoy their tea after leaving the neighborhood.
OCHI Qipao
Address: 121 E Pender Street Vancouver, BC V6A 1T6
Phone: (604) 683-3698 
Pricing: $$
Website
OCHI Qipao is a go-to store for traditional Chinese outfits. The store houses a colorful array of outfits that come all the way from China and Hong Kong.
Check out the room in the back if you're looking for a hand-embroidered wedding dress. You can leave with the best fit for their unlimited alterations policy worth CAD 10.
Decor of China Furniture & Home Collection
Address: 122 East Pender (Chinatown) Vancouver, B.C. Canada 
Phone: (604) 681-5099
Pricing: $$
Website
Decor of China carefully selects items from China, restores them to their original beauty, and ships them to Vancouver. If you're looking to add a touch of history and elegance to your space, this store has great pieces worth considering.
Tips When Visiting Vancouver Chinatown
Take your time to explore. Vancouver Chinatown is a culturally rich neighborhood, so if you have time, don't rush through it. Take the time to stroll through the streets, visit the shops, and soak in the atmosphere.
Respect the culture. Observe guidelines or etiquette, such as wearing proper dress when visiting temples like Yanviriya Temple and being mindful of noise levels during ceremonies.
Keep an eye out for street art. The colorful graffiti add a visually captivating element to the neighborhood. They're also deeply layered since during the pandemic, street art has also become signs of strength and resistance against discrimination.
Exercise caution. DTES, which sits right next to Chinatown, is facing some drug and housing-related social issues. It's best not to wander alone at night and to steer clear of unfamiliar areas.
What to Expect from Chinatown Weather
Spring: Spring in Vancouver Chinatown brings mild temperatures ranging from the mid-40s to mid-60s Fahrenheit (7-20˚ Celsius).
Summer: In the summer, Vancouver Chinatown enjoys pleasant temperatures ranging from the mid-60s to 70s Fahrenheit (19˚C – 23˚Celsius). June can still experience some rain, while August tends to be hot and dry.
Fall: Temperatures are milder, ranging from the low-40s to mid-60s Fahrenheit (5-18˚ Celsius). September can still be warm so it's still a good time to explore outside.
Winter: In winter, the temperatures range from the low-30s to low-40s Fahrenheit (0-5˚ Celsius). Expect cool weather if you're attending the Chinese New Year Parade.
Apps to Download for a Trip to Chinatown
Vancouver Maps and Walks: Follow recommended self-guided routes
iOs | Android
Vancouver Transit Live: Get updates on bus schedules in real-time
iOs | Android
OpenTable: Reserve tables at restaurants to avoid the long wait
iOs | Android
Too Good to Go: Get surplus food from supermarkets and restaurants at a discount
iOs | Android