The 9 Best Dietitians in Vancouver
Today, people are more aware than ever of how a healthy diet can improve their quality of life. That's why there's a need for dietitians: so people can consult them about their nutritional needs and create a nutrition plan around them.
We wanted to help all those seeking dietitians capable of delivering what they need, so we made this list. Through the help of surveys and lots of inquiry, we ended up putting together this list of the best dietitians in Vancouver.
How much does getting a dietitian cost in Vancouver?
Dietitians are often transparent about their fees. Many of them also offer service packages aside from their one-on-one consultation.
Here is the table showing the fees of the dietitians we listed in our article:
Dietitian
Fees
Adrienne Ngai
Elite Weight Loss Coaching: $7500
Vancouver Dietitians
Kickstarter: $150
Lifestyle: $250
Transformation: $450
Jessica Chan
By request only
Yaletown Nutrition
Jump start: $175
Momentum: $375
Habit Changer: $575
Grocery Store Tour: $100
Shift Nutrition and Counselling
50-minute session: $225
Connected Eating Program: $997
BC Dietitians Inc.
Contact for more information
AAA Nutrition
Initial Nutritional Assessment (60 minutes): $175
50-minute session: $150
30-minute session: $90
Nutrition Package: $500
Frankie Reinbolt
Contact for more information
A bit of a disclaimer, but the prices listed here don't include taxes and can go higher or lower depending on certain factors.
The Best Dietitians in Vancouver
Think you already have the budget for a dietitian? Great! Let's head to the list to find out what makes our choices Vancouver's best dietitians.
1. Adrienne Ngai
| | |
| --- | --- |
| SERVICES | ● Elite Weight Loss Coaching |
| ADDRESS | 1892 W Broadway, Vancouver, BC V6J 1Y9, Canada |
| WEBSITE | https://www.adriennerd.com/ |
| OPERATING HOURS | Monday-Friday: 9:30 AM – 8:00 PM |
Although her office hours are short and closed during the weekend, Adrienne Ngai is a great choice for a dietitian in Vancouver. She has been a registered dietitian for more than 7 years and is also a certified diabetes expert.
With her personal experience in battling weight, she created the elite weight loss coaching. Aside from helping her clients choose healthy foods, she integrates self-care and mindset coaching because she believes it is essential for weight loss.
This might be a bit less inclusive than others, as her plan is focused on weight loss. We understand that weight loss is required for some illnesses, but it might slightly alienate those with, say, eating disorders.
However, if weight loss is something you need, she's a solid dietitian who can offer you personalized diet plans. Of course, she can also work around your personal food preferences and allergies.
Moreover, you can pay for her services in installments, which is a welcome option. No need to drop that $7500 in just one go.
For some people, though, this amount can be a bit expensive. After all, she's just offering six-month coaching.
But if you can afford it, we still do think it's worth it, as our survey of her past clients showed Adrienne Ngai has proven results. We found many cases of her helping clients get fit within just six months.
Registered dietitian for 7 years
Offers weight loss coaching
Includes self-care advice
Allows payment in installment
Short office hours
Only offers a weight management program
Coaching is only for six months
Customer Reviews
Here are some testimonials from previous clients:
"I have learned so much in the past 3 months and the way I think about food and eat food has changed for the better. Adrienne is a very knowledgeable professional whose passion is helping people. She will not give up on you and will always find the positive. This is not a cookie cutter approach or a gimmick but teaches you to eat a well-balanced diet and to lose weight in a slow sustainable way. The mind set practises where particularly helpful for me. I have lost close to 25 lbs which was my goal." – Glenn Doupe
"Adrienne has been extremely helpful. My wife has got rid of migraines and has developed a healthy eating habits and got abundant knowledge on how to eat a balanced diet. My wife has got good results so far in weight loss too. She has all the solutions to maintain a sustainable diet that works for everyone without any restrictions. Highly recommend!!" – Hardik Parmar
2. NutriProCan Dietitians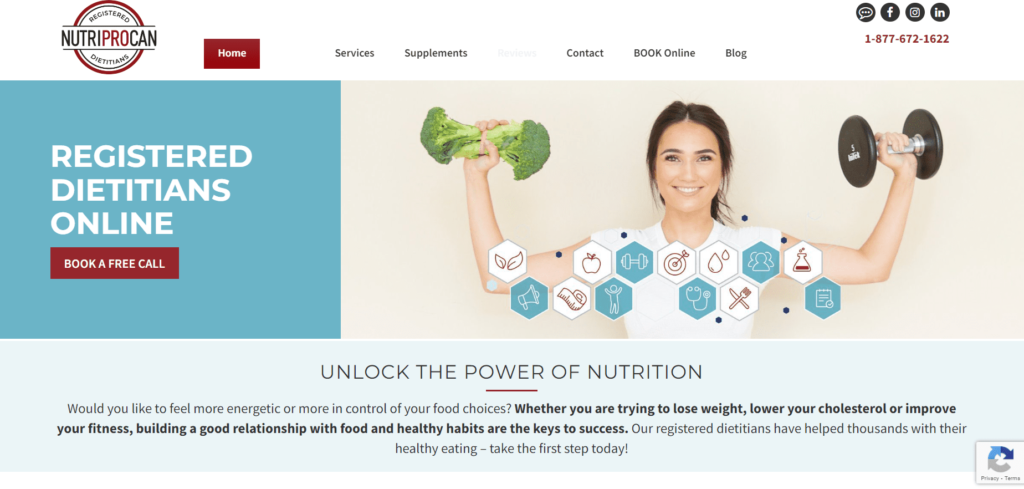 SERVICES
Nutrition Counselling for Most Health Concerns and Goals
Weight Loss Program
DNA Testing for Nutrition
Seminars
Workplace Wellness
Menu Reviews
CONTACT DETAILS
Email:

[email protected]


Toll-free: 1-877-672-1622
WEBSITE
https://nutriprocan.ca/
If you are looking for expert and licensed dietitians who can help you manage your diet in Vancouver, then you might want to check out NutriProCan. These professionals are world-class when it comes to nutrition and they can help you with even the most difficult of diets.
Equipped with an all registered dietitian team, NutriProCan offers diet and nutrition services whether you are looking to lose some weight, lower cholesterol levels in your blood, or improve fitness, their team believes that building healthy habits and a healthy lifestyle are key to reaching a healthier you.
NutriProCan offers a range of nutrition services including Nutrition Counselling and Coaching designed to help provide customized programs for different health concerns and lifestyles.
Moreover, their team collaborates closely with their clients in order to customize their nutrition counselling program to each individual's needs. In fact, your participation will make sure your plan is personalized for your lifestyle, work schedule, and dietary preferences to make sure your plan is realistic and works for you.
Their services also include programs for weight loss, seminars and workshops for wellness, and other nutrition and diet-related services for individuals, families, and organizations.
They also provide recommendations for supplements, depending on their client by doing a full or initial assessment review to determine the best supplements for you.
All-in-all, NutriProCan and its team of professionals can serve you a healthier life where you can enjoy it confidently every day!
All dietitians are registered and licensed 
Provides specialized programs for different health conditions such as IBS and Liver Health
Offers free 20-minute consultations
Offers evening and weekend appointments
Offers online consultations
Their team includes dietitians who specialize in East Indian, Middle Eastern and Italian cuisines to name a few.
No French-speaking dietitian is available
Customer Reviews
Customer Review:
The right choice for me and you
"I've had IBS for a very long time and never knew what to do. I tried different medications and they had more side effects than benefits. So I decided to contact Nutriprocan after reading all the reviews. And it has been one of the best decisions of my life. I met Nishaat who guided me through my journey. She is very detail-oriented and knows how to work with you, your lifestyle your preferences…..She is just amazing. This has been the best investment I have done in a very long time. All I have to say is to invest in your health and life gets better. And a huge Thank you to Nishaat!" – Sue K.
Motivational, pleasant experience
"I met Nav a year ago. During our initial meeting, I expressed many concerns. I knew I had to change my lifestyle, but I did not know-how. Nav understood me; she held my hand and guided me to the right path! Fast forward to one year later, I made progress! I now make better food choices and have taken my health more seriously. She is motivating and always knew the right words to say even if I was doubting myself. It was truly a very pleasant experience to have worked with her!!" – Lucy Carone
3. Vancouver Dietitians
SERVICES
● Consultation and Recommendation Packages
● Media & Brand Partnerships
● Grocery Store Tours
● Presentations & Workshops
● Cooking Classes
ADDRESS
3077 Granville St #201, Vancouver, BC V6H 3J9, Canada
CONTACT NUMBER
604-737-7309
WEBSITE
https://www.vancouverdietitians.ca/
OPERATING HOURS
Monday-Friday: 9:00 AM – 9:00 PM
Saturday: 9:00 AM – 3:00 PM
Vancouver Dietitians was founded by two registered dietitians, Alexandra Imman and Stephanie Dang. Today, they are a team of 4 people with different specialties and years of experience as a dietitian.
They have less of a focus on weight loss and focus more on the overall digestive and nutritional health. 2 people in their team specialize in helping people with eating disorders, while some have experience with children's diet and sports nutrition.
Vancouver Dietitians offers different plans for those with different budgets as well. Their prices range from $150 to $450, which we think is a good price range.
If you're wondering what's involved at each price tier, the cheapest one includes a 45-minute consultation and a summary of recommendations. The next tier for their program costs $250 but also includes a follow-up consultation.
Meanwhile, the last one is $450 but has three follow-up consultations. Obviously, that's the one to go for if you want more granular advice and diet planning.
Unfortunately, recipe suggestions and meal ideas aren't included. You have to pay a separate fee just to get those.
We don't mind it that much though, as they also offer cooking classes and grocery tours. You can just check their website too for some recipes that are suitable for your recommended diet.
Although if you indeed contact them, just make sure that you message during the weekdays and Saturday mornings. They're closed on Sundays and have shorter office hours every Saturday.
A team of 4 dietitians
Offers different packages for people with different budget
Focus on nutritional health and digestive health
Has cooking classes and grocery tours services
Recipes are available on their site
Less focused on weight loss if that's why you need a dietitian
Recipe suggestions and meal ideas have add-on payments
Short office hours during Saturdays
Customer Reviews
These customers explained their experience with Vancouver Dietitians:
"Alexandra provided an informative session that gave me useful and inspiring strategies but didn't overwhelm with details. The meal plan will be helpful, too. I like her focus on overall healthy eating, rather than counting calories. We didn't say the word "calories" once. I am already making small changes that hopefully will have big results." – Mitchell Gray
"Stephanie has really been helpful with helping my son address his disordered eating thoughts & behaviours. He has made lots of progress already after only 2 appointments." – Zara Burgess
4. Jessica Chan
SERVICES
● Individual Consultations
● Grocery Store Tours
● Corporate Workshops
● Nutrigenomix
ADDRESS
900 West Hastings St, Suite 800, Vancouver BC, V6C1E5
CONTACT NUMBER
778-888-8087
WEBSITE
https://www.jessicachanrd.com/
OPERATING HOURS
Monday-Friday: 9:00 AM – 6:00 PM
Jessica Chan has been a registered dietitian for more than a decade. She's even been interviewed by the press a lot due to her expertise and academic background.
She doesn't only offer weight management but also offers nutritional genetic testing. The nutritional genetic testing or Nutrigenomix is pretty interesting, actually.
It analyzes your genes to help create a more personalized diet. The genes can show potential for developing certain illnesses, which helps dietitians plan for those in their advice.
Jessica Chan actually has some of the more varied services we found among our options. She even offers grocery tours so you can choose the right food to get and learn about nutritional labels.
However, we did notice that she doesn't create diet plans for those with disordered eating. Another thing we noticed is that she doesn't have her prices public like many other dietitians do nowadays.
On the other hand, as she's a registered dietitian, you can use insurance for consultations. That means getting a one-on-one consultation won't be that difficult for your wallet.
Overall, we think Jessica Chan is one of the best dietitians in Vancouver due to her knowledge and unique services.
Registered dietitian for decades
Offers Nutrigenomix
Has grocery tour service
You can use insurance here
Prices for her services aren't available in public
Limited to just weight loss
Customer Reviews
According to these reviews, Jessica Chan is a helpful dietitian and has guided them to their health goals:
"Jessica was fantastic! You definitely get your money's worth. She provided me with very useful and knowledgeable tips and filled the entire hour of time. She tailored her recommendations to my personal goals and routine and provided personalized tips. She was very professional and made me feel comfortable during our meetings. I would highly recommend Jessica to anyone looking to get their nutrition and diet in order" – Becky Mildon
"Jessica is extremely professional and a great listener. She tailors her recommendations to my lifestyle and suggests step by step changes toward a better diet. I really appreciate the information and recommendations she has made for me. Definitely one of the best dietitians I have met!" – Jane Xia
5. Yaletown Nutrition
SERVICES
● Consultation Packages
● Grocery Store Tours
ADDRESS
1118 Homer St, Vancouver, BC V6B 2G2, Canada
CONTACT NUMBER
604-992-3890
WEBSITE
https://yaletownnutrition.com/
OPERATING HOURS
Monday & Thursday: 9am–7pm
Tuesday & Wednesday: 4–8pm
Friday 1–6pm
Liz Powell runs Yaletown Nutrition. Her areas of concern as a dietitian range from common healthy food management to gut health.
That might seem a bit narrower compared to the areas of concern covered by other dietitians. But her focus and specialization in those areas help her give better quality advice since they're her areas of expertise.
One thing we love about her is that she's an inclusive dietitian and focuses more on eating healthy food rather than losing weight. Rather than measuring progress through your weight, she will measure progress based on your energy levels and the variety of your diet.
She also has a number of service packages with inclusions besides the consultation, which is a plus for us (we like variety here, because options are always good). The package prices go up to $575, with the lowest being $175.
For example, the Habit Changer package, the most expensive package, has an initial 90-minute consultation, 4 follow-up consultations, meal planning guidance, goal setting, email support, and access to her portal.
She can also do grocery tours where she teaches you how to pick nutritious food, save money on groceries, and choose the freshest fruits and vegetables.
Just be aware, though: she has a fee if you cancel less than 24 hours from your schedule. We understand why there's a fee, of course, though we know some won't like it.
Despite having some cons, Yaletown Nutrition shows that she's really one of Vancouver's top dietitians for her inclusive practice and her knowledge of the practice. We don't have a problem recommending her.
Inclusive and doesn't focus on weight alone
Different service packages with many inclusions
Offers email support when needed
Grocery tours that aren't just about learning nutritional labels
Limited practice areas
Has a cancellation fee
Customer Reviews
These reviews show what sessions are like here:
"Liz is caring, kind and very knowledgeable. I had three sessions with her over the last few months and I gotta say she is truly AMAZING. First, she carefully listens to you and asks many questions to fully understand your lifestyle. Then, she comes up with a smart plan that is exactly customized to your needs and goals. She considers all sides of you as a human and doesn't focus on unsustainable getting-in-shape-super-quick style. Her sessions are also fun and very informative as she simply explains the reason behind any action. In a nutshell, her recommendations are excellent both for your body and mind. Thank you very much, Liz!" – Iman
"I went to see Liz this year for help doing a complex elimination diet for food sensitivities. I've been vegan for 20+ years, but needed to go on a fairly restrictive diet temporarily to rule out food sensitivities to gluten, corn, legumes, etc. Liz was so helpful in making sure I was meeting my nutrition requirements while on this diet, and also helping me test various foods so I could make my diet less restrictive and I had more options day-to-day to meet my needs. I'm a bit of a nutrition nerd myself and I was worried I wouldn't get a lot of new information I didn't already know, but Liz is super knowlegeable and I learned lots from her. Thanks Liz!"
6. Shift Nutrition and Counseling
SERVICES
● Connected Eating Program
● Individual Sessions
CONTACT NUMBER
604-202-3149
WEBSITE
https://shiftnutrition.com/
OPERATING HOURS
Monday-Thursday: 10:00 AM – 5:00 PM
Friday: 10:00 AM -4:00 PM
Weight management is not just about changing your diet but your mindset too. Shift Nutrition and Counseling acknowledges that we need to approach the psychological issues that cause bad eating habits.
This clinic is led by a registered dietitian and counsellor, Jessica Begg. She offers a non-diet approach that we're sure many of those with disordered eating habits will appreciate.
While she doesn't offer service packages, there are two types of services you can choose from. One is the individual counseling while the other is the 'Connected Eating Program'.
The individual counseling is a one-on-one 50-minute session. With a Health at Every Size® or HAES approach, this is not the conventional weight loss plan you might be expecting,
On the other hand, the 'Connected Eating Program' helps remove emotional eating habits by teaching intuitive eating habits and understanding the body's needs.
Aside from pre-recorded modules in the program, it includes 90-day group sessions and lifetime access to a private community.
Even though this program sounds impressive, we're still disappointed that there's no actual one-on-one session package offer. For one-on-one sessions, Shift Nutrition and Counseling only offers individual sessions.
If you're unsure which of those two to get, Shift Nutrition has a free 10-minute phone consultation where you can decide whether to have one-on-one consultations or group consultations.
So, when you're not looking to lose weight and just want to be healthier by improving your mindset with food, then Jessica Begg is one of the best dietitians to visit in Vancouver.
Inclusive non-weight loss approach
Offers counseling
Has two programs you can choose from
Lifetime access to a support community
Offers a 10-minute by-phone consultation
Doesn't offer different service packages
Individual consultations don't have other inclusions
The 'Connected Eating Program' doesn't have individual consultations
Customer Reviews
These reviewers talk about how Jessica Begg is like as a dietitian:
"I heard about Jessica Begg from a friend who had a very good experience working with her. I was looking for nutritional support last year after I came back from a trip with a bad gastrointestinal parasite. Jessica at Shift Nutrition was a huge factor in helping me get better. She was incredibly knowledgeable and very focused on my individual needs. She asked lots of insightful questions and came up with a tailor-made plan to address my particular symptoms, and she updated the plan as I got better and my needs changed. Jessica is a very sympathetic and insightful nutritional and wellness counsellor, and I continued to see her even after I was rid of the parasite to resolve some lifelong eating habits. I highly recommend Jessica Begg to anyone looking for wellness and nutrition services!" – Pippa Shepherd
"I'm always impressed by Jessica knowledge of health and nutrition. She has educated me on many eating and food myths which have helped me look at food different. I like visiting Jess as she is calm and a good listener.I find she likes to build a relationships in order to understand your needs. Highly recommended" – Joanna Barstad
7. BC Dietitians Inc.
SERVICES
Women's Health Services, Sports Nutrition, Weight Loss Services, Pediatrics, Meal Plans, Vegan Services, Gut and Digestive Issues, Food Allergies and Sensitivities, Diabetic Services, Eating Disorders and Disorder Eating Services, Healthy Aging Services
CONTACT NUMBER
FAX: (604) 398-8365
[email protected]
WEBSITE
https://www.bcdietitians.ca/
OPERATING HOURS
Contact for more details
BC Dietitians Inc. is a group of registered dietitians who share a common goal and passion for the said profession and for the welfare of their clients. They are composed of dietitians who are sufficiently accredited and have undergone careful screening for clients looking for the said specialist around the BC area.
It is an online directory that provides a collective list of qualified nutrition experts in which clients may treat as a central hub in order to reach out to the dietitian of their choice. Their website is easy to navigate and straightforward which provides clients hassle-free information in order for them to acquire contact and service information.
These experts all share mutual beliefs when it comes to the treatment and approach of their services as they believe in achieving goals with evidence-based practices to produce exemplary standards and goal-centered results.
We recommend BC Dietitians Inc. for clients looking for a dietitian and/or nutritionist that is both accredited and professional in both approach and work ethics. They encourage the consultation of such a profession due to their firm belief that aspects such as breakfast, lunch and dinner matter a lot in the welfare of the family.
Serves as a collective list of professionals
Contains comprehensive contact information
Website is easy to navigate
Only guides clients in connecting to a nutrition expert
8. AAA Nutrition
AAA Nutrition is a company that specializes in providing Dietitian counseling and consulting services and is founded and led by Shallah Panjwani who a Registered Dietitian is also. The company is also specifically geared toward adolescents and adults who are having issues and are struggling with weight management, anorexia, bulimia, and/or related eating disorders.
The company prides itself on providing a unique approach in the said industry that capitalizes on the balance between a compassionate yet comprehensive treatment that is tailored for the needs of each client that they handle. They are committed to giving clients solutions that are practical and life-giving in order for them to have a trust-based relationship with their bodies and the food that they intake.
They also accommodate individuals who are having trouble when it comes to managing chronic conditions related to nutrition. Here they guide clients by teaching them intuitive eating skills, debunking nutritional myths, and facilitating a sane approach to achieving a balanced style of eating in order for the client to achieve optimum results and have a better lifestyle and enjoyment in life.
We recommend this company for individuals looking for a company that offers compassionate yet practical solutions to nutritional issues that they are struggling with and help them toward sustainable and long-term lifestyle changes that will improve their health drastically.
Highly accredited
Wide range of services
Offers compassionate yet practical solutions
Specializes only for adolescents and adults
9. Frankie Reinbolt
Frankie Reinbolt is a Registered Dietitian who is based out of Vancouver, BC. She possesses a unique passion for plant-centered nutrition and healthy eating in which she then tries to integrate the said approach to the clients she handles.
She currently runs a consulting practice in which she aims to improve her client's lifestyle using the plant-based approach that sets her apart from other dietitians due to her authentic focus and unique strategy. Her approach combines both her previous 5-year experience as a Registered Dietitian with that of the latest nutritional research in order for her to help each client she handles.
She is also aware and recognizes that there is a lot of false information regarding nutritional facts and practices to which she and her clients are exposed on a daily basis. Thus, she is driven to enlighten and inform her clients to make sense of the said facts into practical steps and integrate it into an evidence-based approach.
We recommend her due to her unique yet evidence-based approach in handling different cases and due to her high accreditation as an RD and various experiences in interrelated fields such as bariatric, diabetes management, IBS/IBD, celiac disease, and general healthy eating among others.
An active member of Dietitians of Canada and College of Dietitians of BC
Plant-based approaches
Evidence-based strategies
FAQs About Dietitians
---
If you're ready to change your eating habits and move towards a healthier lifestyle, visit one of the dietitians, we've listed here.
Do you think we missed a dietitian? Tell us and we'll review them.
Now, changing your diet might be a good kickstart to improving your health but that's not the only thing you should do. An important part of having a healthy lifestyle is constant exercise.
Don't know where to go to get some physical activity? Well, you can check out our list of the best tennis courts in Vancouver for a fun and social physical activity.