The 4 Best Oral Surgeons in Vancouver
Did your dentist say that you need to get oral surgery? Well, luckily for you, we have a list of the best oral surgeons in Vancouver so you have a good idea of where to turn.
We surveyed locals and even accompanied people we know that need surgery to different oral surgeons to give you the list of the best ones. At the end of our research, the ones on this list were the options who came out on top.
How much does going to an oral surgeon cost in Vancouver?
Before we get to know the best oral surgeons in Vancouver, let's give you an idea of how much your budget should cost.
There are different services that oral surgeons offer. And usually, the prices of those services vary due to the different variables that can affect the surgery.
That being said, here are the current estimates for common oral surgeries in Vancouver:
| | |
| --- | --- |
| Service | Price |
| Wisdom Teeth Removal | $75 and up per tooth |
| Dental Implants | $1000 and up per tooth |
| Teeth Extraction | $75 and up per tooth |
| Exposure of Teeth | $300 and up per tooth |
Remember, the prices listed here don't have the GST included and can vary from surgeon to surgeon.
The Best Oral Surgeons in Vancouver
Already set a budget? Now you can check out the Vancouver-based oral surgeons who topped our list!
1. Dr. Graham Grabowski
SERVICES
● Wisdom Teeth Removal
● Dental Extraction
● Dental Implants
● Bone Grafting
● Exposure of Bonded Teeth
● Biopsy
● Jaw Surgery
● Trauma
● CBCT
● Neuromodulator
ADDRESS
2425 Oak St #530, Vancouver, BC V6H 3S7, Canada
CONTACT NUMBER
604-736-0440
WEBSITE
https://www.oralsurgery.ca/
OPERATING HOURS
Monday – Friday: 9AM-4PM
As a certified specialist surgeon, Dr. Graham Grabowski gained his experience in BC Children's Hospital and continues to study and gain knowledge to improve his techniques.
His dedication to his job shows in his private clinic. In fact, he's pretty thorough when explaining the situation and we bet that his experience with the children's hospital is the reason he has a reputation for having great bedside manner.
While we find it a bit disappointing that his clinic is not open during the weekend, it's a pretty fair exchange for his great services and expertise.
And honestly, you won't find any trouble going to his clinic too. Not only does he accept referrals from other practices but he also accepts new patients.
Although just be aware that since this is a smaller clinic, there's no in-clinic installment payment option available.
But if you don't mind that and your insurance service supports oral surgery, then this is one of the best you can find, especially if you want a thorough explanation of your oral issues and an understanding surgeon.
Continuously update his knowledge about the industry
Has previous experience as an oral surgeon
Accepts new patients
Closed during the weekend
No flexible payment plans
Customer Reviews
You can read what previous customers are saying below:
"I'm a little late posting this. Last year I had 8 teeth extracted due to overcrowding (four wisdom teeth, two other upper teeth & two other lower teeth). Morning of the procedure, when Dr. Grabowski walked in, we politely chatted while he started the IV, and then I woke up… I don't know, 45 minutes later? I don't remember a thing! The whole experience was great, and the recovery from having 8 extractions was more comfortable than the adjustment period to my new braces a couple weeks later! Dr. Grabowski and his team were lovely. They also helped with my slightly odd request to keep my teeth (they saved 5 of the 8). And I even got a coupon for ice cream :)" – Maria Fumano
"Seen Dr.Grabowski in July and i had my 4 wisdom teeth out . I was dreading the experience but I need not have worried. From the moment I arrived the staff were lovely and made me feel less anxious. Dr.Grabowski was brilliant and the whole procedure was super quick and not that bad at all . I loved how the office even called me the following day to see how I was feeling. Overall I had a great experience with Dr.G and his staff .
Would definitely recommend this office.
Audrey B" – Audrey B
2. Dr. Kenneth Chow
SERVICES
● Wisdom Teeth Removal
● Dental extractions
● Surgical exposure of teeth
● Biopsy procedures
● Cyst/ Tumour removal
● Infection
● TMJ disorder
● Implants
● Bone grafting
● Orthognathic jaw surgery
● Apicoectomy
● Frenectomy
● Trauma
ADDRESS
1055 W Broadway Suite 801, Vancouver, BC V6H 1E2, Canada
CONTACT NUMBER
604-879-6106
WEBSITE
http://omsgroup.ca/
OPERATING HOURS
Monday – Friday: 8AM-4:30PM
Part of the OMS group, Dr. Kenneth Chow is one of the best oral surgeons in Vancouver for his years of experience and his excellent track record. Not only did many of our respondents trust him but many customer reviews show that he's an excellent oral surgeon.
His background's nothing to sneeze at either: he has been working as an oral surgeon since 1996 and previously worked as a professor at UBC. He's also a mentor for different study clubs.
Like other dentists here in this list, he's also closed during the weekend. Although, we appreciate that he has longer hours than many other oral surgeons.
His years in the practice and experience as a teacher make him a great oral surgeon to talk to. He can explain complex surgical procedures well without being too intimidating.
The clinic also forwards the estimated surgery cost to your insurance company right after the consultation. This is honestly great as we don't have to wait during the surgery day just to know how much the company will cover.
It's a bit disappointing though that OMS Group doesn't offer flexible payment plans and you might be at the mercy of your insurance company if you can't afford a needed surgery out of pocket.
But if you want an oral surgeon in Vancouver who has a lot of experience and is trusted by many customers, it seems like you can do much worse than Dr. Kenneth Chow.
Oral surgeon since 1996
Longer hours when the clinic is open
Helps with insurance
No flexible payment plans
Closed on weekends
Customer Reviews
These two reviewers describe their experience with Dr. Kenneth Chow:
"Dr. Chow is absolutely the BEST! I had to have a molar pulled as it was giving me so much grief. First, his whole office was so lovely. They got me in so quickly and made me feel at ease from the first phone call. I was so nervous about having to have it pulled but Dr. Chow was absolutely amazing!!! He let me know the whole process and completely calmed my nerves. He pulled my tooth so easily it was crazy how easy he made it seem!! I can't thank him enough for making the experience such a good one. Hands down the best of the best. Thank you Dr. Chow!" – Laura
"Had a tooth removed by Dr. Chow this afternoon and I couldn't have had a better experience. I'm the type of person who gets very anxious at the thought of tooth extraction, and Dr. Chow made made me feel comfortable & totally calm. Also, the whole thing felt like it took about 5 seconds and was utterly painless. If you're an anxious person (and even if you aren't) I highly recommend Dr. Kenneth Chow for any tough work you might need.
Kudos to the wonderful staff as well!" – Jeff Kent
3.   Dr. Anthony Chan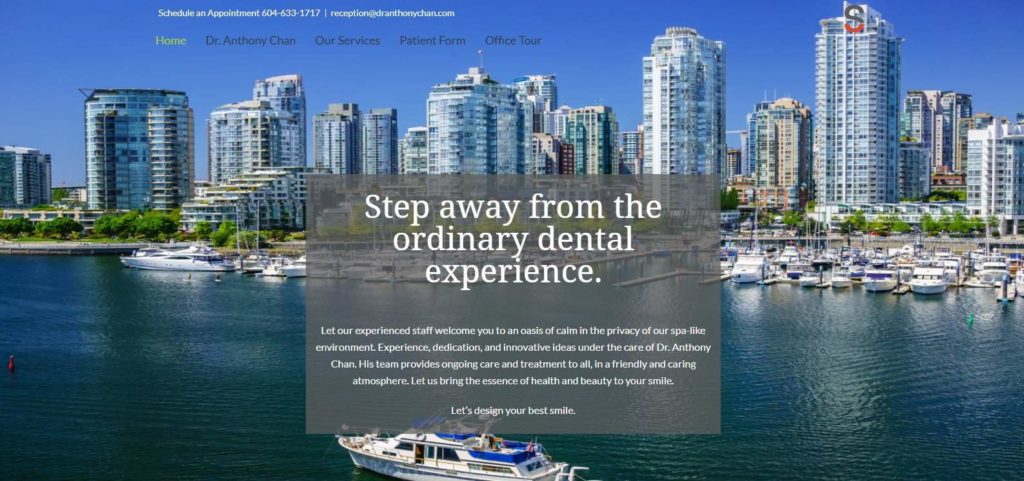 SERVICES
● Wisdom Teeth Extraction
● Bone Grafting
● Dental Implants
● Laser Dentistry
ADDRESS
179 Davie St #203, Vancouver, BC V6Z 2V4, Canada
CONTACT NUMBER
778-655-9482
WEBSITE
http://www.dranthonychan.com/
OPERATING HOURS
Tuesday-Saturday: 9AM-5PM Saturday: 9AM-5PM
While he has a limited number of oral surgery services, Dr. Anthony Chan is one of the top oral surgeons in Vancouver for many reasons.
He has a great track record as a doctor and has even showcased his expertise in international lectures. Aside from that, he also had been a consultant for some dental product manufacturers.
More than that, he also has clients from different countries, which means that he's a trusted oral surgeon all over the world.
We also appreciate the fact that he's open on Saturday. That makes this a very accessible clinic for everyone with work during the weekdays and for students.
However, you will need a proper booking if you need oral surgery here as an emergency booking isn't always available.
You also won't need to be scared of getting oral surgery here as this is one of the few places in Vancouver that offer laser dentistry. Laser can help stop bleeding during a surgery and it hurts less than traditional tools.
Other than that, we find his office very great as it's clean and spacious. A big point for him – we've seen enough questionable hygiene at dental clinics to be relieved when we see ones who stick to the prescriptions.
An experience and knowledgeable doctor
Experience with clients from other countries
Hygienic clinic
Open on Saturday
Laser dentistry is available
Limited number of oral surgery services
Doesn't really do emergency procedures
Customer Reviews
These are what customers are saying about him:
"Dr. Chan and the staff at Smile by Design are the best. Friendly, welcoming and have you relaxed in the chair in no time. With state of the art equipment and top of the line technology, you have peace of mind knowing that your mouth will be taken care of. A patient of 29+ years, I hope Dr. Chan never retires because he is the best at what he does!!" – Denise Berg
"Dr. Chan and his team are the best I have had in Vancouver. Their office is always sparkling clean and I never have to wait more than 10 minutes for my appointments (in fact 99% of the time I can start immediately). Dr. Chan not only takes great care of my current teeth condition, but also pays attention to possible issues and gives me recommendations accordingly. The technology he uses is top of the line and I never felt any pain during any of my treatments. He and his team definitely take great care of me and my family." – Vicky Au Yeung
4.   Dr. Gerald J. Wittenberg
SERVICES
● Wisdom Teeth removal
● Dental Extractions
● Exposure of teeth for orthodontics
● Dental Implants
● Oral Pathology
● Placement of TAD's for orthodontics/Invisalign
ADDRESS
805 W Broadway #202, Vancouver, BC V5Z 1K1, Canada
CONTACT NUMBER
604-873-4585
WEBSITE
https://drwittenberg.com/
OPERATING HOURS
Monday-Friday: 8AM-3:30PM
At first glance, you might think that Dr. Gerald Wittenberg can only do cosmetic surgery. However, that's not the case.
He's a highly respected oral surgeon too and has helped develop different procedures. For example, he came up with the 'no jaw wiring' technique during jaw surgery.
Although his oral surgery services are a bit limited compared to others, his expertise in those services highlights his knowledge more.
The staff in his clinic are also helpful with filing insurance and can deal with pre-authorized insurance reimbursement. Just be aware, though: the remaining balance is due by the time of service and they don't offer flexible payment plans.
Dr. Wittenberg can also do emergency services. After a consultation, if there's really a need for an emergency procedure, then it's possible with him.
What's more, he's receptive to online communication. Even before going to his clinic, you can already message him if you have a problem.
Of course, you will need to go to the clinic first though for a full diagnosis. But that's par for the course, so we don't really count that against him.
With his services and experience in this practice, it's really no surprise why many of our respondents picked Dr. Wittenberg as their top oral surgeon in Vancouver. We still do wish he had financing and flexible payment options, but even without those, he's a good option.
An innovative oral surgeon
Clinic helps in filing insurance
Can do emergency services
Can possibly ask for help even before consultation
Limited oral surgery services
No flexible payment plans
Customer Reviews
Here are some of the reviewers' experiences with Dr. Wittenberg:
"Had a great experience with the staff at Dr Wittenberg's office. Particularly Aurora & Laura who helped with with some complicated scans. They were both so patient and helpful. On the day of my wisdom tooth extraction surgery I was very nervous and Donna and Laura were wonderful at calming my nerves and making me laugh beforehand. Procedure was done in 30 minutes but to me it felt like 5. Thank you so much!" – Sophie Hickles
"just got 4 wisdom teeth taken out today, don't remember much to be honest. Was pretty smooth and dr.Wittenberg is always smiling and friendly. I believe there is a new assistant who is very sweet, and the receptionists are chill but attentive. In some discomfort but i have reassurance if anything goes south they would help. I got these teeth extracted for braces and jaw surgery hopefully in 2021. Im a very pessimistic person (unfortunately). I turned optimistic today though dr.wittenbergs friendliness. Once jaw surgery comes along i will not be as worried as i would other places. I recommend through other oral surgeons and dentists? Of course he is good! My mom kept telling me how friendly he was with her too. Great person, great Dr, great staff, great environment." – Jake M
FAQs About Oral Surgeons
---
That's it for the best oral surgeons in Vancouver. If you think we missed one, then let us know so we can review them too!
Since prevention is better than cure, why not have a regular dental check-up instead? Avoid getting surgery all the time and check our article on the best dentists in Vancouver to see where you can get a dental check-up to help you maintain your oral health.